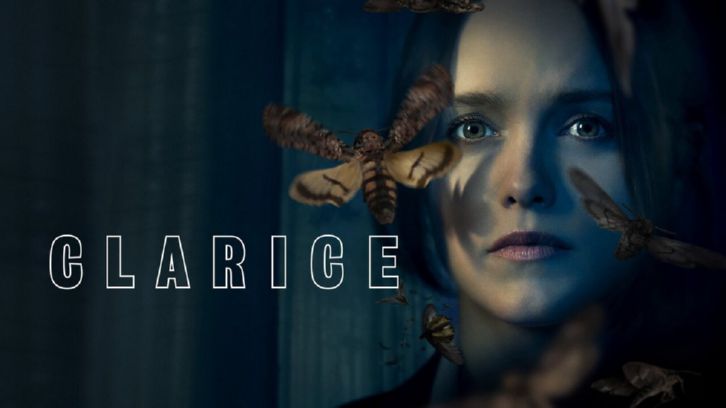 This week's episode starts right where we last left off with Clarice realizing that Dr. Marilyn Felkner had been hiding in plane sight, leading to a confrontation that now has Clarice hidden away at the Henry County Hospital!
Each episode has attempted to do something a little different, panning to different aspects of
Hannibal's
overall franchise genre(s). For instance, the previous episode decided not to act quite so procedural compared to the three previous installments, but instead got into an inter-agency battle and the politics that come along with it. This is something that is also highlighted in the first part of the
Hannibal
novel/film.
But this week's episode played more into a psychologically Gothic entree`, which it too would be borrowing elements more or less felt in the
Hannibal
novel, which also is not unlike how Bryan Fuller also approached his
Hannibal
adaptation TV series.
It's not that
Clarice
hasn't had it's more atmospheric moments, but between the case of the week format and the political aspirations of last week's episode, we haven't yet experienced an episode that felt so steeped in 'pyscho-dellic' horror.
A lot of credit has to go to Rebecca Breeds who continues to really bring out Starling's personality in a way that feels true, right, and just very natural. Actress Natalie Brown (
The Strain
) too was also a delight to watch, as the vast amounts of dialogue between the two actresses was delivered flawlessly and kept me on the edge of my seat.
While the special effects may not have been top notch, they were executed very well, which IMO is more important than accidentally over CGI-ing or tripping the audience out with to much shaky-cam or mis-timed sound to a point that often feels absurd.
I was delighted though to go a bit more down the rabbit hole with Clarice. I'm always a viewer that is game for mass extrapolations of characters thoughts and memories. The fact that the hospital was also next to an airport and seeing the lights of planes fly over the stained glass ceiling just gave some of the scenes such an unsettling quality.
For Clarice herself, her experiences here gave a way to more of her backstory, which continues to be changed from the novel. Originally Clarice was sent to her relatives farm after the death of her father, having no one else left. For some yet to be disclosed reason, not only does Clarice have siblings, her mother is still alive at the time of her father's murder, but now she was sent to this farm sometime before all of that!
For a fan of the books, this change is a hard thing to swallow, but my only current conclusion still rests with the idea that this is a way to flesh out Clarice's backstory (so that there is more), which in turn could be more complicated. The other reason that comes to mind is that in some ways it gives proxy to be closer to Hannibal himself via his own book backstory.
And speaking of Hannibal,
the good Doctor
was felt very ardently again in this episode. Parts of
Silence of the Lambs
and
Red Dragon
take place in a mental institution where Hannibal remains after he has been incarcerated, but more disturbing than perhaps even some of Hannibal's cell mates or other serial killers, is the fact that the hospital's overseer, Dr. Chilton is a weaselly abusive type. Marilyn herself felt like tough nut for Clarice to crack, but she came at Felkner in a way that Hannibal would of been proud of.
It's true however this wasn't an episode that was about moving the bigger mystery forward, and for a viewer who is anxious to get to the bottom of the vast conspiracy the episode only offered a hyperbolic breadcrumb in the form of a shadowy new villain walking through the door...
But still that villain has characteristics that came before. The
Hannibal
novel began to show Hannibal in a new light, where the master chef saves Clarice, feeds her, her enemies, and attempts to transform her into a vessel that could hold the conscious of his dead little sister. One of those enemies Hannibal contends himself with is Mason Verger, who used Starling as bait. Mason is a manic boisterous wealthy Pork Industry tycoon and there was something about the way this new villain's voice sounded and the way he was munching on carrots (or whatever) reminded me of this sort of villain.
On the other hand the way Clarice embraced the dark figure, believing that it was her father, makes me lean heavy on the figurative Hannibal, since he was trying to manipulate her via breaking down her relationship with her father, not to mention Clarice might of been wrong, Marilyn was willing to take her own life for the cause!
There is also Bryan Fuller's
Hannibal
to consider too, who used
Red Dragon
character Abigail Hobb's as his first stepping stone to plant the longing for Mischa idea and feed into the whole Clarice "father figure" construct. He also created a new character called Miriam Lass, who had the trade marks of Clarice Starling (minus the accent), but was able to pyschodrive her into a killing machine. And curiously there was a patient named Abigail in the hospital that Marilyn Felker kills to try and coherst Starling into giving her information about Rebecca Clark-Sherman.
Are these names coincidental?
Paul Krendler's story also continues to more or less reflect Jack Crawford's story from
Hannibal.
Eventually Starling was abandoned by Crawford, because his wife eventually dies from cancer. He couldn't handle it and commit's suicide. I'm not saying Krendler's story is ditto of this, but clearly his ongoing divorce and previous drinking problem seems to be something the show might be introducing as a way to upend VICAP and his relationship with Starling at large.
As for the rest of the gang, they were more or less underused again, say for Adrelia Mapp. It probably isn't surprising that she would be the one to notice that Starling would go missing and push to try and find her, considering how things were left in the last episode, but to say that the relationship was quickly mended, wouldn't be too accurate either.
So what did you think? Enjoy the episode? Have any theories? Did anyone else think this episode felt a little to a lot more like an episode of Bryan Fuller's Hannibal, and should the show do more episodes like this? Sound off in the comments below!!