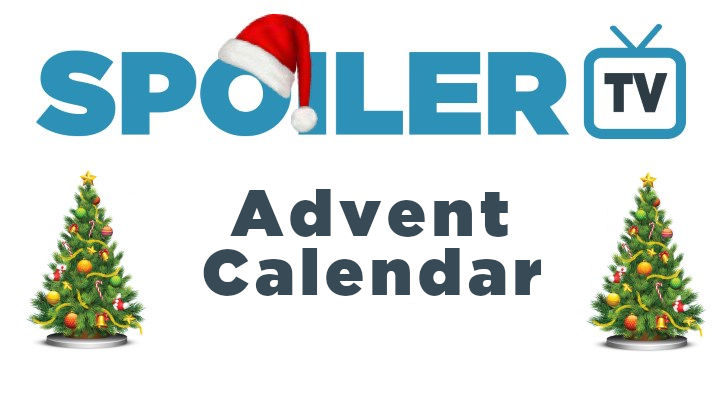 This year, once again, the SpoilerTV team came together for the holidays to share our wishes for the new year. Every day two of us will share what we asked for for the new year and maybe beyond... And we are eager to see what's on your lists, so please, share your wishes in the comments bellow !!
Jessica C - An Upstead Wedding
If I could have any TV wish, I would give it all to see Hailey & Jay exchange vows. Their relationship has evolved so deeply and beautifully that every expression of love feels like the very first time. All of the promises they will inevitably make to one another are certain to be even more meaningful and I need to bear witness. I also just want to live in a world where Hailey is married to the man who taught her how unconditional love really feels. And where Jay is married to the woman who chose to stay for him and makes him incredibly happy.
Prpleight - When I first started working from home, I started rewatching beloved series. I, eventually, got around to re-watching Eureka. My Christmas wish would be an update TV Movie...just to check in on the citizens of Eureka. One more wacky adventure.
2021 has been an amazing year to be a Marvel fan, from WandaVision and Falcon and the Winter Soldier to Shang-Chi and No Way Home. All I can wish for is for 2022 to be just as awesome... especially the Doctor Strange and Black Panther sequels, please be good, Marvel does not have a good track record with sequels as is...

Alajandra Gil - I wish for more lesbian weddings in both movies and tv.
Cecile - Make medical shows good again
I'm not sure how/when this happened, but after
ER
,
Scrubs
, and the first few seasons of
Grey's Anatomy
, there has been quite a steep dip in quality when it comes to medical shows. Don't just give us case of the week stuff with no character development and general, overwhelming blandness, bring back the must-watch episodes that had everyone talking about them the week after, please! (And if Hollywood needs pointers, French medical show
Hippocrates
is one of the best out there).
Laura Wanberg - Ted Lasso Emmys Schweep 2022
Like Schitt's Creek's Sweep in 2020, I would die to have Ted Lasso sweep all of the major categories at the 2022 Emmy's. Because it's good, of course, but also because it deserves it. The show is wonderful and the cast is wonderful and all around it deserves an insane amount of recognition, even if that requires an entire Emmy's Sweep.
Lisa Macklem - Christmas Specials
I'm hoping for 'Christmas' Specials from two of my favorites -
Downton Abbey
and
Call the Midwife
. I'll have to wait until March 2022 for the super intriguing (from the trailers) second movie from
Downton Abbey
, but I'm hoping to see the
Call the Midwife
special close to or on Christmas!
Shirleena - Saved by the Bell
If there is a third season of Saved by the Bell, I hope there is more of Zack and Kelly storylines. I know it is not about the older generation, but I use to watch that show when I was a young child, and it just makes me happy to see them back. Also, I would like to see Slater and Jesse be together. They were great together back in high school, although they did fight a lot back then. But now, they both have grown up a little bit and Slater is no long a "sexist pig."
Eve - Someone to be happy on Succession?!
I might be wishing for the impossible, but wouldn't it be nice for at least just one, one single person, to lead a happy and fulfilled life on
Succession
? Don't get me wrong, I'm loving the misery porn, but it would make for a nice little change. If I can choose someone than let it be Gerry or Kendal. Kendal is a shit but at least there is some humanity seeping through those veins.
Laura Wanberg - Revel in the Short Movie
Suddenly, what feels like overnight but surely isn't, it seems as if every movie being released is two hours or longer. Remember the days when a movie was 120 minutes on TV, with commercials? Those were the days. Bring back 70-90 minute movies.
Lucas O.G - The game begins where you end and ends where you began
A new season of
Westworld
will probably air in 2022, and I hope it will be much better than the last one. The first two seasons had such an impact on me, as I left both of them mesmerized and deeply moved, so I'm hopeful the same will happen when this new journey begins. Anyway, I'm very curious about what the future holds for this show.
Thomas Cori - The new and improved Charlie's Angels
Though remakes aren't always the most popular thing, there were talks of a Charlie's Angels remake over at CBS led by Peter Lenkov. Obviously, I don't want to support anything by him in the future, but a meaningful, female-led show would be so great and could be a good way to subtly discuss the recent changes in our society a-la- Mary Tyler Moore.
Lucas O.G - The price of getting what you want...
I usually don't care about visual effects on television shows (that's also true when it comes to movies.) I understand that there are limitations, and I usually focus on the story. Anyway,
the Sandman
adaptation is coming to Netflix next year, and the visual aspects of the comic books are so remarkable and impressive, so I wish for this show to be visually astonishing and groundbreaking as well. Of course, I'm also hopeful it'll be a good adaptation overall.
Folie-lex - TimxLucy AND/OR MagnumxHiggins to become canon
For four seasons now Tim/Lucy (on the Rookie) and Magnum/Higgins (on Magnum PI) have been dancing around each other. Each show started out their season with positive indications on those fronts only to have things thaw off as we hit the tail end of the fall. I think it's about time my two major ships on my two favourite procedurals (and I would argue the main romances/ships on either show that are of the biggest draws on either show) to gain some proper traction on screen, instead of stringing and baiting the fans along.
Lisa Macklem - Bridgerton Save Us!
I can't wait for the second season of this show! I loved the book and the first season. This is wonderful comfort watching - which is also a very guilty pleasure as I have to get up very early in the morning so that I can watch it in secret! Covid is dragging on and it's these wonderful period dramas that are carrying me away to a different time and place just when I need it - and can't really travel in my day-to-day life.
Thomas Cori - Yet another remake!
Another show that could be very successfully re-made is the A-team, now, I, like many people who grew up watching it, love this show, but it has a lot to update and amend for to stay relevant in future years (amongst which were some black face and obvious anti-Asian racism). I also love team-as-family dynamics on TV and since Hawaii 5-0 and MacGyver were cancelled, I've been needing my fix !
Ali - Let's Make a Deal
I get that minutiae may not matter to
La Brea
's showrunner, but at least make small Gavin and big Gavin's eyes the same color. If you give me the eyes, I'll give you the hair color. Also, Ty is my world, so I'm going to need 10,000 BCE to work some medical magic and heal him.
Beth - My wish is for Voight on Chicago PD to finally be punished for all he's done. No more getting out of it! It is more than time that he pays for his crimes.
Darthlocke - Evil
Ok, Evil has quickly become one of my favorite shows and has solidified my admiration of Robert & Michelle King's work. Season three just started filming and I can not wait! So some of my wishes for the series are that they don't follow
The Good Wife
and kill either Kristen or David, but if they want to add a well-known TGW member to the cast in a crazy role, that would be nice, and most of all I hope they keep going with the Monastery story line and bring Fenna back!!
Lucas O.G - A Christmas Gift
This December, Zoey's Extraordinary Playlist is getting a Christmas movie, and as far as I know, if it's successful enough, we may get a third season after all, on Roku Channel this time. That's my wish for next year: another season of this wonderful, emotional show.
Eve - Wheel of Time to be the next Game of Thrones
I'm totally new to this
Wheel of Time
world. I had no knowledge of this before the Amazon TV series aired. I came for Rosamund Pike and wow it did not disappoint. Here's wishing for many more seasons and a legacy comparable to
Game of Thrones.
Dahne - The Equalizer
I adore Robyn but I would also love a background episode focusing on Harry and Mel. Those two are adorable and I find myself very curious about their lives before they became a two-person support team for Robyn. Also, I think adding more flashbacks of the three of them working together would flesh out their characters more as well.
Lucas O.G - It's always someone you know
I'm very excited about the new
Scream
movie. I feel it has the chance to be whatever it needs to be: as long as the movie respects the franchise's legacy, anything can happen, and I'll enjoy it. So I wish for it to be an entertaining, special, and memorable chapter.
Darthlocke - Star Wars 2022
For the first time ever there is going to be a lot of Star Wars on TV next year, but it's taken Disney-owned Lucasfilm some time to get their ducks in row. I don't really have a specific wish for any known specific show, only that I hope that they are successful, being able to give different kinds of SW fans a little of something for everyone.
Folie-lex - Hoping Commandos & Dragons finds international streaming distribution
Lucas O.G - Keep your kisses to yourself
I wish for more movies or series adapting Arthurian legends. Regarding this, the New Camelot Trilogy by Sierra Simone would be an appealing choice. Especially when I remember how successful Bridgerton was; maybe some streaming could pick Simone's work and develop it into a show full of fantasy, drama, and erotic romance. Personally, I'd watch it without a second thought.
DJRiter - The Dynamic Acting Duo of Chyler Leigh and Melissa Benoist
The dynamic between these two actresses often elevated Supergirl scenes to something very special. Now that the show has ended and they are no longer playing the heart and soul of the show Danvers sisters, it would be amazing to see them work together again as soon as possible.
It would be preferable they are cast in another project to pit their considerable acting talents against one another whether as family, or adversaries, or perhaps even a comedy or even a
Thelma and Louise
style drama. Then again it would be great also to see them team up again as actor and director, which now that Melissa Benoist has formed her own production company would seem very possible.
Lucas O.G - More projects involving the Scarlet Witch
Among other things, WandaVision was about Wanda Maximoff becoming the Scarlet Witch. Since then, I want to know if Marvel will ever give us a Scarlet Witch show or movie. I wish for any of these projects, movie or TV series, to be announced next year.
Ali - Size Matters
And by size, I mean episode count.
Roswell, New Mexico
(still) needs to focus on its core eight cast members and stop overloading the plot with recurring players that eat up the limited time available in a 13-episode season. It's not rocket science. It's math. And good storytelling.
Alajandra Gil - Honestly my biggest wish for tv/movie related content is for remakes to stop altogether.
I'm sure there are original ideas out there that deserve to be heard and given a chance, I'm so tired of seeing the same idea recycled every few years. I just want new things, all the time.
Chloe - Abby and Co. in The Last of Us
When The Last of Us airs, I hope we get to see Abby, her dad and Owen guest star in the hospital arc that will inevitably happen in the final stretch of episodes. I wouldn't be averse to the rest of the Salt Lake Crew from The Last of Us Part 2 making an appearance either. It would make sense considering the overlap in Abby's story and Joel and Ellie's and it would be pretty cool to get a live-action glimpse at some of part 2's major and supporting players and start planting the seeds for any future seasons of the show.
Lucas O.G - Mirror Mirror
I would be so happy if a new season of Black Mirror was announced by Netflix next year. I'm not a big fan of season five, though, so if it ever happens, I hope the new content will be as remarkable as the previous seasons are.
Bex Wright - My wish is for season 4 of Hudson & Rex to end with a big, real Sarah/Charlie (Charah) moment.
These characters have grown close enough now that having them date other people is just stalling. It's dragging out the slow burn beyond the necessary point. Charah fans will still tune in once their ship is together, because there's so much fun to be had in watching two characters navigate a new relationship - and, beyond that, the majority of us aren't here solely for the UST.
I point to ships like Densi (on NCIS: Los Angeles), who continue to melt us to this day. End of year 4 is the perfect time for Charah to take that next step.
PS: I spoke to Rex and he agrees.
Dahne - The Big Leap
I have been surprised at how much I enjoy The Big Leap. One of the biggest surprises has been Mike's 3 friends. They are the exact opposite of what you normally see on TV when talking about blue collar bar buddies. It's been so refreshing that I am rooting for a spin-off of them.
Lisa Macklem - More BOYS!
All I want for Christmas, is more boys - THE Boys. Love this series from the cursing to the fighting to the music. I'm confident that Eric Kripke will deliver a third spectacular season of this show - so I can't get it soon enough - and I'm hoping that the "rumor" on Twitter that it's already been renewed for season 4 - which will start filming in 2022 - is true!
Chloe - Kanan Jarrus Flashback in Ahsoka
With the recent casting announcement of Natasha Liu Bordizzo as Sabine Wren and the hunt for Ezra Bridger continuing on from the end of Star Wars Rebels, is it too much to hope for at least one Rebels oriented flashback with the whole crew. I'm specifically hoping for Kanan though as I would kill to see my favourite Star Wars character in live-action. (As an aside, can we get Rahul Kohli for Ezra please? He'd be a perfect fit).
Giulia - Alias 2.0
In the age of reboot, it would be nice to see my favorite show being revived with new storylines and characters, with the original cast members being part of the story. I know that Jennifer Garner and JJ Abrams have been discussing a possible return to the Alias universe and I am here for it. I'm just waiting for that news to drop. Can you imagine how thrilling and exciting it would be, maybe with Sydney's daughter? I'm already in front of the TV watching.
Lucas O.G - More shows like Chucky and Dickinson
At first sight, I feel no one would say these two shows are alike. However, for me, they both represent some of the best qualities a show can have, as stories so unapologetically conscious of where they want to get, all while being creative, queer, funny, surprising, and deeply touching. That's why I wish for more shows like Chucky and Dickinson next year.
Raina - New "The Haunting of...." TV show, please!
I loved The Haunting of Hill House and The Haunting of Bly Manor and would be thrilled if there was another show in the works. Hill House was the perfect amount of horror and drama. Bly Manor was emotional and heartbreaking. Fingers crossed they announce a new "The Haunting of..." TV show in 2022!
Thomas Cori - A good reason for me to brag about knowing the books (for once)!
I've been re-discovering the SIGMA book series by James Rollins and falling in love with its intelligently put together spy stories, tied to historical events all over again. Though the project to make a movie out of it seems to have fallen apart, I can't even begin to explain how amazing a SIGMA TV-series would be, especially on streaming with a larger budget!
Maximilian - Grey's Needs to Un-ban the Last OG
While Grey's Anatomy has welcomed back everyone from T.R. Knight, Patrick Dempsey, Isaiah Washington, and most recently Kate Walsh, one former series regular remains noticeably absent – Katherine Heigl. For whatever reason, Shonda seems to still hold a grudge, and I'm ready for that to end. There would be no possible bigger Grey's event (especially if this is the final season!) then an episode featuring the return of Alex and Izzie.
Katherine's treatment was largely unfair, and I'd even argue that she was ahead of her time and punished for many things that she'd be championed for today (calling out unfair work hours for cast/crew, refusing to be silenced when T.R. was called a homophobic slur, etc.).
Naomi Anna - The Flash
So, last year I am pretty sure I wished that the show would tighten up and that the main ship would get some much needed face time. Season 7 was a total bust, so I am here again begging for a full retooling of the show. What I've seen of the special 5 episode event makes me more hopeful that I'll get my wishes. High on my list are Barry showcasing his powers AND independence. Iris getting the Lois Lane treatment and an interesting/sinister villain. Is this really too much to ask after 7 years together Flash?
My biggest TV wish of all would be to have one large streaming site where I could watch all the things I am interested in instead of a hundred little sites with each only having a few things I am interested in.
Laura Wanberg
- More Themed TV Episodes, Please!
Even if it's a crazy dramatic show, can we have one episode a season that's themed somewhere? Halloween, Christmas, even Valentine's Day! Some of the best episodes of TV are ones that are themed, because holidays are a time when people are overjoyed and (usually) filled with happiness. Show me my favorite characters celebrating Christmas, damnit!
Lucas O.G - More Carlos, please!
When it comes to 9-1-1: Lone Star, my wish is simple: more Carlos. While I think his relationship with T.K. is compelling and beautiful to watch, I want to see more of Carlos as an individual: his work as a police officer, his relationship with his family, or even his bonding with other characters such as Paul, Marjan, Tommy, and Nancy. Anyway, if we think of Carlos as this show's equivalent of Athena, he could receive more major, significant plots.
Chloe
- More Sihtric Screen time on
The Last Kingdom.
Yeah, so my favourite character in The Last Kingdom is kinda niche and hardly ever gets storylines. I'm not holding out much hope that will change in the final season but it would be nice for him to have something to do, you know? As a treat. And if not, maybe the movie that's been announced? I'll even settle for more of his dynamic with Finan, I'm not picky.
Folie-lex - Wishing that David Aja gets proper credit and compensation from the Hawkeye TV show.
Yes Disney+ 's Hawkeye is mainly inspired by the Fraction-Aja run of the property... but the fact that the show has ripped off David Aja's artwork and style, shamelessly flaunting it, and coasting on the absolute talent of the man while he gets no credit or money for it is a travesty, that I think a multi-billion dollar company like Disney can afford to rectify.
Lucas O.G - I gave you a rare gift. But you didn't want it.
I'm wishing for many announcements next year, but none of them surpass my need for a fourth season of Hannibal. I love this show so much, and I'm eager to see Hugh Dancy, Gillian Anderson, Laurence Fishburne, and Mads Mikkelsen on my TV again as these powerful characters.