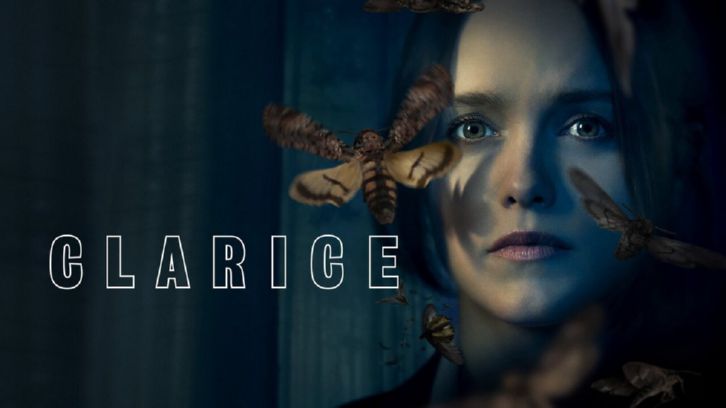 If anyone was wondering if
Clarice
would be a typical crime procedural, this weeks episode would prove not, as episode three goes back to the case presented in the pilot.
The episode starts with Clarice once again back in therapy. The exchange is longer, as he tries much harder to get underneath Clarice's past, especially since he is able to make out how her last case might trigger some things from childhood, such as the death of her father. At the end of her session though, Clarice decides to throw him a bone after some heavy Death Hawk Moth extrapolations, but she also turns the tables on him! She acknowledges that she needs to talk to someone, but that someone isn't him, because he has an agenda and is also really bad at his job! She's then called away by beeper to deal with her next assignment.
In preparation of interrogating Carl Wellig, Clarice visits Rebecca Clark-Sherman at a trauma rehabilitation facility. She wants to know, given that she's a surviving victim of the ongoing case, if she would testify. Rebecca seems shaken, but tells Clarice if she can get Carl Wellig to confess/take a deal, then she will testify.
Clarice insists that Wellig wanted a deal, but the moment she and Agent Krendler push him on it, he says the opposite and changes his story about why he was in the house, saying he's an innocent plumber who was unfairly assaulted by FBI/VICAP! Clarice does her best to try and get under Wellig, but it doesn't work.
In the adjoining room all of the agents discuss what to do next. They had also learned that Wellig was a sniper in the Marine Core and Clarice begins to believe that he has a code of conduct where treating women was concerned, due to information Rebecca Clark-Sherman gave her about his behavior when attempting to murder her. She thinks that Agent Esquivel, who we learned last week was a sniper in the army, should be the one to try and take a crack at him.
Reluctantly, Esquivel agrees. He uses a tactic to try and accuse Wellig of trying to murder these women, but as if they also had evidence that he also tried to sexually violate them. At first, it seems like this is going to work, as Wellig seems rather defiant about it, but ultimately again he completely evades the notion of any such thing!
In meantime Ardelia has been working on chain of custody in cold cases, but she also had been working on the forensic results of this case. Strangely, the teeth marks do not match anyone in the data base and there is absolutely no DNA evidence! Clarice is truly perplexed by this, until Ardelia checks out hunch she has, and discovers that the bite marks are made by teeth model the dentists sometime use.
The rest of the episode then plays out in a unique way. Earlier a cop brings in lunch to the gang, including the suspect. It was stated that the VICAP was trying to smooth things over with local law enforcement so they could get this case going. Wellig also kept denying wanting a lawyer, but yet his alleged lawyer shows up...
As it turns out, the cop and lawyer were neither a cop or lawyer, and that the lunch for Wellig contained a poisoned root beer, which Wellig seemed to know straight away. He drank it, fell on the floor, and died in the interrogation room. Agent Tripath then tried to chase after the alleged lawyer, but he was able to disappear. This leads the agents to believe that not only was the pharmaceutical company willing to go extremely far to hide their crimes, but also that this was inside job! But to top it all off, Clarice goes to make sure that Rebecca Carl-Sherman was still safe, but when she arrived she found a letter on the bed saying, "Sorry."
But did she leave on her own or did someone just make it look that way?
I really enjoyed the episode this week. Mostly because I felt like the whole cast was well-used and they are starting to play much better off of each other.
I'm also doing my best to try and see Paul Krendler as the shows Jack Crawford, which seems pretty accurate given his on going relationship Ruth Martin, whom I forgot to mention was also dealing with a lot during the episode. Katherine continues to digress, as she refuses to go outside, but yet she is also exercising, as if it preparing herself for something, but what exactly? I can't help thinking that this not just a plot about Katherine reacting to what happened to her, but setting the stage for her to confront something big again.
Could Buffalo Bill somehow be linked to this pharmaceutical story line???
I also enjoyed the episode, because it felt a little bit closer to Bryan Fuller's
Hanniba
l. In the sense that much of the episode was about characters sitting in rooms trying to get underneath and understand other characters and the dialogue was mostly good. I also thought that both actors Shawn Doyle and Kris Holden-Reid stood out and helped made the episode. Again, this is one of the places where Hannibal Lecter is still felt and of course, the episode still fixated on food again, but this time in the form of deadly plot device that moves the mystery of the pharmaceutical case forward.
Speaking of Lecter, I also wonder if Clarice is picking up that mantel? The way she was triggered to nearly deck Paul Krendler in such a precise manner, made me feel like she could become unhinged or do something exceedingly disturbing to accomplish her goals?
Will she have an impulse to kill or seek revenge?
I'm also enjoying the way Starling has been zoning out and how she is now seeing the Death Hawk Moths everywhere. It just adds a nice touch to the way Starling is viewing or processing her experiences, while leaving us guessing about how much control over herself she might actually not have.


So what did you think? Are you still enjoying the show so far? Do you think it's getting better or worse? Let us know in the comments below!