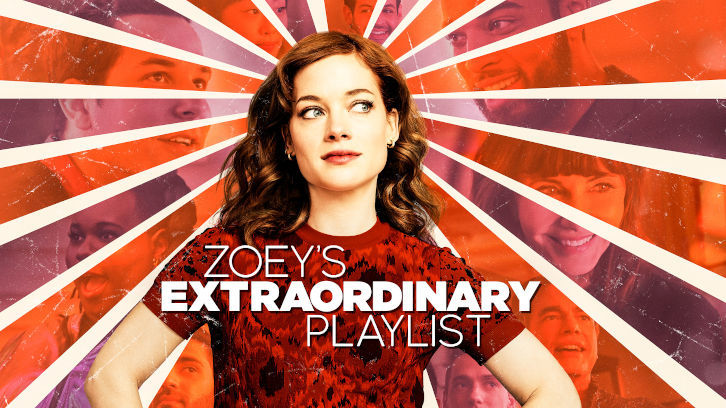 On a show that, for the most part, is about making noise and being heard, Zoey - and Zoey's Extraordinary Playlist - both took a step back and listened this week. Read on for my review of "Zoey's Extraordinary Reckoning":
The episode picks up right where the previous one left off; with Simon's press conference accusing SPRQ Point of fostering a racist culture, coming to a close. After the fact, Zoey asks Simon why he didn't tell her about his concerns with the CHIRP and SPRQ Point as a whole, but he reminds her that he did, and that she just didn't hear the actual meaning behind his words.
Trying to do what she can, Zoey organizes a town hall having to do with race and racism in the workplace, in order to better listen to her BIPOC employees and their concerns about SPRQ Point work culture. However, the idea doesn't actually work very well, seeing as all the white employees quickly take over the space, talking about how they are "allies" and generally making the conversation about them. Meanwhile, the actual BIPOC employees mostly pass on their turns to speak, not willing to risk stirring up any trouble. This leads Simon to start singing Michael Kiwanuka's "Black Man in a White World" (I've been low and I've been high / I've been told all my life / I've got nothing here to pray / And I've got nothing left to say / I'm a black man in a white world").
In spite of this, when Zoey asks Simon if he wants to speak up at the town hall, he, too, passes.
To make matters worse, Danny tells Zoey the next morning that the board has decided that Simon needs to retract his statement, citing that it "doesn't reflect the experiences of all SPRQ Point employees." He also tells Zoey that she has to be the one to tell him.
Concerned about how to break the news to Simon, Zoey goes to Mo for advice, but Mo doesn't respond too kindly to Zoey placing her decision-making burden on him just because he and Simon are both Black ("You're asking your Black friend how to talk to your other Black friend?"). He sings Mary J. Blige's "No More Drama" and tells Zoey to figure it out herself - she's Simon's friend, so she needs talk to him like Simon.
Zoey breaks the bad news to Simon, telling him he's "not alone in this." However, in what I believe will prove to be one of the most emotionally potent scenes of the 2021 TV season, he goes on to tell her exactly why he reallyis "alone in this."
"I never had any mentors look out for me like Joan. There's no room for messing up for me. And I have to constantly prove why I deserve to be here. 'Nice office, how'd you swing that?' They don't ever ask that to any of the other marketing execs...I have to constantly amputate parts of who I am to make other people feel comfortable in my presence. So they feel safe. So when I walk on the elevator, they aren't startled when they see me - do you even have to think about that?"
When Zoey tells him she "doesn't see color" - when she sees him she "just sees Simon" - he tells her that "Simon is a Black man. You seeing me as 'only Simon' denies a fundamental part of who I am. And you asking me to deny my words, Zoey? Is telling me to deny that fundamental part of who I am."
This scene is so phenomenally acted by John Clarence Stewart - he stays stoic and unbreaking throughout, but still portrays a kind of emptiness, underscored by a fury with no place to go. Like I mentioned last week, the men of Zoey have really gotten a chance to shine this season, and they are absolutely killing it.
Zoey tells Danny about Simon's feelings, but Danny just argues that he's "a good person" and "he didn't invent racism." She can't get him to budge without proving that other people feel the same way about SPRQ Point as Simon does.
Speaking of Danny, Max and Mo get the idea to ask him, now Zoey's close friend, to invest in Maximo's. Zoey gets them an appointment, and Danny ultimately invests in the venture (the $150,000 they need is basically nothing to him). Max and Mo are excited, but now they need to deliver on everything they promised, including a working app and a mural-clad restaurant - which they're not entirely sure how to do.
For his part, Max returns to SPRQ Point to get the 4th Floor's help coding the Maximo's App, and the whole floor gets in on the action (including Mackenzie, not-so-secretly lusting after Max). Tobin comes up with a good idea, and one of the team members calls him "Slumdog" in response. He plays the insensitive comment off as a joke, but Zoey still hears him singing Smokey Robinson and The Miracles' "The Tracks of My Tears."
After that incident, Zoey tries to check in with Tobin, trying to get him to talk about how his jokes are mostly deflection from the discrimination he feels. He tries to deflect again, but soon expresses feelings similar to the ones Simon did. However, when Zoey asks him to stand up and speak out with Simon, proving that SPRQ Point has a significant racial equality problem, he refuses, not wanting to "stir the pot."
Simon considers the retraction, knowing that refusing certainly means the end of his career at SPRQ Point, but Mo convinces him to stand by his convictions and not submit to people who won't accept who he really is. Zoey apologizes to the both of them for her handling of the whole situation, and Simon tells her that he plans on quitting the next day.
However, Zoey walks into work the next morning not to news of Simon's resignation, but to actual hope for lasting change: Tobin had put out his own feelings on racism at SPRQ Point after all, with a #BIPOCatSPRQPoint hashtag that quickly goes viral. With legions of BIPOC employees of SPRQ Point locations across the world expressing the same frustrations with the company as Simon and Tobin, Simon convinces Danny to let him go into the boardroom demanding significant changes to the SPRQ Point work culture.
Simon gives his presentation to the board, and SPRQ Point generates a press release with an inclusivity plan later that day. The gang all celebrate at Maximo's that night - although it's not like they just "solved" racism, they at least took a step forward. Zoey sees Simon, Mo, and all of the other BIPOC partygoers singing Janelle Monae's "Tightrope," signifying their small but significant victory.
Overall, I thought this episode was a really iInteresting play on the White Savior trope. It balanced on such a fine line for so long between actual catharsis for BIPOC community and glorification of the white people working to single-handedly "fix racism," and I was so terrified the whole time that Zoey was going to end up being the one who solved the problem and saved the day. Thankfully, it managed to keep its actual point in the spotlight, leading to results that are uniquely affecting. This episode stands out, and not just because it's the "racism episode," but because it's one that - much like a well-done diversity initiative - highlights different sides of characters often pushed into the story's margins, like Tobin and Simon.
On that note, I was also happy to see more of Alex Newell, who has been criminally underutilized in this season so far. After Mo's relationship with Eddie was banished with a throwaway line, Mo's character has seemed to be waiting on the sidelines for something to do, and although this wasn't a total Mo spotlight moment, dang if that "No More Drama" scene wasn't phenomenal. More Mo, please!
Black Lives Matter-inspired episodes are a dime a dozen this year, and unfortunately, many of them seem to be hollow outings intended for kudos and clout. But this episode stands out to me as genuine. It is not just a good conversation about racism, not just a box checked, but an excellent episode of television, in general. It felt like a full movie. There was a lot of emotion in that episode, not just in its presentation but its production. You sensed the passion that writer Zora Bikangaga and director Anya Adams had for this episode and that makes it stand out in every way.
I understand that as a white woman, there's a major aspect of this episode that simply wasn't meant to relate to me or my experiences. So let me throw this one out to the BIPOC Zoey fans: what did you think of "Zoey's Extraordinary Reckoning?" Let me know in the comments!
Zoey's Extraordinary Quotes-List:
Zoey: The PSA is right, you know? Don't do drugs.
Max: Wait, you did drugs?
Zoey: And I may or may not have done them with the CEO of SPRQ Point.
Max: Danny Michael Davis gave you drugs?
Zoey: Actually, I gave him drugs. Don't ask.
Zoey: Tobin posted about his experience online. And now there are literally hundreds of SPRQ Point employees who are sharing their own story.
Tobin: Not the way your boy expected to blow up online but I'll take it.
Zoey: And these stories aren't just from here. They're from SPRQ Point offices all over the world. London. Hong Kong. Reykjavik. I didn't even know we had an office in Reykjavik!