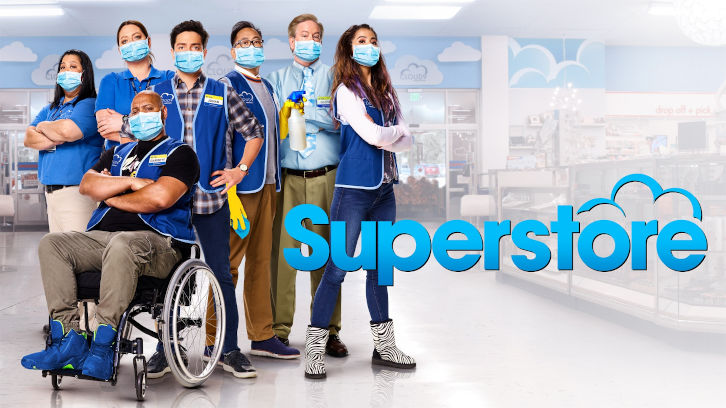 Expectations were defied more than once this week on Superstore, leading up to an ending that leaves a lot of questions for what the last several episodes will look like for Store 1217 in the romance department.
It's deposition day at Cloud 9. Everyone who was working during Carol's incident with the robot is scheduled to testify under oath with Carol's lawyer Hannah and a lawyer for the Cloud 9 corporation. Marcus claims that if Carol wins her suit against Cloud 9, she could get up to $10 million, to which the rest of the employees are vocally aghast. "Is this what today's gonna be like? Everyone talking about me? I'm gonna hate this," Carol says with a smile.
Glenn is especially nervous for his deposition, so Jonah tries to help him prepare. It doesn't go particularly well, and Jonah worries that he'll have to protect Glenn from being targeted by Carol's lawyer.
In Jonah's deposition, he tries to make it sound like Glenn never came near Glen the robot to give him an alibi for Carol's incident. However, Hannah uses this testimony to ask Jonah if that means Glenn never performed software updates on the robot (the job of the floor supervisor), something which would have led to Carol's electrocution. Not helped by the Cloud 9 lawyer, who is happy to place the blame on an individual as opposed to the company, Jonah realizes that he has accidentally thrown Glenn under the bus.
Meanwhile, Garrett and Dina agree to go on to laser tag and dinner, but both try to brush it off as "not a date"; it's not not breaking the deal with Brian as long as it ends in sex, right? However, when Dina gets jealous of the thought of Garrett flirting with other women, she and Cheyenne begin to realize that she might actually feel more for Garrett than she initially thought. Cheyenne encourages Dina to tell Garrett how she feels, and Dina hesitantly agrees.
To try and repair his blunder, Jonah asks the rest of the employees to say in their depositions that Glenn is a competent worker, which is difficult, since none of them can lie under oath. Although, to be fair to Glenn, could any of them be considered that competent? Even the more serious workers have had their fair share of major oopsies.
Mateo, too, has deposition-related woes: he is scheduled to get his ankle monitor off soon, but that future is jeopardized when he finds out that Eugene has been deposed because he's listed as Glenn's assistant. If Eugene lies and says he was working as Glenn's assistant that day, he'll be committing perjury, but if their arrangement is found out, Mateo will be in trouble. Mateo locks Eugene in his office (a.k.a. the supply closet), pretending the door got stuck. He attends the deposition pretending to be Eugene instead. Then, Sandra tricks Eugene into "doing his deposition" through the locked door, with her - crisis averted!
In Glenn's deposition, Jonah drags the robot in to try to prove that Glenn didn't have the proper training to update it, making one last desperate attempt to get Glenn off the hook for Carol's $10M payout. However, he finds out that as he interrupted the deposition, Glenn had been detailing that he had actually been updating the robot, learning how to on his own time. This leaves Jonah embarrassed, as he had not only thrown Glenn under the bus, but was wrong - making it clear that he thought less of his boss than he deserved.
Dina comes to Garrett to tell him how she feels, but Garrett, uncomfortable with the way she's been acting with him, breaks off their arrangement. She tries to play it off - she's still with Brian, she reminds herself, but is clearly hurt by this new development.
Jonah apologizes to Glenn for thinking so little of him. Glenn, in return, asks him to prove his trust in him by sticking his hand in the robot. Jonah reluctantly does so, only to get shocked, and Glenn confused as to why it happened, reaches in and gets shocked too.
The episode ends in a big "boo!" moment for the Simmosa fans, as Hannah approaches Jonah and flirts with him, and he insinuatingly asks her to let him know if there are any more "depositions he can crash." Boo!
This Jonah/Hannah moment honestly does make me believe more that Amy and Jonah will reunite in the final episodes, only because we're reaching the point where the writers knew they were cancelled, and bringing in a new love interest last minute for Jonah with the intention of it sticking would be one of the biggest missteps they could possibly take. It's more than possible that this flirtation with Hannah could be just one last way to kick Jonah while he's down - perhaps she'll try to use him for information? - but other than that, I can't see any sensible path for this plotline to go down.
As we near the end of Superstore, I can't help but think of the way this show is mostly unique in the way it portrays the working class - empathy without pity; honesty with authentic comedy. I want to write so much more about the way that this show took the notion of the rich, elite white savior coming in and "rescuing" the working class from their monotony and turned it on its head. This is definitely worthy of its own, specialized article: how would everyone feel if I wrote about that for the finale? Just feeling things out.
Regardless, what did you think about "Depositions?" What are your feelings on Garrett/Dina and Jonah/Hannah? And what do you think will happen with Carol's lawsuit? Let me know in the comments!