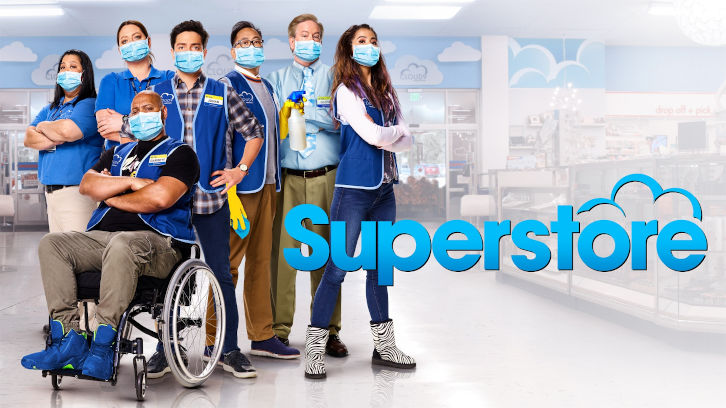 Friendships are tested (but are they?) and conspiracies are uncovered (but are they?) in this week's episode of Superstore. Read on for my review of "Conspiracy":
To the great entertainment of the rest of the break room, Cheyenne and Mateo's feud from the previous week is ongoing. In true "Chateo" fashion, the blows are grandiose, as when Cheyenne starts displaying unflattering photos of Mateo on all the store TVs and Mateo exposing Cheyenne's "fart spot" in the store to her co-workers.
However, the clash takes an interesting turn and everyone stops paying attention to Cheyenne and Mateo's "epic" roasts of one another when Sayid's girlfriend unexpectedly breaks up with him ("I always expected her to kill me, not break up with me"). Mateo and Cheyenne try to keep the beef going, but no one else is interested anymore, instead caring more about trying to make Sayid feel better. The lack of attention forces Cheyenne and Mateo to band together again to invent a scheme to direct their colleagues' attention back on themselves. They even get ice cream together while they plan - but don't be fooled, they definitely still hate each other.
Spurred by witnessing Cheyenne and Mateo's dispute, Jonah recalls his first big fight with Garrett (when Garrett watched the Dune director's cut without him), but is shocked when Garrett doesn't remember it as a fight, barely making note of the incident at all. Jonah initially brushes it off, but when he realizes that Garrett has an excellent memory for other things (like random customers who came in only once months before) he gets offended that Garrett doesn't remember something that he considers so important.
Glenn, meanwhile, has his world rocked when he finds out Zephra is changing many long-standing store policies, including getting rid of physical coupons and banning the phrase "have a heavenly day." ("I think they're just trying to play it safe, you know, 'cause some people don't believe in Heaven?")
Convinced that only a true evil could ask him to not talk about heaven, Glenn looks into Zephra corporate and begins reading into conspiracy theories about the company. While Dina, acting as voice of reason, discourages him from going down a rabbit hole, Sandra and Marcus introduce him to various internet theories about Zephra technology using 5G to control people's minds. They also point out that there's a locked room in the store labelled "Zephra Personnel Only," which is where, they conclude, Zephra must be hiding all their evil tech. Glenn tries to break in, but to no avail.
After this incident, Dina bans talk about conspiracy theories among the employees, which - in true Superstore fashion - leads to a lot more talk about conspiracy theories among the employees (Marcus being a flat earther is the non-surprise of the century).
Meanwhile, Cheyenne and Mateo plan to have a major blowout to regain the interest of their coworkers, complete with "bombshells" about how Mateo is having a long-running affair with Bo. However, Glenn finds their pre-written script as they are fighting and becomes convinced their fight is the result of Zephra mind-controlling them. Thinking they're saving the store, Marcus, Glenn and Sandra break into the Zephra personnel room, destroying what they believe is a mind control machine, but is actually the store's main computer server (cue Seinfeld theme?).
At this point, Cheyenne and Mateo have (almost accidentally) made up - the urge to gossip with each other about other people beats the urge to keep fighting for no one else's attention.
Jonah, on the other hand, is still frustrated that Garrett doesn't remember something that he thought was so crucial to their friendship, and begins to question their closeness. In a moment of generosity, Garrett tells Jonah about one time he felt hurt by Jonah shirking off a special dinner he made for him, and Jonah confesses that he doesn't remember the incident. Excited about Garrett's honesty, Jonah forgives him for not remembering the fight.
It's at this moment, however, that Glenn passes by the two, discouraged by all the changes in the store and ready to resign as manager. To convince Glenn not to quit, Jonah and Garrett tell him that a "new memo" was sent out that lets them say "have a heavenly day" again. Satisfied, Glenn leaves, and Garrett takes off, saying that "sometimes people need to hear the right lie to move on with their live.s"
"But - but not with me, right? That happened, right? The dinner?" Jonah asks - no response.
I loved that this episode had a lot of the classic Superstore vibes. Sometimes, you encounter a TV episode that's great because it's simple: something that doesn't reinvent the wheel, but is so perfectly fit into the given formula that it's still a blast. Early episodes of Superstore were great at doing this, and this episode is just the same. Written by Colton Dunn (who plays Garrett, and also wrote season 5's "Forced Hire"), this episode hits the sitcom bullseye - comfortably familiar, while still clever, creative and laugh-out loud funny.
What's more, although I've never heard about mind control, I know a lot of conspiracy theorist-types who work in retail (and COVID has only made them more aggressive), so this was particularly fun to see. Another thing Superstore is consistently great at is satirizing the more ridiculous parts of society without being condemning.
What did you think of "Conspiracy?" On a completely unrelated note, is anyone else terrified the closer we get to the (*sniffle*) series finale? Let me know in the comments!