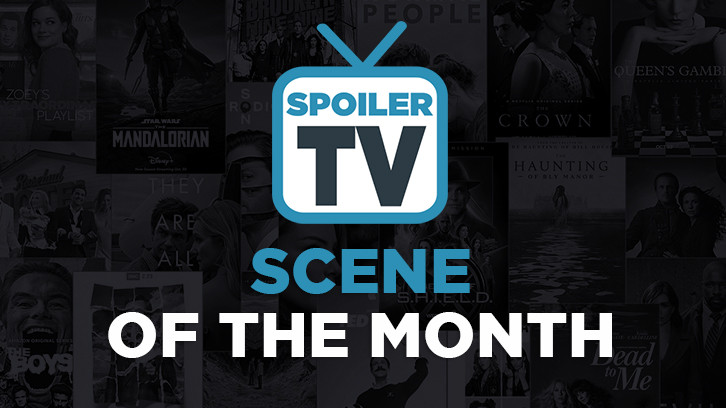 A monthly feature in which we're trying to find the most compelling, best acted, written, directed and just generally great, memorable scenes that we've seen in the past month on TV.
BATWOMAN, "Whatever Happened to Kate Kane?" & "Bat Girl Magic!", January 17 & 31, 2021, Actors: Javicia Leslie, Dougray Scott, Nicole Kang and more, The Scenes: Alice tells Jacob the truth about Kate & Mary and Luke fight about Ryan
Prpleight:
A lot of what really worked about this scene was Dougray Scott's performance. I've never really bought Jacob's inflexible hatred for Batwoman so I shared a bit of Alice's righteousness as she laid out the facts that would convince Jacob that she was telling the truth. Kate Kane was Batwoman. Watching Jacob Kane deflate as he began to believe the truth about his daughter and why she couldn't trust him enough to tell him her secret, is just one example of why I appreciate Dougray Scott's work so much.
Marko:
Mary and Luke fighting about Ryan. The fact that Kate might not come back is so painful that Luke doesn't even wanna acknowledge it. Ryan is a substitute for him and he can't look at her differently cause that would mean his best friend is gone. Both Nicole Kang and Camrus Johnson brought heart and emotion to this scene.
BRIDGERTON, "The Duke and I", December 25, 2020, Actors: Phoebe Dynevor, Regé-Jean Page, Golda Rosheuvel and more, The Scene: Simon requests the Queen's permission to marry Daphne
Prpleight
: When requesting permission to marry, Simon tells the Queen the whole truth and nothing but the truth. I expected the scene to involve Simon and Daphne telling the truth when they told the Queen they were in love. Daphne's statements were along the lines of what I expected of both characters. I was surprised by how raw and honest Simon was going to be. He'd never been that honest with Daphne during their talks. There had always been a wall. Daphne was just as shocked as the others when he began to describe his feelings for her. The most unexpectedly beautiful part for me was the Queen's reaction. It was a rare glimpse into her emotional core; an indication of how deep the loss of her husband really runs. It was, for me, the standout scene of the series.
Marko
: Simon makes the case to the Queen to marry Daphne. In probably the strongest scene of the first season, Regé digs deep to bring to screen all of Simon's emotions towards Daphne to convince the Queen for her approval. The amount of respect and sincerity Simon had for Daphne and how Regé translated it to the screen were overwhelming.
CHARMED, "Someone's Going to Die", January 31, 2021, Actors: Sarah Jeffery, Madeleine Mantock and more, The Scene: Maggie has a panic attack
Marko:
Overwhelmed by her premonition and looming death Maggie suffers another panic attack. Sarah Jeffery's delicate acting and specific directing made the panic attack come through the screen. So vivid. So impactful.
CHICAGO PD, "Tender Age", January 13, 2021, Actors: Jesse Lee Soffer, Tracy Spiridakos, The Scene: Halstead and Upton's first kiss
Jessica:
Halstead and Upton discuss her job offer from the FBI and share their first kiss. It took over three full seasons of a nice slow burn to reach this point, and now that we're here I never want to go back. The threat of being separated triggered this emotional exchange between Jay and Hailey that led them to finally act on the feelings they have for one another. From the start, Jay was supportive of whatever choice Hailey was going to make despite the fear of history repeating itself and potentially losing her. And Hailey shared with Jay the reasons why she didn't want to take the job, ultimately revealing that he was at the top of her list. Upstead being vulnerable with each other and a spontaneous, tear-filled kiss left me unable to catch my breath following this scene. It was perfection!
DICKINSON, "The Daisy follows soft the Sun", January 15, 2021, Actors: Hailee Steinfeld, Timothy Simons, The Scene: Emily talks to Frederick Law Olmsted
Luana:
There were many great scenes this month but there was something special about this conversation, mainly his advice to her when she says she feels like a Daisy who can't grow without the sun and he says perhaps she should refuse to be the Daisy and start being the sun. It felt a bit like a Grey's Anatomy callback there and I loved it.
GROWN-ISH, "Public Service Announcement", January 21, 2021, Actors: Yara Shahidi, Trevor Jackson, The Scene: Aaron and Zoey clear their relationship status
Marko:
And while I hate the constant push and pull between these two, Aaron's words hurt like hell. The words that came from Trevor's Aaron resonated so strong and he gave it just the right amount of emotions to land the scene.
MACGYVER, "Jack + Kinematics + Safe Cracker + MgKNO3 + GTO", January 15, 2021, Actors: Lucas Till, Tristin Mays, The Scene: Mac and Riley drive off in Jack's GTO
Thomas:
Saying that episode 5 was an emotional one would be an understatement, but this final scene, where Mac gives the keys to the GTO to Riley (as per her father-figure's will) and the two drive off together to the sound of Johnny Cash as the screen fades to black really finished off Jack's story in the best of ways and with a lot of respect for his character.
MAGNUM PI, "The Day Danger Walked In", January 15, 2021, Actors: Jay Hernandez, Jay Ali, The Scene: Ethan and Magnum clear the air
Folie-lex:
Amidst the storm and as they are stealing gas from one of the cars for the generator, Ethan confronts Thomas: He just has a feeling that Magnum doesn't like him. Thomas has to admit it's hard for him to have to "share" Juliet. Even though the audience is well caught on there's more to the jealousy Thomas plays it off on the pretense of their professional partnership alone. Ethan (not knowing what we do) believes him and reassures Magnum he has no intention of getting in the way of their relationship and a common ground seems to have been found. It's a well intended conversation between the two men in Higgins' life and one that as honest as possible, considering Thomas hasn't even admitted anything more is going on to himself yet.
PRODIGAL SON, "It's All in the Execution", January 12, 2021, Actors: Tom Payne, Michael Sheen, The Scene: Martin ponders about what's haunting Malcolm
Luana:
I love every scene Michael Sheen is in, but especially those in which he tries to get his son to admit they're more similar than Malcolm wants to accept, I've missed this show so much.
STAR TREK: DISCOVERY, "That Hope Is You, Part 2", January 7, 2021, Actors: Sonequa Martin-Green, Janet Kidder, The Scene: Michael and Osyraa fight near the data core
Laura B:
While there were some things in the season 3 finale that I didn't think worked too well, this was one of the guilty pleasures of the episode for me. I just enjoyed these two going at it, gun blast backlash and all.
SUPERSTORE, "The Trough", January 28, 2021, Actors: Ben Feldman, Kelly Stables
The Scene: Jonah snaps over the breakup
Folie-lex:
Edged on by poor Kelly, who just wanted to get her shift over but still cared enough to have a civil conversation with her ex, Jonah finally blows up over his break-up with Amy. It was nice to see the writers being well aware of the frustrating circumstances of the break-up that the fans have been complaining about. More than that it was cathartic, both for the audience and Jonah, to have them explicitly expressed.
THE EXPANSE, "Oyedeng", January 12, 2021, Actors: Dominique Tipper, Jasai Chase Owens, Brent Sexton, The Scene: Naomi jumps out of airlock
Justyna:
Season 5 may not have been my favorite one so far but it certainly had its moments. One of the most intense scenes I've ever seen on the show (and TV) has to be Naomi jumping out of airlock at the end of episode 7. I honestly didn't expect Naomi to die this season but I had real doubts during this sequence. There was this calmness about her. She knew exactly what she wanted to do and she chose to risk her life for a chance to save her crew, her true family on the Rocinante. Despite his past choices it was still tragic to see how much Cyn cared about Naomi and the way he was trying to help her, not realizing her actual plan. The similarities between this moment and the story she had told Filip earlier in the episode made the scene all the more powerful. I was genuinely on the edge of my seat, watching her struggle to surive in the vacuum of space long enough to reach Chetzemoka. I appreciate all the attention the creators of the show (and the books) pay to making sure that everything is as close to reality as possible. Which in this moment means extremely low chance of survival for Naomi. And yet... she does survive. Against all odds and risks, she's strong enough to hold on, to keep fighting. Dominique Tipper shines in this scene, and in this season overall. Fantastic work. The moment when Naomi is so close to death, combined with the music and then complete silence can truly take your breath away. Kudos to the cast & crew!
THE ROOKIE, "La Fiera", January 17, 2021, Actors: Richard T. Jones, Titus Makin Jr., Eric Winter, The Scene: Jackson talks to Grey
Folie-lex:
Jackson tries to talk to Grey about Stanton and Tim backs him up. It was a raw powerful scene to see these three cops from different generations, with different life experiences and different expectations have to come face to face with a problem that plagues their workforce. Grey has seen worse. Tim has ignored the problem. But Jackson expects better. And stands his ground to demand it and hold both the older men accountable. The real touching part was that he seemed to get through to both of them. Loved every second of it.
Luana:
I know this shouldn't be on Grey, and it was great of Tim to back Jackson up, but the moment that killed me was when Grey was saying that Jackson was standing on the shoulders of every black cop who had to go through hell to rise up the ladder, and Jackson replied: "and yet the water is still above my head". Such a powerful moment.
THIS IS US, "A Long Road Home" & "Birth Mother", January 5 & 12, 2021, Actors: Sterling K. Brown, Justin Hartley, Susan Kelechi Watson, The Scenes: Kevin and Randall talk & Randall learns his birth story
Marko:
I expected the whole Randall-Kevin push and pull to have a bigger impact on the season. Still, the way they play it and how they are slowly rebuilding the bridge between the brothers is really beautiful. Giving both of them the space and time to process their mistakes paid off majorly in this scene. At the end of the day they are brothers and will be there for each other.
Folie-lex:
They still have ways to go, because both said terrible things and both need to reevaluate how they fit in each other's lives and what baggage they carry and how much of that they both take out on one another, but it was a sweet moment of the two brothers trying to mend fences.
Luana:
Randall is happy to know his birth story - I know this is not realistic for many adopted children, but for anyone whose conception had an impact on their life and their identity, this moment hit hard. After hearing his mother's story, Randall learns to be okay with his birth parents being two imperfect people that loved him.
WANDAVISION, "Filmed Before a Live Studio Audience" & "Don't Touch That Dial" & "Now in Color" & "We Interrupt This Program", January 15, 22 & 29, 2021, Actors: Elizabeth Olsen, Paul Bettany, Teyonah Parris and more, The Scenes: The dinner party takes an eerie turn & Wanda and Geraldine talk about Pietro & Monica returns from the snap & The switching to color
Justyna:
This show has certainly turned out to be much better and powerful than I expected. I was hesitant at first, since I only recently warmed up to Wanda's character in the movies but the miniseries quickly won me over in the premiere. The comedy aspect had me laughing throughout the episode, but it's the moments of brutal reality (like the eerie dinner party) that made this a truly remarkable MCU experience. There's a number of memorable scenes that I could highlight from the show so far, a couple of my favorites already included in the article, so I decided to go with the moment when Wanda and Geraldine/Monica are talking about Pietro. After giving birth to her children Wanda allows a little part of reality to slip through the TV world. Her memory of Pietro lets down her guard and Monica gets a chance to actually speak to her for a short moment. That's when things take a truly dark turn, so much worse than previous strange events, because this time Wanda genuinely feels like a threat and refuses to simply switch back to the Wanda and Geraldine characters on the show. At the same time we're also listening to an unusual exchange between Vision and the neighbours and it's becoming clear that Vision realizes something is off with Westview. The scene ultimately ends with Monica being thrown out of the town, back to the reality. And the TV world we've been following finally breaks. This was such a tense, well acted moment. And I love that it's the memory of Wanda's beloved brother that starts this chain of events. We never got to spend much time with his character, but Wanda's breakdown after his death is still the most memorable part of "Age of Ultron" for me. Can't wait to see where this show takes us next. Kudos to the cast & crew for all their incredible work so far!
Prpleight:
Monica wakes up next to an empty hospital bed. A great way of illustrating that most of regular people had no idea that anything had happened to them. Patients, staff and visitors return to existence around her. I feel for the patients who had previous patients appear on top of them. None of them any more aware than she that they were gone. The staff, visitors, and patients are in a panic because of the sudden appearance of all these people. The sequence was crafted to generate a sense of chaos the audience didn't get to experience in Endgame. It was nice to get a chance to see what it was like for the bulk of the population when people returned.
Folie-lex:
The dinner party takes an eerie turn. The first episode of the show played by every 50s sitcom rule, until the dinner party, when Mr and Mrs Hart started asking the easiest questions that seemed so hard for our beloved couple to answer. And then suddenly Mr. Hart starts choking. Mrs. Hart asks Arthur to stop, then turns to Wanda. But with every "Stop it" with a stiff smile glued on her face the panic in her voice, as Mr. Hart stuggles for air, is evident. This was our first indication something is off with this reality, and that this show isn't just a "sitcom starring two Avengers".
Jamie:
Monica returns from the snap: I was not expecting this scene. It caught me completely off guard. The movie made it seem like everyone returning was only positive. But the chaos of this scene, Monica finding out her mother is dead... It's one that will stay with me for a while. So far the show had been mostly comedy with a few hints at a darker theme. But this is a complete departure from that.
Thomas:
Switching to color - There is much to say about WandaVision, and like often when so much happens in big (and much-anticipated) TV shows, the little details are what strike me the most. I found the switch from black and white to color at the end of the episode to be a nice little touch, instead of just switching off-screen between episodes 2 and 3... and the characters' reactions to it, as well as the quality of the special effects were very enjoyable!
ZOEY'S EXTRAORDINARY PLAYLIST, "Zoey's Extraordinary Distraction", January 12, 2021, Actors: Jane Levy, Skylar Astin, The Scene: Zoey and Max sing a duet
Luana:
Oh, how I've missed this show. I loved how they handled their intimacy issues with Zoey's powers, perhaps it was not the right moment for them, but I know one day it will be.