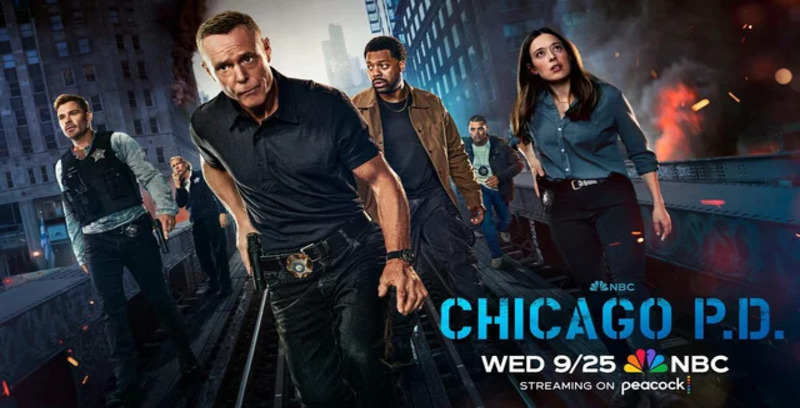 One Chicago is really blessing us these days. A new week finally means a brand new episode of Chicago PD. Hiatus? We don't know her.
Previously on Chicago PD, Intelligence worked to retrace the steps of a murdered veteran cop after the circumstances surrounding his death proved to be quite complicated. Upstead started a new chapter in their relationship. And Hailey struggled with the pain of her past when her dad ends up in the hospital.
Burzek
We pick things up with Kim and Adam who are deep in their routine of going out, spending their days off with each other, doing all of the cute, domestic things with one another. Even occasionally sleeping together like they happened to fall into at the beginning of this episode. It all feels very comfortable and warm when they're together! The next morning, Adam tells Kim that they don't have to keep things casual and they could try dating again. But Kim tells him that she knows what she wants now; marriage, babies, the job and the mess that comes along with it. When she questions whether he still wants to talk about dating, he gives a resounding yes. *cue collective Burzek sigh*
It's difficult for me to separate my own feelings and what I want for Burzek from where they actually are at this moment. But the fact is, there wasn't any real progression for them as a couple during this episode. We've only established what Kim wants, and reiterated that Adam still wants to be with her. I love Burzek, but watching them straddle this line in their relationship is excruciating.
It seemed like Kim may also hold the belief that Adam isn't ready to take the same steps that she's ready to take. As if she's holding out her hand, waiting for him to walk with her, but he's not ready to move beyond the status quo. When she told Adam about taking Makayla in, there was a moment where it felt like she was disappointed. She wanted him to take the step with her, but she viewed his concerns about her decision to mean he wasn't ready for it. I personally don't believe that's where Adam is. Adam's concern for her and the place they're in, relationship-wise, doesn't have to be mutually exclusive. But from her perspective, maybe she needs something more from him. It all feels very complicated.
The Case
Everything about this case was weird from the moment Burgess and Ruzek landed on the scene. We've got a man involved in a car accident who appeared to be brutally beaten with no indication of what may have happened or who else was involved. Intelligence starts with the theory that this was a failed carjacking and that the offenders were teenagers based on their witness' statement. But as with most of their cases, there's not a lot to connect the dots right out of the gate.
After catching the teenagers in action and then quickly slipping through their fingers, the team is left with some clues about their victims and the sketchy places they frequent. It seems that the teens are young prostitutes robbing johns to survive. At this point, it's a matter of who the teens are and where they are staying. When they finally track down one teen, Miguel Reyes, he holds a strong position. He doesn't want to flip on his friends and the only people he considers to be his family. It's not until the four kids get desperate that the case gets blown wide open.
One of the teens, Lily ends up badly beaten by a john after trying to take a normal job. And Miguel is forced to turn to Ruzek and Burgess for help. The other two teens, Sammie and Michael, escape the building they were squatting in when Miguel tips them off before help arrives for Lily. Despite all of this, Miguel refuses to give up Sammie and Michael's whereabouts believing that he can still give them a chance. Intelligence is unable to successfully track them but as Burgess flips through Lily's journal she finds a collection of dream homes all over the Atlanta area. It's clear the boys are headed to Georgia.
She confronts Miguel about tipping off Sammie and Michael by showing him the journal and asks him if they had planned to meet up and build a home together. Kim then opens the journal to reveal a note that instructs Miguel to tell her that the boys are in Iowa. That is, far from their intended destination of Atlanta. After realizing that Kim genuinely wants to help them, he tells her the boys are in Iowa. This case hit Burgess hard; mirroring the personal investment she has in Makayla's well being. It also ties back to the message Voight was sending last episode about the methods and lengths that are taken to do good things for people.
"Just You and Me"
We're about to see Kim Burgess take on motherhood with Makayla. This is such a welcome development for her character! Even though there was some trepidation at first, I believe Kim has been ready for this change for quite some time. Makayla awakened her instincts and to some degree probably played a part in deciding what she wants over the last few episodes. It was obvious that Kim wants to protect Makayla from the same fate that fell upon Miguel and his friends, which means keeping her out of a system that would fail her. And who better to take on that responsibility than Burgess.
When Kim asks Kevin for his opinion, he agrees that taking care of Makayla is not going to be easy. There are going to be a lot of challenges that she'll face along the way, but it would change Makayla's life for the better. It's not about what kind of support that Kim will inevitably need; it's about what Makayla needs. Seeing Burgess come to the realization that she could actually do this for Makayla was incredibly powerful to me. It's going to be the two of them against the world.
What did you think of In Your Care? Let me know in the comments below!