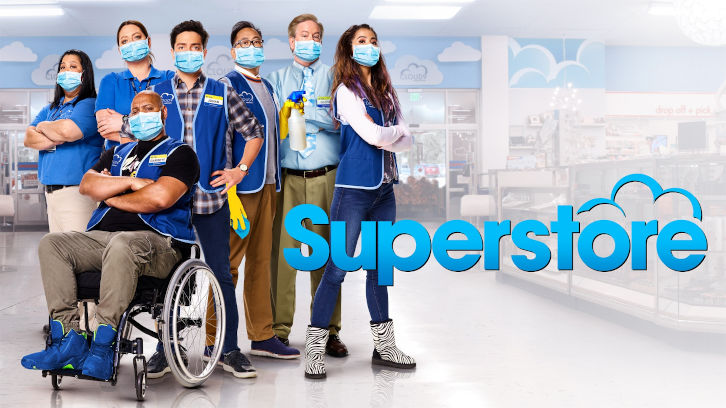 The final season of Superstore reaches a definitive narrative peak this week (as several of its central characters hit their low). Read on for my review of "The Trough."
At the beginning of the episode, Dina and Glenn have a meeting with a Zephra higher-up to talk about Carol's lawsuit against the store. They're told that the lawsuit won't be viable unless Carol can prove that she was generally unliked, or that management ever did anything that could be considered to be biased against her. So...yeah, that's going to be an issue. Zephra tells the co-managers (without actually "telling" them) that they need to spy on Carol to try and get evidence that the accident was caused by her own negligence and not the store's.
Dina asks Cheyenne to babysit Carol, making note if she violates any store policies. She then recruits Garrett to help her figure out how to get onto the employee private messaging app to look for evidence of the other employees' opinions of Carol. Instead, however, they find a bunch of employees talking about "The Trough," which they assume is a new secret hangout spot for the employees to slack off.
When Eric comes to Cloud 9 with Mateo (confirmation that at least one Superstore 'ship is still going strong!) he accidentally reveals to Garrett that Jonah is still living in Amy's old house. He's paying the rent and taking care of her plants, but he just doesn't want to move out. After everyone else in the store hears Jonah's "secret," they all start treating him with kid gloves. Glenn even invites Jonah into his office only to reveal Sandra dressed as Amy - a surrogate so Jonah can get out his "repressed feelings," which he insists he doesn't have.
Cheyenne begins to gather intel on Carol, but after it comes up in conversation that Cheyenne hasn't gotten her raise as Floor Manager yet because of corporate red tape, Carol convinces her that her suspicions and distaste should really be directed toward Zephra calling all the shots. The pair end up vaping and hanging out together in the backroom, and Cheyenne promises not to give Corporate any evidence of Carol's safety violations.
To find the location of "The Trough," Dina and Garrett anonymously invite Justine to meet them at "The Trough" to try and figure out its location. As they soon find out (partially from Justine's misguided excitement that she must have a boyfriend now), "The Trough" is a sex den, and when Garrett and Dina explore the oddly romantic atmosphere, they very nearly kiss before Dina stops herself: she's still with Brian the Vet - remember him?
Mateo, meanwhile, wants to live in Amy's house with Eric, so as most of the store tries to walk on eggshells around Jonah, he devises a plan to get Jonah to move out of his ex's place by moving back in with someone else from his past - namely, Kelly. Mateo calls Kelly in from the Fenton store to "fill a shift" and then forces her to work with Jonah, even though Eric notes that it's kind of like "kicking him while he's down."
Neither Jonah nor Kelly are actually interested in getting back together, but it's this situation that accidentally unveils the second Jonah-related bombshell of the night - when Marcus begins to feel jealous of Jonah and Kelly, he lets it slip that he is living in Amy's house with Jonah! Apparently, Marcus offered to move in one night when Jonah had had "one too many orange wines," and he needed help with the rent. When everyone finds out this information, they pity him even more. "Oh, Jonah, how did this happen?" Kelly asks.
Near the end of the episode, Carol starts blackmailing Cheyenne, revealing she recorded their conversation in the backroom, including a part where Cheyenne confesses that she stole some foundation from the makeup counter. Carol intends to use the recording so that Cheyenne couldn't use any information against her, but it turns out that Cheyenne respects her too much now to betray her anyway.
Kelly is done dealing with the store 1217 crazy (honestly, good for her), but after hearing about Jonah's situation, she gives him some advice. She clarifies that she's over him, but when she compares their own break-up with Jonah and Amy's, and tells Jonah that it's okay to be mad, he finally snaps. After a strongly-worded tirade letting out his pent-up frustrations at Amy, he decides to move out of her house - the first step to moving on.
Honestly, what an interesting episode. I think it was definitely better structurally than the past couple episodes, but some issues still remain. I might've made the critic's most dire mistake in rewatching old episodes of Superstore recently, reminscing on old times. Each episode in earlier seasons has a magnetic energy and a sense of purpose that more recent episodes - I'd say everything since "Prize Wheel" - lacks. While I do think the show can get on without America Fererra (the characters and comedy have still been top-notch), I think the apparent lack of a central protagonist has begun to bite this show in the behind.
It's a problem not easily solved, especially because the de facto choice for a new main character is seemingly Jonah; a straight white man replacing a Latina as lead is probably not the look NBC is going for right now. It's a role that America Ferrera filled so well, and while I believe it's a role that can be taken over, it seems like Superstore is trying to rely on its ensemble-ness to survive, forgetting that even the greatest ensembles have a masthead. Sometimes this strategy works well - see: "Floor Supervisor," but recently it hasn't been nearly as successful. I think that it's likely that this empty space where a grounding figure is meant to go will likely go un-filled for the rest of the season, something which I find disappointing, but not surprising.
Other than all of that, I really, genuinely did enjoy this episode! I've always loved Kelly Stables as Kelly, and I felt that Jonah's breakdown was very funny, cathartic, and - character wise - well overdue. We're seeing a lot of characters get set up to fall into place for the finale, which is always fun to see play out. And all the twists and turns the episode took were great, and very nearly hearkened me back to Superstore of old.
And even so, I hate to say that this season is fruitlessly chasing the je ne sais quoi of earlier years, especially only halfway through the arc. So I guess let's slap a "wait and see" on the whole thing. Hey, like I said - I liked the episode.
What did you think of Jonah's post-Amy reckoning? Your thoughts on the episode as a whole? Let me know in the comments!