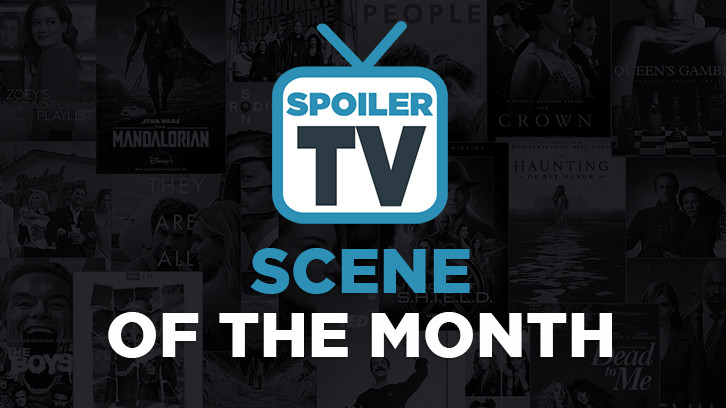 A monthly feature in which we're trying to find the most compelling, best acted, written, directed and just generally great, memorable scenes that we've seen in the past month on TV.

9-1-1, "Eddie Begins", April 20, 2020, Actor: Ryan Guzman
The Scene: Eddie flashes back while underwater
Beth: "Eddie Begins" was an excellent insight into who the character is and how he got to where he was. As the episode flash backed to his son's birth and his time in the Army, it was obvious he was a runner when things scared him that he couldn't control. When we met Eddie his devotion to Chris was so obvious, but seeing his journey to that point was amazing. As Eddie slowly began to slip away in the well, he saw all the moments with his son and the 118 and it gave him that final push to survive and make it home to his little boy he made a promise to and has kept.

AFTER LIFE, "Episode 2", April 24, 2020, Actor: Ricky Gervais
The Scene: Tony breaks down
DarkUFO: Tony breaks down while watching a video of Lisa when she was bald from chemo.

ALL RISE, "In the Fights", April 6, 2020, Actor: Jessica Camacho
The Scene: Emily breaks down
Luana: All Rise is a great show but every time Jessica Camacho's on screen she steals the show, and her whole storyline is simply heartbreaking. She's amazing in every way, but time and time again, she keeps getting knocked down by her past trauma. This scene was one of the most violently heartbreaking I've seen in a while, she just can't hold it in anymore and finally loses all her composure.

AMERICAN HOUSEWIFE, "All is Fair in Love and War Reenactment" & "Senior Prank", April 15 and 22, 2020, Actors: Logan Pepper, Daniel DiMaggio, Evan O'Toole and more, The Scenes: Cooper tells Oliver he's lucky to have Greg & Franklin sings Shallow
Marko: Franklin sings Shallow. Franklin is such an adorable goofball. He is simply precious and the focus he got in this episode was much deserved. Him rocking Shallow with that perfect high pitch was just amazing. Kudos to Evan O'Toole for delivering.
Folie-lex: Cooper tells Oliver he's lucky to have Greg. In what was a supermely top tier episode of American Housewife, where every scene and every relationship was depicted so "on point", having had enough of his whinning, Cooper ripping Oliver a new one for making fun of Greg was still the easy standout. Part of what makes Cooper so absolutely likeable is how he truly loves and appreciates the Ottos, especialy Katie and Greg, for being the involved caring parents that they are. Doesn't matter that they're goofy and poor. They're there. ALWAYS. And for a kid like Cooper who has everything except that, he's able to genuinely acknowledge and admire that trait. Him being fed up of seeing Oliver dump on Greg, who then had the audacity to also complain was too much. He knows how lucky Oliver is, and he resents how his friend takes it for granted. And letting him know as much without minsing words was beyond admirable.

BATWOMAN, "A Narrow Escape", April 26, 2020, Actors: Ruby Rose, Nicole Kang, The Scene: Mary tells Kate she knows she's Batwoman
DJRiter: This is a moment I've been waiting to see all season on Batwoman. Mary not only finally reveals to Kate that she knows her secret identity, but also manages to bolster Kate's waning confidence by relating how many times in her life her sister has inspired her. Kang has been a standout performer throughout the season but in this scene, she elevates her performance to the next level with her spirited, compassionate and heart-rending admonition and love for her sister. Stellar performance and one of the show's best moments!
Jamie: I love that Mary was the one to tell Kate she knew. Usually they always wait for them to say it first (like on Supergirl this season), but I'm glad that Mary just called her out on it. The timing wasn't great, in the middle of a panic attack but it seemed to give Kate some more confidence. Plus now that Mary is in on the secret I hope to see many more scenes between her and her sister.

BELGRAVIA, "Episode 6", April 19, 2020, Actors: Alice Eve, Tamsin Greig
The Scene: Susan explains her situation to Anne
Laura B: Susan explains to Anne what she has done and what she wants to do now. In a pretty fun plot twist, Anne Trenchard figures out rather quickly that Susan stole the documents from John Bellasis to pay him back, but instead of getting mad at Susan's discretion, she lets Susan explain her situation and allows her to go on and manage Oliver, in effort to salvage all of the characters' futures! It was just a really great exchange between two powerhouse women who seemed mostly at odds through the whole season by letting them finally come to a mutual understanding. Great acting from Tamsin Greig and Alice Eve!

BROOKLYN NINE-NINE, "Ransom" & "Lights Out", April 16 and 23, 2020, Actors: Melissa Fumero, Terry Crews, Andre Braugher and more, The Scenes: Holt takes down his dog's kidnapper & Holt and Terry dance to distract Amy
Justyna: I have to admit, there's a few moments that I'd love to highlight in the article but in the end I simply couldn't choose anything other than that dance routine. Holt and Terry trying to distract Amy from her pain by dancing to Salt-N-Pepa's "Push It" was simply the most hilarious moment I've seen on TV in a while. I couldn't stop laughing and I loved every second of it. Considering everything laughter is extra special to me right now, so I appreciate B99 even more for this incredible finale. So many great moments. A heartwarming introduction of Mac, a few acts of kindness and true friendship, as well as some action and general craziness that makes this show one of my all-time favorite comedies on TV. But that dance - if you haven't seen it, I highly recommend it. Genuinely funny and another example of how to support a friend in need. Honestly, no words can reflect its brilliance. Kudos!
Folie-lex: Holt kicks ass because the punk took "The Wrong Fluffy Boy". It was tough picking between this and Push-It dance in the finale. But seeing Holt prove yet again how big a bad ass he is, was So! Much! Fun! it ended up winning by a hair. Everything from the smack talk, to the beat down to the reveal that he might be Passenger 57 or Murtaugh had me either doubled over from laughter or as giddy as Jake was through it all. Also picked by Ellys
Beth: Holt and Terry dance to distract Amy. The entire episode was perfection but I was doubled over when Holt and Terry danced to Salt-N-Pepa's "Push It" as a way to distract Amy from labor pain.
Jamie: The dance. There's not really much I can say here. The moment speaks for itself. It's pretty much everything I never knew I wanted.

CHARMED, "Don't Look Back in Anger", April 17, 2020, Actors: Madeleine Mantock, Rupert Evans, Valerie Cruz, The Scenes: Harry and Macy kiss & Macy and Marisol talk
Klutzy girl: Harry and Macy kiss for the first time. Macy tells Harry that she has clarity now and asks him to dance (outside, to no music). What started out sweet turned sweeter when they finally kissed and then started laughing right afterwards. I'm looking forward to seeing where their relationship goes from here.
Marko: Macy and Marisol talk. A long-awaited scene, between Valerie Cruz and Madeleine Mantock. The two broken-hearted women shared a peaceful moment sharing a lifetime in 10 Minutes. Both of them are scared by missing each other in their life, but the sincerity and closeness between them were brought to life by these two actresses in a mesmerizing manner.

DEVS, "Episode 8", April 16, 2020, Actors: Nick Offerman, Sonoya Mizuno
The Scene: Forest shows Lily the future of her killing him (picked by DarkUFO)

FLACK, "Brand Barron", April 20, 2020, Actor: Anna Paquin
The Scene: Robyn has a miscarriage
Luana: I can't believe I just found this show but I'm obsessed. Paquin is just incredible in each episode. She's been trying to keep it all together even though her life is a mess, but when she has a miscarriage as she's waiting at the abortion clinic she even says "nice touch, of course", to God, the Universe, and she proceeds to start crying for the first time in years. Eve waiting for her outside was also lovely, but nothing beats the intensity of this particular scene.

HOW TO GET AWAY WITH MURDER, "What If Sam Wasn't the Bad Guy This Whole Time?", April 30, 2020, Actors: Viola Davis, Liza Weil, The Scene: The Frank reveal
Luana: All I can say right now is I did not see that coming.

IN THE DARK, "Cross My Heart and Hope To Lie", April 23, 2020, Actors: Perry Mattfeld, Casey Deidrick
The Scene: Max finds Murphy in the bathroom
Beth: Although it was a small moment, hearing Max say 'Murph' was music to my ears. This love story is far from over so seeing Max and Murphy together was so satisfying.

KILLING EVE, "Meetings Have Biscuits", April 26, 2020, Actors: Sandra Oh, Jodie Comer, The Scene: Eve and Villanelle's reunion on the bus
Jamie: This is a scene we've all been waiting for and it did not disappoint. I really love the way the relationship between Eve and Villanelle is written. They're slowly growing closer but will still kick each other's ass when face to face. Did we really expect the first kiss to happen any other way?
DJRiter: The first time Eve and Villanelle see one another after their last fateful encounter in Rome was everything this series needs to put an electric charge into this season's slow start. As always, Sandra Oh and Jodie Comer are masterful when in scenes together and to set this tense, and soon to be iconic reunion confrontation on a moving city bus was nothing short of genius!
Marko: The bus fight. Killing Eve is a marvelous piece of TV and the way they executed this fight was phenomenal. They shot it perfectly and the brutality of Eve's reaction simply matched the brutality of Villanelle's punches.

LEGENDS OF TOMORROW, "Zari, Not Zari", April 21, 2020, Actors: Shayan Sobhian, Joanna Vanderham, Tala Ashe and more, The Scene: Behrad's death
Justyna: This one took me by surprise. I've grown to really like Behrad's character and his sudden death hit me harder than expected. Zari's reaction alone was heartbreaking to watch but the timing makes it even worse. Zari has finally met her other self and we got to see the heartwarming reaction of old Zari to the news of her family's survival. Saving them was always a priority to her and just when she learns that they're all finally safe and well, thanks to her own sacrifice, our new Zari is faced with the tragic news of her brother's death. Something the two versions of Zari truly have in common - love for her younger brother. Right before he dies he makes two choices - one to save his sister and then another to try to take down Atropos himself. He dies as a loving brother and a brave Legend. The visual of Atropos cutting the thread of his life, after sensing his death in the original timeline, is another detail that makes this scene so memorable to me. I do hope there's a way to save him. For a character that spent so little time on the show, I sure miss him already.

MODERN FAMILY, "Finale", April 8, 2020, Actors: Ed O'Neill, Eric Stonestreet
The Scene: Jay calls Cam his son
Klutzy girl: The series finale was great but what broke me was Jay referring to Cam as his son too during their (initial, failed) goodbye. It was such a sweet moment - these two have come a long way since the pilot.

OUTLANDER, "Mercy Shall Follow Me", April 26, 2020, Actors: Sophie Skelton, Edward Speleers
The Scene: Brianna buys her time "fake" reading Moby Dick to Stephen Bonnet
Laura B: Both Sophie Skelton and Ed Speelers did a fantastic job with all of their scenes throughout the episode, but Speelers has once again taken the cake, as Bonnet tries to prove that he can learn to love and as Brianna tells the story of Moby Dick, even though that is not the book she has picked up to read. But Speelers is able to bring a likable, charismatic, and even a vulnerable side to character that is often so wrong, which makes later scenes even more vile. It's a testament to Outlander having 3-dimensional characters who are not all one thing, even if ultimately they need to meet their ends.

PRODIGAL SON, "Like Father...", April 27, 2020, Actors: Halston Sage, Dermot Mulroney, The Scene: Ainsley kills Endicott
Klutzy girl: They've been foreshadowing all season that Malcolm wasn't the Whitly to take after Martin, and it paid off in the finale. Ainsley's killing of Endicott - which started off as self-defense - was brutal and amazing all in one. The fact that she didn't seemingly remember afterwards was slightly terrifying and intriguing. And Martin's apparent happiness about Ainsley killing someone wasn't much of a surprise. Desperately hoping we get a season two because I need one after that cliffhanger!
Luana: Ainsley's "stable Whitly" act was getting a little boring for me, but this episode did a great job of building towards this moment. I wouldn't for a second believe Ainsley was in shock and forgot, her face was absolutely dead while she slit his throat and then the overkill seemed absolutely on purpose so her legal defense would be easier. I've had my qualms but I love this show and these characters and I can't wait for a second season.
Alison: Ainsley Whitly kills Nicholas Endicott. All season the show built up Malcolm as Martin's heir apparent, but it was Ainsley all along. There is no doubt that when she first grabbed the knife her intent was self-defense, but the absolute menace and barely contained glee as she slit Endicott's throat and stabbed him with abandon prove she is daddy's little girl.

ROSWELL, NEW MEXICO, "Como La Flor", April 27, 2020, Actors: Jeanine Mason, Bertila Damas, The Scene: Liz confronts her mother
Marko: It was the best performance of Jeanine during her current Roswell NM run. She simply exploded as Liz went through all her emotions and her darkest thoughts came up to surface. All the pain, all the lost innocence came out in a beautiful manner.
Jamie: I said it in my review as well, Liz was the MVP of this episode but this was probably my favorite scene. She's not some naive teenager anymore, she knows her mother all too well and she's not afraid to call her out on it. And it's not so much about the ring as about the fact that her mother would do something like this again, after all she said during dinner. Great scene.

STAR WARS: THE CLONE WARS, "The Phantom Apprentice", April 24, 2020, Voiced by: Ashley Eckstein, Sam Witwer, The Scene: Ahsoka vs. Darth Maul
Chris: This season has drastically recovered in the last few episodes, and this scene here is the prime example. This is peak animation, peak Clone Wars, and peak Star Wars in general. The fight was extremely well crafted, as well as holding significant narrative heft. And having the siege of Mandalore as the backdrop made it all so much more epic.

STATION 19, "I'll Be Seeing You", April 9, 2020, Actors: Miguel Sandoval
The Scene: Pruitt sacrifices himself to save the team
Jamie: I don't get emotional all that often anymore over TV shows but this moment really got to me. He wanted to go out on his own terms and what better way than to die saving not only his only daughter but also the entire team that he calls family.

THE CONNERS, "Pilot Lights & Sister Fights", April 14, 2020, Actors: John Goodman, Katey Sagal
The Scene: Dan tells Louise he loves her
Klutzy girl: I've been enjoying the slow burn between these two (although it was frustrating at times) but am so glad they finally burned. John and Katey have some amazing chemistry. John played Dan's nervousness about the situation so well, as did Katey when Louise realized he took off his wedding ring. They were absolutely adorable joking about Dan looking elsewhere, and the kiss was perfect.

THE FLASH, "Liberation", April 28, 2020, Actors: Grant Gustin, Candice Patton, Efrat Dor
The Scene: The Flash comes face-to-face with Mirror Master
Chris: While the Mirror Master plot has started to drag these past episodes, in this episode the show finally put four on the floor. Plenty of great moments to find here, but Barry finally seeing Mirror Master for the first time was the best of them all. With his speed dwindling, both "reflection" Iris and Eva absolutely pummeled him. This was a rare moment where we see Barry truly broken both physically and emotionally, as he helplessly does all he can to get Iris back. A great moment in a fantastic episode.

THE GOOD FIGHT, "The Gang Tries to Serve a Subpoena", April 16, 2020, Actor: Michael Boatman, The Scene: Julius continues to investigate Memo 618
Laura B: Finally The Good Fight is back, as its fourth season gets into some new mythology with Reddick, Boseman and Lockhart having new overlords with STR Laurie and Julius becoming a judge, but whose legal capacity to enforce subpoenas is halted by a mysterious memo, Memo 618. Later in the episode Julius goes looking for answers as he is taken to a field! I loved this scene so much, because it's reminiscent to couple TGF episodes (Killer Song), but tonally it's more like Braindead or Evil with a really fun horror/espionage vibe. But moreover it was especially exciting to see Julius be the character that goes down the rabbit hole first this season, as opposed to it almost always being Diane!

WESTWORLD, "Genre" & "Decoherence", April 12 and 19, 2020, Actors: Evan Rachel Wood, Aaron Paul, Tessa Thompson and more, The Scenes: Dolores breaks humanity's loops & The Robocop awakens
Justyna: "Westworld" is such an impressive show. Wonderfully acted, cleverly written and beautifully done. So much bigger on the inside, with topics deeper than meets the eye. Also, it makes me think and remember one of my all-time favorites, especially this season, and that's always much appreciated. "Genre" is perhaps one of the strangest episodes of the show yet, can't quite believe that they managed to make this idea work. I do love the focus on the music here, this series' soundtrack is easily one of the best ones I've ever heard. Incredible work by Ramin Djawadi. This particular scene features an arrangement of David Bowie's song "Space Oddity" that elevates the story. The reality hits so much harder than Caleb might have expected. Dolores' plan includes sending every person on the planet their Incite data - past, present and predicted future. And the world descends into chaos... Seeing everyone's reactions, first on the train and then everywhere else, is shocking, emotional, painful. Secrets being revealed are one thing, predictions like the one about a child's suicide are something else entirely. Some people might have been freed in this moment but all we truly see is heartbreak and chaos. There's a lot of details in this scene that make it so much more memorable to me. The acting is spot-on and the music completes the moment perfectly. Kudos to the entire cast & crew of Westworld!
DarkUFO: The Robocop Awakens.

YOUNG SHELDON, "A Baby Tooth and the Egyptian God of Knowledge", April 16, 2020, Actors: Iain Armitage and more, The Scene: Sheldon talks to the posters on his wall
Folie-lex: Sheldon riding a chamomile high talks to the posters on his wall. Trying to recreate his trance at the dentist so that he could come up again with the answer of a grand unified field theory Sheldon drinks concentrated chamomile. His experiment goes well enough as the posters on his walls come to life, from Einstein and Prof. Proton to Missy's Cyndi Lauper poster as well. The show tends to hit the mark when it goes a little goofy and dreamy. And getting to peek into Sheldon's head, seeing his brilliance mixed with his childish imagination was a lot of fun.

ZOEY'S EXTRAORDINARY PLAYLIST, "Zoey's Extraordinary Silence" & "Zoey's Extraordinary Mother", April 5 and 26, 2020, Actors: Jane Levy, Lauren Graham, John Clarence Stewart and more, The Scenes: Joan tells Zoey that work isn't everything & Simon and Jessica sing "Happier" & Howie's daughter and classmates perform "Fight Song"
Folie-lex: Joan tells Zoey work isn't everything. It might not be the most popular or significant scene the show has offered up this month, but there was something about this moment that got to me. I've really enjoyed the relationship that Zoey and Joan have developed throughout the season. But it showed something even more genuine and humaine to see Joan both open up to and comfort Zoey like that. It was especially poignant since Zoey had spent the majority of the episode apologizing for slacking a bit at work, because of all the funeral shopping she was helping her mother with. To listen Joan speak of losing her own mother and the regret of letting work get in the way of her spending time with her grounded an already layered and interesting character in ways we haven't seen before. And to boot Lauren was (as expected) brilliant.
Luana: Simon and Jessica sing "Happier". Marshmello's "Happier" is such a beautiful and sad song at the same time, and so was the dance between Simon and Jessica as they broke up. This show has so many brilliant scenes it's hard to choose, and no one's more surprised than me that I chose one where Zoey's barely noticed. But the realization that the person you love can only be happy without you has to be a tough one, and these two performers portrayed the heartbreak and surrender beautifully.
DJRiter: Howie's deaf daughter and classmates perform Rachel Platten's "Fight Song". Zoey's Extraordinary Playlist has defied all expectations of what people think the show is from day one. However, they excelled far beyond that and more with this exceptional scene featuring Sandra Mae Frank and the Deaf West Theatre Company performing a passionate, touching and spirited rendition of Rachel Platten's "Fight Song." Brilliant choices were made throughout from performances and the Emmy award worthy choreography of Mandy Moore to the conscious choice to use a classical, instrumental version of the song. Frank and the performers conveyed every word and meaning of the song. It was as powerful and memorable moment of television as I remember seeing in recent years.