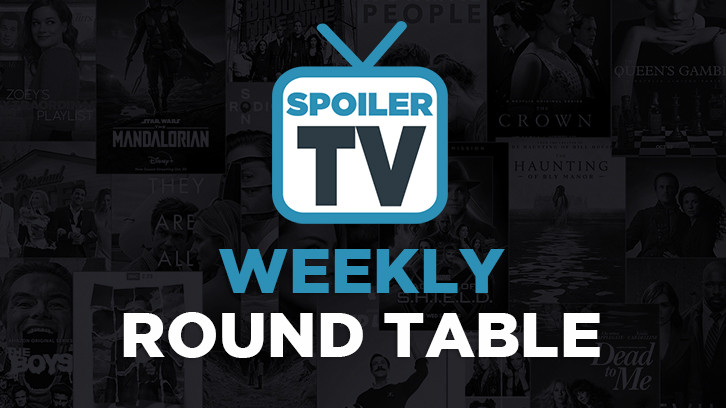 Hello and welcome to a new edition of SpoilerTV's Weekly Round Table! Joining us this week is Milo M-J (MJ), Giulia Del Buono (GB), Cecile (CL), Ellys Cartin (EC), Alison D (AD), Jamie Coudeville (JC), Donna Cromeans (DR), Lisa Macklem (LM), and myself (ZF). You just have to sit back enjoy the read and join the discussion in the comment section down below.

Most shows had to close down early this year due to the virus, often shortening their seasons. This means that this year we may not be seeing the season finales the writers planned. Given that the last episodes we saw were inadvertent season finales, how were they? Did you feel like they came to a good stopping place, are you frustrated that everything just "stopped"?
Giulia:
I saw the
Grey's Anatomy
season finale which wasn't the actual season finale. I think it worked, given the storylines that were still open. It kind of didn't feel like the story was complete, but I actually think it made sense and the next season can start from that cliffhanger at the end of the last episode.
Cecile:
The only season finale I watched of a show that had a truncated season was
The Resident's
. They did what they could and structurally it kinda worked, but season 3 wasn't the show's best level in any case, and the finale didn't make me interested in what would happen in season 4 if the show gets renewed. I'm not "frustrated" everything stopped because it was and still is entirely necessary considering the situation, and the productions did what they could with what they had, which, considering the circumstances, is more than we could ask for.
Ellys:
It turns out that I am able to keep up with far less broadcast shows than I used to, hence I haven't yet been affected by the shortened seasons yet. I am anticipating an abrupt ending for
Batwoman
as CW shows usually pack all the punches into the final episodes of the season.
Alison:
Most of the shows ended with unanswered questions or game-changing actions, so it feels like every other season of television. The real question is when will the industry be able to safely return to work and how long will audiences have to wait before they get answers and see how the unexpected choices impact the characters going forward. I'm not frustrated by the unexpected season finales. Truthfully, of the shows I watch regularly, I don't know that I'm fully aware of those that did and didn't have a truncated season.
Jamie:
I haven't seen that many frustrating season finales. Most so far have been okay. Legacies' finale wasn't great but the ending worked as a season finale cliffhanger.
NCIS
usually has a build-up in their last few episodes towards the finale but I think that was meant the start in the next episode. There was only a tiny hint of a guy wanting to hand Gibbs a file that I'm assuming would've come up again later.
Empire's
series finale did feel a bit rushed. I'm assuming some heavy editing was done on that one. Other than that, nothing has really jumped out so far. But a lot of the CW shows still need to finish their seasons and I fear for the DC shows and
Riverdale
.
Donna:
From what I've seen some shows have been able to craft a plausible season-ending and some have not. I think perhaps this was easier to do for sitcoms and some dramas. I'm anxious to see how action shows like most of the CW superhero shows handle the situation given where most were in their shooting schedule. Of those shows, I think
Supergirl
may be in the best position to give us a satisfying end to the season as they were mere days away from finishing shooting and producers are reediting the previous episode with footage shot from that final episode to craft their season-ending story. It is frustrating to watch some shows just hitting their stride going into that home-stretch build-up for the finale.
Lisa:
I was actually surprised that some shows actually did come to a good stopping point - I'm thinking of
New Amsterdam
in particular. Finding out that Daniel Dae Kim had actually contracted COVID while filming was shocking and powerful - and I really liked how they handled the "end" of the season and the introduction of his character. Other shows weren't as satisfying - and I'm thinking particularly of
Supernatural
. Of course, I have exactly made it a secret that I've not been liking this season - but as it is the last, I wonder how they will handle wrapping up the series - the actors have other commitments now to juggle too...
Zoé:
The main show I've been keeping up with that has been affected by COVID is
Prodigal Son
. Luckily, the cast and crew had a bit of warning and were able to film two episodes out of four, so they did their best to wrap things up. Personally, I think they did a great job. It was a little rushed, but even someone who didn't know about the pandemic issues (thinking future watchers, here!), it still works well and has a great ending. Very excited to see what happens next!
In spite of production shutdowns, a number of new shows are still set to premiere in May. What should be on our watchlists to sample?
Milo:
I haven't started
Hollywood
yet so I'm going to check it out - my track record with Ryan Murphy has been hit or miss and the reviews for this have been mixed, but I'm here for it.
The Eddy
is one of my most anticipated new series of 2020 thanks to the involvement of Damien Chazelle who has delivered 3 masterpieces after another (
Whiplash, La La Land, & First Man
) and the stellar cast that includes Andre Holland and Amandla Stenberg. Yes; the episodes may be long, but in this new normal - the longer the better. I'm also going to be checking out
Stargirl
- word of mouth from those who have already watched it has been positive and it looks to be a different tonal shift from most DC shows. I loved Bong Joon-Ho's
Snowpiercer
so I'm very curious to tune into the adaption coming soon as well, but anyone who's thinking of watching this absolutely needs to check out the movie regardless of whether they've seen it or not.
Giulia:
I still have to check out
Hollywood
, but I'm pretty exicted for season 2 of
Dead To Me
. It was a pleasant surprise and I really enjoyed watching it. Also, as a fan, I'm excited to see Julianna Margulies on season 5 of
Billions
, in the episodes that they were able to shoot before shutting down production.
Cecile:
It premiered in late April so not sure it counts but I was really excited about
Normal People
, and it's excellent. I'll probably try
Hollywood
at some point, too. I want to be excited by
The Eddy
because Damien Chazelle's
Whiplash
was absolutely brilliant, and I really like Tahar Rahim. But
La La Land
was a big miss, so I'll wait for the reviews first. I'm intrigued by
Betty
too, I'll probably give it a shot soon.
Ellys:
To back it up slightly, if you missed them in April, watch Apple TV+'s
Home Before Dark
and Netflix's
Never Have I Ever
. May premieres to watch out for include
Upload
(Amazon),
Sweet Magnolias
(Netflix),
Space Force
(Netflix),
White Lines
(Netflix),
Valeria
(Netflix), and Hulu's
The Great
. Hopefully, FOX will also premiere
Filthy Rich
.
Alison:
Before we get to May, I'd like to quickly recommend two shows from April,
Home Before Dark
from Apple TV+ and
Normal People
on Hulu. As for May, I'm excited for
I Know This Much is True
from HBO. I know it's an adaptation of a novel by Wally Lamb, but I'm not familiar with the plot. What I do know is that Mark Ruffalo is always brilliant, and honestly, that's all I need to know to give this a try. My enthusiasm for the CW's
Arrowverse
has waned considerably these last few years, but if word of mouth is any indication, I'm cautiously optimistic about
Stargirl
. Horror definitely isn't a genre I usually watch, but I'm looking forward to
Lovecraft Country
. It doesn't have a definite premiere date, but the teaser trailer grabbed my attention. I'm a sucker for allegory as a vehicle for social commentary. Finally, it's a movie, not a series, but Netflix's
The Half of It
is very much worth a watch.
Jamie:
I only have
Stargirl
on my list. But that's mostly because I've tried to limit the new shows I start per year. I am considering checking out
Hollywood
since it's a limited series but I want to hear more reactions first.
Donna:
I'm hearing great things about
Hollywood
and plan on checking that out as I am a big fan of that era and loved the producer's previous productions about Bette Davis and Joan Crawford. Other shows on my list include
Stargirl, Sweet Magnolias, and Space Force.
and I am sure there are a few more hidden gems I'm bound to discover.
Lisa:
So much great stuff coming in May! #1 on your list should be
Agents of S.H.I.E.L.D
! I'm looking forward to
Hollywood
on Netflix and
The Undoing
on HBO. I'm also looking forward to
I Know This Much is True
HBO - which was shifted from April to May.
Zoé:
I've been waiting for the new
Agents of S.H.I.E.L.D.
season for nearly a year now. I'm hyped!
With shortened seasons, and no apparent pilots being filmed do you think this means that networks may be more inclined to give shows on the fence a second chance till the industry can get up and running again? If so which shows that were likely to be asked will get new life and why?
Milo:
I hope so, at least for the fans - there aren't many bubble shows that I'm watching but it could prove to be a unique opportunity for them to find an audience. I would be surprised if
Zoey's Extraordinary Playlist
doesn't get some kind of renewal - but after thinking
Dare Me
would survive cancellation I don't feel like I'm confident enough to offer any predictions just yet given how unpredictable this season is.
Cecile:
Probably, but selfishly I hope the "on the bubble" shows that do get renewed because of this are those that were critically acclaimed. I'd rather have fewer new shows (and rewatch or discover old ones) than get more not-great shows that will only get renewed because of the situation.
Ellys:
It is truly hard to guess. A bubble show is still a bubble show, and networks may be seeking to cut costs until they get back on their feet. The increase in viewing due to the state of the world right now will surely lead to a decrease in viewing when some form of normal life resumes. It may be more financially prudent to cancel shows that would have been otherwise kept, but the same case could apply in reverse. ABC, for example, tanked their freshman dramas
Stumptown
and
Emergence
with longer and longer gaps between episodes.
Stumptown
might have a slight edge with its better-known cast, but everything could go either way at this point. CBS had better do whatever they have to do to renew
All Rise
.
Alison:
I certainly hope the networks are more inclined to give some of the bubble shows a second chance, but at the end of the day, networks need to see a potential for profit. Of the shows in danger there are three that I'd hate to see go. Luckily,
Evil
has already been renewed.
Zoey's Extraordinary Playlist
was a surprise for me. I thought I'd hate it, but the opposite is true, and it deserves another season.
Stumptown's
cancellation would be a terrible loss. The cast is outstanding and the character arcs are just getting started. There is so much story left to tell. ABC needs to do right by this show by first renewing it and then giving it the promotion it deserves.
Jamie:
I have actually no idea. I can't imagine that no new shows would be picked up but I do think it'll be less. The ones with really low ratings will still get canceled but I think that the "on the fence" shows might get lucky. It'll depend on the network. I don't see FOX being merciful.
Donna:
My sincere hope is that the networks take this time to carefully evaluate where they stand before resuming production. I hope this means that show on the fence might have been given a reprieve and in some cases a second chance to prove themselves. Two shows at the top of my second chance list are
Stumptown
and
Zoey's Extraordinary Playlist
, both are exceptional shows that didn't get the best treatments from their networks but are great programs.
Stumptown
features some great writing and an extraordinary cast headed by Cobie Smulders. Its stories and unique cast of characters drew me in and kept me captivated week after week.
Zoey's Extraordinary Playlist
was one of the more pleasant surprises of the season for me. Its out-of-the-box premise and delivery was not what I expected at all. The show quickly captured my attention with its depth and heart and stories. It has a wonderful cast and I would love to see what these creative producers and Emmy worthy choreographer in Mandy Moore would do in a second season.
Lisa:
I suspect there will be a mix of shows from scripts/pilots - as we've gone a long way in this direction already - and shows that get that second chance. I'm really hoping for more
Stumptown, Tommy, Emergence, and Perfect Harmony
- all great shows! It will be easier to get these back into production - maybe. I think it's pretty telling that very few cancellations have been announced yet.
The networks may order new series just off the pilot scripts and preliminary creative details. If you could order one pilot to series per network, which one would you choose and why?
Milo:
A very tough call. I'd go with
Superman & Lois
for the CW - as much as losing
Green Arrow and the Canaries
would hurt. But I'm down for either - and
The 100
prequel would be awesome too as I'd love to spend more time in that world. ABC has
The Brides
for me - Roberto Aguirre-Sacasa is never boring and I need a good Dracula inspired show after the abomination that was the BBC take earlier this year. There's not much of a slate elsewhere that stands out for me but I'd take
Clarice
from CBS, and NBC's next big attempt at creating a new
Manifest
,
Debris
- I loved J.H. Wyman's
Almost Human
and felt it was unjustly cancelled, so hopefully, he gets better luck this time out.
Giulia:
The one I would be really interested in is
Ways and Means
on CBS, with Troian Belissario and Patrick Dempsey. It's a political show and the premise seems promising, it seems like it could become a fun show to watch. Plus, I really love political shows.
Ellys:
In truth, the quality of broadcast pilot scripts overall was mediocre this development season. I credit this to two factors. First, broadcast networks passed on the vast majority of the best projects last season. Second, streaming services are where most people want to be hanging out. It's also possible that some broadcast networks have enough successful shows that they aren't that interested in pursuing other big projects. Whether my conjecture is accurate or not, the stack of pilots that I waded through was a disheartening mess. The CW pile presents an appalling creative void, which includes not one but two pilots that are the third attempt to reboot an older property. The two already ordered to series are extremely unlikely to land on anyone's must-watch lists, except die-hard fans of people/characters involved. Networks also have to consider what people are going to want to watch in the near future. Do we want to watch people dealing with loss and financial struggle? Or do we want to see some very charming people solving murders? There are conversations to be had. I predict every network will order one or two multi-cams. They just will.
That said, based off pilots and casts, I do have some favorites. ABC has three incredible drama pilots:
The Big Sky, The Brides, and Harlem Kitchen
. I just don't see a world where ABC successfully pulls off the first two. They just aren't able to do that kind of thing.
Harlem Kitchen
is their best bet. Netflix, pick up
The Brides
asap. I also loved comedy pilot
Prospect
, but there's not a chance in a million ABC picks it up. The CW shouldn't have ordered a single one of their pilots. They need to go home, think about what they did, then revive
Containment
for a second season. CBS, order the Dempsey/Bellisario
Ways and Means
drama. NBC, order your X-Files sci-fi
Debris
procedural. (
La Brea
is fun but no one's got money for that). As for FOX, there isn't a single pilot there I would order.
Alison:
Given the pilot scripts available, narrowing down what I would order to series is easy. I can't say I was impressed by most of what I read. And the few that did seem compelling or worthy of a series order, I fear some will suffer from being on network television. David E. Kelly's
Big Sky
seems to be the best of the bunch for ABC. The casting announcements elevated the script for me, but I'm not totally sold. They better quickly establish the show's mythology. Ultimately, the often sanitized nature of network television isn't a great fit for what has the potential to be a brutal and atmospheric thriller. Queen Latifah's
Equalizer
seems perfect for network television and absolutely perfect for CBS. It's the type of procedural that will quickly find its audience. The CW choices were a mess, but of their offerings the reboot of
Walker
,
Texas Ranger
has the best chance. Nothing about it reads or feels like a CW show, but it was made for Sunday nights—somewhere. If Jared Padalecki's
Supernatural
fans follow, this show has a chance, but from demon hunter to a cowboy is quite the course correction. I worry most about
Debris
in NBC's hands.
Debris
' is perfect for fans of
Fringe
and has the potential to become a much loved fan-favorite series if it's done well. FOX should try again next year.
Jamie:
I haven't really been keeping track of the pilots this year... or the year before for that matter. I like the idea of the
Wives of Dracula
pilot, but I'm not sure what network that is on. And I would order
The 100
spin-off for the CW. But I also like the idea of the
Arrow
spin-off. But with
Superman & Lois
already having been ordered, I doubt the CW will go with 3 spin-offs. Which is a shame because those 3 are my favorites.
Donna:
To be honest, I've not seen or heard much of anything in the pipeline that has made me want to stand up and take notice. To be honest, I'm not that thrilled about the premise I'm hearing for
Superman and Lois
, but I was impressed with the back-door pilot and am very excited to see more of
Green Arrow and the Canaries
.
That wraps up another round table! Feel free to drop your thoughts in the comments below. See you next week!