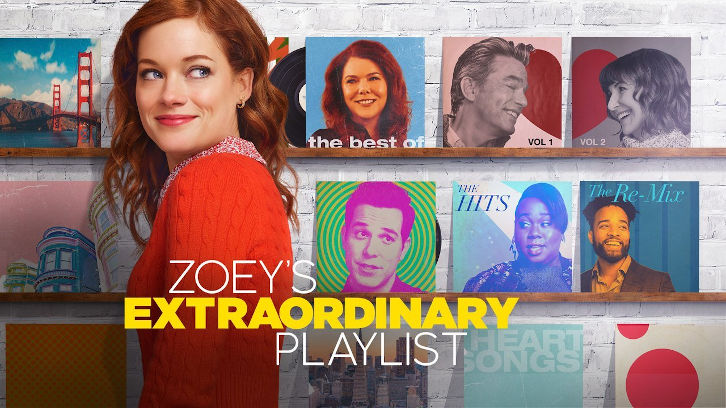 Various characters have started to learn how to cope with their feelings on week's episode of Zoey's Extraordinary Playlist, and it leads them down some pretty interesting roads.
"Zoey's Extraordinary Silence" starts with Zoey and Mo having a discussion on what Zoey's going to do about her complicated Simon problem, one that got, as you might recall, even more complicated last week, when the two shared a kiss in Simon's office. Mo encourages Zoey to have an honest conversation with Simon on both of their feelings, so she takes off to do exactly that.
However, when Zoey comes up to him asking to have a conversation to clarify where they stand, Simon is as noncommittal as ever. He tells Zoey that while he does like her and thinks they have a "connection," he doesn't necessarily want to be with her while he's still with Jessica - right? As Zoey says, "That didn't clarify s--t!"
In the meantime, Zoey goes to visit her father, only to hear Howie from the kitchen singing Simon & Garfunkel's "The Sound of Silence." Asking her father if he knows what that meant, Mitch spells out "daughter" on his computer - apparently, Howie's having family trouble.
When Zoey asks him about it, Howie confesses to her that his college-age daughter Abigail and him had a falling out, and he hadn't heard from her in weeks. It's their lack of correspondence - "the sound of silence" - that has him so worried. So Zoey encourages him to reach out and try to meet up with Abigail to make amends.
Howie sets up the meeting, but because Abigail is also a computer programmer, Howie asks Zoey to come along so that he can feel like Abigail will be interested in seeing him. Zoey agrees and the two go to Abigail's school together. When they arrive, Zoey finds out that Abigail (portrayed by actress Sandra Mae Frank) is actually deaf, and the reason why she and Howie got into an argument is because she wants to go on a service trip to Kenya, and Howie is concerned that with her condition, she won't be able to handle it. A frustrated Abigail then performs a powerful rendition of Rachel Platten's "Fight Song" in ASL, joined by many of her fellow students (as played by members of the Deaf West Theater).
This scene is a very memorable display of Zoey's powers, as well as a seemingly silent turning point for Zoey. We can see the realization on her face as she recognizes that her powers are not just an opportunity for her to fix peoples' problems: they're providing a voice to the feelings people can't or won't put into words. They're a sign of hope, that your problems and the cause of your pain can and will be heard.
Abigail then visits the SPRQ Point office, where Zoey is surprised to learn that Tobin is actually fluent in ASL (truly, full of surprises!). He acts as translator as Zoey and Abigail talk about Howie. Abigail expresses that she feels that Howie is too protective of her. Ever since she went to college and found many other students living full lives in spite of their disabilities, she has wanted to do the same, but she's frustrated because Howie's concern is blinding him to what she can really do. Zoey also mentions that Abigail should apply for a SPRQ Point internship when she returns, something that I would be all in for! I loved Abigail's character, and would be really interested to see her return as a regular in future seasons.
Zoey and Howie then talk, and Zoey advises him to let Abigail go to Kenya. Later, she finds the both of them arguing again - but this time, it's about what she should pack for her trip. Zoey's argument changed Howie's mind, and he gave Abigail's trip his blessing.
A lot of other characters faced similarly important turning points in this episode. The biggest example of this is likely Max, who was surprised this week by a visit from Ava Price (played by Renee Elise Goldsbury), the manager of the SPRQ Point 6th floor engineering team. Ava was impressed by Max's improvisation in the Chirp presentation, and offers him a management position on her floor. Max is shocked at the offer, but doesn't turn it down. After all, what was holding him to the 4th floor? His friendship with Zoey? He might be, as Ava mentions, "stuck waiting for something that will never happen."
He brings this new development to Zoey, who responds by saying that while as a boss, she'd hate to lose him, as a friend she doesn't mind his move. When Max asks what the part of her that sang him "I'm Yours" felt, she responds that she'd miss seeing him every day. I really think Zoey's trying her best, but that definitely was not the response Max was hoping for, so at the end of the episode we see him meeting with Ava, seemingly accepting her offer.
This might be an issue for us, Zoey/Max shippers. Not just Max's promotion, although it certainly is a barrier as well, but this episode made it absolutely clear: Max is a romantic, in many senses of the word, and if the premise of this show tells us anything, it's that while she's growing more used to it, Zoey is not a fan of the touchy-feely. Will Max and Zoey overcome their differences and repair, at least, their friendship? It's yet to be seen, but I certainly hope so!
Simon was also forced to confront his true feelings this week, as he was taken to task not once but twice for his indecision on his Zoey/Jessica conundrum. The first time was by Mo, who laid it out for him clearly in the ultimate "Finally, this happened!" moment of the entire series so far. Simon admitted that he was just confused about what to do with Zoey and Jessica, that he didn't mean either of them harm, and that he was hurting having to seemingly choose between them. But Mo responded that "hurt people hurt people," and that no matter what, he should be more intentional with his actions regarding both of them.
Later, spurred by Abigail's confidence, Zoey shows up in Simon's office and also expresses a desire to not be strung along by him anymore. Until he's figured out exactly what he wants, she says, she's done with him. Even though I really like Simon's character (and thought actor John Clarence Stuart did a great job this week), I was really glad for both of these scenes. It was refreshing to see that both Zoey and Simon recognized that their relationship as it stands was completely unhealthy, and I wish more shows would acknowledge those kinds of unstable relationship dynamics when they appear.
In a bit of good news, the 1-2 punch of conversing with Mo and then with Zoey finally convinced Simon to take action, (although what that action means for everyone involved in this enormous love triangle is to be determined). The episode ends as Zoey walks into the SPRQ Point office, to find Simon and Jessica in the middle of what looks to be an official break-up, woefully singing "Happier" by Marshmello feat. Bastille - "I want you to be happier, I want you to be happier, so I'll go."
While I felt that overall, story-wise, this episode was weaker than several of the previous outings, I'm finding that the "Zoey" writers really seem to know how to balance an episode. While the plot development this week was thin, the character development was strong, with a lot of very prominent issues between characters being ironed out all throughout this episode. In addition, I continue to appreciate how much the writers are really utilizing the premise they've been given by showing many different ways in which Zoey's powers can change and affect people. As I said, the "Fight Song" scene was incredibly moving, and I hope that the writers continue to look down different avenues for new dynamic ways to display Zoey's powers.
What did you think of this episode? We're on hiatus next week, so what do you want to see happen when the show returns? Let me know in the comments!
Zoey's Extraordinary Quotes-List:
Zoey: I have no idea what I'm supposed to day to Max and Simon today. Is it possible to have feelings for two guys at the same time?
Mo: Absolutely. I liked two guys once. One was named Byron, and the other was named Bryan. It got very complicated.
Mo: What exactly is going on here? Creative inspiration or a massive cry for help?
Zoey: I took my microwave apart just to put it back together. It usually makes me feel better.
Mo: Ever try a facial?
Ava: I make it my business to know all the star players at SPRQ Point, Maxwell.
Max: And I'm one of them?
Ava: I'd like to meet with you tomorrow up on 6. How's 11am sharp?
Max: May I ask why?
Ava: I ask the questions.
Max: Okay. But isn't tomorrow Saturday? Uh - let me de-question that: Tomorrow's Saturday.
Jessica: Gosh, I really love the vibe in here! How would you describe it?
Mo: "Lady and the Tramp" meets Lady Bird Johnson meets "Lady Marmalade."