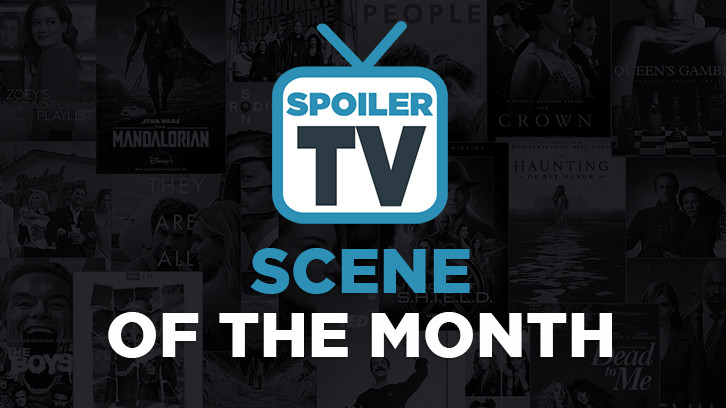 A monthly feature in which we're trying to find the most compelling, best acted, written, directed and just generally great, memorable scenes that we've seen in the past month on TV.

9-1-1, "Fools", March 23, 2020, Actors: Ryan Guzmanm, Gavin McHugh
The Scene: Eddie talks to Chris
Beth: Eddie's instinct as a dad has always been to show Christopher he can do anything, so it was hard for him to talk to his son about the limitations he has because of his CP. This scene showcased what an amazing bond the two have and once again Gavin and Ryan hit us with an emotional gut punch because of how awesome they are as actors.

9-1-1: LONE STAR, "Monster Inside", March 2, 2020, Actors: Rob Lowe, Ronen Rubinstein
The Scene: Owen talks to TK about the dog
Beth: Everyone could tell TK loved Buttercup hence why it was so strange that he was treating the dog the way he was. When Owen talked to him, it opened the floodgates about TK's fear of losing his father. The scene ended beautifully with Owen getting TK to give in and love on Buttercup.

ALL AMERICAN, "Stakes is High", March 2, 2020, Actors: Cody Christian and more
The Scene: Asher comes clean about using steroids
Alejandra M: Asher comes clean about using steroids to the team, and explains the reason he did it was for himself, and that he got suspended indefinitely. I feel like this scene showed his character development because him coming clean meant he wouldn't play football anymore, and it would ruin his career, which was the main reason why he started using steroids. Him not sugar-coating his reasons took courage, to tell the truth like that, and overall it was a very well acted scene.

BATWOMAN, "Off with Her Head", March 15, 2020, Actors: Rachel Skarsten, Dougray Scott, The Scene: Jacob saves Alice's life
Justyna: Alice is such an interesting, complex character. She has done a number of terrible, unforgivable things and yet I truly felt for her throughout this hour. Her story is tragic, complicated, heartbreaking on so many levels. The nightmare she has survived and the person she has become definitely make her family question how they should feel and act around her. She's both a cold-blooded killer and a terrified little girl who never got rescued. In this scene we watch Alice finding a way out of her chains but realizing that she's once again trapped and locked away, with no one coming to save her. She stopped believing that anyone would show up for her, which makes Jacob's last-minute arrival all the more meaningful. He shows up just in time to stop Alice from taking her own life. He gives her adrenaline to nullify the toxin in her blood and embraces his daughter. For a moment they appear to be just that - father and daughter reunited, with Alice even calling him "daddy", like little Beth used to. Their moment can't last, but maybe that's what makes it even more special and powerful. Rachel Skarsten once again steals the show for me with her incredible performance. Kudos!

BETTER THINGS, "Steady Rain", March 5, 2020, Actors: Olivia Edward, Diedrich Bader
The Scene: Duke gives Rich some advice
Eve: Rich breaks up with his younger boyfriend and is at Sam's house and in her bed for some comfort from his best friend. Duke walks into the bedroom and gives him some very mature advice: "You'll find love again… and if you put the work in now, you'll be better in the long run. And later, when you meet someone, they'll be better for you because you'll be better then, too."

BLACK LIGHTNING, "The Book of War: Chapter Two: Freedom Ain't Free", March 2, 2020, Actors: Cress Williams, Christine Adams, The Scene: Lynn asks Jefferson to keep his promise
Prpleight: Lynn asks Jefferson to keep his promise to protect his family, even if it means he has to kill. One of the frequent arguments that Jefferson has had with his daughters, has centered around his conviction that as "superheroes" they do not kill. Period. But, they're facing war, and Lynn is looking at the situation with clear eyes. Lynn forces Jefferson to face the reality that they're going up against an enemy stronger than anyone they've fought; a man literally prepared to kill thousands. She reminds him that he promised to protect his family. If that means kill, he should kill. The question is...will he be able to?

BLUE BLOODS, "Vested Interests", March 6, 2020, Actors: Tom Selleck, Ed Asner
The Scene: Frank visits his former mentor
DJRiter: Frank visits his former mentor who is now an agoraphobic. In trying to get him to venture back out in the world they bond over shared memories of the movie, "The Great Escape." How wonderful was it to watch these two seasoned pros show you how it's done to make such a short, simple scene touching and memorable?

CHARMED, "Third Time's The Charm", March 27, 2020, Actors: Melonie Diaz, Madeleine Mantock, Sarah Jeffery, The Scene: The girls get the Power of Three back
Marko: After a rough season, story- and writing-wise, the girls rediscovered what being a witch means and faced their biggest fears with an open heart. Death could strike at any moment and how they live till then is what matters. So they embraced their faith and sisterhood and regained the Power of Three.

DOCTOR WHO, "The Timeless Children", March 1, 2020, Actors: Jodie Whittaker, Sacha Dhawan, The Scenes: The Timeless Child reveal & The Doctor breaks out of the Matrix
Justyna: There's so many things that could be said about this episode. I'm still not quite sure how I feel about the Timeless Child reveal, but there's no denying that Jodie Whittaker did a wonderful job in this one. One of the best parts for me has to be the moment when the Doctor tries to process the news, understand it and ends up breaking out of the Matrix. Her short exchange with Ruth helps her find a way back to herself and the strength to keep fighting. She actually blows up the Matrix by flooding it with her memories, her many lives and everyone she's met on the way. I always love those moments when we get a glimpse of the past and this one is no different. The music and all the flashes make this one quite a powerful scene. It may not be the biggest event of the hour but it's certainly one that I truly enjoyed. Memory of the many fan favorites that still live in the Doctor's mind. Never forgotten. I'm very interested to see where we go next.
Zandarl: I will choose The Doctor breaking out of the matrix using her mind. We got to see images (past and present) from all her previous incarnations. As she wakes up her new companions stand over her and she says 'my Fam'.
Milo: The Doctor learns that she is the Timeless Child. This was one of the more powerful moments of the Chibnall era so far, a brilliant performance by Jodie Whittaker that shook the knowledge that she had in the Time Lords to the core and really gave the season a chance to go out on a memorable high note.

ELITE, "Polo", March 13, 2020, Actors: Danna Paola and more
The Scenes: Lu's investigation interview & The group decides to protect Lu
Marko: Lu's investigation interview. Danna Paolo was the saving grace of the season. Her performance was impeccable throughout the season and it all peaked in the season finale. Lu's interview was emotional and heartbreaking and completely on point. Ended it with a perfect: I have feelings Bitch.
Jamie: The group decides to protect Lu. I was so surprised that she told them what happened. Considering they spend most of the time fighting, I was surprised to see them stick together but I loved it. Best moment in the whole show, IMO.

EVERYTHING'S GONNA BE OKAY, "Monarch Butterflies", March 5, 2020, Actors: Josh Thomas, Kayla Cromer, Maeve Press, The Scene: Nicholas tries to give Matilda and Genevieve some advice
Abby C: When Nicholas talks to the girls about their lack of effort in school while on a hike he's doing the opposite of what he tried in the previous scene, which was getting mad and making them walk home after kicking them out of the car. This scene takes place a couple of weeks later and while the girls have shrugged off the fight, he's obviously been thinking about it. It's a lovely scene with Nicholas trying to give Matilda and Genevieve life advice because they're at that age when the choices they make will have consequences for them as adults.

FBI: MOST WANTED, "Ghosts" & "Reveille", March 10 & 24, 2020, Actors: Julian McMahon, YaYa Gosselin, Nathaniel Arcand and more, The Scenes: Clinton saves the fugitive's life & Jess finds Tali
Beth: Jess finds Tali. Part of what has made this show so special to me are the scenes with Jess and Tali. Julian and Yaya have wonderful chemistry as father and daughter and it comes across in every scene they share. When Jess saw Tali and she jumped in his arms, it was such a relief. I loved the moment she sweetly cupped his face because it was almost like she was reassuring him that it was all okay now and he could breathe.
Dahne: Clinton talks the fugitive out of killing himself. This episode was the show's finest so far, especially because of the deeper dive into Clinton as a Native American. Throughout, he describes parts of recent Native American history that doesn't get much mention on TV. However, the best scene is where Clinton assures the fugitive, Reg, that he still has a reason to live. Reg has to be there for his little brother and help him avoid the mistakes Reg made, ending the cycle of violence that started in his father's childhood. It was a powerful scene in an already excellent episode.

GOD FRIENDED ME, "The Last Little Thing", March 1, 2020, Actors: Brandon Micheal Hall, Javicia Leslie
The Scene: Miles admits that he doesn't know how to help Ali
Dahne: Miles confesses he doesn't know how to help Ali and she tells him that he just needs to be there. When Ali starts chemo, Miles feels useless, in part because he doesn't share the same faith that his dad and sister do. I love how Ali reassures him that just by being there, he is helping her. Theirs is one of the strongest brother-sister relationships on TV and it is even more enjoyable for the rarity.

GOOD GIRLS, "Egg Roll" & "Au Jus", March 1 & 15, 2020, Actors: Manny Montana, Christina Hendricks
The Scenes: Rio and Beth at the clinic & Beth makes fake money for Rio
Eve: Rio and Beth at the clinic. Beth told Rio she's pregnant to buy some time as she knows he won't kill a pregnant woman. When the doctor performs the sonogram she confirms the pregnancy. Unbeknown to Rio the doctor was in on it and lied for Beth.
Marko: Beth makes fake money for Rio. This scene just showed what a powerful medium Television still is. With no words spoken, Christina Hendricks and Manny Montana carried out so much angst, anger, heartbreak, and tension.

HAWAII FIVE-0, "Home go the very tough lads of the hills" & "He cannot be caught for he is an ulua fish of the deep ocean", March 6 & 27, 2020, Actors: Alex O'Loughlin, Scott Caan, The Scenes: Steve talks about the sunset & Danny talks to Steve about being burned out
Beth: Steve talks about the sunset. Knowing this show is reaching its conclusion makes these moments very bittersweet. As Steve slowed his horse and took in the sunset, it just meant more because we know our time with this show is setting soon. These small beats make me just a little more emotional while I am watching.
Klutzy girl: Danny talks to Steve about being burned out. I'm not surprised that a decade of trauma has finally caught up to him, especially after the year he's had, and I'm glad Danny's there for him, whatever may happen next. "You're my Danno" also broke me because it was such an unexpected, adorable line. I adore everything about their friendship and am going to miss it/the show.

LEGENDS OF TOMORROW, "Mr. Parker's Cul-De-Sac", March 10, 2020, Actors: Brandon Routh, Courtney Ford and more, The Scene: Ray and Nora get married
Justyna: Such a beautiful moment, taking place shortly before the bittersweet ending of Ray and Nora's journey on the show. This was a great episode in general, complete with Nora's father, Damien Darhk returning from the dead, at least for a short while. Despite the rough start he truly has changed, ultimately choosing his daughter over everything else, even if that meant actual hell for him. This time he gets to say goodbye, walk his daughter down the aisle and see her genuinely happy. It's a moment of joy for everyone and I love how we don't need to hear a single word spoken throughout the whole scene. All it takes is a look at Ray and Nora, heartfelt reactions from their friends and the music. It's perfect. An actual happy ending for the two people who truly deserve it. Ray has been the heart of the show since the start and Nora's character development is one of my favorite stories from the series. Brandon Routh and Courtney Ford deserve all the praise for their fantastic work on the Legends. The show will never be the same without them.
Klutzy girl: I love that they put together a wedding so quickly, and it was such a sweet scene. These two clearly love each other, and I already miss them. I'm glad we got to see them get a happy ending before their departure from the show.

LITTLE FIRES EVERYWHERE, "Seeds and All", March 18, 2020, Actors: Reese Witherspoon, Kerry Washington, The Scene: Elena talks about motherhood
Beth: As Elena let her walls down, we got a peak into the hurt and heartbreak she feels about Izzy being so lost. Witherspoon grabbed me and didn't let go with this monologue because it was so raw and real.

MODERN FAMILY, "Baby Steps", March 18, 2020, Actors: Jesse Tyler Ferguson, Eric Stonestreet and more, The Scene: Cam and Mitch decide to adopt the baby and buy a new house
Folie-lex: Cam and Mitch tell the adoption agency they are adopting the baby and put in an offer on a new house. After spending the episode fretting and being unsure about whether or not they were ready to expand their family (with the subsequent home upgrade required) and when in fact it seemed they were just gonna keep things as they were because "when you know you know" and they had come to a conclusion they didn't know... all they needed was that look between them... and they both knew... and so did we. And I had tears in my eyes. This show is full of strong reliable marriages. But there is something about Mitch and Cam when all their hopes and dreams of their family's happily ever after come true that realy gets me.
Klutzy girl: Cam and Mitch had been arguing against adopting all episode but they just knew what was in their hearts - that they wanted to adopt another baby and move. It was such a sweet, emotional scene, and I can't wait to see their family grow.
Jamie: It's been a while since Modern Family has been able to make me feel excited like this. It's a shame that the show is ending because I'd love to see them take this journey.

NEW AMSTERDAM, "Perspectives", March 10, 2020, Actors: Ryan Eggold, Freema Agyeman
The Scene: Helen tells Max that everything she's done was for him
Alison D: Helen tells Max that everything she's done she's done for him. Talk about a slow burn. The longing between Dr. Helen Sharpe and Dr. Max Goodwin is unmistakable, but haunted by the ghost of his dead wife, Georgia. When Max moves into Sharpe's space the audience is poised, waiting for one of them to close the distance, but the wedding ring that he still wears is a weighty reminder that he's not ready. It's a scene that is equally full of heartache and promise. Agyeman and Eggold have a seemingly natural chemistry that works well for their characters. They play their roles beautifully.

OUTLANDER, "Better to Marry Than Burn", March 22, 2020, Actors: Duncan Lacroix, Maria Doyle Kennedy, The Scene: Murtagh and Jacosta talk the night before Jacosta's wedding
Laura B: While Murtagh's storyline has gone ways beyond the book's, one of the best things the series has done has given us this turbulent romance between Jamie's aunt and godfather with the likes of Duncan Lacroix and Maria Doyle Kennedy, with Kennedy in one of her best roles to date! But the rejection of Murtagh was so devastating to watch, knowing that most likely Jacosta will come to regret it.

PRODIGAL SON, "The Job", March 16, 2020, Actors: Molly Griggs and more
The Scene: Eve climbs into the box
Dahne: To be honest, there are better scenes this month from Prodigal Son, mostly involving Jessica and Malcolm or Martin. However, nothing else creeped me out as much. Eve has been listening to Malcolm about his nightmares, often revolving around the Girl in the Box. Later, Eve slips away at Jessica's house and creeps into the basement. There she opens the box and climbs into it, just like Malcolm remembers the Girl in the Box. It's appalling and demented in a show that has its fair share of demented. Not only is Eve creepy here, but the fact that they still have the trunk in the basement is beyond sick. Yikes, people!

SCHITT'S CREEK, "Sunrise, Sunset", March 10, 2020, Actors: Eugene Levy, Emily Hampshire and more
The Scene: Johnny tells Stevie about his plan for David's wedding
Folie-lex: Johnny tells Stevie that he and Moira had also set aside a nest egg for David's wedding. Only Schitt's Creek can make a moment where a rich old dude talks about his former plans to charter people to Bali for his son's wedding relatable. I had tears in my eyes throughout that speech. Eugene really brought the pain of a father feeling like he's letting his son down and being unable to provide for him in the way he had always planned and would like.

SEAL TEAM, "Fog of War", March 4, 2020, Actors: Neil Brown Jr, Lucca De Oliveira and more, The Scene: Ray dismisses Vic from the team
Jimmy: Seal Team has had a really solid season, and its 2020 return from the winter hiatus has been very good. As the team dissected a failed op, Ray thought he'd be on the hook for a major error in judgement: throwing the wrong grenade in a hostage rescue situation. At the last minute, evidence came to light that Vic had made the error instead, throwing a grenade which blew up some explosives that were in the room. Vic didn't confess until the crucial evidence appeared, but remarkably Ray found it in himself to forgive Vic before rightly stripping his patch and dumping him from Bravo team.
Prpleight: Vic loses his trident. The episode started with Jason declaring a "complete mission failure". As the team tries to figure out what happened, Ray determines that the failure was his fault; a decision that will cost him everything. When evidence is found that explains the failure, they discover that Vic, the newest team member was at fault. They also realize that Vic held back this information. He was willing to let Ray take the fall. Most of the team was ready to kill him, but Ray forgave him. Vic thought, hoped, his apology would be enough, but while Ray could forgive him, he couldn't trust him with his, or his brother's lives. It was kind of heartbreaking, to watch Ray cut the trident patch from Vic's uniform.

STAR TREK PICARD, "Nepenthe" & "Broken Pieces", March 5 & 12, 2020, Actors: Michelle Hurd, Santiago Cabrera, Patrick Stewart, Jeri Ryan and more, The Scenes: Raffi gathers the five holograms together & Picard reunites with Riker and Troi & Seven of Nine returns to help El Nor
Sandi: Raffi gathers the five holograms together in order to work out what's going on with Captain Rios. So many scenes to pick from this month here but I have to go for this one for several reasons. Firstly, I am a fan of Santiago Cabrera so it's no surprise that I have been extremely happy to see him being able to show off his talents on the show through playing more than one role. But this scene in particular was just a delight, providing some much-needed comic relief and firmly planted them as one of my favourite new Trek roles in recent years. The complexity of Rios' character split down into several distinct personalities, complete with ticks and accents, all interacting with each other at the same time, cannot have been as simple and effortless to throw together as the final two-minute scene looks on the screen. For that reason alone I can't imagine there will be many of them in the future, though I do hope we will continue to see more of the individual holograms appear with the Captain himself in most episodes as I enjoy their interaction, and they often throw open a window on this enigmatic, roguish pilot.
Milo: Picard reunites with Riker and Troi. Even though I'm not up to date on all of The Next Generation, I'm currently working my way through Season 3, and I just love how well writers Michael Chabon & Samantha Humphreys pulled off this reunion, both Jonathan Frakes and Marina Sirtis delighted in bringing back their characters with a quiet, sombre and reflective touch that feels at odds with the more bombastic nature of the series in an episode that slowed the pace down but in a way that benefited the episode greatly. It may have been nostalgia bait, but I'm not going to complain about good nostalgia bait.
DJRiter: Seven of Nine returns to help El Nor escape the Borg cube. After answering his summons, Seven joins him in his fight to escape, to do that she had to reconnect herself to the collective mind to help free other Borg. That moment when she reconnects, thus risking sacrificing the humanity she has gained in all these years was a masterful moment from Ryan. Her return as the character to the Star Trek world was one of the outstanding highlights of the show's first season.

STRIKE BACK, Episode 5, March 24, 2020, Actors: Daniel MacPherson and more, The Scene: Wyatt goes it alone
Jimmy: Wyatt goes it alone and nearly pays the ultimate price. If the episode a week prior wasn't good enough, the mammoth 5m 20s long take at the end of this episode was arguably even more impressive, even if some of the cut points were more obvious than I'd have liked. Wyatt became a man on a mission, though he forgot to take his teammates with him. This scene began outdoors and involved a spectacular combination of aerial and ground filming as Wyatt fought his way along a raised plaza, before entering a building and climbing several stories, seeing off assailants on the way. The scene - and the episode's final moment - was Wyatt finally meeting his match, as he was caught by surprise and shot in the neck at close range. While Strike Back's storyline has been on the shallow side in its final season, the impressive efforts in front of and behind the camera in many of its scenes still make it highly watchable.

STUMPTOWN, "All Quiet On the Dextern Front" & "All Hands on Dex", March 4 & 25, 2020, Actors: Cobie Smulders, Tantoo Cardinal, The Scenes: Dex tells Sue Lynn about why she thinks Benny died & Sue Lynn and Dex toast Benny at his grave
Dahne: One of my favorite things about Stumptown has been the development of Dex and Sue Lynn's relationship. At first toxic and then grudgingly respectful, it has turned into one strengthened by mutual grief. Throughout the episode, Dex has been given advice on how she needs to confess the things weighing her down. She finally does in this scene, where she tells Sue Lynn about her guilt over Benny's death. Sue Lynn listens to details she never knew about her son's death but then absolves Dex of her guilt, reminding her that Benny would never want her to torture someone so he could live. There's nothing traditionally touchy-feely about this scene; both characters are too hardened by grief for that. Still, it moves their relationship even further as mentor and mentee.
DJRiter: All season the tension between Dex and Sue Lynn has been due to unresolved issues regarding Benny's death. After Dex risks her life and freedom to get to the truth the two meet and bond by sharing a toast to Benny at his grave. Scenes between these two actresses and these characters have been outstanding during the show's first season. Now with the truth about Benny's death revealed where do they go from here? This excellent show deserves a second season to show us, if for no other reason to give us more scenes between Smulders and Cardinal.

SUPERGIRL, "Alex in Wonderland", March 22, 2020, Actors: Chyler Leigh, Melissa Benoist, The Scene: Alex lashes out at Kara
DJRiter: Alex lashes out at Kara about going to her Dad's funeral. Shows should be as blessed as Supergirl to have as talented a pair of performers like Supergirl has in Chyler Leigh and Melissa Benoist. Just when you think they can't get any better they give you a scene where the Danvers sisters, both in pain and grieving for their dead father, argue as to why Alex has decided not to attend his funeral. In this deeply intense, emotionally charged scene neither actress holds back which is why they are one of the finest acting duos on television on any show. While Benoist's role in the episode was limited aside from this and one other standout moment, Leigh goes on to give perhaps her finest performance of the series, taking Alex on an unusual journey through her grief.

THE BOLD TYPE, "The Space Between", March 5, 2020, Actors: Katie Stevens, Dan Jeannotte, The Scene: Jane tells Ryan she's decided to have the double mastectomy
Folie-lex: Jane announces to Ryan she's decided to have the double mastectomy and is giving him the chance to opt out of the relationship. He reassures her he's in it for the long haul. For a love story and a ship that has been quite frustrating at times, there was nothing more gratifying than to see how far they have both come as characters and how much they have both grown into this relationship. That Jane chose to actually have this conversation with him in this adult manner and the way Ryan declared that "this isn't how their story ends" and held Jane tight letting her know he'll support her through it all, only drove the point further home.

THE GOOD DOCTOR, "Fixation", March 2, 2020, Actors: Freddie Highmore, Paige Spara
The Scene: Shaun confronts Lea
Marko: Another magnificent performance from Freddie Highmore as the rejection from Lea hit Shaun hard. He couldn't cope with the fact that she is saying no to his love.

THE SINNER, "Part V", March 5, 2020, Actors: Bill Pullman, Jessica Hecht
The Scene: Harry kisses Sonya
Eve: Sonya visits Harry and they talk about the case. Sonya is hinting that Harry likes her but Harry deflects.. when Sonya gets up to leave Harry plants a kiss on her. We saw there was an attraction between Harry Ambrose and Sonya Barzel from the start. However, we the audience, are not sure yet if Sonya is totally innocent in the whole story. Is she hiding something? Did she know Jamie and Nick? Is she involved?

THE WALKING DEAD, "Walk with Us", March 15, 2020, Actors: Norman Reedus, Cailey Fleming, The Scene: Daryl finds Judith with Earl's body
Sandi: I nearly went with the earlier scene between Judith and Earl, but the sheer emotional punch this short scene delivers as Daryl discovers Judith sitting shellshocked by the body of the friend she had just had to kill in order to keep the rest of the children safe makes it that much more memorable. After having searched for the children and fearing the worst had happened to them in the aftermath of the Whispers attack, this is one situation that probably never crossed his mind. Yet his nurturing instincts kick in immediately as he wordlessly takes her sword, puts himself between her and Earl, and comforts her. Cailey Fleming played a blinder in this episode, the script asked her to dig deep at times and she showed us that she's more than ready to be challenged with whatever this show is likely to ask of her character in the future.

THIS IS US, "Strangers: Part Two", March 24, 2020, Actors: Justin Hartley, Sterling K. Brown, Caitlin Thompson, The Scenes: Kevin learns about Madison's pregnancy & Randall and Kevin's argument
Klutzy girl: They've been building up to this storyline for a while now, and I'm excited it's her and can't wait for next season. Kevin's building panic about fatherhood and then excitement shown through Justin's amazing acting. The fact that it's twins was a surprise but I love that they're accidentally following in Jack and Rebecca's footsteps. Wherever this leads and however it pans out, I can't wait to see Kevin and Madison co-parent their son and daughter.
Marko: Randall and Kevin's argument. A perfect culmination of a multiple-episode build-up. Justin and Sterling didn't hold back and carried the painful words well dozed, with the right emotional tremble in their voices and intensity that left me speechless.

WESTWORLD, "The Absence of Field", March 29, 2020, Actors: Evan Rachel Wood, Aaron Paul, The Scene: Dolores tells Caleb the truth about Rehoboam
Justyna: There's several powerful moments that I would like to highlight from the first three episodes of the season. But the one I decided to include in the article is probably the one that surprised and hit me the most. We've learned quite a lot of details about the real world already, but Dolores explaining what the system is truly capable of and the way people have been using it was not what I expected at all. In the diner Caleb is confronted with his worst memory but it's the conversation on the pier that changes everything for Nichols. As it turns out the algorithm predicts that Caleb will take his own life on this exact pier in about 10-12 years. This calculation is what determines how other people see him, it's the reason why he's not able to get a better job, no matter how qualified he might be, the world has already identified him as a lost cause, thus ensuring the outcome. Dolores tells Caleb what she intends to do and he makes a choice to change his fate, to help her start a revolution. If that is truly what she's after than it definitely helps me see her in a different light. But the moment certainly wouldn't work nearly as well if it wasn't for Caleb, or rather Aaron Paul's phenomenal performance. Caleb chooses to fight and "Westworld" is clearly making references to some real life issues. This show is so well written and acted. The music in the background of this scene works beautifully as well. I can't wait to see what happens next. Kudos!

YOUNG SHELDON, "An Academic Crime and a More Romantic Taco Bell", March 5, 2020, Actors: Iain Armitage, Wallace Shawn, The Scene: Dr. Sturgis admonishes Sheldon for his behavior
Prpleight: Sheldon's awareness that he's smarter than everyone around him, has imbued the character with an arrogance that, we know, will plague him into adulthood. Most of the situations the audience has seen where his arrogance gets him in trouble have been personal. This time it was professional and his bad behavior had consequences. For the first time that I can recall, they were consequences that mattered to Sheldon. Dr. Sturgis' anger was also new. We've seen him as the sweet nerdy nebbish and as a a man suffering from a mental illness requiring treatment. This is the first time we saw him as a professional who was hurt, offended and angry. Actions have consequences and it's time Sheldon learned that.

ZOEY'S EXTRAORDINARY PLAYLIST, "Zoey's Extraordinary Neighbor" & Zoey's Extraordinary Failure" & "Zoey's Extraordinary Glitch", March 1, 8 & 29, 2020, Actors: Jane Levy, John Clarence Stewart, Alex Newell, Peter Gallagher and more, The Scenes: Simon worries that he wasn't there for his dad & Mo reveals why he won't return to church & Zoey sings to her father about not being ready to lose him
Dahne: Simon worries that he wasn't there for his dad before his dad's suicide. While I'm not a fan of the love triangles that Simon and Zoey create, I loved this scene. It's the anniversary of Simon's dad's suicide and things are rough for Simon. While reminiscing about his dad, Simon now sees the warning signs he missed and fears that he could have stopped his dad if he had been paying more attention. Instead of sugarcoating it, Zoey says that there probably were signs but then gives Simon the bigger picture and with that, hope and peace. She reminds him that everyone needs to move forward, even in hard times and even when facing a huge loss. It's one of the better speeches on TV and crucial to remember in these hard times.
Prpleight: Mo reveals why he won't return to church. I had dismissed this show based on the title and description of the musical aspect of the show. While channel surfing I heard a favorite song, and wound up watching the rest of the episode. The scene in which Mo explains why he hasn't returned to choir rehearsal was beautifully (and heartbreakingly) written and performed. I was blown away and will be watching from now on.
Folie-lex: Zoey sings to her father about not being able or ready to lose him. After the devastating news that her father's condition is deteriorating rapidly, Zoey spends the whole episode singing to herself, about her feelings, out loud, at the most inopportune moments. Clearly a result of avoiding dealing with the bad news. After a great talk with Max she finaly faces her fears and opens her heart up to her dad. It's beautiful and heartbreaking, and touching beyond words... which is where the singing comes in.