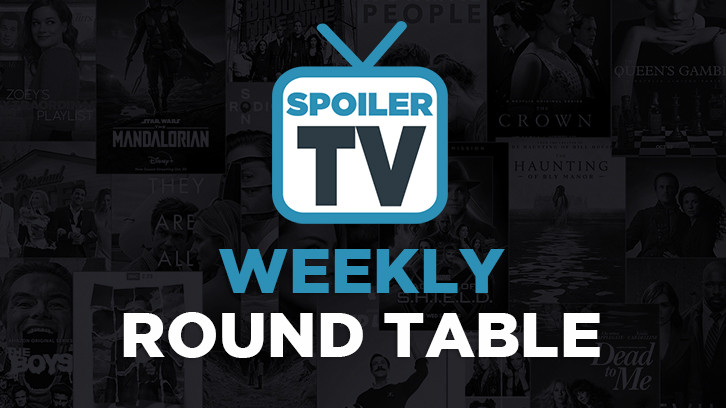 Hello and welcome to a new edition of SpoilerTV's Weekly Round Table! Joining us this week is Milo M-J (MJ), Alejandra Molina (AJ), Laura B, popcultureguy (PC), Jamie Coudeville (JC), Lisa Macklem (LM), Max Conte (MC), Alison D (AD), Ellys Cartin (EC), and myself (ZF). You just have to sit back enjoy the read and join the discussion in the comment section down below.

What is your favourite streaming show?
Milo:
A really, really tough call, this. There's so many great ones out there, but if I had to pick just one; it would be
The Expanse
. Science fiction at its best, I'm so, so glad Amazon picked it up because it's been an awesome ride from start to finish (a plug for James SA Corey's excellent series of books that are well worth a read as well) - that I can't recommend highly enough. We don't have to look far to the next
Battlestar Galactica
- it's is already here...
Alejandra:
As of right now it's
I Am Not Okay With This
on Netflix. It's short but very intriguing and it has a lot of humor and drama and it's perfect to binge-watch and rewatch multiple times. I love Sophia Lillis' acting in it, and I can't wait for the next season.
Laura:
So many great shows. I guess in terms of current shows I would have to say that
The Mandalorian
is really something special to see if you're a
Star Wars
fan, but in terms of something that has been running a bit longer I have to say
Ozark
and
The Good Fight
are excellent shows with
Ozark
just releasing its third season and
The Good Wife
about to release its fourth season in just a few days!
Popcultureguy:
I'm going to go with
GLOW
. I've always said it's the most binge-able show I watch; something about its length and tone is just right for consuming a bunch in a batch.
Jamie:
Does
One Day At A Time
still count as a streaming show? Probably not. Difficult question. I just started
The Witcher
which looks good (I know, late to the party).
The Mandalorian
was pretty good. I'm finishing up
For All Mankind
which turned out to be way better than I expected.
Dickinson
is also a favorite.
Lisa:
Too hard to pick just one! So, in no particular order -
The Boys, The Expanse, Ozark, The Crown, Grace & Frankie, Fleabag, Afterlife
.....
Max:
This is tough, there are a lot. Netflix definitely gave me my first wave of streaming series obsessions:
Orange is The New Black, Master of None, House of Cards
, etc. They're still producing a lot of my favorite stuff –
Stranger Things, When They See Us, Unbelievable, On My Block, Ozark
. I love
The Handmaid's Tale
+ the
Veronica Mars
revival on Hulu, too.
Alison:
Home Before Dark
on Apple TV+ is made to binge. The plotting is tight, and the characters are gripping, even the ones you hate. It's just good television.
Ellys:
I feel like the
Old Woman in the Shoe
having to make Sophie's Choice. For the purposes of answering this question in a concise manner, here is my favourite currently streaming show that has been renewed for another season:
Star Trek Picard
. Even without an in-depth
Star Trek
foundation, you can enjoy this show for the exciting yet heartfelt comfort that it is. My favourite streaming miniseries that has recently concluded its run was
Bonfire of Destiny
.
Zoé:
Good Omens
, 100%. One of the best shows ever created, so binge-able, funny, heart-warming... Check it out on Amazon Prime!
Do you think streaming has an advantage to networks? If so, what are they?
Milo:
In terms of the international market, absolutely. As long as networks aren't getting their worldwide act together - outside of companies like HBO who are putting shows like
Chernobyl
,
The Outsider
and previously
Game of Thrones
on say, Sky Atlantic in the UK at the same time as the US release and then repeating them the following day for audiences who can't stay up - worldwide launches of streaming shows will always have the edge over those that aren't worldwide. The amount of times I, as someone based in the UK - has found a US show make it over to the UK two or even three years after its first season has been cancelled in the US is disappointing, and it opens you up to a minefield of spoilers if you're watching a social-media favourite, especially as even actors themselves don't shy away from posting spoilers. This has also created problems with crossovers too for example: All of the Arrowverse shows apart from
Batwoman
returned earlier this month in the UK debuting with
Crisis
- but
Batwoman
debuted with its first episode and still has plenty of episodes to go before
Crisis
on a different channel, forcing Arrowverse fans to either skip episodes or watch them out of order and wait. Netflix or Amazon ignore that issue completely by dropping the whole season at once all across the world, where anyone can watch it - no matter where they are - at their own speed and still be in conversation with those who have seen it.
Alejandra:
Yes, I feel like its biggest advantage is worldwide distribution. It makes it easier and gets more people watching the shows rather than just a select number in the US, and it's better for marketing and revenue purposes. Also, it helps so people won't get discouraged from watching something just because they have to wait months for it to air in their local channels.
Laura:
To parrot other answers, yeah, the international distribution factor makes it so much easier for more people to watch a series.
Jamie:
Yeah, I guess they're easier to access. If you have a streaming service that's available worldwide (which not all of them are) then it's really great for international fans like myself to be able to watch them at the same time as everyone else. To be fair, though, with the rising amount of streaming services, it's getting a bit hard to keep track.
Lisa:
Streaming has a lot of advantages - for now. They dodge a lot of the legal complexities of traditional broadcast television and they offer greater flexibility and remuneration for actors/directors/writers which make them very attractive.
Max:
The biggest advantage is pretty simple: ease. You can log in and watch an entire series at your own whim. No commercials, no waiting weeks (or months) to watch the next episode. Plus, I appreciate that Netflix has no real restrictions in terms of how long or short series can be. There's a lot of creative freedom on streaming.
Alison:
The two biggest advantages are overseas viewers, and the ability to discover shows you missed.
Ellys:
Streaming has a healthy list of pros and cons for creators and audiences. Streaming shows generally have shorter episode orders, which sometimes means less filler. However, streaming shows also have to be filmed in their entirety before they are released, which means significant money has to be invested upfront. If the show doesn't perform well soon after release, it can be cancelled more swiftly than a broadcast show might be. Without weekly audience feedback, streaming shows experience less pressure to cater to toxic online segments. A drawback to not airing weekly is that shows drop out of conversation abruptly when the next interesting thing is released. There's more time to catch up on shows that air on broadcast. Some shows are more entertaining when binge-watched, but this can come down to personal preference. I suspect that if I looked at the percentage of streaming shows I like and the percentage of network shows, the latter would be higher simply because there is an excessive amount of streaming shows. It's impossible to watch them all, but the heart wants what the heart wants. And sometimes the heart wants another season of a show you just watched the first season of only to find out it was cancelled five years ago because no one knew it existed back then.
HBO has announced that due to shelter-in-place orders, they will be releasing a large section of shows to the general public -- no subscription necessary. With most pay channels (Sundance, Hulu, etc.) offering free 30-day subscriptions and otherwise, which ones are you watching and why?
Alejandra:
I think it was a great idea for HBO to do this given the times. I will definitely use HBO and finish watching
Silicon Valley
and
Succession
, since those two are some of the shows that are made available in HBO.
Laura:
I think it's really nice to see big companies step up and offer things they normally don't right now, it's definitely an appropriate gesture of goodwill. In terms of what I have been watching, I currently have a subscription to HBO to watch
Westworld
, rewatch a few shows like
Big Little Lies
or
Sharp Objects
, and finally see
The Watchman
. I also have Starz right now for
Outlander
and I always have Amazon Prime.
Popcultureguy:
The one streaming platform I'm thinking of giving a try using a free subscription is CBS All Access. I've been wanting to check out
Tell Me A Story
.
Lisa:
I'm not watching anything because as a university lecturer in my alter ego, I've been putting in about twice the 40 hour work week I would normally trying to convert courses, mark online and answer student questions.
Max:
HBO has a ton of great stuff, but I've watched most of it already. But to anyone that has free access to HBO for the first time:
Veep
and
The Sopranos
are perfect quarantine binges.
Barry
,
McMillion$
+
Succession
are great current series to try out.
Ellys:
I am still drowning in TV subscriptions. It's an addiction, and there should probably be a TV Watcher's Anonymous group to address that. Otherwise, I'm almost too scared of forgetting to cancel my trial subscription to sign up for anything else. Almost. I signed up for Quibi's 90-day program last week, and I can watch on a tablet, so why not?! Showtime's offer will give me a chance to sample Natalie Dormer's new
Penny Dreadful
show. I just have to wait until the last possible second to sign up for the free trial. HBO making some episodes free is a cool move. I recommend
Succession
and
McMillions
(it's nonfiction GASP but 98% worth it). Disney+ I just recently signed back up for, as I sort of lost interest in Disney this winter. Trying to ease back in. The magic isn't there yet. Now is a splendid time to dig around on Hulu and Netflix and Amazon Prime for overlooked/hidden gems.
What streaming services are you subscribed to and why?
Milo:
The UK has a limited selection compared to the US - which is both a good and bad thing (there's no Hulu or CBS All Access over here - there's no CBS, full stop) but I'm currently subscribed to Mubi (where I previously had, as a film student, a year's free subscription), which has been a heaven for films for me. Available internationally with a different selection of films in each country, the service has 30 films with one getting added and one getting taken away each day. I've discovered plenty of favourite films through there and can't recommend them enough if you're a film fan - the UK edition is currently doing a feature on Jean-Pierre Melville, my favourite director, and has films from Ingmar Bergman and Park Chan-Wook on their service. They even - when cinemas re-open, have a package called Mubi Go where you can see a carefully curated film each week for free at participating cinemas.
To make this not sound like a Mubi ad, and trust me, it's not - I'm subscribed to other services too. Amazon Prime and Netflix have been my go-to for years, Amazon for their next-day delivery as much as their original content - Netflix for their offline downloads and extensive film library as much as their show catalogue (you can't cancel a movie two seasons in!). Disney+ recently became available in the UK (the exception to my earlier comment about streaming services always being synced worldwide, their decision to launch later and then drop
Mandalorian
episodes weekly is baffling) so I'm using that to watch
The Mandalorian
, their originals,
The Clone Wars
and relive childhood nostalgia, whilst Apple+ has been a haven for some good content, even if at this stage it's quality over quantity. At £4.99 it's hard to resist a month or two - especially during lockdown - and their shows like
For All Mankind
,
Dickinson
and
Little America
have them leading the pack at the moment in terms of originals.
A further plug for US folks: one service that I'm not subscribed to as it's not available in the UK but you should all check out is the Criterion Channel - especially if you're into classic movies or want to get into classic movies. There's a whole host of brilliant, curated content on there.
Alejandra:
I'm subscribed to Netflix because that's mainly the source where most content is, and also to Amazon Prime Video because it is made available thanks to the Prime bundle.
Laura:
I just got rid of Netflix since I was only had for a while to watch
Ozark
. I currently have Amazon Prime Video, HBO, and Starz, but once
Westworld
&
Outlander
are over I will be dropping HBO/Starz, but I am also about to pick up CBS AA for
The Good Fight
,
'Picard'
,
Why Women Kill
and
'Discovery' & Evil
rewatches and then I may pick up Hulu again soon too!
Jamie:
Just Netflix. It was the first one to be accessible internationally. While the quality hasn't been great, there's still enough there for me to keep the subscription. I've considered an Amazon Prime subscription but they didn't have enough that interested me. I intend to get a Disney+ subscription as soon as it is available in my country. I think we might be one of the last European countries that don't have access yet, it would've been really useful now. Any chance they could move up the vague release date?
Lisa:
Netflix and Amazon Prime. And I was a very late adopter of Netflix - because I had to have the Kurt Russell Santa movie! I got Amazon Prime just to watch
The Boys
. I won't likely sign up for anything else because I just can't afford them - and I don't have a smart enough tv to even watch Prime on it...
Max:
Streaming in Canada is a bit different: we don't have Hulu, so their series are spread out between a few different networks and streaming services. I currently have Netflix and Prime, and have also subscribed to other services in the past like Crave (which has the HBO library in Canada).
Alison:
I was once drowning in streaming service subscriptions. Maybe, I still am, but I've stopped a few like Starz and CBS All Access. Let's see . . . Netflix is a must because of the sheer size of its library, which is also the worst thing about it. I love what I find on Netflix, but what am I missing? Hulu because I love the next-day release of network shows. As much as I think I'll watch live television, I rarely do. Amazon Prime because we pay for Prime, but it's the service I use the least. Apple TV+ which has a quantity issue, but, luckily, they don't really have a quality issue. There are some real gems, like
Dickinson
,
Home Before Dark
, and
Little America
. Disney+ for the nostalgia of childhood. Sometimes you just need to sing along to "I'll Make a Man Out of You." Once available, I'll be adding HBO Max to the list because they have some shows in the works that have me excited.
Ellys:
Hulu was my original sin, and I can't quit them. Their "Pause Subscription" feature should get them way more love. Right now I mostly watch my HBO add-on on Hulu, but they are still my first choice for watching NBC, FOX (
9-1-1
morning, noon and night), ABC, and Freeform shows. Their movie collection is getting better and better. Top recommendations are
Fighting With My Family
and
Portrait of a Lady on Fire
, with
Parasite
coming soon. Also very fond of
Find Me in Paris
and
Utopia Falls
. Just discovered
30 Rock
on there too and am loving it!
Apple TV+. Someday I'm going to watch a show besides
Dickinson
on there. I really need to, just to justify spending whatever I'm spending each month on it. I've heard good things about
Home Before Dark
.
CBS All Access is not to be trusted. They often promise to discount your monthly rate when you threaten to cancel, but they don't always do it. It leaves a bad taste, even though I'm the one trying to get their stuff for free/cheaper than usual. The new
Star Trek
shows are still the biggest draw, although a month-long free trial is getting more rare, so get on there and catch back episodes of
All Rise, MOM
, and
Bob Hearts Abishola
.
Netflix and I broke up for a few months ago. I can't lie. A friend reunited us with a gift certificate, and our relationship is stronger than ever thanks to Netflix's superpower: its international shows. This truly is what gives Netflix the edge for me. I can't remember the last time I wanted to sink my teeth into a US Netflix show that wasn't a cooking show. Netflix was the first streaming service I signed up for to watch just a single show, and I have many fond memories of watching it on my phone using a grocery store's Wi-Fi on my way to work each morning back in the day. Every time I find another Netflix show that I love, it thrills my heart. And I hit the subtitles button with a grin on my face.
Amazon Prime Video is still a beast to navigate. They have a pesky tendency to mix in the "you have to pay" stuff with the "included with your membership" stuff. It can become irritating fast. If it wasn't included, it's doubtful I would have it more than a couple months out of the year. However, if you do have it and your country has
The Durrells
, you know what to do.
Quibi is too new for me to give a comprehensive take on it, and Disney+ and I are in counseling with my childhood to figure out if we still care about each other. I do want to watch
Gargoyles
for the first time, and April 23rd the complete
Tangled
sequel series will be on the platform in the US. I do wish Disney+ would have the same content available internationally. Also have started watching
101 Dalmatian Street
which is chaotic and soothing.
That wraps up another round table! Feel free to drop your thoughts in the comments below. See you next week!