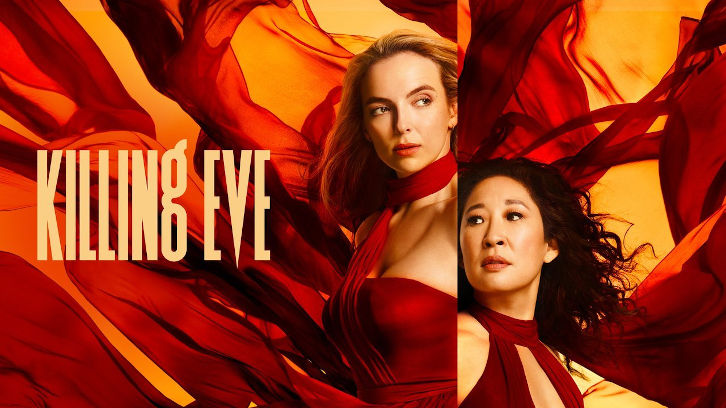 *NOTE – This review may contain spoilers.


Like so many
Killing Eve
fans I was anxiously awaiting the show's return for its third season. Television shows are generally known for having what is commonly referred to as the sophomore slump, stumbling in their second seasons. With a stellar, award-winning second season,
Killing Eve
blew those expectations out of the water. So as high as we were about that season that ended with Villanelle (Emmy winner Jodie Comer) shooting Eve (Sandra Oh) and walking away leaving her bleeding a Roman ruin after the agent had rejected her, fans were excited to see where Season 3 began. I never expected the show to get off to such a lackluster start as we were given with
Slowly, Slowly Catchy Monkey.
Instead of firing on all cylinders, the episode missed the mark on virtually all counts.
What this episode lacked was the show's usual sharpness, as though they've lost their edge and decided to blur it behind a dirty, orangish-pink filter that muted the show's brilliance. It was disjointed, disorganized, sloppily edited and generally lacked the finesse we had become accustomed to in previous years. I almost felt like I was being shown "previously on" scenes for the first ¾ of the show with the only action or intrigue that grabbed my interest happening in the very last scenes of the episode with that shocking death. I was sorely tempted to name this review – "Oh, My God, They Killed Kenny!" but decided against it for fear of spoiling things for someone who had not yet watched.
For most of the episode we plodded through learning where everyone was and what they were doing in the months following Eve's shooting. We discovered that Eve had recovered from her injuries and had left MI-6 to move to the Korean community New Malden in London where she spent her time keeping her head down, drinking and making dumplings and butchering chicken in the kitchen of a relative's restaurant. Oh plays Eve as decidedly subdued, still healing from her wounds and unwilling to engage with anyone or anything that resembles living a full life. Her marriage to Nikko (Owen McDonnell) appears in limbo. We're shown that Nikko is in some sort of institution where Eve dutifully visits him and tells him they will get through this, whatever this is. His condition is likely the fallout of him being discovered in a storage unit with Gemma's dead body where Villanelle left him last season. Eve sends a cryptic drunk text which brings Kenny (Sean Delaney) to her doorstep. He apologizes for (Not sure about this 'cause he didn't screw up he just had an argument with her that led to her mistreating him)of the last mission and tells her he too has left MI-6 and is working for an online publication where he is still investigating the mysterious 12. The most interesting parts of the episode occur in the episode's final scene when a reluctant Eve agrees to meet Kenny for a drink at his office only to find the office empty when she arrives. As she is looking around, a body falls by the window behind her in one of the few memorable shots of the episode. Shocked, she looks out the window and rushes out to find that the body falling was Kenny. Was he pushed or did he jump? What had he discovered about the 12 just before she arrived? And why kill Kenny? He was such a great character and foil for Eve. Was he killed because of his investigation of the 12? Or was he killed merely as a tool to pull Eve back into MI-6? Either way, it was a great waste of the character.
Villanelle, in the meantime, is in the middle of her elaborate wedding to an aristocratic Spanish woman when she sees a ghost from her past. She interrupts the reception to attack the woman, whom we later learn is Dasha (Dame Harriet Walker), the person who originally trained Villanelle to be an assassin. It seems the 12 want Villanelle back in the fold and have sent Dasha to offer her anything she wants to come back to work for them. Strangely, what Villanelle wants is to be a keeper, like Konstantin (Kim Bodnia). Dasha takes her request to the higher-ups and they insist she prove she still has it by taking an assignment. The relationship between Dasha and Villanelle is a bit bizarre; it's competitive but you can see where the younger assassin learned her panache about killing and Comer and Walker play those scenes nicely. However, their relationship is always about one-upping the other, which is why Villanelle completes her mission test by killing her target in exactly the fashion we're shown Dasha made one of her first kills. However, Villanelle has always been about flair and style with her kills, so having her do that seemed very out of character.
As far as Carolyn (Fiona Shaw), well she's not having a very good week. She's moving into a new home with Kenny but is at odds with him. Things are not going well with the job either. She's on the outs of sorts with MI-6 as well. She's called on the carpet for bungling several aspects of the last mission and is given a demotion of sorts with the arrival of a new overseer of her division. Shaw has maintained her mastery of that dry, acerbic wit of her character, but seeing the character this whipped seems odd.
And finally, there's Konstantin, who appears to be on holiday in London, buying souvenirs for his daughter that he knows she'll hate. His daughter isn't happy with him when he ignores her pleas to come get her from her mother with whom he left her. Turns out though he's not sightseeing- he's there working and receives mysterious instructions in his take-out dinner. Was his mission to come to London to kill Kenny? That's what I think they would like us to believe but I'm not sure. Bodnia again makes the most of the little he's given to do here, so hopefully, he becomes far more involved in the story as we move along. Does he know Dasha? Why was he really in London?
All the players are on the board, and now it's time to get them moving in future episodes. BBC America announced this week that 1.1 million viewers watched the premiere of Season 3 of
Killing Eve
. They are going to have to do a far better job than they did this week to keep that many viewers interested in this new season. I will be watching hoping they bring these characters together soon. What were your thoughts on the premiere of
Killing Eve
? Share them in the comments below.