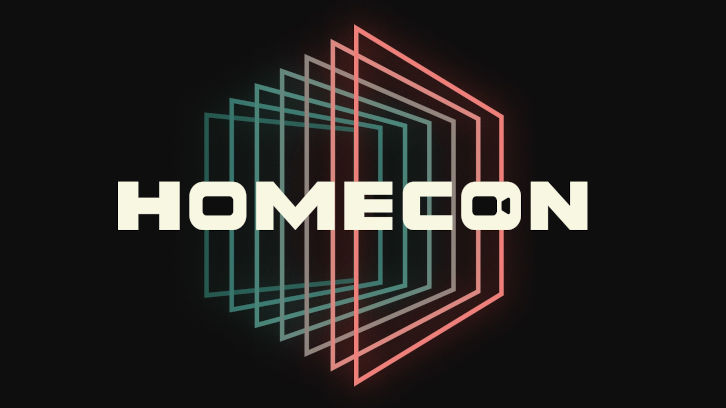 This time last weekend thousands of pop/nerd culture fans got to forget about the isolation and scary times brought about by the COVID-19 pandemic. They got to participate in the unique and creative event that was HOMECON, a virtual pop culture convention that according to their press release had more than 44,000 views (Source:Twitch) and online conversations about the event in more that 38 countries spread over 6 continents (Source:Twitter,Facebook,Instagram). Virtual conventions have been done before, but never to the extent of offering 16 panels, 38 guests, and in lieu of signing tables, innovative 1-on-1 Zoom chats with celebrities (of which almost 1000 were conducted over the two-day period). Hosted on the Twitch platform, attendees paid a nominal subscription fee (which was free with Amazon Prime), making HOMECON financially more attractive than attending the brick-and-mortar conventions.


HOMECON
was the creative brainchild of Paul Amos (
Jupiter's Legacy, Lost Girl, Assassin's Creed
) and Rachel Skarsten (
Batwoman, Lost Girl, Reign
) for the fans and to support first responders. 'First Responders First'
https://thriveglobal.com/categories/first-responders-first
was the charity chosen for donations. The event was so successful that plans are already being discussed for a
HOMECON 2.0
The reality is this was so much more than a con, this was a bright light to people struggling with isolation and being alone during these dark times. This was a few hours to laugh, watch, enjoy and forget, but most importantly it was a reminder that we are not alone in this pandemic and we will get through this, together, by staying connected to one another.
The Expanse
during
HOMECON
Photo Credit: @geek_nate/Twitter Photo courtesy of
HOMECON
)
From the official
HOMECON
press release: "More than anything else, our goal was to make people happy and give back to the community that has embraced and supported us as actors over the years," said Paul Amos and Rachel Skarsten, "And for two days straight, we achieved that through fun, laughter, and intimate experiences. We were very fortunate to have had a group of actors, moderators, and hosts who shared in this vision and gave of their time and heart to bring a global community together."
Amos and Skarsten continued, "We heard people say they left the
HOMECON
space we created lighter than they came into it. We heard them say that they smiled and laughed and that they did not feel alone. We heard actors say they felt they got more from the 1-1 calls then any fan convention! We heard people say they had never been to a con because of disability or fear, and they just loved the experience. And most importantly, we were able to see all those things happen while supporting the first responders who work tirelessly and put our health and safety before their own."
Special Guests included Inbar Lavi (
Lucifer
), Casey Cott (
Riverdale
), Gregg Sulkin (Marvel's
Runaways
), Ben Lewis (
Arrow
), Adelaide Kane (
Reign
), and Andrew Howard (HBO's
Watchmen
). The full list of guests can be found at
www.homeconofficial.com
and included stars from such shows as
Supergirl, Batwoman, Wynonna Earp
and more.
I think the overwhelmingly positive response to
HOMECON
caught everyone, especially its organizers by surprise.
"We were astounded at the number of first-time attendees. A number of people find it hard to attend cons, whether it be for geographic reasons, financial, agoraphobia, disabilities, but this event made it possible to anyone and everyone. And that fills the hearts of the
HOMECON
team with joy," Amos and Skarsten told SpoilerTV.
A couple of participants shared their thoughts on the event with us.
"I was really excited when I started to see the tweets about this convention, even without knowing who the guests were because one of the things I love as a fan is attending to conventions from a particular show or a general convention as SDCC. But as we all know the situation right now is not suitable to organize a physical convention even SDCC is about to be canceled
(*STV Note-San Diego Comic-Con was officially canceled on 4/17/2020)
, so this was truly like a ray of light in the darkness and something to look forward to the ones that are struggling on this quarantine. Then, when I find out about the guests and the 1 on 1 calls, that to me those were like a meet & greet but cheaper, I was thrilled because I saw it as an opportunity to chat for 5 minutes with a celebrity I admire and have their complete attention on those 5 minutes, and it didn't disappoint. Tim (Rozon,
Wynonna Earp,Vagrant Queen
and Rachel (Skarsten) were really paying attention to what I said and carefully listening to what I asked and said to them. I am really grateful for having that amazing opportunity. If this experience is not the same as meeting them in person and hug them if allowed.
HOMECON
is definitely the next best thing as to regular conventions. Also as a plus, the panels were amazing! Those were really fun and delightful to watch," said fan July Galarza.
Texas fan, Irmgard Price shared similar sentiments, "It was a great idea to have
HOMECON
. People that never had been to a con got to watch panels and talk to their fav star. My one on one with Andrea Brooks from
Supergirl
was fun. She was very nice. People might think that 50 dollars for 5 minutes is too much, but it really isn't. At a con, you pay about 50 dollars for a signature. And when you get the signature you get to say hi and talk a little bit for less than one minute. With the 5-minute talk, you get so much more. The panels were great."
From a personal perspective here are some of my favorite highlights and take-aways from
HOMECON
. First, however it's done and wherever it's done, having actress/director Megan Follows on a panel is an absolute must. Throughout the weekend whatever panels she was on Follows was magnificent, whether it was sharing funny behind the scenes stories and pictures or waxing eloquently about their craft she kept fans and her fellow panelists entertained and enthralled.
From a wonderful 1-on-1 call with
Batwoman
Camrus Johnson, I learned he is a charming, engaging young actor with mad respect for his craft and his castmates. He's very proud of his character, Luke's current storyline, and like many fans hopes he gets to don a Batwing costume soon. He's also very serious about the CW show game nights we've seen videos of involving actors from multiple shows. He's got some great ideas for new games and is always on the lookout for a good game. Most importantly, he can't wait for this quarantine to be over and the first thing he wants to do is have dinner with his friends where they can sit down at a restaurant and fair warning he can't wait to hug them all first!
Supergirl
's Andrea Brooks was an absolute delight to speak with in our 1-on-1. She revealed she's obviously spending this time bonding with her new daughter who is now over 4 months old and is just now starting to interact with her toys and surroundings. We spoke about how delighted she is to play Eve Tessmacher and while she couldn't reveal much of what was coming up for her character she did share high praise for co-star Melissa Benoist's directorial debut which will be the first new episode to air in a few weeks. She was honored to be a part of that episode she said. And we chuckled about one bit of trivia – she originally auditioned for the role of Maggie Sawyer in Season 2 and thought the show made the right choice for that part. They remembered her when they were casting Eve and brought her back. She's thrilled with the love and acceptance of the character from the fans and said she was so nervous when filming that now iconic scene where Jon Cryer's Lex yelled, "Miss Tessmacher!" as it was the first time we'd seen evil Eve. That's her favorite scene that she's filmed as Eve.
Later in the official
Supergirl
panel, she, along with Azie Tesfai (Kelly) repeated the praise about Benoist's directing debut and were excited about sharing their characters' first scene together in the episode. Brooks also shared that the entire cast was checking in on each other in various ways during the quarantine. Julie Gonzalo (Andrea) despite this being her first con of any kind got excited and animated when she said she was delighted she was getting to portray her first Latino character and loved that producers had her character be a native of her home country of Argentina. Nicole Maines (Nia/Dreamer) kept the group laughing with her variety of snacks during the panel and later spoke proudly of how she worked with the writers on the special Dreamer/transphobia episode the show aired. Tesfai also praised how receptive the writers were to the actors and often shared notes with them using a discussion about how she chose to play the Malefic incepted version of Kelly as an example and knew the choices were right because as she joked she, "creeped Chyler (Leigh-Alex) out". They all were excited in the creative way they say producers are putting together the show's season finale. It was my understanding as well that they were all having conversations with producers as to the direction their characters would be taking in the upcoming Season 6.
From the
Wynonna Earp
panel we learned that Kat Barrell actually auditioned for the roles of Waverly and Wynonna Earp before being chosen as Sheriff Nicole Haught, Tim Rozon (Doc Holliday) is a very proud new father, Dominque Provost-Chalkley (Waverly) delighted fans with a bit of her American Waverly accent.
And in the
Batwoman
panel,
HOMECON
co-creator Skarsten who was present in multiple panels and connecting with fans all day, and co-star Camrus Johnson seemed to have the hands-down the funniest panel of the weekend, teasing one another and each ended up with new hashtag names of based on Skarsten's hand dance and Johnson's completing her dare of stuffing his face with chips and saying "I love Rachel" with his mouth full. So, from that point on they were #KermitSkarsten and #ChipsCam. They both agreed that their favorite episode so far has been the last episode that aired, Ep. 1x16,
Through the Looking Glass
in which Luke confronts his father's killer and Alice is betrayed by her sister and father. They did reveal that they finished filming 20 episodes of the season. Skarsten has funny stories about face-timing with Nicole Kang (Mary)while practicing Alice's butterfly knife skills and confessed she would like to jump in the brain of showrunner Caroline Dries because she is so in awe of how her character and the show has been created and plots evolved. She called playing Alice/Beth a dream job. Johnson had praise of his frequent scene co-star Kang saying he thought that Mary was one of the best-written characters on the show.
Thank you, Paul Amos and Rachel Skarsten! No matter which panels or calls you participated in,
HOMECON
was a ray of sunshine for everyone. It gave us all a chance to escape the reality of current events for a while and spend time among friends. You and all involved with
HOMECON
are to be commended for the brilliant idea.
Did you watch or participate in HOMECON? If so, what were your favorite moments or memories? Share your thoughts in the comments below.