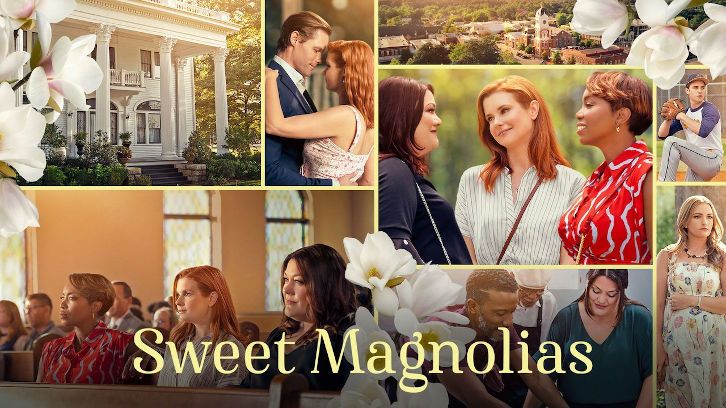 Warning: This review contains spoilers.

It had been a long, anxious wait for the return of Maddie (JoAnna Garcia Swisher), Dana Sue (Brooke Elliott), Helen (Heather Headley), and the other residents of Serenity's sleepy little southern town. There was great anticipation to see the fallout of Cal (Justin Bruening)'s angry outburst at the restaurant, Ryan (Michael Shenefelt)'s return and surprise proposal to Helen, the arrival of a mysterious new adversary, and the late Miss Frances' surprise gift to Dana Sue. In this reviewer's opinion, the season 3 return of Netfilix's #1 drama lands with a thud.


The majority of the episodes of the third season of
Sweet Magnolias
are dull and plodding, sometimes tedious to get through. The entire season spends too much time looking back and not moving forward. Nothing of any major significance happens until the fifth episode entitled "On This Foundation" which sees Noreen (Jamie Lynn Spears) come to work at the Spa, Ronnie (Brandon Quinn)'s disgruntled sister, Kathy (Wynn Everett), disrupting Annie (Anneliese Judge)'s special 16th birthday party, Chef Eric (Dion Johnstone) considering a job offer from Dana Sue's restaurant's largest competitor and a major blow-up between the Sweet Magnolias themselves.
The entire season just seems "off," as if the show in general lost some of its charm and shine. There are numerous odd or questionable costume choices, lackluster, predictable, or unnecessary storylines such as Kathy's revenge (using tactics straight out of junior high school), and it was hard to get invested in Maddie and Cal's restart to their romance. Additionally, it was so obvious that since his return Ryan had one foot out the door to leave again. Overall, there was little to no character growth for the title characters. In fact, the argument could be made that in one case this season engaged in full-blown character assassination of one of its leads.
The way the character of Helen was treated by the writers and the way she uncharacteristically treated other characters has come close to making her totally unlikeable. Her treatment of Chef Eric following Ryan's return and proposal was nothing short of abominable. She spent the majority of the season trying to convince herself she was happy when it was clear she wasn't, and worse when her dear friends try to point out the obvious to her, she cruelly lashes out at them. A few moves during the latter part of the season, i.e., Helen taking in CeCe (Harlan Drum), the emancipated teen who wants to finish school in serenity, and convincing reporter Peggy (Brittany L. Smith) to run for mayor, and Headley's performance in those scenes are all that save the character this season.
Easily it was a large portion of secondary characters that shined and commanded viewers' attention this season. Among the standouts are Tracey Bonner as Pastor June, Logan Allen as Maddie's youngest son Kyle, and Dion Johnstone as Chef Eric. However, the secondary players that showed the greatest character growth and essentially saved the season with their watchability and interesting storylines were Carson Rowland as Tyler, Maddie's oldest son, Anneliese Judge as Annie, Dana Sue's daughter, Jamie Lynn Spears as single mom Noreen and Chris Medlin as Assistant Chef Isaac.
Rowland exhibited great depth and maturity as Tyler guided his younger brother Kyle through his first heartbreak and offered quiet support for Kyle's plan to renovate the neighborhood park. He also showed Tyler's growth in the careful, thoughtful way he decided and convinced his parents his decisions not to play baseball or go to college because he liked working with his hands was the path he needed to take. He was also the MVP friend of the season by helping Annie through her painful romance even though he was growing to care for his old friend. Judge's Annie has grown tremendously during the show's three seasons and capped it off by recognizing and leaning on Tyler when she needed it and expressing that what she wanted was a relationship like her mother's with the Sweet Magnolias. The show carefully and smoothly sets that up by the season finale.
Also having a stellar season was Spears as Noreen continues her quest to reinvent herself to be accepted in Serenity. She proves herself an adept caregiver which results in her running the daycare at the spa. She is also a true and supportive friend to Isaac. One of the smarter moves the show made this season was to bring back organic farmer Jeremy (Chase Anderson). Instead of setting him up as an obstacle to Dana Sue and Ronnie's reunion, they have wisely positioned him as a possible love interest for Noreen. Medlin does beautifully in showing Isaac's growth by being a good and protective friend to Noreen and the baby, and stepping up at the restaurant when Chef Eric took a break. Spears and Medlin have an easy powerful chemistry between them that the show wisely took advantage of this season.
The third disappointing season ended with the Sweet Magnolias making up and coming together to give Dana Sue and Ronnie a memorable marriage renewal ceremony. However, the show did not offer a significant cliffhanger to propel them into a fourth season. A fourth season would be well served by letting the original Sweet Magnolias and their stories take a step back and instead focus on the new generation of young people in Serenity and the potential new Sweet Magnolias that were formed.
The SpoilerTV season rating for Season 3 of Sweet Magnolias is a 7. What rating would you give it? Which episode of this season's Sweet Magnolias was your favorite? Were you satisfied with the way the season ended? Leave your thoughts in the comments below.