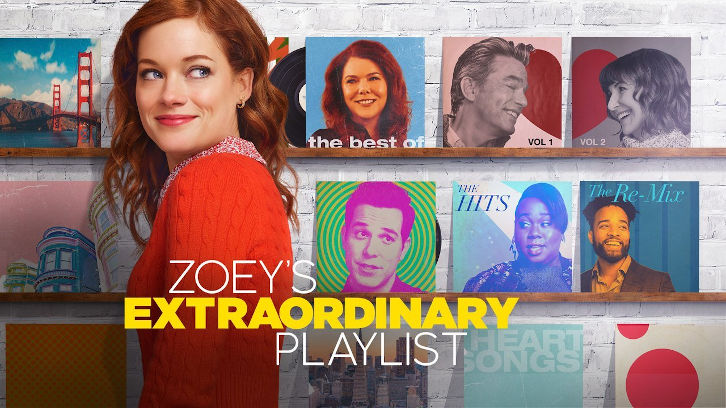 I'm back from my vacation, but Zoey and her musical meddling hasn't taken a break, so here I am with a special 2-episode recap/review!
"Zoey's Extraordinary Neighbor" is by far the most depressing episode of "Zoey" yet, as Zoey's attempts to fix the lives of the people she hears becomes a little less breezy than in previous outings.
The episode starts out with Zoey hearing Mo singing "The Great Pretender" by The Platters. Alarmed because Mo usually presents himself with confidence, Zoey tries to convince him to talk about his feelings, but he shuts her down. While he had previously been pretty gung-ho about Zoey using her powers, he now claims that they must be "broken."
At SPRQ Point, Max comes bursting in with coffees for everyone, exuberantly singing "Con Te Partiro" - an indication that his relationship with Autumn is going well. They're going to Napa for a vacation this weekend, he says, as Zoey tries to hide a sense of...jealousy? Disapproval? Concern? Hard to tell. But the fact that Max's song matched his mood did mean that Zoey's power definitely wasn't broken - which means Mo was definitely hiding something.
Zoey sees Mo leave the apartment building, again singing "Great Pretender," and follows him. To her surprise, they arrive at a church choir practice, where, to Zoey's surprise, Mo has ditched his usual flamboyant style in order to present as more masculine. When she tries to ask him about it, though, he gets upset at her, insisting that she couldn't understand his relationship with faith and religion, and that the situation wasn't her business.
However, on the scent of a new problem to solve, Zoey is unstoppable, and a chance encounter with Mo's pastor leads to the discovery that he both knows and doesn't mind that Mo identifies as genderfluid. Obviously, then, Mo has a different problem, and so Zoey is finally able to coax the truth out of him. When he was younger, he joined the church choir and realized he had a talent and passion for singing. However, the other members of the choir were less approving of the way he dressed, causing him to have to move churches. This happened multiple times, until he finally decided to start dressing down so that he could continue to sing at church without getting dirty looks. He then tells Zoey that it would take "a miracle" to convince him to wear his usual clothing at church.
This is by far the most sensitive, personal situation Zoey has gotten herself into, and I kind of wish the show had spent a little more time demonstrating that. While all the other episodes saw Zoey trying to fix things that were (in some way) affecting her own life, this was a fairly private issue. Was it really her business in the first place? While it turned out all right in the end, that thought, as well as the events of the next episode, left me wondering if we'll be seeing some major negative repercussions for Zoey's actions sometime soon.
On the Clarke family end, two major developments occur. The first is that David and Emily find out the gender of their baby: it's a boy! Initially, David didn't want to know the gender until the birth, but changes his mind when Mitch coveys to him that he wants to be a part of the big moments of his life while he still can.
Additionally, after hearing that Simon and Jessica's wedding florist backed out of the event, Zoey offers her mother's name to them, originally thinking she could give them a recommendation. However, Simon and Jessica love Maggie's ideas so much, they hire her on as their new florist, which concerns Zoey both because Maggie was supposed to be taking vacation, but also because now her family is implicated in the wedding of her crush to another woman - whoops!
Later, Zoey hears the gloomy tones of Jimmy Buffet's "Margaritaville" and realizes that her agoraphobic downstairs neighbor Bonnie might be in need of her help as well. After several seemingly fruitless attempts to reach out, Bonnie finally opens her door, asking Zoey how she could possibly know that she was struggling. She reveals that she wants to go to Bermuda - or anywhere, really - but her phobia prevents her from even leaving her apartment.
Zoey kills two birds with one stone by encouraging Bonnie to give Mo her rent check in person. Bonnie is happy to have taken the first baby steps toward Bermuda, and Mo, seeing Bonnie overcome her fears, is provided with the miracle he was looking for, and the episode ends with him showing up at church to sing "This Little Light of Mine" in his preferred dress.
This brings me back to the big question: does Zoey's power mean she necessarily can - or should - help everyone she hears? This week's episode, "Zoey's Extraordinary Failure," indicates possibly not.
At the beginning of the episode, Zoey, Maggie, David and Emily are going through old boxes looking for things for David and Emily's baby. Out of the blue, though, Zoey witnesses her first duet: David and Emily sorrowfully singing P!nk and Nate Ruess' "Just Give Me a Reason." Sidenote: I was initially surprised to hear Emily, a character with very little screen time to date, have such an amazing voice, until I realized she's played by Alice Lee, former contestant on ABC's short-lived singing competition "Rising Star" and the original Heather Duke in "Heathers: The Musical." As a fan of both, I was disappointed both in myself for not recognizing her sooner and in the "Zoey" writers for not giving her more of a showcase!
But getting back to David and Emily: Zoey at first doesn't know how to handle this new "duet" situation. Does she reach out to David? Emily? The answer soon comes to her as she finds David - who had said he was at work - at a bar playing pool with his friends and bopping to Beastie Boys - "(You Gotta) Fight For Your Right (to Party)."
Meanwhile, at SPRQ Point, Zoey and Joan are giving all the employees the results of their anonymous peer reviews. First, Max gets his - and is told that he is a bit of an underachiever; that he "settles" too much. Then, office elitist Leif comes in expecting to get glowing reviews, only to be called out for his pompousness. This sends both men into a spiral, as Max begins to question the quality of his choices (perpetuated by his vacation with Autumn being less than stellar) and Leif falls into a depression, accented by a constant moping around the office, and singing "Everybody Hurts" on constant loop whenever Zoey is around him.
Zoey goes to Simon to consult on how to deal with the David/Emily issue, but they end up talking more about their own feelings. Simon's dad's birthday is coming up, and it's a day that still presents as a sore spot to him. The two both express that they both understand each other in a special way; a way that Zoey secretly believes goes even further beyond her power.
Zoey finds David again at a bar with friends, having lied to Maggie and Emily that he was working late. She confronts him, and he confesses that he needs to blow off steam because he's nervous about having a son. Because he got bullied in school for not being particularly masculine ("I had framed theater playbills all over my walls"), he fears that his own son will have the same problems and he won't know how to deal with it. Zoey understands, but agrees not to tell Emily because she doesn't know what David was like in the past ("She doesn't even like musical theater!")
However, Emily calls Zoey and tries to talk to her about David. Zoey initially tries to keep her promise to David, but when Emily says she thinks David is cheating on her, Zoey tells the truth to clear his name. This backfires, though, because learning that David is scared drives an even bigger rift between him and Emily. Now, Zoey has to confront her first big failure. Does this mean that the savior complex she has been beginning to develop doesn't always lead to a happy ending?
This is echoed in the fact that Zoey tries to console Leif in several ways, by talking to him, encouraging him to journal his feelings, and even reading him her own peer reviews, but he's fairly unresponsive. Finally, she tries to put him in his place by telling him that she believes the reviews were accurate and that he needs to step down a peg, but even that doesn't work, as he then just believes that it was her who wrote the negative remarks. 0 for 2, Zoey!
As for Zoey's parents, Maggie had a mini-crisis in this week's episode as she considered starting work again without Mitch there to help out. After Simon and Jessica, she really wanted to take new clients, but felt it would be a betrayal to Mitch. However, Mitch sings The Isley Brothers' "It's Your Thing" ("it's your thing, do what you wanna do"), a sentiment which Zoey communicates to Maggie.
Things get even messier as Max's existential crisis leads him to break up with Autumn. He calls Zoey to tell her, but before she can process it, Simon shows up at her apartment. He thanks her for her understanding during such a hard time, and the two share a particularly tender moment...as the opening chords of The Clash's "Should I Stay or Should I Go" kick in. Looks like those of you betting on Team Simon are about to get a nice payout!
I had mixed feelings about these episodes. I felt with "Neighbor" that the episode formula was beginning to get a bit old, with a bit of a predictable plot and, as I mentioned before, very little negative pushback for Zoey's prying. However, "Failure" felt like a turning point; like we might be seeing some tougher decisions and more honest confrontations of Zoey's own feelings soon. As much as I love a sunshine-y main character, I love characters dealing with the repercussions of their actions a lot more!
So, what did you think of the past two episodes? Is Zoey overstepping her bounds? And will she ever run out of thinly veiled "song and dance" puns? Sound off! (Oh, am I doing it too now?)

Zoey's Extraordinary Quotes-List:
Mo: I'm a Leo, baby; brave, bold, beautiful!
Zoey: And I'm...Whatever a Capricorn is.
Joan: I don't know if I would've had the courage to (break up with Charlie) without your naive boundary overstepping and your optimistic meddling.
Zoey: I appreciate that?
Zoey (reading her peer reviews): "Zoey...stammers too much. Lacks confidence. Wears too many sweaters over collared shirts…" Not sure how that one is quite performance-related.