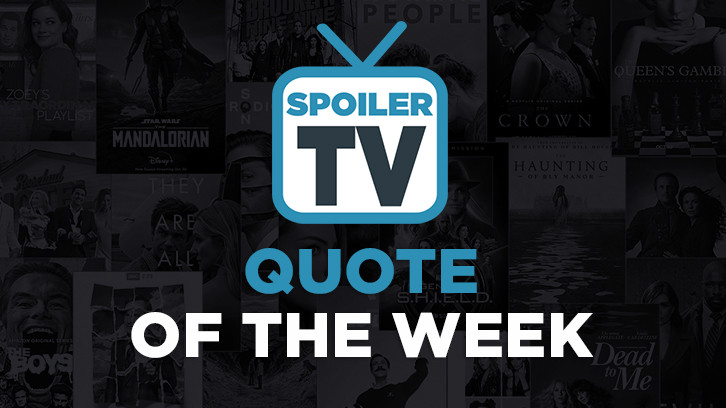 A weekly feature highlighting the best quotes on TV as picked by the Spoiler TV team. We'd love to hear your picks too so please sound off in the comments below.



1. Sherri: "My problem, Your Honor, is that you.. you've become a character in his drama. Pryce made you the villain, and as long as you are the baddie, Olivia isn't."
2. Lola: "You don't get to be glib about this. In the theater, the curtain drops, and people get to go back to their own lives. Hayley Halliwell doesn't get to do that. Now neither does your client. This is a place where people come after something horrible has happened - to find out the truth."
3. Lola: "Your friend lets his third grader watch coverage of a murder trial?" Mark: "Calm down. She probably thought you were someone from Harry Potter." (Raina)
1. Mia [just after she's been transported to the 2019 Arrow bunker from the future]: "Dad?" (Donna Cromeans)
1. Bob: "So snow is new to you. What else?" Abishola: "Electricity all day and all night." Bob: "Is that a problem in Nigeria?" Abishola: "The electric company there sucks very much." Bob: "Corruption or incompetence?" Abishola: "Yes." Bob: "What else?" Abishola: "Here in America I am black." Bob: "Aren't you black everywhere?" Abishola: "Yes, but in Nigeria I never thought about the color of my skin. I was just Abishola Bolatito Doyinsola Oluwatoyin Adebambo." Bob: "Just?" Abishola: "Here every time I walk out the door I am continually reminded that I am a black woman." Bob: "I never thought about it that way." Abishola: "Do you ever go to work or shopping or to church and think 'I am a white man.'" Bob: "No." Abishola: "Eh, come to Nigeria and you will." (Prpleight)
1. Mel: "Sorry? Do you know how many innocent witches he and she killed." Abigail: "Probably no more than the innocent demons your people killed. All hunters are heroes until the lioness tells her side of the story."
2. Maggie: "I can see the future. It's not my old powers coming back. It's a new one, foresight. Wait, she's in the house now?" Abigail: "Shouldn't you have seen that coming?"
3. Abigail: "Hunter, Parker - I was smarter than both of them combined. The patriarchy is still alive and well in the demon world." Macy: "So tear it down." Abigail: "I'm working on it." (Dahne)
1. Trent: "Dollywood? There should be a Rebawood." (I have to agree with this. Reba is awesome. - Dahne)
2. Eddie: "Mom hates Chestnut because Dad didn't listen to her about gardening." Jessica: "It's bigger than that. It took him so long to find his new path. I don't want him to give up on something he was so excited about."
3. Trent: "We're gonna have to send a rescue team to get this guy out of your dad's ass." (Dahne)
1. Higgins: "Oh, Jin. I won the Toss." Magnum: "It's you and me, buddy." Jin: "Wait a second. It was either me or spending the night in a haunted house and the loser gets me?" Higgins and Magnum: "Um hum." Jin: "Ouch." (Prpleight)
1. Nancy: "I have too many dead women in my life." (Dahne)
2. George: "The blood bucket curse says I'll die within the year. I made it through day 1. I still have 364 days to go. I'm not taking any chances. Go!"
3. George: "Do not Nancy Drew this up for us." (Prpleight and Dahne)
New Amsterdam -
1. Patient: "Keep Christ in your heart and your kidney cause I ain't asking nothing from you."
2. Kaye: "Now is the time to do right, Dr. Goodwin. This isn't in my hands or yours." (Donna Cromeans)
1. Ginny: "Do you know how broke I am? My credit card company alerts me for fraud every time I buy 2-ply toilet paper."
2. Arthur: "Come on. You wanna go to a party and I'm sure it's a slow night, right? So best case, she generates some business. Worst case, she kills some people and cooks a dog in that grease fire." Adams: "Alright, I'll give you one night, but only if you promise to put away all the qualities that make you a good person, and turn a profit. No more Glinda the Good Witch." Ginny: "Drop a house on me, b**. Sorry, was that too far. I meant it in like a feminist, like we're both like tough ladies kind of way."
3. Arthur: "I have tight pants and a big hat with a long feather." Ginny: "You've got all that but you don't have food in your house?" Arthur: "No, I'm single." (Dahne)
4. "If you like what you hear bring you little goblins to the church on Halloween Night for an evening of scaring and caring. Except no actual goblins because, you know, sin."
5. Choir: [to the tune of 'O Little Town of Bethlehem'] "O little ghost town of death-lehem. They're dead and we saw them die."
6. Choir: [to the tune of 'Tune is 'Little Drummer Boy'] "Said the werewolf to the goblin boy. Do you fear what I fear? [unintelligible] A bridge that I can't cross cause a Troll underneath is the boss. Cause a Troll underneath is boss." (Prpleight)
1. Aaron, after seeing The Blair Witch Project: "I need a big, safe hug from my mom."
2. CB: "Look, we made a mistake. How can we make it right?" Parent: "By turning our scared children back into the disrespectful teenage jerks we know and love."
3. Mellor: "Now that you're Mom Julie, I gotta go back to being Coach Rick only." Julie: "You can't go back. Look, Toby has never had a dad. He idealizes you." Mellor: "Maybe I could be his Gym Dad?" Julie: "That's not a thing." Mellor: "It is in here." Julie: "Just because you softly point to your heart doesn't mean it suddenly makes sense." (Dahne)
1. Douglas: "We're back from the Halloween that will be referred to in court as 'the day I should have said something.' "
2. Douglas: "Okay, good news, Rory. Mystery solved. My kids did all this." Rory: "How is that good news? You do realize you're living with psychopaths?" Douglas: "When you say it like that, it is upsetting. Not sure about the one on the right."
3. Rory: "Uh, not so fast, Mom and Angie." Graham: "Rory and I have something to say to you." Rory: "We've decided that we're big kids now and we can handle Halloween without you." Graham: "We"re telling you in front of other people so you won't make a scene." Poppy: "Okay." Angie: "Yeah." Rory: "Okay, bye, Mom. Don't have a meltdown." Graham: "See you later. You'll be fine." (Dahne)
1. Miles: "So what vault is our friend heading for?" Petey: "I didn't ask and he wouldn't have told me. Obvi." Miles: "Obvi?" Petey: "Teenage granddaughter."
2. Grey: "Everything that I did or tried to do was to protect him. Don't you see that? And to protect you." Dex: "I don't know who you are, Grey. I don't know who you are anymore." Grey: "If I left out anything about me or my past, if there's anything I didn't tell you...Look, I should have just told you, alright?" Dex: "If there's anything else you want to say, anything else you want to tell me, you better tell me right now." Grey: "I'm sorry."
3. Tookie: "Portland needs me. There shall be no restaurant. A truck is where I began and a truck is where I shall remain." Dex: "Two shalls. Sounds definitive." (Dahne)
Supergirl -
1. Alex: "I remember you telling me once that true character reveals itself in time of hardship and I know who you really are."
2. Supergirl [to Alex, who has a ticking bomb strapped to her chest]: "We are not going to lose you again."
3. J'onn [to Alex, just before phasing her out of the bomb Malefic has trapped her in]: "Do you trust me?" Alex [without hesitation]: "Yes." (Donna Cromeans)