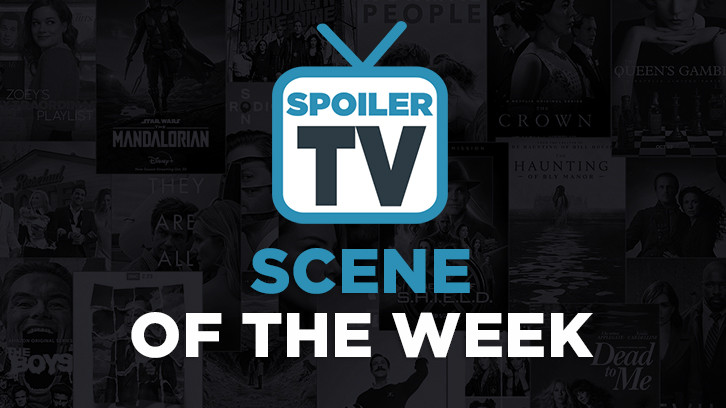 A weekly feature in which we're trying to find the most compelling, best acted, written, directed and just generally great, memorable scenes that we've seen in past seven days on TV.

BLACK MIRROR, "Smithereens", June 5, 2019, Actors: Andrew Scott, Topher Grace, The Scene: Chris tells Billy what happened to his fiancée
Sandi: No one can build drama using quite the same volatile, heightened emotional techniques that Andrew Scott can, the script was practically written with only him in mind and he hit each note perfectly. But this scene was where it all paid off, with the resolution of Chris' tragic situation ultimately not being shown to us, the audience. Instead his story becomes all he has rallied against; a notification on strangers social media accounts, making the tale all the more poignant.
Laura B: Out of the 3 episodes given to us this season, Smithereens was best acted and executed, making it a very solid episode, and it didn't hurt that certain aspects of it reminded me of Westworld too. This scene was also just really emotional and tragic as Chris admits that the loss of his fiancée was his fault, while simultaneously calling Bauer out on his technology's addictive quality, which despite the episode's ending, does lead Chris to help out his friend and Bauer does follow through on what Chris asked.
DarkUFO: Chris and Billy Bauer chat on the phone as Chris tells him what happened to his fiancée.

CHERNOBYL, "Vichnaya Pamyat", June 3, 2019, Actors: Jared Harris, Stellan Skarsgård and more, The Scenes: Legasov and Shcherbina talk during the trial recess & Valery Legasov tells the truth in court
Claire: Legasov and Shcherbina have a heart to heart talk during a break in the trial. They have both started to feel the effects of the radiation exposure. They have formed a strong friendship and do not know that this is the last time they will see each other. The men tell one another that the cleanup couldn't have been accomplished without the other. But it is Legasov telling his comrade that the government sent the only man who could cut through the Soviet red tape and save probably thousands of lives that really hit home with me. The chemistry between Jared Harris and Stellan Skarsgård was unbelievable. I mentioned on Twitter to Mr. Harris that the two should make another movie together, but maybe a light-hearted, buddy comedy. He loved the idea! Craig Mazin's Chernobyl is probably the finest show I've seen this year.
Sandi: Valery Legasov tells the truth in court. I was torn here as I also loved the scene between Boris and Valery during the trial recess. I have gone with this one in the end though because of how well Jared Harris portrayed the trepidation and unease of the moments leading up to, and during this vital point of the series. It takes a brave man to stand up and say what one really thinks in the situation he was in, and he knew exactly what it meant for his own safety to speak the words that he did.

ELEMENTARY, "The Price of Admission", June 6, 2019, Actors: Jonny Lee Miller, John Sharian, The Scene: The opening scene
Justyna: There's just something very powerful about the way that Sherlock was able to basically talk himself out of the murder charge, despite his earlier confession. Not that the things didn't eventually go even worse for him. Still, in this opening scene he meets with Assistant Director of the FBI George Eagen and practically demands his freedom in exchange for silence. I have to say, I didn't expect this to happen. I assumed that he would convince the FBI that they need to work together against the common threat, the same one that Sherlock discovered in the previous episode. And yet, we started with the blackmail and followed the same theme throughout the episode. I did like the mention of Sherlock's father and the organization that he's been leading for the past few years. It's certainly one of the show's most memorable plots. Finally, perhaps the thing that I enjoyed most in this first scene, Jonny Lee Miller's performance. He's truly excellent in all these confrontation moments. Watching him here makes you seriously wonder what a dangerous enemy Sherlock Holmes could be if he ever chose to become one... Kudos!

GENTLEMAN JACK, "Why've You Brought That?", June 3, 2019, Actors: Suranne Jones, Lydia Leonard, The Scene: Anne leaves Marianna behind
Laura B: Anne goes to dinner and leaves Marianna behind. I finally just caught up! This week's episode really highlights Anne Lister's flaws with fight or flight response, as she gets back in touch with old flames and leaves Shibden's future in a rather precarious state that can only end up in British-period-super-drama down the line. But seeing how Anne behaves with Marianna in particular, including bringing her along, just to leave her one night to go to dinner and actually wear a dress, shows the kind of contempt Anne expels on all of those who can't be just like her. Ultimately she's stonewalling not only the unfortunate reality that these women have to live in, but Anne's own problems with honesty and needing to be in control of her relationships by not yet realizing that other people are not "endeavors" only to be conquered, but that long-lasting relationships need time, not stern limitations, in which she herself is not always willing to live by either, shows a very human character full of natural contradictions that I think anyone could relate to! Surrane Jones is quite impressive!

NOS4A2, "The Shorter Way", June 2, 2019, Actors: Ashleigh Cummings and more
The Scene: Vic McQueen discovers her powers
Claire: Okay, Joe Hill's NOS4A2 is my go-to summer show, I love it! Zachary Quinto and Ashleigh Cummings steal every scene they're in. My pick is the scene where Vic McQueen discovers that she has some sort of supernatural powers and drives her motorcycle over a bridge that isn't really there. She's been seeing the covered bridge in the woods near her home. But her art teacher tells her that the bridge was torn down years ago...

SWAMP THING, "Worlds Apart", June 7, 2019, Actors: Crystal Reed, Andy Bean, The Scene: Abby finds Alec's recordings
Justyna: A connection built between two main characters can truly make a difference when it comes to a new show. Abby and Alec have just met but their interactions proved to be strong enough to make this quite an emotional moment during the series' second hour. It's such a shame we won't get to follow the show for too long, because these first two episodes turned out to be such an interesting surprise. I knew almost nothing about Swamp Thing story before watching but it wasn't hard to connect with at least a couple of main characters and feel engaged with the story. Alec and Abby worked really well together in the pilot and it becomes clear when we see her reaction to his "death". The recordings were a good way to learn a bit more about Alec, although I'm not quite sure how that last one could have possibly ended up there. However, it's Abby's response to the video journal that really makes this a meaningful moment for me. It's the little things that always capture one's attention and Crystal Reed did a great job with portraying all of Abby's complicated feelings in the scene. Kudos!

TALES OF THE CITY, "Coming Home", June 7, 2019, Actors: Ellen Page, Laura Linney
The Scene: Shawna watches old videos of Mary Ann's morning show
Abby: Shawna is alone in her apartment and it's revealed that she has a VHS collection of old episodes of a morning show hosted by Mary Ann. As she watches Mary Ann on the television cheerfully greet her audience she's got a sad and wistful look on her face, undercutting her previous animosity towards Mary Ann.

THE HANDMAID'S TALE, "Night" & "Mary and Martha", June 5, 2019, Actors: Elisabeth Moss, Yvonne Strahovski, Alexis Bledel, Bradley Whitford and more, The Scenes: Emily gets to the Canadian border & Commander Joseph Lawrence calls away his Martha & Serena sets fire to her bed
Claire: Emily makes it to the Canadian border (unaware that she's been successful) with baby Nicole when an official approaches her. He asks if she is seeking asylum and would it be unsafe for her to return to her homeland? He gently covers her with a blanket since she is cold and wet from crossing the river. It made me think of all of the immigrants on our Southern border who deserve to be treated with the same caring, compassion and kindness. Alexis Bledel is amazing and the premiere was stunning.
Laura B: Commander Joseph Lawrence calls away his Martha, forcing June to bury the body by herself. I was glad the series chose to keep actor Bradley Whitford along for the ride in season three, as he makes for a very different kind of villain, if we can really call him that, compared to Joseph Fiennes' Fred. Although it seems cruel to make June do this on her own, there is a part of me that wonders if he's not toughening June up for some greater purpose??
Jessica: Serena Joy sets fire to her bed, which ultimately consumes the Waterford house. June finds Serena surrounded by the flames and leads her out to safety. This was a pivotal moment for Serena as a character. We've seen her act out in resistance a few times last season that ended in some painful consequences. But this felt like she was doing it more for herself; an outward display of Serena's belief system being burned to the ground.

THE VIRTUES, "Episode 1.4", June 5, 2019, Actors: Stephen Graham, Niamh Algar
The Scene: Joseph and Dinah find the answers
Milo: Joseph and Dinah got the answers they were looking for in a heartbreaking sequence that split the two characters' journeys together nicely with an accompanying score from the always legendary PJ Harvey. Stephen Graham knocked it out of the park in his scenes - and Niamh Algar was utterly terrific as well. Bravo, Shane Meadows. I can't wait to see what you come up with next.

YEARS AND YEARS, "Episode 4", June 4, 2019, Actors: Russell Tovey and more
The Scene: Daniel's fate
Milo: Daniel's fate shocked me, especially after everything he and Viktor had gone through to get both characters back to the UK. It was harsh, brutal and cruel - in other words - Russell T. Davies at his best, and the emotional impact hit home really hard especially as Russell Tovey and his character's transformation had been at the heart of the show.