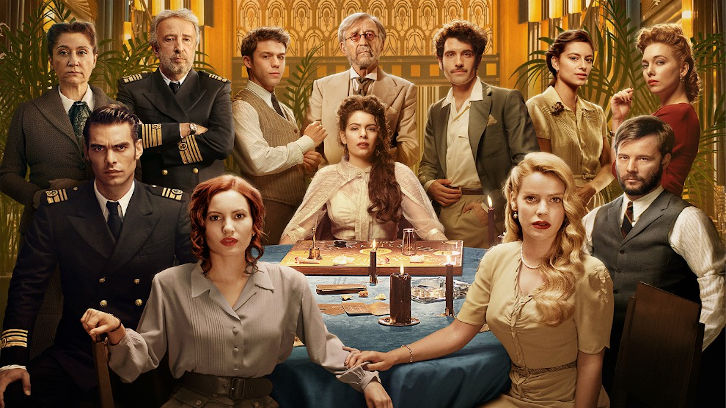 This review contains spoilers for the season one finale.
High Seas concludes its first season with nearly all its mysteries solved but also with a sense that most of its characters' problems are just beginning. One storm might be behind them, yet a whole bunch more are brewing. The biggest revelation from the last two episodes was Carlos being alive and in cahoots with Luisa/Sofia the whole time. However, cahoots apparently meant just that. Despite Dr. Rojas freaking out and poisoning Carolina to get the microfilm back, he and Uncle Pedro are, in fact, innocent of working with Nazis. These facts come to light after other distressing revelations. Dr. Rojas forces Eva to steal the microfilm back, which leads to her holding a gun on Nicolás who is very chill about the whole thing. She is able to get the antidote in time to save her sister. The news of Carolina's illness brings Carlos out of hiding for a lukewarm family reunion. Neither sister completely believes his story after the week they've been having. The discovery of the gold among Francisca's things at first leads to the sisters responding with feelings of betrayal by yet another parental figure. And while I was just waiting for the devastating twist that Fernando was somehow involved, that wasn't the last revelation.

Bárbara de Braganza reaches the equator and the halfway point of its voyage, the other passengers have their own share of drama. Veronica kept her promise to Dimas and halfheartedly showed his ethanol plans to Sebastian. He wasn't interested until later, because his secret actually is that he's broke. He needs something to give a lender as collateral, and Dimas's bright ideas are just what Sebastian is looking for. I definitely heard some ominous musical cues when Sebastian asked Dimas if he had patented his idea. It's unlikely there's not something slipped into that contract that will cheat Dimas in a big way. Francisca now knows that Veronica is with Sebastian in all senses of the word, so it's going to be extra embarrassing when our aspiring social climber finds out her man is counting pennies.



Let's Put On Our Detective Cloaks:

Despite a general sense of conclusion for the main mystery, Carlos and Luisa and Dr. Rojas (really wants to set the ship on fire by the way) remain a present and very real threat to those on board.

Is Dr. Rojas the only doctor on board? If so, they are in trouble.

Why did someone kill Manuel? Carlos and Luisa were the only ones with any real motive, but it's apparently not them. Will season 2 reveal he was involved in some other secret?

We're definitely going to see more of that adorable safe cracker, right?
What is the agenda of the people in the boat? Are they heading to South America to hunt Nazis? Is it a coincidence they wound up near the
Bárbara de Braganza
or have they been following it the whole time?
Why did Fernando have a gun in his desk? Just because of his gambling debts? Or does he have more secrets. For Carolina's sake, let's hope it was just a precautionary measure, because their sweet relationship just kept growing on me through the whole season.
Thanks for sailing with us!