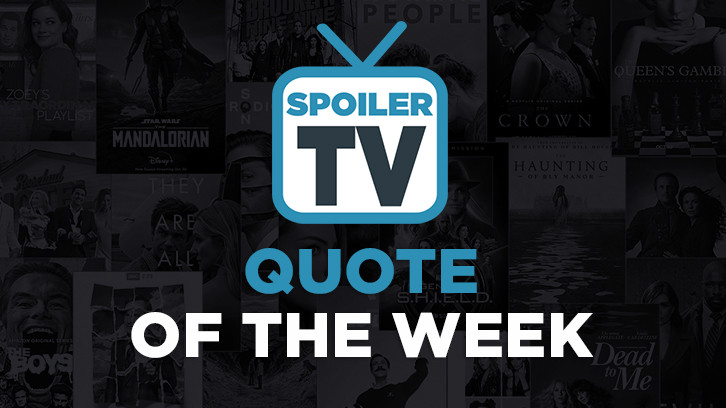 A weekly feature highlighting the best quotes on TV as picked by the Spoiler TV team. We'd love to hear your picks too so please sound off in the comments below.




The 100 -
1. Octavia (to Abby): "If not for you, I would have delivered us safely to that valley. Our sins would have been washed away. McCreary and Diyoza would have surrendered to me. Everything I did would have made sense. Now nothing does."
2. Clarke (to Rose): "Isn't this your home?"
3. Murphy (to Clarke): "Now, since you're clearly only a threat to yourself and not to me, what do you say we save Bellamy before he kills both of us?" (Milo M-J)
1. Amy: "Are you really not gonna pick up your mother?" Leonard: "No, it's fine, she likes to take a cab or a shuttle. That way she can meet people." Amy: "Well, that's kinda nice." Leonard: "Yeah, she always says that a stranger is just a person whose emotional weak point you haven't found yet." Sheldon: "Your mom is the best."
2. Leonard: "How was your flight?" Beverly: "There were some parents with a baby. A lot of crying." Leonard: "Well, babies do that." Beverly: "No, it was the parents. It seems they couldn't handle some constructive criticism."
3. Raj: "Hey, I can work from anywhere, I'm an astronomer. They have stars in London...and I'm not just talking about Dame Judi Dench." Leonard: "No one thought you were." Penny: "I thought he was." (Julia Krassnik)
1. Kate: "Now stop making a tit of yourself and piss off." (Milo M-J)
1. Will: "Hey look, it's normal to feel for another human when they're in pain. You'd have to be a sociopath not to…..That's your cue." Frankie: "If I was there, after I shot Alexi, I would have shot you." Will: "There it is." Standish: "So you would have killed me for a mistake." Frankie: "No, I would have put one in the leg to teach you a lesson." Standish: "Hmm." Will: "Wow, just the leg. You're showing a lot of personal growth. I'm proud of you, Frankie." Frankie: "I'm trying."
2. Standish: "Thank you for saving my life. My mom thanks you too."
3. Standish: "No offense, Frankie, but are you telling me how to make a friend?" (Dahne)
1 Missy: "Pastor Jeff's wife is so much prettier than him. It's like Barbie married a turtle."
2. Sheldon: "Meemaw, I've been going through the church records, and I noticed you haven't made a donation in quite a long time." Connie: "You see, God and I have a deal. And when he helps me win big at the casino, I give him a cut. And lately, he has not been holding up his part of the bargain."
3. Mary: "Pastor Jeff? Everything all right in there?" Pastor: "Oh, yeah. I've just been praying, napping, crying. I like to mix it up." (Julia Krassnik)