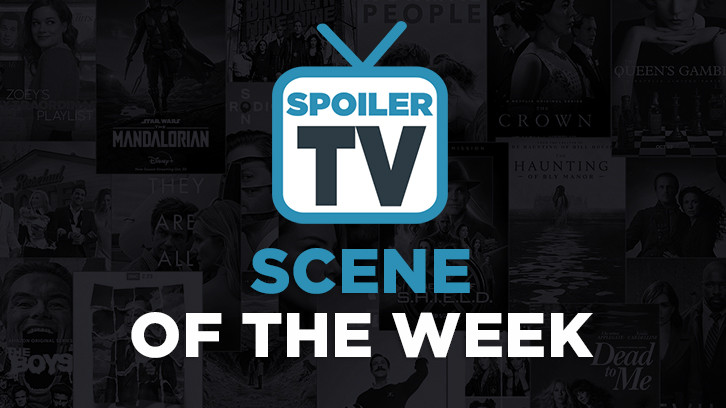 A weekly feature in which we're trying to find the most compelling, best acted, written, directed and just generally great, memorable scenes that we've seen in past seven days on TV.

ARROW, "Lost Canary", April 15, 2019, Actors: Katie Cassidy Rodgers, Katherine McNamara and more, The Scene: E2 Laurel saves Mia
Marko: E2 Laurel appears in the flashforwards to save Mia. Finally we got what many comic book fans wanted for 7 seasons. Laurel Lance as a full-fledged mighty Black Canary. The phenomenal entrance, the admiration in Mia's eyes and the attitude she transferred to the screen. It was a perfect moment and fulfilled E2 Laurel Lance's redemption story. On the other hand, it paid respect to E1 Laurel Lance's dying wish to carry on her legacy with the created Canary Network. Laurel's reputation was dragged through mud multiple times and this is at least something to keep her reputation clean in the Vigilante world.
Samantha: Same and for the exact same reasons. As a Laurel Lance fan this episode made me really happy, even if we had to wait so long into the series for it to happen. E2 Laurel Lance is carrying on the legacy of her E1 counterpart & this is one redemption story I can root for.

DYNASTY, "How Two-Faced Can You Get", April 19, 2019, Actors: Elizabeth Gillies, Maddison Brown, The Scene: Fallon gives Kirby her blessing to be with Culhane
Samantha: Once Fallon saw the photo Monica sent the show could've gone down the really predictable route of Fallon going at Kirby all guns blazing. Fallon acknowledging she had a right to be angry at the betrayal but shockingly wasn't showed a lot of growth for her, as did explaining to Kirby she was more angry that she hadn't had the courage to tell her the truth and Kirby accepting that. These two have come a long way since Kirby's introduction to the show and I really love their friendship. Kirby telling Fallon she wanted to go on the book tour because she was responsible for making the deal happen & Fallon accepting that without any complaints just sealed the deal on a really lovely scene.

FOR THE PEOPLE, "The Boxer", April 18, 2019, Actors: Jasmin Savoy Brown, Britt Robertson
The Scene: Allison comforts Sandra
Mads: I missed these two! They've barely had any scenes together this season and I'm glad they finally had a really nice moment with Allison being there for Sandra after the difficult decision she had to make pertaining to her client. "I love you, Sandy." They're so sweet.

GAME OF THRONES, "Winterfell", April 14, 2019, Actors: Nikolaj Coster-Waldau, Isaac Hempstead Wright, John Bradley, Emilia Clarke and more, The Scenes: Jaime arrives at Winterfell & Sam learns of his father and brother's deaths
Justyna: There's a number of scenes I would like to highlight from the hour. I could not decide, until the very last moment, which one to include in the article. There are these two incredibly powerful exchanges where John Bradley and the rest of the cast shine in their performances, showing their characters' vulnerabilities and internal conflicts. First, when Sam meets Dany and a thank you turns into the most unexpected and painful confession. And then there's the long-awaited moment when Jon finally learns the truth about his parents. As much as I would love to continue to write about these, the actual first thing that came to mind when I was deciding on the best scene to highlight from the episode was actually its ending. There's no dialogue in the moment, the viewers are following a man who arrives at Winterfell and is slowly revealed to be Jaime Lannister. More than that, the first person who notices his presence is Bran Stark. Bran's expression is impossible to read but Jaime's clearly shaken by this meeting. It's clear that Bran's the last person he would want to encounter. I love that we've been seeing Bran waiting throughout the episode and he's been mostly dismissed by everyone, due to his abilities and behavior, but he still lets the viewers know early on that he's "waiting for an old friend". And yet it doesn't truly hit you until that last scene. Loved how obvious and still surprising this turned out to be. Also, there's something powerful about the fact that final season premiere ends with these two, knowing that their last meeting was the ending of the series premiere as well. A wonderful full-circle reference. Kudos to cast & crew for this memorable hour!
Laura B: Dany, Jorah and Sam have an exchange. John Bradley really did an excellent job when a pleasant conversation about helping Jorah with his greyscale and Sam asking for pardon for taking some books immediately goes south, when it's revealed that Dany burned Sam's father and brother alive. It's really to Sam's credit to see that he still feels bad, even for a man who didn't treat him right. Moreover it was this exchange that leads Sam to finally tell Jon the truth about who he really is, which was also a wonderful scene! I just worry now that Sam will lose his integrity by not showing Dany the same compassion he was willing to show for his father.

GOTHAM, "They Did What?", April 18, 2019, Actors: Robin Lord Taylor, Erin Richards, Cory Michael Smith and more, The Scenes: Ed and Oswald embrace each other & Barbara names the baby
Marko: Ed and Oswald embrace each other. Nygma and Oswald went through so many ups and downs during their 5 season run. They grew into formidable and psychotic villains. Them completely embracing their destiny and trying to almost kill each other showed how far they have come and how much they respect each other.
Klutzy girl: Barbara names her and Jim's daughter after herself and Lee (who helped during the entire pregnancy and assisted in the delivery), thus giving rise to Barbara Gordon. I loved this moment so much and it also doesn't surprise me that Barbara passed her own name on.

IN THE DARK, "The Big Break", April 28, 2019, Actors: Perry Mattfeld, Calle Walton
The Scene: Murphy talks with Chloe about menstruation
Marko: It is unbelievable how much heart this show has and how much story it tells with simple scenes with poignant writing. The connection between these two blind girls is just heartwarming and exploits a different side of Murphy's character.

LINE OF DUTY, "Episode 3", April 14, 2019, Actors: Stephen Graham, Tony Pitts and more, The Scene: The identity reveal
Milo: H's identity revealed? This was a frantic, tense sequence that was among the show's best. Corbett snapped and shot at the masked man after his raid on the Eastfield depot backfired - Hargreaves - unintentionally killing him. It seemed this was the straw that broke the camel's back and now Corbett is rogue and infinitely more dangerous than ever before. The show kept us in the dark and on the edge from the word go, and I cannot wait to see where it goes from here. As a bonus, there are still enough questions behind the identity of H - as ever, on Line of Duty, that we have lingering in the back of our mind. Was Hargreaves truly H? Or could it be, as the show seems intent on pushing so hard, our beloved Hastings?

ROSWELL, NEW MEXICO, "Creep", April 16, 2019, Actors: Michael Vlamis, Tyler Blackburn and more, The Scene: Prison evacuation sequence
Jennise: That was a packed couple of minutes of screen time for Michael. Michael, who's been searching for his roots or a way home his entire life, is desperate to save the family he's finally found. Alex, desperate to get Michael to leave the building, finally admits how he feels about Michael. On the heels of that revelation Michael discovers that the woman he has an unexplained connection with is his mother. In that moment she knows her child survived and didn't spend the last 70 years being tortured and Michael knows that someone loved him. And a few moments later she, and the other captives are incinerated. It was a great scene that provided the emotional set up for the final scene of the episode.
Mads: Michael sees his mother. Ugh, what a heartbreaking episode! Michael finally finds his mother locked up in an alien experimentation lab and then is forced to watch her die when the entire facility explodes and he is helpless to save her. Michael Vlamis was amazing in this scene.

SEAL TEAM, "Payback", April 17, 2019, Actors: Toni Trucks, Max Thieriot, The Scene: Davis visits Clay in the hospital
Jennise: There were three scenes I wanted to nominate, but I picked this one because it caught me off guard. Davis hit a hurdle (passing out while leading her team into a burning building) that she couldn't clear to give herself a bit of space to think she gets permission to visit Clay in the hospital. When Clay asks her about OCS she tries to turn the conversation back toward him, but he shuts her down. She has no choice but to talk about what's bothering her. When she admits to thinking about walking away from her dream Clay isn't particularly kind. Understandable, she's thinking about giving up on her dream when he's trying to deal with having his dream taken from him. Clay tries to soften his words by pointing out that the navy can't afford to lose her and to "get yourself right". It was a much harsher "pep talk" than I expected, but, I believe, what was needed. It was a nice moment.

STAR TREK: DISCOVERY, "Such Sweet Sorrow", April 18, 2019, Actors: Sonequa Martin-Green, Ethan Peck, The Scene: Burnham says goodbye to Spock
Milo: In a finale full of awesome moments (this is one of those times that I really wanted just to put the entire episode down here) that ranks up there with one of the best single episodes that the entire franchise has ever done, which is saying something - Star Trek Discovery doubled down on its emotional stakes with a farewell to Spock from Burnham. We all knew that Spock couldn't join Burnham on Discovery's voyage to the future yet to see them say goodbye in person after everything that Season 2 has achieved in showing between their relationship made it all the more rewarding for a brilliant payoff, especially with everything that followed as we learnt what happened to Spock, Number One & Pike in the aftermath. I hope Discovery sets up an Enterprise-centric spinoff, as it's absolutely what's needed.

SUPERNATURAL, "Jack in the Box", April 18, 2019, Actor: Jensen Ackles
The Scene: Dean breaks down in the woods
Klutzy girl: Dean breaks down in the woods following Mary's death. This was an amazing bit of acting by Jensen Ackles (who discussed how hard it was to film at a con weeks ago) and so painful. He's putting on a brave face and clinging to his anger to deal with his mom's death but Dean's grief is clearly overwhelming and it hurts to see him like this.

THE FLASH, "Godspeed", April 16, 2019, Actors: Grant Gustin, Jessica Parker Kennedy, The Scene: Barry tells Nora he doesn't trust her
Justyna: This one is quite painful to watch. Especially when you can understand both sides of the story. Learning about Nora's past gives the viewers a better understanding of her actions and motives. It's clear that she never meant any harm and she truly wanted to meet her father and help him solve that one mystery that he never could. But after following Barry's story for the last few years it's hard not to see how much the truth hurt him. Nora's betrayal is a terrible reminder of all the losses he's suffered. Eobard Thawne detroyed his life. He murdered Barry's mother and allowed the whole world to believe that Barry's father was the one responsible for her death. Barry lost them both, his entire family and now he learns that despite knowing that Nora continued to ask for Thawne's support, even when she had everyone else by her side. Her choice leaves Barry absolutely heartbroken and unable to trust her judgment. He acts on his emotions and returns her to her time. Her reaction at the end says it all. First it's Barry that almost breaks down as he asks her "how many times..." and finally it's Nora who ends up all alone, feeling truly abandoned and broken. I'm sure that's not how the story ends, especially considering the fact that Barry made the decision on his own, not allowing anyone to say goodbye. I feel for both of the characters here. Such wonderful performances by Jessica Parker Kennedy and Grant Gustin.
Naomi: After Nora is allowed to tell the team some of the truth she has been hiding, Barry asks to speak with her alone. He shares with her that he understands her asking for Thawne's help to travel back in time to meet him, but he cannot understand why she continued to have a relationship with him in secret even after she found out that he killed her grandmother. Barry tells Nora that he doesn't trust her and that she can no longer stay in the past with them. He wooshes her back to the future, telling her that if she tries to travel back in time he'll feel it. Barry leaves Nora standing alone with a very unfeeling goodbye. This was a good scene filled with emotion by Jessica Parker Kennedy and Grant Gustin. It showed Nora's fear of the truth and abandonment as well as Barry's disappointment and sadness at his daughter's betrayal.

THE MAGICIANS, "The Seam", April 17, 2019, Actors: Jason Ralph and more, The Scene: Quentin sacrifices himself to save his friends
Milo: In a very big game-changer for the series that means nothing will ever be the same, the series took its time to send off Quentin in a pitch-perfect way, sacrificing himself to save his friends. Everything worked perfectly in the build-up to his death, which was ever so devastating, especially when coupled with one more musical number. I don't think I'll hear Take On Me the same way again, and chances are high that there won't be a more emotional death this year on television.

THE RESIDENT, "If Not Now, When?", April 15, 2019, Actors: Bruce Greenwood, Kamal Angelo Bolden, Manish Dayal, John Billingsley and more, The Scenes: The ending & Devon confronts Dr. Stewart about his racial bias
Justyna: Lea's story in this week's episode was heartbreaking to follow. Unfortunately you knew what to expect and no matter how hopeful you'd try to be Lea still died, despite the fact it would be so easy to save her if she was only given more attention from the hospital staff. A never event, a mistake that should never happen. Racial bias (unconscious or not) in a place meant to save anyone and everyone. It was good to see this particular hospital learning from this terrible event, working on ways to improve but that entire ending proves that there's so much more to be done to prevent these deaths from ever happening again. Bell's speech is memorable, but it's the part where a father has to take his baby home alone, with tears in his eyes that hits so much harder. And then there's the footage that I did not see coming. A real life story about a woman named Kira Dixon Johnson, one of the inspiration for the episode. This short tribute was meaningful, powerful and absolutely heartbreaking. If there's even a smallest chance that an episode like this one can make a difference in the world I'm most grateful for telling this story. Kudos to cast & crew for all their work.
Mads: Devon confronts Dr. Stewart about his racial bias. Another heartbreaking scene but this was an incredible and vital episode. The death rates of mothers in hospitals, particularly black mothers, is unacceptable. Racial bias is highly prevalent in our society and it's horrible that even our healthcare system partakes in it. I'm glad The Resident decided to call attention to how hospitals need to do better in this regard because it is a serious issue.