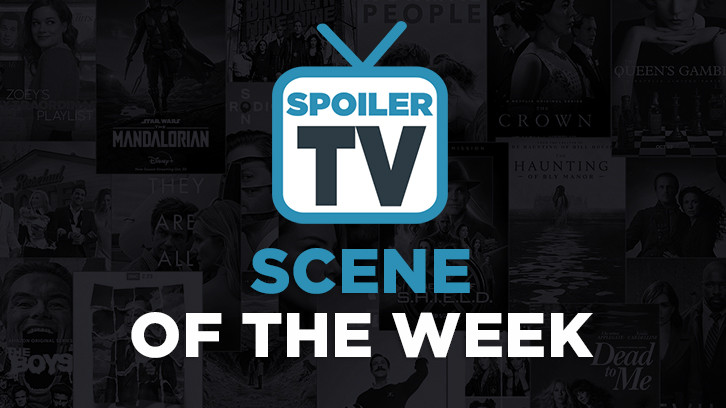 A weekly feature in which we're trying to find the most compelling, best acted, written, directed and just generally great, memorable scenes that we've seen in past seven days on TV.

CHILLING ADVENTURES OF SABRINA, "Chapter Seventeen: The Missionaries", April 5, 2019, Actors: Kiernan Shipka and more, The Scene: Sabrina is resurrected
Aimee T: After being shot to death with arrows, Sabrina is resurrected and proceeds to burn the witch hunters/angels to death in the desecrated church. Part 2 of CAoS really upped the supernatural ante, and the latter half of the season had a lot of fantastic moments, but what really stood out was the church scene in chapter 6. The show truly took a darker and shocking turn with the entire ordeal. Sabrina bursts into the church to save her classmates but is shot down by the missionaries/witch hunters. She collapses in a pool of her own blood, seemingly dead. Surely the show's protagonist can't die (for good, or so soon, at any rate), but it looks like our favorite witch is out of commission, until... She rises from the floor, levitating high above the witch hunters and audience of academy students. Her entire visage is changed; eyes glowing eerie white, hands ignited in flames, voice low and booming. In her resurrected (possessed?) state she roars, "I am the Dark Lord's sword" and burns the witch hunters/angels to ashes, while simultaneously resurrecting her fallen schoolmates. Wow, talk about taking it to the next level. Of all the magical feats Sabrina has achieved, this one is the most brutal and powerful. And it raises the question, is there anything she can't do (through the power of the Dark Lord)?

DOOM PATROL, "Jane Patrol", April 12, 2019, Actors: Diane Guerrero and more, The Scene: Jane talks to the memory of Kay
Justyna: This must be one of the strangest shows I've ever seen but I'm glad to be all caught up now. I have to start with praising all the wonderful performances on the series so far but no one more than Diane Guerrero. She's been playing so many entirely different and infinitely complex characters and she's done an incredible job with all of them. This episode was a true character study for Jane but we were also introduced to many other personalities locked in Kay's mind, as well as the Underground itself. For a few episodes now Jane has been falling into the darkness and losing her ground. She feels lost and confused, doesn't know who to trust and how to feel and she finally got a chance to express it this week when she encounters a memory of young Kay. Jane admits to herself and this memory what she truly thinks and it's heartbreaking to hear. "I'm trying, but I don't know if I want to try anymore." I wasn't quite sure about Jane and her many personalities at first but now I'm very interested to see where her story goes. Hopefully there is a chance for her after all. Visiting the moment when Kay's broken mind and spirit started was powerful on its own, but Jane's honesty made it even more memorable to me. Kudos to Diane and the rest of cast & crew for all their work on the show!

FOR THE PEOPLE, "You Belong Here", April 11, 2019, Actors: Regé-Jean Page, Obba Babatundé
The Scene: Leonard stands up for himself to Kaws
Mads: Regé-Jean Page was incredible in this episode but particularly in this scene. After Kaws attacks his character in public Leonard gets to give him a piece of his mind and call him out on his flagrant hypocrisy. I got chills when he said "your biggest mistake was underestimating me." YES.

GREY'S ANATOMY, "Good Shepherd", April 11, 2019, Actors: Caterina Scorsone, Chris Carmack, Tyne Daly and more, The Scenes: Amelia and Carolyn talk & Link defends Amelia
Marko: This one was a long time coming. Ever since the writers decided to not bring Carolyn to the Omelia wedding I hoped we would get a confrontation between Amelia and her mother. And boy what a scene it was. The delicate writing with the powerful acting from both sides made this scene memorable.
Zandarl: I love a good mother-daughter scene and this one was a long time coming.
Diana: Amelia and her mom talk while they remember Derek. It was a very touching moment and a clever way to keep Patrick Dempsey's character alive in the show.
Mads: Link defends Amelia. I'm in love with this couple. It's nice to see Amelia with someone who actually loves things about her instead of Owen who was constantly trying to change her. It was super sweet of Link to defend Amelia from her insufferable sisters.

LINE OF DUTY, "Episode 2", April 7, 2019, Actors: Martin Compston, Stephen Graham, The Scene: The car scene between Steve and Corbett
Milo: Talk about the definition of a tense scene! Line of Duty was unpredictable from start to finish this week (that cliffhanger was very cruel) and I was on edge from the word go. Both Martin Compston and Stephen Graham were brilliant in this episode and putting them together really got the best out of them both. It's refreshing to see that Corbett may not be as one-note as he could have been, written as far more complicated as a three dimensional, rogue copper acting out on his own rather than a straight up villain makes him ten times more fascinating.
DarkUFO: John Corbett takes Steve Arnott for a ride to explain the undercover operation.

MODERN FAMILY, "Can't Elope", April 10, 2019, Actors: Sarah Hyland, Reid Ewing and more
The Scene: Hayley and Dylan's wedding
Marko: Hayley and Dylan had such a long way behind them and the ceremony was every bit as messed up as their road to it. The amount of maturity Hayley gained over the show's 10 years run is impressive and this episode just showcases how much she indeed matured.

NEW AMSTERDAM, "Sanctuary", April 9, 2019, Actors: Ryan Eggold, Freema Agyeman, The Scene: Max admits he can't choose
Justyna: There were quite a few memorable moments that I could mention from the hour. Between Max's inspiring speech to the patients and Helen's choice there's a lot of great scenes that would be worthy of this highlight. But the one that hit me the most was the part when Max is faced with a terrible choice and he admits he can't and won't make it. The scene when he says that he "couldn't see a scenario" where things didn't work out. His plan was always to save everyone, not minimize the damage and not decide who to let go. Max is such a wonderful character, a hero we can be inspired by, someone to root for. To see him so defeated was a painful reminder of the harsh reality, the truth that Helen's been trying to get him to face - we can't have everything, not every situation can be fixed, not every person can be saved. Not always. Sometimes we are forced to make impossible choices, heartbreaking decisions and their consequences last forever. Max and Helen are a really good team as it's proved once again in the episode. Their actions complete each other when it's needed. Max is the person you want to save you but Helen is his greatest support here. Their dynamics are wonderfully portrayed in this scene and throughout the episode. Kudos to Ryan Eggold and Freema Agyeman for their fantastic work, and to the entire cast & crew of the show for all their work on the series so far.

SINGLE PARENTS, "Joust!", April 10, 2019, Actors: Kimrie Lewis, Brad Garrett
The Scene: Poppy and Douglas kiss
Mads: Finally! I know they probably won't get together for a while but the moment was perfect and so them. I love how vulnerable Douglas is around Poppy.

SPEECHLESS, "U-n-r– Unrealistic", April 12, 2019, Actors: Minnie Driver, Micah Fowler
The Sceen: Maya encourages JJ to leave for NY
Marko: I will never be bored when Minnie & Micah share a scene together. The ways Maya goes to ensure the happiness of her firstborn will never stop to impress me. And the insightful words from Maya didn't leave a dry eye behind. Maya wouldn't allow her son to sell himself short and JJ is destined to go big and nothing is bigger than the dream of Big Apple.

STAR TREK: DISCOVERY, "Such Sweet Sorrow", April 11, 2019, Actors: Sonequa Martin-Green and more
The Scene: The crew prepares to travel into the future with no apparent return
Milo: In a series that's been more emotional than I could have ever expected this episode had the most emotional moment to date that went some way to rectify the problem that the show had with developing its secondary cast. Sonequa Martin-Green in particular was terrific throughout the entire episode once again, and this went a long way to proving that the series never needed a captain to replace Pike. It's time for the core cast to shine.

THE GOLDBERGS, "I Lost on Jeopardy", April 10, 2019, Actors: Hayley Orrantia, Sam Lerner
The Scene: Erica tells Geoff that she's planning to go back to college
Klutzy girl: Erica tells Geoff that she's planning on going back to college, to not tell her parents, and that it's always been just him when he asks about it. Such an adorable moment - one of many - between these two.

THE GOOD FIGHT, "The One Where a Nazi Gets Punched", April 11, 2019, Actors: Cush Jumbo, Nyambi Nyambi and more, The Scene: Jay and Lucca's Republican counterparts stand up for them
Laura B: Jay's and Lucca's Republican counterparts stand up for them when Neo Nazi's come to the voting facility. Although The Good Fight seems on the fringes of showcasing divisions much like its counterpart The Good Wife, it also took the time here to show two sets of people on opposite political sides of isle coming together when Neo Nazi's show up and begin inciting violence. It's interesting to see if the show will really tip the apple cart or if these characters are going to come back together and weather the storm?

THE MAGICIANS, "The Secret Sea", April 10, 2019, Actors: Jason Ralph, Olivia Taylor Dudley
The Scene: Quentin yells at a plant
Milo: I love the direction that the show has been taking Alice and Quentin this season showing how the characters can evolve and change and this episode is no different. Olivia Taylor-Dudley and Jason Ralph excelled in the scene where Alice gave him a pep talk, and then Quentin's speech that followed was a character-defining moment for him.

THE TWILIGHT ZONE, "Replay", April 11, 2019, Actors: Sanaa Lathan, Damson Idris, Glenn Fleshler and more, The Scene: Nina gets her son to his first day at college
Claire: Episode 3 of the new TZ was fabulous! I was riveted with a knot in my stomach for 45 minutes waiting to see what would happen to Nina and Dorian Harrison. The scene where Nina with the help of her family, is finally able to get her son, Dorian, to his first day at college (the fictional Tennyson in Virginia) is powerful and poignant. I was cheering and crying at the same time. A corrupt and racist cop has been tracking the two and no matter how many times Nina 'rewinds' the day, Officer Lasky keeps finding them. At the entrance to the school Nina turns her camcorder on Lasky while behind her all of the other students and parents train their cell phones on the officer. He has drawn his gun on Nina and is threatening and harassing her simply for being black. Nina gives an impassioned speech, basically saying enough is enough. The speech wasn't even a necessity, just seeing the sea of faces confronting Lasky was powerful enough. He is forced to retreat and Nina has won this battle though she knows that there's still a war to be fought. But we watch as Dorian triumphantly crosses the threshold to this HBCU and a bright future. Replay was beautifully written, acted and directed. It could stand on its own and if this was the only new TZ episode ever to air, it would be enough and remembered as a near classic.