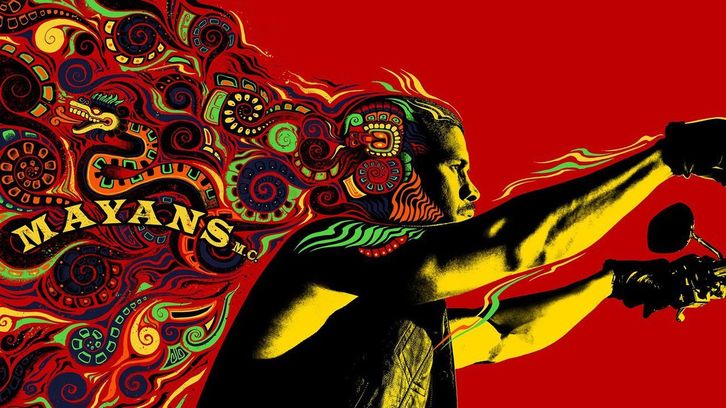 As Mayans continues to roll, the character stories become more rich and layered. This week, Coco confronted what he had been running from, Felipe opened the vault to Jimenez and EZ relived a painful memory that was one more piece to the puzzle. Adelita also proved how smart and savage she is at the cost of Miguel Galindo. Let's discuss.

Past Life Revisited

Espina
(this will be important later) and he seemed to have no desire to leave, so he did and never knew what became of him. Felipe also took the opportunity to tell Jimenez that EZ will not turn Emily and wants to know why he is pressing so hard. It is here that Jimenez shares that it is not him, he is being squeezed by a power higher than his pay grade. This leads to the mother of all Sons of Anarchy Easter Eggs that had me marveling at how Sutter and James (the show's creators) tied this string so flawlessly.
Lincoln Potter
, the man talking to EZ at the end. If you have not watched Sons, that is okay, I got you. Lincoln Potter was an antagonist to the sons in season 4, he wanted to use them to take down...... The Galindo Cartel. He used one of the club's members, Juice to try and do this. The sons were running drugs and guns and their contacts were two members of the cartel. Potter saw it as the perfect opportunity to dismantle the Galindo regime. His case however fell apart at the end because the two members of Galindo he was gunning for were already informants for the CIA and they shut down his case to keep theirs going. Potter never got what he came for and now may use EZ and the Mayans to accomplish his long goal. This character is very unique, his demeanor and presence is very odd at times but this was the perfect way to continue his story and introduce him to a new set of fans in this universe.
My Bad
Pieces of pain
The Set Up
Los Olvidados
set him up by lacing the baby blanket Cristobal was in with drugs and tipping off contacts in the border police. Emily was painfully close yet so far from her son once more and now Miguel is behind bars and out of the game for now. It makes sense he was so blinded, he saw his boy and little else which is what Adelita banked on. She also terminated the mole in her camp in a rather gut wrenching and heartbreaking scene.
Other Odds and Ends:
Luisa Espina
..... Espina, like Felipe's partner Espina?!? Could she have a history with the Reyes nee Cortina family that extends past Angel and EZ? I think so.
* Chucky is really making me angry. His half answers about Letti are leading to a massive misunderstanding with Bishop and Hank locking in on Coco as a possible mole. He keeps leading them to think Coco is talking to Adelita and it is getting really worrisome. Thankfully this time, EZ heard the conversation go down, so maybe they can extinguish this fire Chucky has set.
* So Coco won Chucky in a card game. In my mind he played cards with some of our surviving sons, hopefully that is shown at some point.
* How are we feeling about Emily? I am so torn because I love how Sarah Bolger plays her, but I don't ever see her returning to EZ because of her son. She will use him and seek revenge should she ever find out he knew where Cristobal was. I am beginning to agree completely with Felipe and Angel, she is not the same girl EZ loved.
* This week's animal was a cat and the cat or cats found themselves with Adelita, at the junkyard and finally in Lincoln's arms. This could all just be a mystery that is up for interpretation, but I still love guessing.
That is it for me! I can't believe we only have four more episodes because I don't want the season to be over. What do you think of Adelita's moves? Does EZ's story get more heartbreaking with each reveal? How long will it take Miguel to get out of this and bring the pain to Los Olvidados? How long until the many kept secrets from Bishop come out?