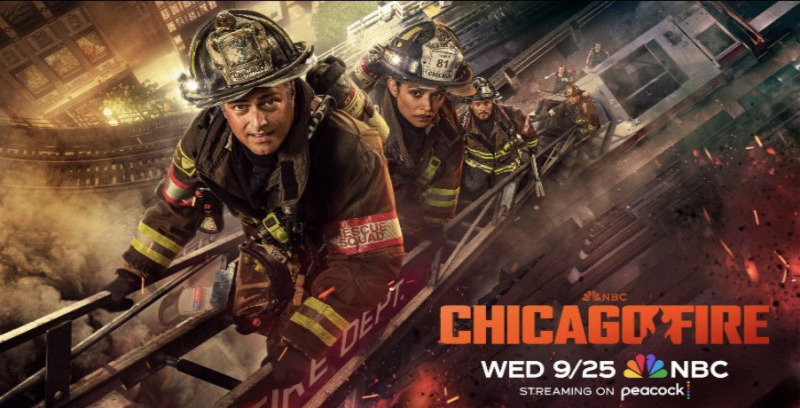 Well Chicago Fire fam, this is probably the hardest review that I have had to write for this show. I put it off, but tonight we usher in a new chapter in Chicago Fire history and it will be one without the anchor of the show, and in the larger scheme of things, the entire Chicagoverse. Matthew Casey, our captain left for the most honorable of reasons, let's grab the tissues and discuss.

Quick Run-Down
Now normally, I try to break the review down and cover the A, B, C stories then do some quick tidbits, but this time is different. So I am just going to do a quick blurb on the storylines we saw that did not have to do with a departing Casey.
First of all, welcome to the world Brian 'Otis' Leon Cruz! Was there ever any doubt that Cruz would name his little boy after his late best friend, I think not. Baby Otis's birth happening in this episode was perfect but also because it felt like Chloe had been pregnant forever! I did love that there was no big drama around this birth, that was a nice change of pace. I am more than sure little Otis Cruz will know all the love from his 51 family as he grows.
Next we have Violet, Gallo and Ritter covering for Mr. Dewitt for a magazine spread because he is drunk as usual. Now this storyline revisited a shade of Violet I am not fond of, and that is her snarky jealously. She wants to keep Gallo at arm's reach but gets super territorial when Mr. Dewitt's assistant takes a shine to him. Choose a lane girl! You are exausting at this point.
It is the return of the Severide the arson detective, which I guess is fine. I want to find out what monster doused a cat in gasoline and set it on fire, but it feels like once a season we must tick the box of Severide solving a suspicious fire and I am over it. Find something else to bring the mystery, I beg you. Now onto the heart wrenching part of the episode, saying goodbye to our beloved Captain Casey, a moment that I had hoped would never happen.
The Right Thing
Let's just get it out of the way, if Casey was going to leave, THIS is the way it should've happened. There is no way that Matthew Casey was going to let Griffin and Ben Darden go into the system, full stop, that would never happen. He is still the Chicago guy but some things are bigger than where you were built. So in that respect, I am glad they came up with this storyline to explain him leaving. Does it hurt? Absolutley, but it is completely in line with the character we have all come to love over the last 10 seasons. But part of the sting of this also is felt given that Casey and Brett finally got together.
I appreciate the show not giving up on the pairing just because he is leaving, lots of things can happen off screen to keep it alive and we know this. Is it the same? no, but at least that is one thread to keep the presence of Casey felt as we move ahead with season 10. I do get where fans of the ship may feel cheated and yes, it is okay to feel that way. We had five episodes of Brett and Casey finally being happy and content and now he is gone. But, the silver lining for me is that their relationship will continue and both didn't even question if that was the right choice. So in that respect, they have already built enough foundation to give this long distance a chance, and that gives me hope. A lot can happen, and we as viewers are very well aware of that, but for now, Brettsey is still very much alive. It wasn't just a romantic relationship Casey absence will be affected by, it is the ones he had with Severide, Boden and the rest of 51.
Everyone in Casey's orbit know that Casey has to do what he is doing for the Darden boys, but it doesn't make it easy on anyone. Severide in particular stays stoic and understanding but you can tell this is going to be hard on him. He will probably internalize it, but these two have come a long way and now one of Severide's anchors is across the country. The subtle moments they gave us with those two throughout the episode rang true to their relationship, but my favorite moment was when Casey was standing on the apron and all the OGs came out to say goodbye, and the first one out was Severide. I am tearing up just thinking about Sev telling Casey that he loved him. Boden making sure Casey was set in Oregon by calling the new firehouse was perfect as well. The papa bear once again making sure one of his own is squared away no matter where he is. It seemed like it wasn't just characters saying goodbye to Casey, but these actors saying goodbye to Jesse Spencer, which brings me to my final words on this.
When this show was announced, I vaguely knew who Jesse Spencer was. I was a casual viewer of House, and remember he did well in his scenes, but once I started watching Fire, I was hooked. Jesse brings (I am usuing present tense because I believe we will see him again) something extra in the way he plays Casey. No one else could've been this character, you just can't picture another actor filling Casey's shoes. Seeing Jesse Spencer every season as Casey was comforting because you just knew the character was being played by an actor who truly gives his all to the role. I am going to miss the big things about him playing Casey but also the little things like seeing Jesse's name first in the credits, and the new promotional material with him front and center (I just want to take this opportunity to say, that I hate the business side of TV that erased Casey/Jesse off the key art the very next day after his departure. Give us a week at least NBC!). I hope he comes back in any capacity at some point but I am also eternally grateful for the ten seasons he shared with us. So in the spirit of Casey, I do hope this isn't goodbye, just see you soon.
Odds and Ends:
* The Herrmann stuff just felt like a red herring the entire time. I just kept expecting that chief to let him know that his cooperation on his brat's party at Molly's was essential to Herrmann keeping his job and not getting busted down. Maybe that is still in play, but it seems like Herrmann is in the clear for the Brett incident.
* Kylie was the MVP this episode! She got Chief back at 51 in a way that is above board and I love it.
* Mouch and Brett's paramedicine launch was wonderful. I loved the whole sequence and hope this is just the beginning of the program being featured regularly.
* I was more than bummed that we didn't get a Kidd/Casey goodbye in person. That was where I really felt cheated.
* I wish we would've gotten just one more cigar chat.
That is it for me. Are you going to continue to watch without Casey? Do you think the exit was handled well? Let me know!