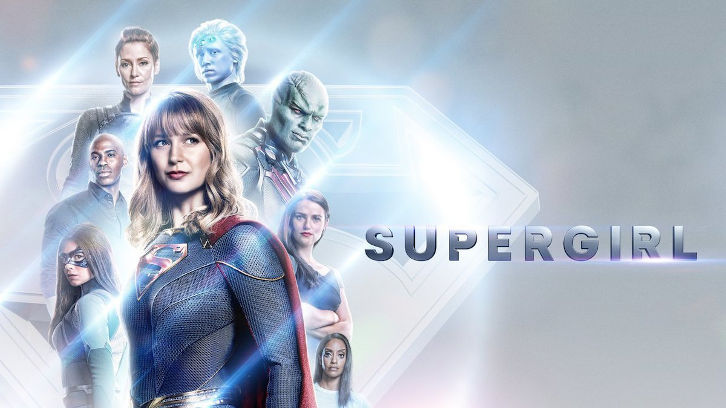 After the hit's and misses of season 3, I was intrigued to see if they could reset Supergirl back to the girl of steel instead of the girl of doom. The start of this season does not disappoint delivering not only a more confident optimistic Supergirl but a welcome return to Catco and Kara Danvers as a reporter.
We also get teased in regards to season 3 cliffhanger and witness a new threat that hits close to home.

Let's dive straight into the episode as my Spoiler Tv colleague has done a wonderful summary in her preview.

Season 4 opens up with Supergirl doing a double shift while Superman is off-world, seems he has taken a trip to Argo. We see a confident Supergirl who seems happy and content. Kara Danvers also seems to have found her zest for reporting again as she drops back after a quick change to interview President Marsden who is very much a feature in this episode and a welcome return to the screen for actress Lynda Carter in the role. She is here to promote the upcoming summit and anniversary of her Alien Amnesty Act.


Last season James Olsen revealed his vigilante identity and now Lena is worried regarding his upcoming indictment for his activities as Guardian
Other Catco news is some new cub reporters are starting and James wants Kara to mentor one who Cat suggested.
Alex Danvers is keeping the DEO on its toes, J'onn made her head of the DEO as he left. She is training Agents in combats skills when Brainy, who replaced Winn last season, announces the President is here clearly he and Alex are having some difficulties.
J'onn J'onzz seems to be enjoying his retirement from the DEO and is in an Alien group, it seems some kind of support group, however, we get a glimpse of hostilities towards Aliens still exist despite the Alien Amnesty celebrating its anniversary.
The alien scientist who was attacked is one of J'onn's friends he tries to tell Supergirl he believes its a hate crime but she states it was robbery they need his tusks to get in the lab and steal an EMP device. All well and good but couldn't they have forced his arm into it and why take both?
Back at Catco Kara meets her new protege Nia Nal in the elevator who kind of reminds us of Kara in season 1. There are some wonderful scenes between these two throughout the episode and the student clearly has become the teacher. It made me miss the chat's Kara used to have with Cat.
At The DEO Brainy and Alex seems to not be able to communicate however he does a great job tracking down the thieves.
The two thieves are sister and brother Mercy (Rhona Mitra) and Otis Graves(Robert Baker) Brainy has a lead on the two which leads Supergirl to visit an old foe in prison Lillian Luthor (Brenda Strong). Lillian is sat playing chess with Lena when Supergirl arrives. While Kara may still be friends and all hugs with Lena things are clearly still frosty between her Super alter ego and Lena. Something Lillian seems delighted about. Supergirl isn't here for a chat, Mercy Graves turned evidence on Lex Luthor and she is hoping Lillian can tell her where they might be as they once worked for Cadmus explaining where they got the fancy tech. Lillian says she has changed and seems her and Lena are trying to build fences too.
The Graves are a brother and sister duo and obviously need the EMP for something but who is their sinister boss in the iron mask.
At the Alien Bar ( you would think it would have a name by now ) an attack is made but Supergirl appears angry when J'onn once again states there is a rise in hate crimes but she chooses to believe it's not that bad. I get the feeling here she is angry for J'onn for leaving the DEO and possibly feels abandoned by him. Her stubborn refusal to see what is in front of her and taking advice from someone with more experience shows an arrogance in her character once again.
At Kara's apartment the sisters share their troubles, Alex about Brainy and Kara about J'onn, Alex encourages Kara to listen to J'onn. We a treated to a lovely little Danvers sister couch scene which I hope continues as they discuss their lives.
Brainy tracks the Graves siblings based on Lillian's intel but Supergirl just missed them at the location, what is discovered is a chat room full of Anti Alien blogs and people asking for weapons to kill Aliens hidden on the dark web. It also holds the plan for Camp David so they know their target is the Alien Amnesty summit.
Kara goes to J'onn all confidence gone wondering how she can fight a villain that isn't just one person but a whole movement of everyday people fuelled by hatred and prejudice. J'onn refuses to fight having taken a different path and kara leaves angry again at J'onn.
Lena seems to be playing more than a physical game of chess with Lillian and gathering information which she later uses to prevent James indictment. The happiness that James feels is short-lived when he learns its on condition he ceases all Guardian actives. He is also unaware Lena was involved.
Alex and the DEO along with the Secret Service surround the summit and the President at Camp David. The Graves use the stolen tech and their skills to come close to killing the President, Supergirl gives chase but as Mercy sacrifices her brother in a ploy to escape she gets away and he certainly isn't talking when he is taken back to DEO.
After raiding of Winn's wardrobe, Alex realises Brainy isn't the problem the fact he isn't Winn is and they clear the air, Brainy you can tell will provide the comic relief throughout the season but not in colourful sweaters like Winn.
As J'onn and Kara build fences at the Alien bar the news reveals President Marsden is an Alien, the attack no doubt wasn't to kill but to discredit.
Mercy and the man in the Iron mask have another of J'onn's group captive but they are soon killed by the man in the iron mask who calls himself an Agent of Liberty.
At the beginning of the episode, we see Supergirl save a train now below that train and underground we see what we assume is her split side from the season three finale which we know has been taken from the Superman Red son comic.
Being a fan of the show since the start I can clearly see a return to form and things that were lacking in the series appear to have returned. Like all TV shows the characters are always growing and involving otherwise it would just stagnant and viewers would quickly lose interest, however, keeping the core to what the show is about and why fans fell in love with it is vital. Thankfully they have rectified a few things I hope it continues throughout the season. There is also a powerful message and if you replace Alien with Immigrant you can certainly see the political undertones of this years season.
Also, a shout out to Nicole Amber Maines, her portrayal of Nia Nal is instantly likeable and I predict she will be a hit with the fans.