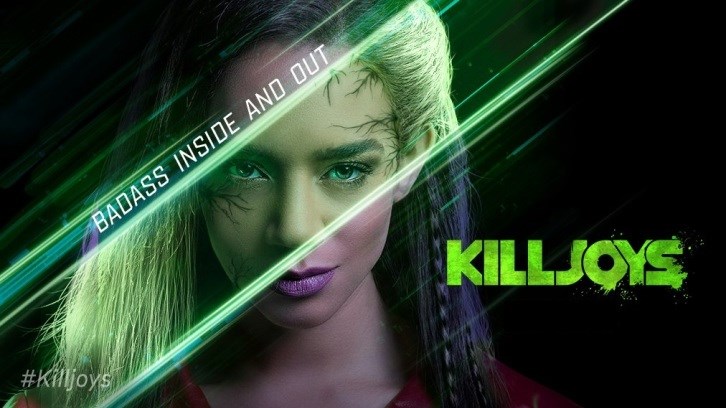 Killjoys
"Greening Pains" was written by Adam Barken and was directed by Stefan Pleszczynski. Look for action on four fronts in this episode. Things are jumping ahead at an alarming rate!
We head back to Westerley and Old Town, and it's still not a nice place. Kids are going missing. Fancy (Sean Beak) and Gared (Gavin Fox) team up. Gared makes a promise he may not be able to keep.
The team tries to re-establish its old equilibrium. John (Aaron Ashmore) has to do some apologizing. Dutch (Hannah John-Kamen) has a nightmare and is comforted. John and Dutch brainstorm over Khylen's story and figure out what the significance is!
Turin (Patrick Garrow) has problems because of the green freezing. Turin makes a new friend.
Dutch doesn't want to return to the Quad, but there's something not right with the baby. Pip (Atticus Mitchell) finds them an alternative. Pip makes a better nanny than Zeph (Kelly McCormack). Pip is reluctant to get behind the team's plan. The team end up in a tight spot. Look for a great fight scene with D'av (Luke Macfarlane). D'av looks stupid in a mask.
John asks Lucy (Tamsen McDonough) to do something, and she ends up sulking about it. John gives Delle Sayeh (Mayko Nguyen) some good advice.
Don't forget to tune in to Syfy Friday night at 10/9c!
And of course… some dialogue teasers – it was pretty snappy this week!
That was also a joke.
You usually like my gun talk.
Or you could stay.
Now it's time to drink.
Don't juice your lemons.
Things change.
What a stupid way to die.
Something is wrong.
Just stick to the genetics, lover-bytes.
Isn't this just a god-damn party.
Through a hallway filled with her zombified meat-puppets, of course.
What did I tell you about bothering me while I'm working, you malodorous fungus.
Shocker.
Ok. Not a baby fan.
Ok. New normal.
Ever notice a lot of people die around us?
I think the technical term for it is fustercluck.