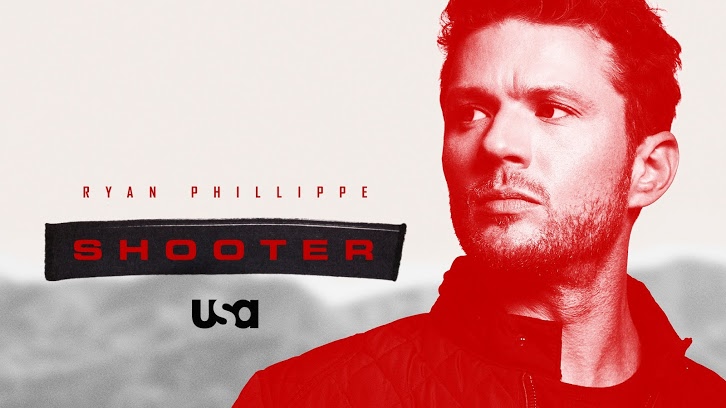 After yesterday's cancellation news, it's a little difficult to be pumped for tonight's new episode knowing how little time we have left with our characters. While we never quite got back to the highs of the first season, it's been nice to have fun action flick right in our living rooms every week. If the words "our" and "we" are throwing you off because these aren't your thoughts at all, not everything is about you, ok?! Jeez. But, thanks for being here, I really appreciate it! Please don't leave!

Character Catch-Up

Bob Lee and Isaac: They visited Katherine, woman connected to Atlas, in a psychiatric hospital to attempt to glean some information about Atlas's plans. They were able to learn that the plan is to control the entire country by making sure they control the Supreme Court.

Julie: Julie spent time calming Sam down after he successfully captured a bribery attempt from Red Bama, Jr. before learning that Sam has a tumor and is dying. Later she came to Sam's aid once again as she stumbled upon him being attacked by Bama Jr. in his office. Luckily, she was able to fend off the attack, which was all accidentally (and usefully) recorded.

Nadine, Carlita, and Harris: After Nadine was recruited by Margo from the Department of Justice, these three went on a mission to recover an encrypted drive from Gregson's home. After the mission, the three of them, along with Bob Lee and Isaac, were attacked at the bunker, narrowly escaping with their lives. Nadine and Bob Lee later met with Margo to hand over the drive containing important Atlas names and learned that the President's Chief of Staff is a prominent member of the organization.


Debriefing

After Sam's attack, Bob Lee is on a warpath and straights for Bama Cattle, making sure to call and report a possible murder before entering. Once inside, Bob Lee easily takes out the minimal security before cornering and beating up Bama Jr. Bob Lee demands to know what they were trying to get from Sam and Bama Jr. starts shouting about evidence as Bob Lee pushes his arm towards a bone saw. Before too much information can be revealed, though, Red Bama, Sr. comes in and fires a gun, fully ready to take out Bob Lee. Luckily, Sheriff Brown shows up in response to Bob Lee's earlier call and puts an end to things. Bama Sr. attempts to have Bob Lee arrested, but good ol' Sheriff Brown says he sees no evidence of a crime. Back at the hospital, Bob Lee gets a taste of the effects of Sam's tumor when Sam mistakes him for Earl. Julie comes by moments later with Sam's things and they discover Sam's recording. Speaking to Sam the next day, Bob Lee learns that the evidence Atlas is looking for is a tape Earl made detailing everything about Atlas. While Bob Lee is down the hallway attempting to track down some information about Earl's belongings from Sheriff Brown, Julie walks in on an orderly adding something to Sam's IV line. Suspicious, she tries to ask about it and is attacked. Luckily, she's able to take out Sam's IV before telling Bob Lee to chase down the orderly. He puts up a good chase, but the orderly ultimately gets away. Since looking into the orderly would be a dead end, Bob Lee and Sheriff Brown head out to search for Earl's tape. They end up discovering that Earl hid it in the evidence of an active case he'd been working on at the time, and Bob Lee races back to the hospital to share the good news with Julie. Unfortunately, Sam died while he was away, completely unrelated to the poison. Bob Lee says his goodbyes to Sam before the Swagger's head home, where Bob Lee tells Julie he never would have known about this important evidence if she and Sam hadn't gone after the Bamas. She hopes it was worth it, and I'm fairly certain it was. Through flashbacks and excerpts from the tape, we learn that Earl was forced to work with a man named Ray Brooks once, and Earl was certainly not a fan of him. Earl and his men were led by Ray that turned out to be drug-related and ended with Ray shooting two people for no reason, which did not sit very well. On the tape, Earl mentions he started tracking Ray's career and became nervous by how high he was advancing in the United States government, knowing Atlas must be involved somehow. What is Ray up to in the present? Why, he's just the President's nominee for the Supreme Court's Chief Justice. No big deal. It's only everything Atlas has ever wanted. It's fine!
As the Swaggers spend their time with Sam and tracking down the tape, Red Bama, Sr. takes his son to what I shall deem the Atlas Training Facility, believing it to be the one place he'll remain safe. This is not the case however, as he is quickly informed that just as Earl was taken out for attempting to out Atlas, Bama Jr. will need to be taken out for putting Bob Lee directly on the path to some damning evidence. They are nice enough to allow him to kill his own son, though, so that's nice. However, in a scene that easily could have turned into this show's "Look at the flowers, Lizzie" or "Look across the river, Lennie", Red Bama just doesn't have the heart to go through with it. Probably because his name doesn't start with and L, honestly. The rest of our cast has an Atlas adventure as well when Nadine decides the next best step is to approach the President's Chief of Staff, Gold, and attempt to blackmail him to halt Atlas's plans. Rather, she decides it's best for Harris to approach him, for some reason. He gives it his all, but it's just not good enough. When Harris threatens to give the document he has to the journalists, Gold illustrates his power by calling over a nearby journalist, handing him the document, and telling him to look it over and talk to him later. This did not work. While Harris walks away, he is watched by a man we've seen kill several people this season, who then makes eye contact with Carlita. She sets up a meeting with him later via an outdated Craigslist secret code and ends up seemingly making a deal with him. She'll give him the card with the names if he can get her taken off the kill list. She gave herself a 48-hour window, though, so maybe she'll end up not being terrible? I doubt it though. There's a lot of terrible people on this show.
Outcome
RIP Sam. You will be missed. I think this may be one of the strongest episodes of the season so far. There wasn't as much full-on action as usual, but there were plenty of emotional moments to make up for it, as well plenty of tense moments. I really had no idea if Red Bama, Jr. was going to survive the drink with his father. Part of me knew he wouldn't kill his son, but another part of me said "Wouldn't he, though?". It was a ton of fun to watch and Gerald McRaney is a gift on this show.
Man, there were a lot of negatives that came out of this episode. Not like, "this show is bad" negatives, but "oh man, this isn't good news for our characters" kind of negative. First of all, Sam is dead. Heavy negative there. Second, Atlas has officially gotten one of their members appointed as the head of the Supreme Court. That's not good for anybody. Third, Carlita might ruin everything by giving away one of the biggest pieces of Atlas evidence there is. They've got a lot to tackle here. Luckily, Bob Lee has Sam's recording of Red Bama, Jr.'s assault, as well as Earl Swagger's full Atlas confession/warning tape, so he's got a pretty full hand to play with as well. Hopefully, Bob Lee will spend the next five episodes exposing Atlas full force and clear the way for him and Julie to return to their quiet, happy lives before Isaac came in to blow everything up. Also, he should do it in a way that leaves absolutely no cliffhangers, either, so that we aren't left eternally hanging since I don't have terribly high hopes of a rescue boat being sent in
Shooter
's direction. Swagger has been in tough jams before, though, so maybe this will be another hurdle he can clear. In the meantime. I'm ready to see what happens next on tonight's new episode, and I'll be eagerly tuning in to see how this
series
season will end.
Are you doing ok? Can you believe the nerve of Carlita? How bad do you feel for Harrison having to deal with all of this when just a few weeks ago he was living a normal life where people weren't constantly killed or hunted? Sound off in the comments below!