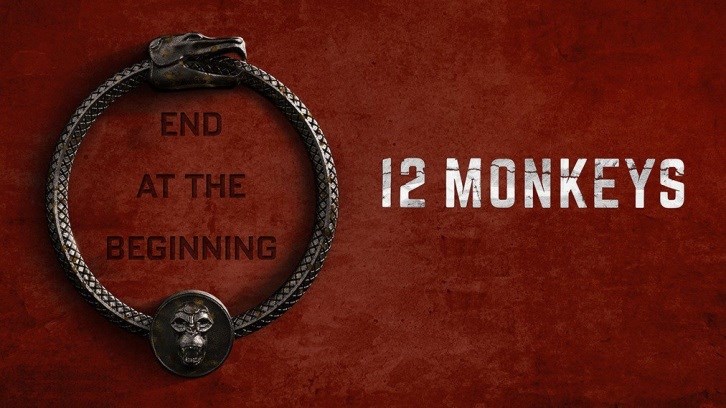 12 Monkeys
makes its final bow this Friday with the final two episodes of the series. Fittingly, "The Beginning" – Parts 1 and 2 were both written and directed by the real driving force behind the series – Terry Matalas. We're in good hands. You'll laugh, you'll cry, you'll bite your nails. We'll see some old friends. Here is a very brief tease about what to expect…
The episodes begin in 2037. Jones (Barbara Sukowa) meets someone Cole (Aaron Stanford) and Cassie (Amanda Schull) know well, who brings her cigarettes and advice.
In 2043, Jones, Cole, Cassie, and Jennifer try to find a way out of their seemingly unsolvable problem.
Get ready for a fabulous flashback montage or two. Look for one paradox.
Cole and Cassie are both determined to follow their own path. Cassie is surprised by Cole's plan. Cole finds an old friend. Cole and Cassie share a moment on a beach and so do Cole and Jennifer (Emily Hampshire).
Jennifer and Jones work together.
Get ready for
Thelma and Louise
to meet
Dirty Dancing
. Trust me. You'll love it.
Good Morning, Vietnam
meets
WKRP in Cincinnati
. You'll love this one too.
We find out where the Nightroom corpse came from. Jones reveals the secret of her cigarettes. We end at the beginning – as promised – in 2013 – sort of…
And here are some dialogue teases….
Holy shitballs!
You have given everything to time.
Mr Cole. Do you believe in fate?
Death can be undone. Love cannot.
If time can be rewritten, the world can be remade.
It's all a disease created by the cure.
Please. Give us an ending.
Are you prepared for that? Sending men to their deaths.
If we do this, we need everyone.
I've gotta die to a good song!
Character one:
I come back to you now, at the turn of the tide.
Character two:
Holy shit!
She's his Grammy.
It's a little penis-man. Is that because you're such a dick?
Uneasy lies the head that wears the crown.
Want to blow some shit up?
No matter what, save the one.
I am owed.
That is some Twilight Zone bullshit!
Don't miss the final two episodes – they both play on
Friday, July 6 on Syfy at 8/7c
.