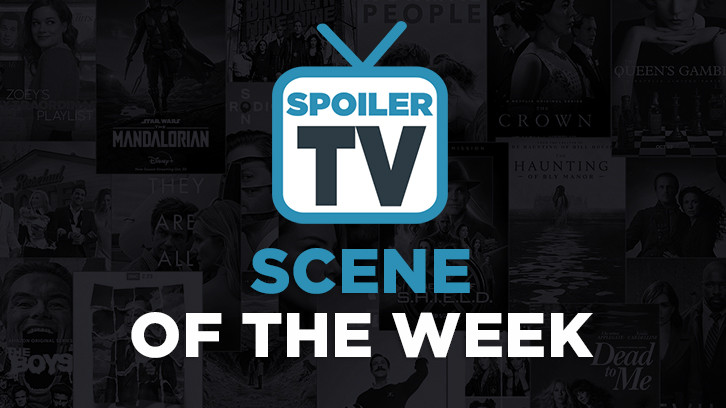 A weekly feature in which we're trying to find the most compelling, best acted, written, directed and just generally great, memorable scenes that we've seen in past seven days on TV.

AMERICAN WOMAN, "The Party", June 21, 2018, Actors: Jennifer Bartels and more
The Scene: Diana's 'bad trip' at the party
Claire: The scene where the usually rational and subdued Diana has a 'bad trip' at the party and strips down, climbs on the roof, tells everyone off and jumps in the pool. Hilarious yet poignant. Jennifer Bartels is terrific as Diana.

CLOAK & DAGGER, "Call/Response", June 21, 2018, Actors: Olivia Holt, Aubrey Joseph
The Scene: Tyrone and Tandy try to get close
Marko: Gosh so much chemistry, my TV almost broke. Phenomenal moment with a perfect use of the intimacy between them.

DIETLAND, "F... This", June 18, 2018, Actors: Joy Nash and more, The Scene: The visualization of Plum's body after surgery
Claire: The scene where a doctor uses technology to show Plum how she'll look after gastric bypass surgery. At first the vision is stunning but then it morphs into an image of a thin woman covered in horrific scars from all of the subsequent surgeries. Plum is stunned and quite horrified at how mutilated her body might look.

LUKE CAGE, "Soul Brother #1" & "Wig Out", June 22, 2018, Actors: Mike Colter, Rosario Dawson and more, The Scenes: The gunmen try to shoot Luke & Luke & Claire fight
Milo: So far I've only seen the first episode of the new season, but a scene early on stood out for me, when the gunmen try to shoot Luke. His reaction - and theirs - was great, especially as they know their efforts will be futile, but they have to look as though they've at least tried. And he understands that too.
Marko: Luke & Claire fight (2x03). Phenomenal performance by both actors who got strong material which built up over the previous episodes. Their connection and emotions were all over the place.

SHADES OF BLUE, "Good Police", June 17, 2018, Actors: Jennifer Lopez, Ray Liotta
The Scene: Woz and Harlee argue in the garage
Luana: I love where this season is going and the parallel they're going for with the opposite ways these characters are taking their second chance at life. And both J-Lo and Ray Liotta killed it, I'm not surprised but I'd forgotten how much I missed them.

SUPERGIRL, "Battles Lost and Won", June 18, 2018, Actors: Melissa Benoist, Odette Annable, Chris Wood and more, The Scene: Supergirl's Epiphany
DJRiter: From the moment Supergirl, Mon-El, Alura, and J'onn walked into the Worldkillers cave there was a certain swagger about her. She exuded a new found confidence, and there was no doubt she would kill Reign. While the others took care of the witches, Supergirl battled Reign and found herself at Reign's mercy, until Sam stabbed and killed Reign with a sword. Reign wails and screeches as she is dying in the fire pit, her heat vision flashing out striking and killing Sam, Alura and finally Mon-El who heroically pushes J'onn out of the way of the fatal blast. It's Supergirl's worst nightmare come to life. Those she cares about being struck and dying or injured before her eyes. During the battle, even Saturn Girl and Brainiac are killed. Shocked and devastated she blames herself for their deaths. She believes the reason everyone is dead is that she wasn't true to herself. After taking Mon El's legion ring, and calling on Winn and Alex to find her a disruption, a determined Supergirl races to turn back time and put an end to Reign once and for all. Melissa Benoist does some of her finest work of the finale in this scene. Her body language when she entered the cave had the perfect touch of swagger and dare one say slight arrogance, then later, she's defeated and deflated as she watches in horror as one by one nearly everyone around her dies. The anguish on her face at their deaths and blaming herself as she is consumed by grief is palpable. Then, that anguish becomes a determination befitting the Girl of Steel as she fights her way back in time and stops Sam from killing Reign. Using that determination she finds another way to defeat Reign. Benoist has never looked, sounded, and acted more like Supergirl than she did in this intense scene. It is a true standout moment of the finale.

TAKE TWO, "Take Two", June 21, 2018, Actors: Rachel Bilson, Eddie Cibrian
The Scene: Eddie and Sam say goodbye
Luana: This show is so much fun and these two have so much chemistry, I can't wait to see more.

THE 100, "Acceptable Losses", June 19, 2018, Actors: Christopher Larkin, Eliza Taylor, Bob Morley and more, The Scenes: Monty reads Jasper's letter & Clarke watches Madi fight in the arena
Justyna: It's been years since Jasper's suicide, yet his presence is felt throughout the hour when Monty reads his final letter. To hear how hopeless he was, how tired and guilty, it was heartbreaking to see Monty's reaction to all the words. However, what hit everyone even more is the truth they found in the letter, the prediction that came true. After years in space, the group came back to Earth and is once again in conflict with everyone. An endless loop of death, war, betrayals and pain. And no one trying to stop the cycle, as Monty makes his friends realize in this scene. It's such an important moment, an emotional memory of Jasper and hopefully a starting point for an impactful change. It was a great hour filled with brutal truths and necessary confrontations. And this scene, this letter... it might have been just the thing these characters needed to hear, to finally make a difference. Powerful performance by Christopher Larkin and all the others involved. "If a war is the only way to have the last survivable land on Earth, then maybe we don't deserve it." Kudos!
Diana: Clarke is horrified when she sees her little Madi fighting in Octavia's arena (of Fight Club lol). I think Clarke is acting good as a mother, but I'm afraid she will take things too personally, leading her friend into a personal crusade against Octavia's actions.

THE BOLD TYPE, "The Scarlet Letter", June 19, 2018, Actors: Melora Hardin, Meghann Fahy
The Scene: Jacqueline gives Sutton advice
Luana: I love this woman, I love not only the story she told and her advice on taking risks but that she was also open to getting some advice from Sutton and find the time to write again.

THE HANDMAID'S TALE, "The Last Ceremony", June 20, 2018, Actors: Elisabeth Moss, Alexis Bledel, Jordana Blake and more, The Scenes: June sees Hannah & Emily kicks the dead commander
Beth: June sees Hannah. This was just devastating because Hannah's name had been changed, she rejected her mom initially and it showed just what a gruesome and unforgiving place Gilead is. Also, it was eerily topical watching Hannah once again ripped from her mother's arms with what is going on right now.
Claire: The same as above. I can't say it better than Beth already has...juxtaposed next to the current news added an extra layer of horror at June having to lose Hannah again. Runner up: Emily/Ofglen kicking her dead commander in the balls.
Jamie: Emily kicks the dead commander that just raped her. Finally a bit of karma on this show.

THE ORIGINALS, "We Have Not Long to Love", June 20, 2018, Actors: Daniel Gillies, Torrance Coombs, Joseph Morgan, Danielle Rose Russell, The Scenes: Declan and Elijah talk about Hayley & Klaus comforts Hope
Beth: Declan describes Hayley holding a candle for 'that guy' to Elijah. I hate that Hayley died but the impact she had on the other characters remains which I appreciate. Seeing these two men interact with Elijah trying to piece together her life was heartbreaking and Declan describing him coming second to Elijah without knowing he was THAT guy, was an intense push/pull.
Mads: Klaus finally being able to comfort Hope in person after years apart. His acknowledgement of Hayley's "strength and grace" impacting Hope and helping her grow into a young woman was so sweet and so was their hug! I loved seeing them being able to grieve Hayley together.

WESTWORLD, "Vanishing Point", June 17, 2018, Actors: James Marsden, Evan Rachel Wood, Thandie Newton, Anthony Hopkins, Ed Harris and more, The Scenes: Teddy kills himself & Maeve receives Ford's message & William kills his daughter
Justyna: There are many brilliant scenes which I could highlight from the hour, but this one is for Teddy. Teddy has spent most of the series quietly standing in the background, following Dolores' lead and influenced by his love for her. It made perfect sense for him to stay there because at his core he's simply a good, kind person who didn't fit with the darkness and painful truth about Westworld. This season, his change turned out to be the best proof of that. Even when he remembered everything he couldn't become the ruthless partner that Dolores wanted, so she took away who he was and changed him into the person she needed for her mission, not the one she loved. As a result of her actions, he stayed with her and helped her fight against those standing in her way. That is until he couldn't take it anymore and made his own choice. Both free and trapped by his limitations, his feelings at the same time. I loved how we got to see the day when Teddy was born. It almost seemed liked he truly fell in love with Dolores the moment he saw her, outside of any storyline or programming. As if she really was his cornerstone. Which made this ending all the more heartbreaking. Teddy breaks free from his change but is not able to hurt Dolores. So he stops himself from being able to help her. He shoots himself in the head and her face turns from complete shock to utter despair. That's when she finally understands that her purpose cost her everything she loved. "What's the use of surviving if we become just as bad as them?" The writing, the editing and performances of James Marsden and Evan Rachel Wood were absolutely wonderful. Hopefully, this is not the last time we see Teddy. Kudos for this fantastic work to all involved!
Ellys: The entire season I was wondering how gentle, heroic Teddy would handle Dolores' new mission of wrath and retribution. He couldn't reconcile himself to it, so Dolores committed the ultimate crime and altered his personality. She took away his free will. And we saw him take it back. Of course, with him discreetly loading a single bullet in his gun while Dolores' back was turned, my first thought was that her overrides had permanently corrupted him. He brings up their past together. "We were so in love." "We still are." Dolores cheerfully replies, then falters "Aren't we?" The way Wood lets just a tiny flicker of fear into her voice in that moment. And then the Teddy she created is gone, and Teddy finally speaks for himself. He truly loves her, would truly do anything for her, but everything she's doing is against everything that he is. "I'll protect you until the day I die. I'm sorry. I can't protect you anymore." James Marsden is so perfect in that moment, so sad and regretful, but also absolutely calm. Teddy shoots himself, with Dolores standing there in absolute shock before basically falling to her knees next to him and sobbing. Just completely devastating. Also picked by DarkUFO
Laura B: Maeve receives Ford's message. I feel like I have been waiting forever for the writers to reveal something about their choice in keeping Maeve's mechanical history from viewers and I was so delighted to learn that at least one reason was because she was Ford's favorite. The way Maeve juxtaposes Dolores and Bernard and their representations of Ford and Arnold has always been one of my favorite things about the series. It was also so amazing to have this heartwarming scene in such an episode, where in other scenes Ford and Dolores seem so ruthless, as Dolores loses Teddy and Ford tries to convince Bernard to kill Elsie.
Milo: William kills his daughter. Of course this episode had to be aired on Father's Day. It was such a brutal penultimate episode and as the other scenes have already been mentioned, this really stood out to me. He's so paranoid and incredibly delusional but to see him cross this line means that there's no going back, having spent far too long in the park. Such a terrific performance from Ed Harris as usual, who should be a favourite for Best Actor at the Emmys this year. A real tour de force.

YOUNGER, "The End of the Tour", June 19, 2018, Actors: Peter Hermann, Sutton Foster, Jennifer Westfeldt, The Scene: The revelation at the end
Ellys: Charles' revelations to Liza and Pauline at the end of the episode.