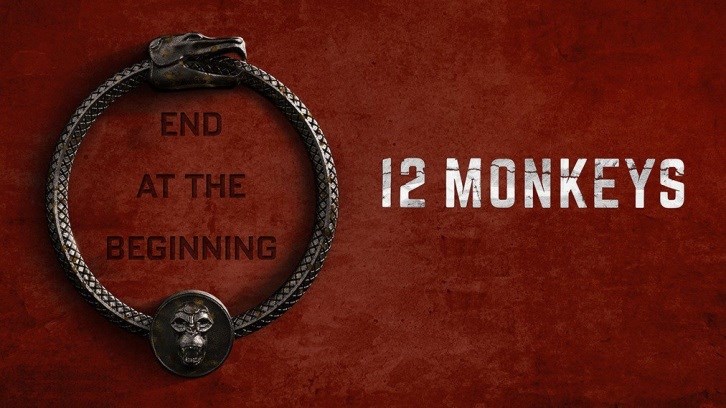 12 Monkeys
has three more episodes this Friday. "Daughters" was written by Christopher Monfette and directed by Mairzee Almas. Expect wonderful performances from Barbara Sukowa (Jones) and especially Brooke Williams (Hannah) in all three episodes. Todd Stashwick (Deacon) is simply outstanding in the first two episodes of this three-parter.
One daughter has a purpose – to learn. One daughter had no purpose – except to live. One has been sent away, and one has been called home. One is ready, and one is not.
Jones has some serious fun at Olivia's (Alisen Down) expense. Jones impresses Olivia.
Hannah makes a new friend. Adler (Andrew Gillies) paints a very black picture. Cassie (Amanda Schull) is optimistic. Look for a surprise visit from someone from 2043. Deacon pays Jones a touching compliment. There's a Game of Thrones moment… kind of. There are a lot of nosebleeds. They aren't a good sign.
A few dialogue teases…
I cannot leave you like this.
We honor time with patience.
This story is frustratingly non-specfic.
For Mother.
I will knock you on your ass boy!
I'd temper your certaintly.
And that, in the end, will kill us both.
Trust her.
It's not a directive. It's, rather, a mission of choice.
You follow me this time.
The world is so full and the people so empty.
You were meant to think. Not feel.
At night, it's darker than I imagined.
We finally make it back to 1491. Olivia makes a point of visiting the character played by Simon Merrells who guest stars.
Look for a Monty Python moment. Jennifer (Emily Hampshire) is happy to see an old friend who gives her a present. Hampshire is also pretty damn amazing in these episodes.
There's a repeat of a scene from a previous episode – the first of the season.
Cole (Aaron Stanford) knows what fate is worse than death. Adler gets some unwanted assistance. The gang finds something familiar in an abandoned church. Cassie tries some new hairdos. Jennifer starts a new art project.
A few dialogue teases…
Offer me your servitude.
Everything old is new again.
Ring the goddamn bell!
Never you.
Where is it?
You're simply a fool draped in metal.
One day, I'm going to want that back.
Zelda!
She always said we were all on borrowed time.
Tell me what you see.
One does not simply walk into Mordor.
Thy gang is all here.
They're ye Old Navy.
It's poop.
The splinter team gets one final mystery to solve. Cassie and Jennifer have something in common and have a nice moment. Cassie finds the starting point.
All the previous jumps are important. Get ready to visit the Nightroom again.
There's a car chase and a car crash.
Cassie is asked to do the unthinkable. We learn who Cole's mother was. Cassie runs into someone else from the past. We might find out who the demon is from the story…
A few dialogue teases…
Mothers die for their children.
I finally found something that felt like fate.
I told you Otter Eyes. If you gave me yellow, I could paint you the world.
There doesn't appear to be a pattern.
The only failure is giving up.
Time is cruel.
Sometimes terrible things happen so that great things can happen next.
Even for a Mad Hatter? That doesn't make sense.
Space without time.
You can't ask me to do this.
I think that's us.
Now we just need to destroy it.
I couldn't. So, I waited.
Not everyone will make it out of these episodes alive...You can catch all three of these amazing episodes
Friday, June 29 starting at 8/7c on Syfy
!