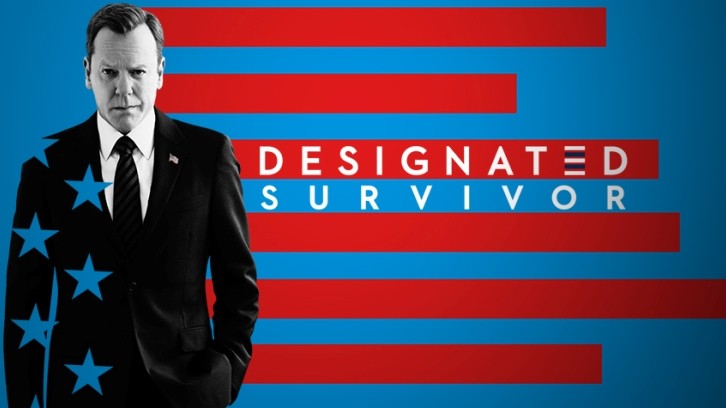 Designated Survivor
"Target" was written by the team of Bill Chais and Ashley Gable and was directed by Timothy Busfield, who moves back behind the camera. We know now that this is the second to last episode of the series, so it's a bit disappointing that this episode opens so many interesting storylines. It seems pretty obvious that the writers and Keith Eisner were counting on a season three pick up. While I've really enjoyed parts of the show, I don't feel like the threads ever completely jelled. I think more than that, however, the current political climate has people burnt out when it comes to politics in their entertainment and that more than anything accounts for cancellation. Well, that and the fact that the show was about to get a whole lot more expensive when it changed shooting location from Toronto to Los Angeles for season three as per Kiefer Sutherland's (Tom) contract. I'm wondering if the current storyline would have seen Hannah (Maggie Q) written out. As a Canadian she would have meant a significant tax break when filming in Canada, which wouldn't be a consideration after the move.
In this episode, we see Hannah continuing to investigate Valeria Poreskova (Nora Zehetner). She still can't seem to function without lots of help from Aaron (Adan Canto) and Chuck (Jake Epstein). In the end she discovers a thumbdrive hidden in the bench where she and Damian (Ben Lawson) used to meet.
Another rather unexpected development is the sudden love interest between Trey (Breckin Meyer) and Kendra (Zoe McLellan). I can't say that I will miss watching the writers stick them together only to pull them apart in a few episodes because it really is mucking up the running of the White House. It's been impossible to be invested in any of the romantic storylines because none of them are well developed and they all end abruptly and lamely.
One of the central storylines involved an old case that Kendra worked on that leads to her having to be rescued by Trey from a home invasion. I did like how this played out. Mike (LaMonica Garrett) is put on the case – again, as the bodyguard for the President, I don't think his job description is this fluid, but ok. He's joined by Detective Pineda (Presilah Nunez) to investigate. It looks at first like Mickey Archer (Chad Camilleri) is trying to find justice for his brother Pete who was killed by a man Kendra put in witness protection. It turns out that what Mickey and his father, Fred (Andrew Gillies) really wanted was to flush the man out of witness protection so that they could kill him.
During the course of the investigation, Mike kills Mickey when he is about to kill Pineda. Kendra is shaken by the entire episode, but does try to do right by the Archers by prosecuting the guy for a murder he didn't have immunity for. Emily (Italia Ricci) and Kendra have clearly grown close. Kendra puts her off when she wants to talk about Trey, but accepts Emily's invitation to spend the night on her couch rather than having to go home. Emily offers to go to Kendra's apartment to get her things. Just as Mike tells Kendra at the White House about Archer murdering the guy who murdered his son and telling her she has to be under 24 hour protection, Emily is apparently shot at Kendra's apartment.
The action at the White House has two focuses, which nicely dovetail by the end. Senator Crowl (Jessica Tuck), the leader of the Democrats, and Senator Feller (Zachary Bennett), the GOP leader, both block the signing of the DOD Military budget bill in an attempt to get Tom to declare for their parties. Tom staunchly maintains throughout that he's remaining an Independent. Lyor (Paulo Costanzo) in particular is in a huge flap about it. Seth (Kal Penn) and Emily both back up his concerns that the President will achieve lame duck status if he is seen to be not running or running with no chance of winning – as they suggest if he runs as an Independent. Tom does manage to bully the Senators into signing the bill.
Tom also has to deal with the on-going problem of Moss (Geoff Pierson). Frankly, I find the Moss storyline annoying. But I think that's because it seems to parallel real-world concerns so much. A high-profile political figure who is clearly lying and undermining the American people and seemingly getting away with it in plain sight.
In an attempt to deal with the problem, Tom has Lyor ask Ethan West (Michael J Fox) to act as Special Prosecutor. Tom also hopes this will defuse West as a problem as he continues to criticize the White House in the media. You would think that the fact West lied about the negotiations from the last episode might have been a clue that he wouldn't have the White House's best interests at heart… West calls a number of people to interview, including Hannah, Aaron, and Moss. West seems to be sincerely questioning Moss who refuses to take the 5th or admit to any wrongdoing. West points out that for an innocent guy, Moss raises a lot of suspicions.
We get a reasonably intense scene between Moss and Tom – though I've never been overly impressed with Pierson. Moss insists again that he's done nothing wrong and warns Tom that the Special Prosecutor is a Pandora's Box – in other words, Tom's own failings will come to light – and haven't we already gone down this route? Moss tells Tom that he'll be held accountable and insists that it's just not good for the country for two Presidents to be seen fighting.
West eventually comes to Tom with his findings – in the speediest investigation ever. I did love him calling out Hannah for being a Swiss Army knife! So versatile! And of course, he tells Tom that he's found no evidence of crimes by Moss but has found crimes attributable to Tom and he's going to the Attorney General with the charges. The final kicker is when Moss declares that he's going to run for the Republican leadership and President in the next election. And it's clear who the bad guy is and what party he represents…
A lot of balls get thrown in the air in this episode. I'm not hopeful that many – if any – of these storylines will be resolved, but one can hope. What did you think of the episode? Will you watch the series to the end? What are your thoughts on the series as a whole? Will you miss it? Let me know your thoughts in the comments below!