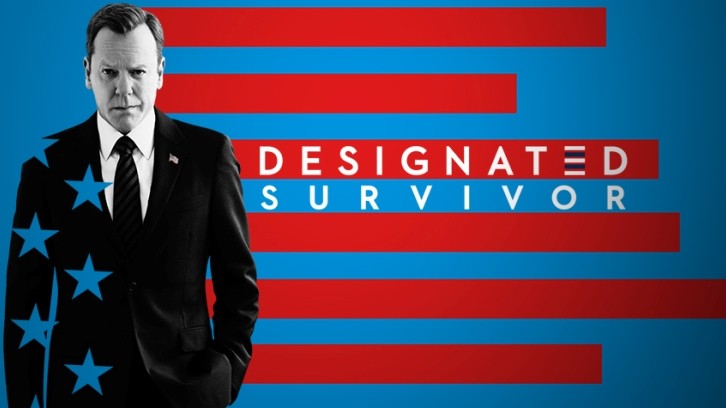 Designated Survivor
may have come to an end with "Run" written by showrunner Keith Eisner and directed by Chris Grimer. ABC has cancelled the show, but it may still join the growing list of shows resurrected by another service because Netflix is showing interest. The big stumbling block at the moment is that the show is currently streamed by Hulu in the US, and Netflix elsewhere in the world. In order to pick up the show, they have to get the rights from Hulu, but the show must be doing well internationally to garner the interest of picking it up. I'm curious as to whether Netflix, should they pick up the show, will honor Kiefer Sutherland's contract to move filming to LA. Netflix also has a pretty hefty deal in place to produce $500 million worth of programming in Canada…
If the show does get picked up, I'd like to see a little more focus with the episodes. "Run" really had three main storylines running through it without any real connection between any of them. I would have liked the tsunami storyline and the will he/won't he run storyline to have entire episodes devoted to them. The Hannah (Maggie Q) storyline I could have done without entirely. I called it – she went to England and returned with a kid. I mean, really? You can't just take a kid to another country – Amy (Taylor Blackwell) – would be a British citizen. I really am not interested in Chuck (Jake Epstein) being relegated to nanny – because given that Amy is a tech geek, that's where it's heading. Thanks, but no.
I did like the tsunami storyline – hideously bad special effect notwithstanding. And again, I liked this storyline because it is ripped from the headlines, running parallel to the horror that Puerto Rico has faced – and is still dealing with. Lyor (Paulo Costanzo) and Seth (Kal Penn) are in Taurasi – yet another made up country – to negotiate with the Governor (Jonathan Adams) because the country wants economic independence. And I am tired of the show not being brave enough to just pick a real country! I did like how they also brought in the ripped-from-the-headlines Russian hack as the vote for economic independence was tainted by hacking. Once again, I liked that Costanzo wasn't really annoyingly over-the-top in this episode. As the tsunami hits, Lyor is relatively safe in the hotel, while Seth is out getting coffee and goes missing.
Back in Washington, we get a good look at the ridiculousness of politicking in the face of real human tragedy. Senator Crowl (Jessica Tuck) and Senator Feller (Zachary Bennett) are only willing to offer a tiny aid package because of the vote for economic independence. Aaron (Adan Canto) tells Tom (Kiefer Sutherland) that the international community is unwilling to step in because they see Taurasi as part of the US and therefore the US's problem. Meanwhile, even the Governor admits that he sounds like a hypocrite asking for money.
Kendra (Zoe McLellan) and Emily (Italia Ricci) urge Tom to re-allocate the discretionary funds at his disposal for aid. Unfortunately, Emily once again displays bad judgment and goes to Chief Justice Koemann (Keith Dinicol) without Tom's knowledge. Consequently, the Supreme Court won't hear the appeal for funds. Koemann urges Tom to fire Emily.
Back on Taurasi, Lyor is frantically out looking for Seth, who he eventually finds. It's hilarious that when he finds him, Seth is actually cleaner than the usually fastidious Lyor – a nice way to demonstrate just how worried he was. Lyor denies being worried – but we know he was lying! I loved that Seth makes light of his ordeal, and Lyor finds out from an old woman (Linda Goranson) that Seth was a hero. Meanwhile, Seth has seen the looting and rioting to the south of the Island is out of control. This encourages Tom to put more pressure on the Senators, and he's finally able to use the AUMF funds to send aid.
Also at the White House, Tom is still dealing with the fallout from Moss (Geoff Pierson). West (Michael J Fox) now has a list of charges to bring against Tom. The Attorney General (Bruce Davison) confirms that it's enough to bring charges and urges Tom to find a political solution. The Senators just want Tom to announce that he's not running. It seemed a real waste to bring in Davison for just this one scene! Tom tells Kendra to find another fix, and she suggests exerting executive privilege so that instead of criminal charges, Tom would face impeachment.
Moss offers West a job as his senior advisor. This is a misstep on Moss's part who saw West as "flexible." West tells Moss that he wasn't trying to be flexible, he was trying to find the truth. I'm having a really hard time trying to decide if West is ultimately supposed to be a good guy or a bad guy. My knee-jerk reaction is always to think that Fox is playing a good guy…
Emily – who only got a scratch in last week's cliffhanger – and isn't that suspicious? – finally gives her resignation to Tom. I say finally because she's made a real habit of making mistakes. Ultimately, he doesn't open the envelope and tells Emily she'll always have a seat by him. We're left at the end of the episode to wonder if Emily may have been sabotaging Tom all along as Hannah sees Emily hand Valeria (Nora Zehetner) a folder in the video footage Hannah retrieves along with Amy. However, I'm pretty sure that we saw that exchange in an earlier episode, and it was innocent – or at least done for the right reason. Still, Emily is one of the big cliffhangers from the season.
West comes to meet with Tom. He tells him that he met with Moss who offered him a job. West is struck by the fact that everyone – Moss, Congress, the Attorney General – are all working an angle, but Tom isn't. West is impressed that Tom is genuinely only there to serve. West returns the blank sheet of paper that Tom gave to him earlier in the season with his terms for the initial investigation – the blank sheet of paper. It's clear that West has also finally found the truth. It's unclear what this will mean going forward, but it does help Tom make up his mind.
I've really enjoyed how Presidential Sutherland has been. We get a nice final scene between Mike (LaMonica Garrett) and Tom just before Tom goes to give his address. Mike tells Tom it's been an honor to serve him, and Tom tells him the honor has been all his.
Not surprisingly, give the title of the episode, Tom announces that he's going to run for President in the next election. Actually, I really liked how all the threads used the title – Seth and Lyor running from the tsunami and Hannah and Amy running from Valeria. Tom declares that he will continue to speak the truth without terms (nice throwback to the blank paper) and continue to serve as someone who won't quit. Running as an Independent will free him from the constraints of party politics. Tom ends the episode by calling the Attorney General.
Finally, the episode has a bit of family drama as Leo (Tanner Buchanan) finally tells Tom that he's been accepted to Stanford and wants to go there rather than Georgetown. Tom has known for months and was just waiting for Leo to say something. Leo is reluctant to leave his father, but Tom insists – clearing the way for even less family drama if there is another season? I will say that the family aspect of the show has never been handled particularly well.
I'm not even going to comment on the Hannah storyline except to say that it was just one stupidity after another. Use the girl you're trying to protect as bait? Really?
I'd like to see the show continue, but I'd also like to see some of the basic weaknesses ironed out. I'm confident that a lot of the issues are from so many showrunners and producers having their fingers in the pot – it's one of the issues that ABC had with the show. If they can streamline the vision, there's no doubt that they've got some terrific actors and writers on this show. We've had some great storylines and the show has the potential to be even better than it has been. What did you think of the finale? Are you eager for more? Let me know your thoughts in the comments below!