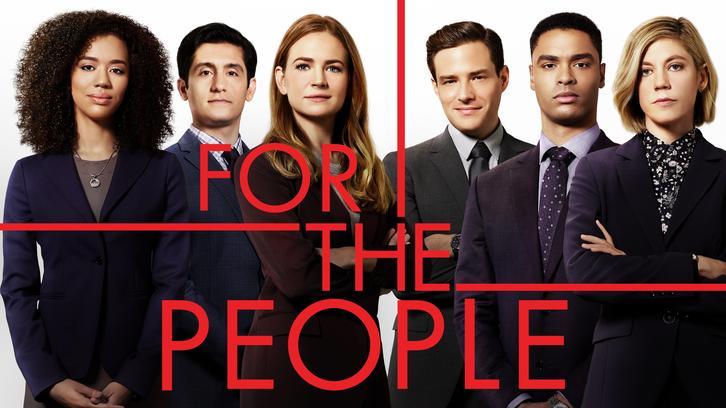 For The People ended it's season1 run with a powerful outing giving all our characters spotlight and sending them to new horizons. "This Is What I wanted to Say" was directed by executive producer TomVerica and written by series creator Paul Williams Davies.

"What do you think", he asked. And he got a hell of an answer. The cat and mouse game between Leonard and Kate this week ended with and excruciating emotional scene, where Kate confessed to Leonard that she will miss him if he takes the job.

Once again I have to give all the kudos to Susannah Flood, her delicate expression of Kate Littlejohn was perfect to the last teary eye we saw at the end of the episode. Kate is a woman plagued with selfdoubt and learned in life that anything besides perfect and strong would be made fun of and looked down like a weakness. So for her to go there and show Leonard her weak side and ask him to stay was a major step for her and the execution from Susannah was making even me tear up.
Over the course of the season the friendship between Kate and Seth was growing stronger, better and more hilarious by week. Their scenes are just so simple and light-hearted. Meanwhile, Kate's case of the week involved some heavy MNDA and sweetheart defender Jay. Their scenes also had a bunch of chemistry and funny moments. Jay really grew from the person we met in the Pilot episode. He got so many layers and it seems like the Fear of Kate Littlejohn turned him into better lawyer.
The other case this week featured Sandra and was a nice throwback to the Pilot as well. Sandra Bell is a fighter and she'll be one till she retires. Seeing how the stress and fear of possibly losing another race related case was done terrifically. 50 shades of stress were apparent on Sandra and Britt put another dose of powerless into her performance while the directing complimented every deep breath she took. I really hope season 2 digs back and we see Sandra appeal the sentence given to Fayed. Sandra carrying the weight of the innocently accused was really a character breakthrough, it was a long way for Sandra and I am glad we're gonna see where her road goes from here on further.
Last but not least there was the Allison-Seth-Wine guy love triangle. While not the most compelling story it did have a lot of strong moments. There were a lot of strong moments between Seth and Allison but at the end I am glad they didn't reconcile. The breach of trust that happened between them was too big to make things right. No amount of forgiveness or fresh starting will fix that.
That is a wrap on season 1 of For The People and the wait for season two will be excruciating. What are your thoughts on the finale? And season 1 in general? Stop by the comment section and say your goodbye to season 1. Till next year. . .