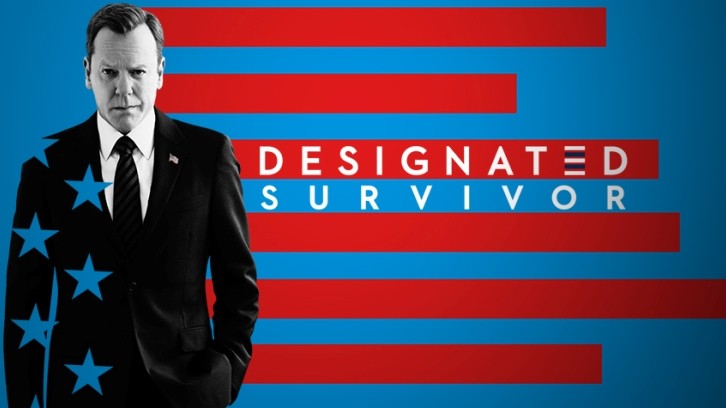 Designated Survivor
"Overkill" was written by Jeff Melvoin and Tracey Rice and was directed by Jeff T Thomas, whose other numerous credits include
Scorpion
,
Blindspot
and
Person of Interest
. The episode follows up on last week's bombing and Tom's (Kiefer Sutherland) subsequent declaration of war on Kunami. Once again, I was distracted by Hannah's (Maggie Q) being wedged into the action. Maybe if she'd stayed home working on the hack, Tom's therapy sessions wouldn't have been leaked.
Seth (Kal Penn) looks shocked when Tom calls the action a war in his address to the nation, and Lyor (Paulo Costanzo) wants him to spin it. Tom refuses and clearly feels completely justified in ordering the missile strikes. It looks like they might have made a mistake when they are tracking Rojas (Jsin Sasha) to see who he was working with and catch Bowen (Dan Jeanotte) meeting with him in a hotel washroom.
Bowen wants to be a prisoner of war and finally admits that he was working for the Emir. He also tells them that he knows where the opposition leader of Kunami – Amal Hamzi (Dani Jazzar) is in hiding. Hannah leads the seal team to go in and talk to him about supporting him to get rid of the Emir.
Tom's team disagree over the military action. Lyor continues not to like the optics. Aaron (Adan Canto) says that his only concern is organizing the military part of the plan, and Emily (Italia Ricci) is adamant that they have to show a united front.
Meanwhile, it looks like Mike (LaMonica Garrett) might be about to gain a romantic interest. He finds Tricia (Chelsea Harris) struggling with one of the vending machines and helps her get her snack out of it. She knows the Mike was Special Forces and her brother is too. She's worried about him because she hasn't heard from him. She knows and Mike confirms that that's standard operating procedure when they're deployed.
There's a couple of nice scenes between Trey (Breckin Meyer) and Tom – I'm really liking the dynamic between these two. Trey has postponed a business trip because he's noticed that Tom looks tired. He asks if Tom has been keeping up with his therapy. Tom assures him that he's still going twice a week and being tired goes with the office. To prove his point, he's called away from their lunch to go to the situation room.
Hannah's team has been ambushed on the way to meet with Hamzi. Naturally, she and one other Seal – who just happens to be Tricia's brother, Royce (Cle Bennett) – are separated from everyone else in the melee and continue with the mission on their own when they meet up with their go-to. At one point Royce asks Hannah if she trusts him when they come under fire. Hannah tells Royce that she doesn't trust anyone. Naturally, the contact turns out to be lying, and Hannah kills him. Aaron wants to pull her out – I can only assume that he's her superior – and she refuses to go.
Meanwhile, the Ambassador (Ali Hassan) is refusing to negotiate until there is a cease fire and insists that Tom has no proof. When the bombing mistakenly hits a hospital – which had painted over its identifying crosses, NATO calls for greater caution. Emily and Seth draft a response, pointing out the hospital's removal of the crosses and Tom approves of the message. Seth actually steps up to question whether the bombing isn't overkill, but Tom is convinced that the faster they win the war, the more lives that will be saved.
Aaron has to work on two fronts in this episode as he is still running the hacking investigation and has Chuck working with Damian on it. Chuck still vehemently hates Damian and asks Aaron if he has to work with him. I did like the team up of Damian and Chuck going undercover to investigate Monica Van (Inga Cadranel) They do get a lead on GAMINE – who is likely the real threat – from Van who used to be part of a black hat hacker group.
Aaron meets with the Ambassador to go over the Emir's latest off. He'll abdicate if he's given safe passage and access to his money. The meeting seems to go well, but the Ambassador goes right to the press and says that the President won't negotiate because he prefers war.
Tom has had his own confidence shaken a bit and asks Emily for some frank conversation. He is shaken by the lives he's had to take. She urges him to consider an offer that will bring peace. He tells Aaron to reach out to the Ambassador again.
Meanwhile, Hannah is once again going to rush in half-cocked. Royce proves to be a valuable companion when he stops her, pointing out that there's a difference between bravery and recklessness. Royce also points out that revenge won't bring Forstell back or make her feel better. The best way to honor the dead is to stay living. I'm really liking him, so I really hope they find a way to keep wedging him into the story!
Mike has mentioned Tricia to Tom and he meets with her in the oval office under the pretense that he meets with every new hire. He asks about her brother and parents, and thanks her for her brother's service. She tells Tom that Royce had finished 3 tours of duty but re-enlisted again because of Tom. She tells Tom that Royce wanted to serve a man who always saw his mission through.
Tom is inspired to go and speak to the press briefing. He tells the press that war isn't noble, but it's the only way to respond to nations who seek to destroy them. And they have to do it without compromise. It was a bit too rah, rah war for my taste, but both Lyor and Emily look pleased.
Hannah finds the Hamzi and is prepared to make a deal, until she finds correspondence between him and the Ambassador. Apparently, the plan all along was to put the Ambassador in power! The Emir revokes the Ambassador's diplomatic status and Tom is able to prosecute him for war crimes. Tom is able to thank Royce for his service, and tells him that he will tell Tricia he's on his way home. In the end, the Emir will also step down and his nephew will take over running the country.
Tricia meets up with Mike again at the vending machine. This time she helps him get his snack. She knows it wasn't a coincidence that the President asked to speak to her. Mike doesn't admit it except to say that he was looking out for one of our own. If they do go down the relationship road with these two, let's hope they do a better job than they did with Emily and Aaron or Emily and Seth – or Hannah and Damian for that matter!
Trey gives Tom a boost to his confidence, assuring him that when there are hard choices to be made, it's all you can hope for that the smartest people are making those choices. Lyor also gets a confidence boost – unexpectedly from Aaron. Lyor worries that he and Bowen are really no different – they are both hired guns, mercenaries. Aaron surprises himself by telling Lyor that Lyor has a streak of decency that Bowen doesn't have.
The show seems to be developing a pattern of having a final crisis each week this season. This week, Tom's therapy sessions have somehow been leaked to the press! Seems like this leaking and hacking business should really have been top priority for more people... What did you think of the episode? Let me know your thoughts in the comments below!