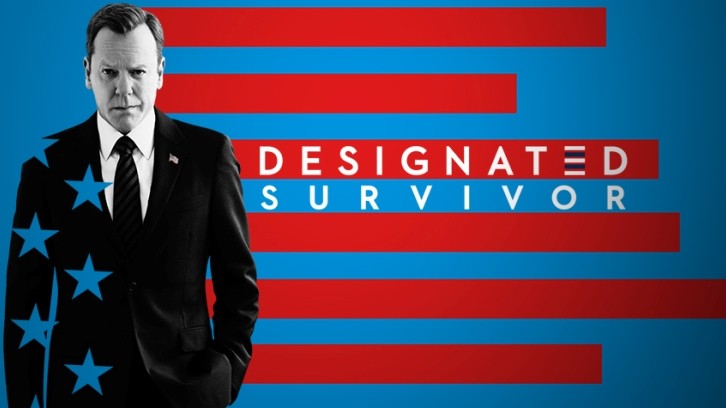 Designated Survivor
"Kirkman Agonistes" was written by the team of Pierluigi D Cothran and Patrick Cunnane and was directed by Leslie Libman. The episode features the introduction of Michael J Fox as Ethan West, a somewhat shady lawyer who is brought on by the Cabinet to determine Tom's (Kiefer Sutherland) mental fitness. Fox is always a joy to watch, and I've really been looking forward to his arc. The episode somewhat drops the ball on the opportunity to address mental health issues, but I'm hopeful we will see more of this in the coming episodes. We also finally get back to the hacking storyline.
As the episode opens, Aaron (Adan Canto) and Hannah (Maggie Q) brief the senior staff on the investigation into the hack – and take their cell phones. Chuck (Jake Epstein) has already checked their computers to make sure none of them are involved. I was really happy to see Chuck getting more to do in this episode!
Tom tells the senior staff that he wants the hack dealt with already. He also tells them that he's not going to deny having been in therapy because he doesn't want to stigmatize people who use therapy – and there's no denying that it has helped him. I liked what the show did with this issue, but I'm hoping to see an even more positive light shone on the issue as the story moves forward.
We quickly see the hack of Tom's therapy and subsequent questioning of his fitness is having an immediate impact. Kendra (Zoe McLellan), Emily (Italia Ricci), and Aaron are all turned down in various meetings due to a loss of leverage, impact on career by association, and confidence in who they're doing business with. I thought Ambassador Woo's (Albert Chung) remarks that therapy is seen differently by different cultures added another layer to the discussion.
Lyor (Paulo Costanzo) tries to get Dr Louden (Timothy Busfield) to issue a statement, but he's reluctant, seeing it as inappropriate to issue a public clarification. He can't comment on a patient's sessions or health. Lyor pressures him into providing a more "complete" picture. Tom also asks Louden for clarification, and he assures Tom that he is getting better. He also tells Tom that Tom's actions will speak louder than the Doctor's words in regards to his mental health and fitness.
There are seven hours worth of tapes, so the leaks continue throughout the episode. The next one concerns the intimation that Tom as "PTSD-like" symptoms and brings up his friendship with Andrea Frost (Kim Raver). In fact, Tom has had to pull out of judging the National Science Fair with her in order to avoid the press. We get three really good scenes between Raver and Sutherland.
Of course, Andrea really seems too good to be true. In their first meeting, she asks him how he's doing. Tom confides that he's embarrassed more than anything. He tells her that he can't judge the fair but maybe she can bring the winner to the Oval office for a personal tour. She is completely understanding.
In their second encounter, she sees that he's upset. He tells her that he became President under the worst possible conditions. He should have died in the bombing – he was supposed to go until the last minute. He had begun to believe that it was fate for him to lead, but now, all he has is his kids, and he's not so sure that he wants to do it anymore. She assures him that that is a decision only he can make, but she's there for him any time he wants someone to listen. Theoretically, that is also the role that Trey (Breckin Meyer) is filling…
Meanwhile, for the hacking investigation, Hannah has let Damian (Ben Lawson) follow up on leads on his own. Of course, she hasn't given him the free rein that he and Aaron think she has, so she knows when he meets with Valeria Poreskova (Nora Zehetner) again. Valeria gives him her intel in exchange for a heads up about Gamine. She also tells him that the US will kill him when he's done, but she is willing to give him a deal afterwards. Her information lead to Chuck and Hannah realizing that that the hacker had to be someone who was in the White House and close to the Oval office during each of Tom's therapy sessions.
Lyor figures out that the Cabinet and Vice President Darby (Aunjanue Ellis) are meeting to have Tom ousted. Sure enough the VP shows up and tells Tom that the Cabinet has voted on the 25th Amendment – section 4 – to have Tom declared unfit due to mental defect. Tom is furious. She tells him that she hasn't signed the letter yet and that he deserves the right to present his case. Tom is angry that she didn't come to him first – but she's not able to do that.
Enter Michael J Fox as Ethan West has been appointed the facilitator of the confidential inquiry. He tells them all that it's not a legal proceeding, so legal protections don't apply. He's determined to be thorough, so he asks for documents going back to the swearing in. He also wants access to all the senior staff and Doctor Louden.
Emily is suddenly panicking about what she did to investigate Moss and tells Seth (Kal Penn). He is shocked and tells her that all of her decisions about this were bad. She is determined not to let them affect the President – whom she was trying to protect. Seth urges her to talk to Kendra.
Emily does talk to Chuck first. I loved this scene! Chuck tells Emily that he found a legal way to get the information she needed. Yeah, Chuck for being a smarter and better person than Emily – and having better judgment! He also tells her that he's not just a computer drone – he can do other stuff to help the White House! Awesome! Let's bring him to work at the White House and get him away from Hannah who doesn't appreciate him…
Emily tells Kendra that Chuck did the right thing, but Kendra points out that Emily still ordered an illegal action, she's still guilty. Emily admits that she screwed up, and Kendra doesn't disagree. Kendra tells her not to quit or throw herself on her sword just yet – they'll wait and see how things unfold.
Lyor tries to get Tom to fire enough Cabinet members to sway the vote. His enemies aren't showing scruples, so why should Tom? Tom points out that he is President – that's why. He refuses to fire anyone. Lyor meets at a restaurant with West and tries to get him off the case with a huge dossier he's compiled on him – but West has just as big a dossier on Lyor! Tom eventually does go to Lyor for advice, and Lyor tells him that sometimes you lose a battle even when you win. If Tom wins, he's still tainted by the investigation and if he loses, he's relegated to obscurity. Lyor seems to have an epiphany when he remembers that Tom isn't a politician – he's a teacher. And in fact, he was brought in to do the job under extreme circumstances – Tom's a hero and they need to spin it that way.
True to his word, Tom refuses to hide and grants an interview to Carson Kramer (John Ralston). He points out that like everyone, he is a work in progress. He tells Kramer that the American people should have confidence in him because of what he's gone through – the emphasis being on the past tense – he's come out the other side. He tells Kramer that we aren't defined by the difficulties we face, but by how we respond to those difficulties. Tom tells him that he's chosen to fight – and will continue to fight for the American people.
We see Seth come under fire at several press briefings, and I loved the one where he finally lost it. It seems like he's taken the last question and is heading out, but then suddenly goes back to the podium and gives the press a piece of his mind! Penn is terrific in this scene. He tells them that Tom Kirkman has given everything to his country – even his wife! And he then berates the press for judging Tom because he sought help.
Tom also refuses to completely by-pass the Science Fair. As he arrives, we see that Andrea is absolutely terrific at handling the press. We get another terrific couple of scene with the two of them as they make their way around the Fair. Tom finally tells her that there will be more leaks and he wants her to be prepared for what he's said about her. He tells her that he told Louden they were friends, but he also said that she was special, and that brought up feelings of guilt around Alex. Andrea assures him again that he doesn't have to explain – she knows that he's a good man.
Meanwhile, Chuck, Hannah and Damian discover the bank account of Mia Eng (another Enigma anagram) who likes to by Turing memorabilia and track Gamine to an auction house in Baltimore that has recently sold some Turing memorabilia. Hannah and Damian go to investigate. I did like how they manipulated the guy into giving them information. They head to check out the address of where the memorabilia was delivered. They discover that the only person to appear twice on the list is Andrea Frost! I really, really hope that there is going to be some explanation for this.
The other super-annoying plot twist is that Damian jumps in front of Hannah when a drive-by shooter attacks them on a deserted street. And apparently, Damian is once again dead… or is he? Is this Valeria? We don't see a dead body after all. Is she rescuing him – and liberating the information he found – from the Americans? Whether he's dead or alive, shooting the guy again is just lazy.
There is yet another sweet scene between Tom and Penny (Mckenna Grace). These two have great father/daughter chemistry, and I'm really impressed with Grace's performances. He tells her that he's not going to talk to her like a child anymore – good call, Tom, cuz she's had to grow up. He tells her that he was depressed after Alex died and talked to a therapist. She knows he was sad – and she tells him that she knows he's not crazy. She then reveals that the kids at her school have been saying it to her – and she has kept it to herself. Maybe you need to check in with Penny a little more often?!
Tom meets with Seth, Kendra, Aaron, Emily, and Lyor who are discussing how the hearing will go. There's a bit of an embarrassing moment when Seth is giving a realistic spin to events – they'll likely be out of jobs – when Tom walks in. Tom simply praises him for his honesty which he really values. He also tells them that he admires all of them and that it's been a privilege to serve with them. Tom also goes to the VP and apologizes, telling her that he knows that she treated him fairly.
Tom and the staff meet again with West. Tom hands West his terms for the inquiry. It's a nice moment as West blusters about no terms and opens the file to see that it is a blank sheet of paper. West reassures him that he's not going to pull any punches. But that's not how Tom operates. He's going in fighting.
This episode really managed to integrate the two storylines a bit better. I'm very much looking forward to Michael J Fox's run. I'm hoping that the Andrea storyline is another red herring – but she really did seem to be too good to be true in this episode. Is anyone that pleasant? It's hard to believe that after all that they would just kill Damian off after all. I'm annoyed whether he's alive or dead. It seems stupid to bring him back from the dead just to kill him, but it also seems equally stupid to use the same plot device again. But no body… and no head shot… Yeah for Chuck getting more to do! I also thought that this was one of Paulo Costanzo's best episodes. Rather than annoying humor, we actually get to see him do his job. What did you think of the episode? Let me know your thoughts in the comments below!