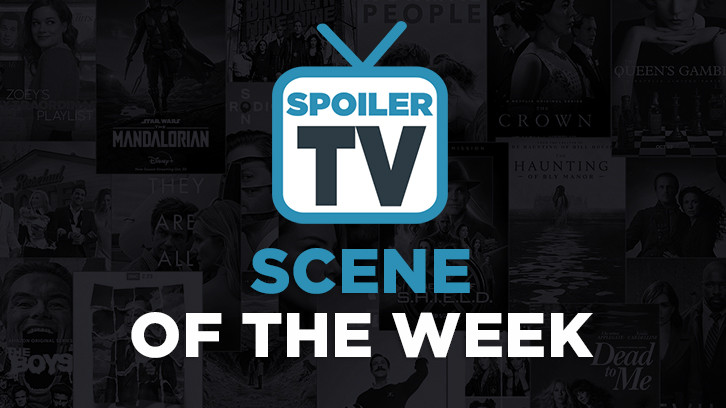 A weekly feature in which we're trying to find the most compelling, best acted, written, directed and just generally great, memorable scenes that we've seen in past seven days on TV.

9-1-1, "Point of Origin", January 31, 2018, Actors: Peter Krause and more
The Scene: Bobby tries to save his family
Eve: Bobby trying to save his family from the fire (he indirectly caused).

AGENTS OF SHIELD, "Past Life", February 2, 2018, Actors: Henry Simmons, Elizabeth Henstridge, Dominic Rains and more, The Scene: Mack and Simmons take down Kasius
Justyna: Another powerful episode of the show with many memorable scenes to highlight. The focus of the hour once again stayed with Yo-Yo and Mack this week, and the parts where Elena meets her future self and when Mack is forced to watch the other Yo-Yo die were emotional and wonderfully acted. However, I had to choose the final confrontation with Kasius. After everything he's done, it was both important and satisfying to see the conclusion of his story. I was very worried about Mack for a little while but Jemma's entrance changed everything. I loved that she got her chance to face Kasius one last time and make him understand how she felt when he left her in complete silence. And then Mack got to use his favorite weapon and killed their Kree enemy. Finally, just when Mack looks broken and hopeless, Yo-Yo enters the scene and their beautiful reunion makes for the best possible ending to the fight. Great performance by the entire cast & fitting conclusion to this chapter of the story. Can't wait to see what awaits the team back home.

BASKETS, "Finding Eddie", January 30, 2018, Actors: Zach Galifianakis, Martha Kelly
The Scene: Chip comforts Martha
Claire: Chip is nice to Martha while she is doubting herself; telling her that she has a real sweetness about her. I've always seen these two together. It is so rare to see Chip's nice side.

BLACK LIGHTNING, "Lawanda: The Book of Burial", January 30, 2018, Actors: Cress Williams, China Anne McClain, Nafessa Williams and more, The Scenes: The awkward family dinner & Jeff intimidates Khalil & Anissa and Grace talk at the bar
Jennise: Jennifer announces she's ready to have sex. Or....how to shock your parents to death with one sentence. It's one thing to be all modern and tell your kids to talk to you before they make major life decisions like having sex for the first time. It's a completely different thing when your kids do as you ask and announce that they've not only made the decision but scheduled the date and time around their curfew. Watching Jefferson and Lynn struggle not to freak out was hysterical.
Sean: Jennifer decides she's ready to have sex and springs the news on her parents during family dinner. Watching Jefferson and Lynn silently panic and become flustered and each reach for their glass of wine was hilariously awkward, and the scene afterwards when Jennifer described what happened to her sister was fun too. Black Lightning has really nailed the family dynamic.
Marko: Jeff intimidates Khalil. Never was a big fan of Cress Williams but the role of Jefferson is fitting him like a glove. He balances the light and dark so well, and this scene had me rolling on the floor. Jeff is a Papa Bear and no one is getting close to his girl. The two actors played really well of each other and I'm quite sad we won't see more of Khalil.
Luana: Anissa and Grace talk at the bar.

CRAZY EX-GIRLFRIEND, "Nathaniel and I Are Just Friends!", February 2, 2018, Actors: Rachel Bloom, Gabrielle Ruiz and more, The Scenes: Rebecca sings Face your fears & Valencia is revealed to be in a relationship with Beth & Rebecca's therapist talks to her about her worth
Marko: Rebecca sings Face your fears. What a powerful tune, executed with sooo much emotion and facial expression. Rachel once again proved worthy of that Golden Globe.
Laura: In the time jump, Valencia is revealed to be in a relationship with Beth.
Luana: Rebecca's therapist tries to make her understand she's worthy.

CRIMINAL MINDS, "Miasma", January 31, 2018, Actors: Paget Brewster, Kim Rhodes and more, The Scenes: Prentiss says she sticks by her team & Prentiss reveals she's been suspended
Dahne: Prentiss vs. Barnes - The case of the week was mere background noise this episode, since the real fireworks was the standoff between Prentiss and Barnes. It starts when Barnes says this is just a standard review of the BAU, but skyrockets when Prentiss calls Barnes out on her ambition driving this witch hunt. However, the best part was when Barnes tells her to sacrifice either Rossi or Spencer's careers and she refuses to do so. Prentiss is a great team leader because she genuinely cares about the team and would never throw any of them under the bus. It was a great scene between 2 strong women.
Samantha: Prentiss reveals she's been suspended indefinitely.

GREY'S ANATOMY, "(Don't Fear) the Reaper", February 1, 2018, Actors: Chandra Wilson, Jason George and more, The Scenes: Ben and Miranda reunite & Bailey checks herself into Seattle Presbyterian & Bailey calls her mother
Marko: Ben and Miranda reunite after her surgery. The moment Ben said "You should've called me." I was in tears. This episode was another winner in a greatly composed season so far and the emotional stakes felt real like back when the show just premiered.
Patrycja: Bailey walks into Seattle Pres. and says that she believes she is having a heart attack.
Jamie: Bailey calls her mother. I loved getting a look at Bailey's childhood. I hope we get to see more of her mother in the future.

LAW & ORDER: SPECIAL VICTIMS UNIT, "Info Wars", January 31, 2018, Actors: Mariska Hargitay, Rhea Seehorn, The Scene: Martha opens up to Benson
Shirleena: It's near the end of the trial and Barba finds out that there was a piece of information that Martha forgot to mention. So Benson took Martha into the station to question her about the night in the bar with Platt. Martha got defensive, but Benson asked if they could speak to one another like humans. For the first time Martha opened up about telling her story.

LUCIFER, "Til Death Do Us Part", January 29, 2018, Actors: Tom Ellis, Tom Welling
The Scene: Lucifer and Cain kiss
Jamie: These two were so funny in this episode. Their speeches to each other were great. And then that kiss, actually made me start shipping it a bit.

NASHVILLE, "Where the Night Goes", February 1, 2018, Actors: Charles Esten, Kaitlin Doubleday
The Scene: Deacon asks Jessie not to give up on him (picked by Luana)

ONE DAY AT A TIME, "What Happened" & "Hello, Penelope" & "Not Yet", January 26, 2018, Actors: Justina Machado, Rita Moreno, Isabella Gomez and more, The Scenes: Penelope records herself at her lowest point & Lydia dances with Berto & Elena's speech to her father
Laura: Penelope records herself at her lowest point.
Bradley: Lydia dances with Berto in the near-afterlife before deciding that it isn't time for her to go yet.
Jamie: Elena's speech to her father. Such an emotional and strong moment. I'd been waiting for this moment since last year's finale.

RIVERDALE, "Chapter Twenty-Five: The Wicked and the Divine", January 31, 2018, Actors: Lili Reinhart, Mädchen Amick, The Scene: Betty comes home to find a dead guy
Katherine: Betty coming home to find a dead guy in the dining room and her mother trying to clean up copious amounts of blood. Life at Chez Cooper is never dull!

SCANDAL, "The People v. Olivia Pope", February 1, 2018, Actors: Kerry Washington, Darby Stanchfield, Tony Goldwyn and more, The Scene: Fitz takes Olivia to Vermont
Naomi: Olivia is brought to Vermont thinking Fitz just wants a romantic getaway, but he really brought her to be confronted by her team about orchestrating the murder of Quinn. This was explosive and very fulfilling. Olivia was literally boxed in while being forced to deal with her dirtiest secret. I'm so glad the mirror was finally turned in her direction, and no amount of fast talking could get her out of it.

SCHITT'S CREEK, "Girls' Night", January 30, 2018, Actors: Dan Levy, Annie Murphy and more, The Scenes: David calls Patrick his boyfriend & Alexis tells Moira there's no-one in the bar for her
Laura: David refers to Patrick as his official "boyfriend" for the first time.
Samantha: Alexis tells Moira there's no-one in the bar for her.

SEAL TEAM, "Getaway Day", January 31, 2018, Actors: Neil Brown Jr., Parisa Fakhri, The Scene: Naima calls Ray out on lying about his shoulder
Jennise: I think sometimes we underestimate the strength it takes to support and love a soldier. They go into harm's way to protect their country. This seems doubly so for the members of the various special forces units around the world. Naima called Ray on, what she realizes could be a deadly lie. But more importantly, she called him out on lying to her. She was a warrior fighting for her man and her family. Ray tried to keep the lie going, but wilted. I'm guilty of, sometimes defining strong female characters as those that will go toe to toe with men in action sequences. But Naima reminds me that real strength comes in all kinds of forms.

STEP UP: HIGH WATER, "Episode 2", January 31, 2018, Actors: Lauryn McClain, Petrice Jones and more, The Scene: Janelle performs her final audition dance
Joel: Janelle performs her final audition dance intercut with her twin Tal being chased / beat up by his bullies, before Tal himself arrives at the audition and performs an incredible dance.

THE ALIENIST, "A Fruitful Partnership", January 29, 2018, Actors: Luke Evans, Jamie Kaye, The Scene: Moore learns about "Silver Smile" from Sally
Laura B: Moore learns about "Silver Smile" from Sally, before suddenly getting sick and passing out. The second episode was more focused on characterization then its eerie mystery, but the final scene surely gave the episode a worthy dose of its Gothic leanings. I was pretty intrigued with the way Sally told John Moore the story, creating a bit of myth in terms of how the killer and Giorgio could have escaped the locked room, but what really made the scene for me, was Moore's unfathomable reaction, which was furthered by seemingly being drugged, leading to exasperated and restrictive breathing and dizzying room spinning, before he passes out and the brothel's owners appear and converse! Luke Evans just brings such a romantic and child-like disposition to Moore and the irony of that contrasted by these ruthless and reckless brothel-children just made it all wonderfully creepy.

THE BRAVE, "Close to Home: Part 2", January 29, 2018, Actors: Mike Vogel, James Tupper, The Scene: Dalton kills Alex
Dahne: Dalton has shown several sides this season, but he has never been as ruthless as pursuing the man who put 2 of his team members in the hospital, including one in a coma. Their tete-a-tete was calm and philosophical but you could see the concealed rage in Dalton. When the moment came for the final draw, it was like an old western. Then Dalton gets the last word. Awesome finale that needs a second season. Gina: That scene between Adam and Alex blew me away.

THE GOOD PLACE, "Somewhere Else", February 1, 2018, Actors: Kristen Bell, William Jackson Harper and more, The Scene: Eleanor finds Chidi again
Justyna: First of all, I liked season one, but I loved season two. It was so creative, hilarious and heartfelt. All the characters got their chance to shine and we've seen a few great developments. The finale was just another example of how wonderfully this show works. The idea of everyone returning back to Earth once again changes everything. This series keeps reimagining itself and the cast & crew are doing fantastic job with each version of this world. After everything Eleanor has been through, it was great to see her back alive but with a genuine need to change and do better. Of course, it would be too easy if her first attempt was a complete success without knowing about her previous experiences. But the best part for me was Michael understanding what's missing. When he inspires Eleanor to look for answers on the Internet and she finds Chidi's lectures, Chidi's theory that "we choose to be good because of our bonds with other people" makes all the sense in the world. And just like season one finishes with Eleanor's message to herself about finding Chidi, she follows the same path in the last minutes of season two. They made each other better after death, so I can't wait to see where their story goes back on Earth. Kudos to cast & crew for their amazing work on the show.
Klutzy girl: Eleanor flies to Australia after watching a three hour video of Chidi's lecture. The fact that they just keep finding each other (and falling in love) no matter what kills me and ultimately proves they are 100% soulmates. Plus, Chidi mentioned a few episodes back that this is how he wishes he and Eleanor could have met, so the fact that it played out this way this time around was perfect.

THE X-FILES, "Ghouli", January 31, 2018, Actors: David Duchovny, Gillian Anderson and more, The Scenes: Scully and Mulder stop for gas & Scully's speech to William
Naomi: Scully and Mulder stop for gas and Scully has another chance meeting with an older gentleman who gives her some advice. Realizing he might be their son disguised as someone else, they check the gas station footage; it confirms that the strange man is really William. It was such a touching scene because Scully was so distraught thinking William died without knowing how much she loved him. The way Mulder was there to comfort and support her only continues to solidify their unbreakable bond.
Klutzy girl: Scully's speech to William when she believes he's dead. Everything about this scene hurt and was emotional - Gillian absolutely knocked it out of the park as Scully's grief threatened to overwhelm her.