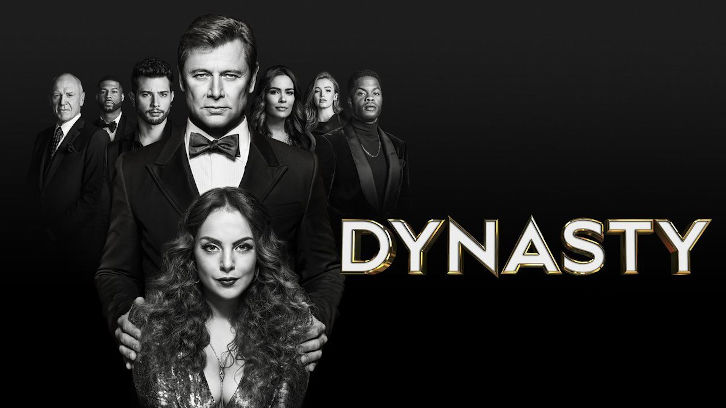 Dynasty was back this week with a casino night full of enough drama, scheming and glamour to rival a James Bond movie. And with more secrets exposing Blake's true colours, yet more chips in the Carrington's armour began to show.

Conservative Corruption

The focus of "Promises You Can't Keep" fell primarily on the Carrington's relationship with corrupt Senator Paul Daniels (Rick Hearst). The Senator, formerly a judge, was introduced early on as having a professional history with Blake (Grant Show), so much so that a casino night in the Carrington home is to be held in the Senator's honour. Of course, Blake does nothing for free, and it immediately appears to have some underlying agenda. Enter Rick Morales (JR Cacia) - Senior Reporter at the Atlanta Digest. An old friend (or even flame) of Crystal (Nathalie Kelley)'s, Morales approaches Mrs. Carrington about a story he's writing on the Senator. Not just any story, but an exposé ... and it involves Blake! Morales has evidence that the former judge accepted bribes, and perhaps unsurprisingly Blake is named as one of those whom bribed him; both men could go to jail.


A torn Crystal later approaches her husband demanding answers, to which Blake reveals (falsely) that it was a one-time bribe, in order to secure custody of his children from ex-wife Alexis. Naively, even I bought Blake's lies, so its no surprise Crystal did as well. Morales on the other hand, was far from convinced even after his old friend explained the story - and it was here that we saw a different side to Crystal. Defending the family, she threatens Morales, citing that she knows his boss and could have him immediately fired if he doesn't scrap the story. Far from the seemingly moral and fair Crystal we quite often see, it's another example of the new and Carrington-ified version - similarly to how she acted with her sister and brother-in-law in previous weeks; ruthlessly defending the Carrington family and their honour. As the Senator explained this week, 'you can't take power by playing nice. You've got to be ruthless and grab it' - Crystal's learning!
Fortunately for justice, Crystal later uncovers another scandalous truth about the Senator - he's adulterous, and so using her smarts she proposes this story to the Atlanta Digest and everyone goes away happy; except the Senator (though he didn't exactly deserve a happy ending). With it goes his political campaign, and Crystal retains some of her moral compass and self-respect. Three cheers for Crystal?
Taking the High Road
Whilst Crystal was cementing her Carrington qualities, Steven (James Mackay) was continuing to distance himself from his family. Having moved in with unofficial boyfriend/ex-boyfriend Sammy Jo (Rafael de La Fuente), Steven has applied for various jobs in an attempt to "make it on his own". Unfortunately, even after securing a job, it's revealed that the employer is close to Blake and so its not so much on individual merit that Steven gets the job, but more on the Carrington name. The activist subsequently turns down the job much to Sammy Jo's delight. Rightfully so, Sammy Jo criticises Steven from even considering a job which is "stable". The latter broke away from his family to make it big on his own and to make a difference, yet he then takes a "stable" job which requires little risk and has very little potential. Having previously been a quiet fan of Steven's, I have to admit I shared in Sammy Jo's dismay and found Steven a little annoying in this episode. The whole martyr act is wearing a little thin, unless he does something truly remarkable soon - which is looking likely now that he's decided to run for office. As if the show wasn't political enough! I for one am more excited about the dream team that is Fallon (Elizabeth Gillies) and Sammy Jo working together, cause the latter is now the former's assistant.
A Family Affair
One of the best quotes, and the most hypocritical, of the episode came from Monica Colby (Wakeema Hollis); "I'll admit she's as flawed as they come but making her pay for her father's mistakes? That just means that you and Blake are cut from the same cloth". Speaking about Fallon, it was great to see Monica stand out as her own character this week - and even better to see her defending Fallon, in a move which I at first thought showed her to be one of the most fairer and genuine characters. That being said, it didn't take long for brother Jeff (Sam Adegoke) to turn Monica against her "oldest friend". Revealing the motivations behind his planned take-down of the Carringtons, Jeff explained of how Blake had been having an affair with their mother, and so subsequently the Carrington head framed the Colby sibling's father in an attempt to have him out of the way. It seemed like Monica was courageously standing against her brother, even slapping him at the casino night but alas it was a ruse - to throw people off the scent that she is now working with Jeff to make the Carrington's pay for destroying their family. Damn! I was just starting to like you Monica ... then again, who doesn't love a strong and feisty female? Poor Fallon though ...
Casting Facts
The Senator's wife, Melissa was played by
Gossip Girl
star Kelly Rutherford. The actresses' previous hit show was created by Josh Schwartz and Stephanie Savage, who just so happen to be the executive producers (and developers) of
Dynasty
. Interesting, Rutherford made headlines in recent years for her dramatic custody battle - weirdly mirroring Blake's (fake) revelation involving her character's husband, and how he helped Blake win custody.
The casting coincidences (or not) don't end there though - Rutherford actually co-stared with Grant Show (who plays Blake) on
Melrose Place,
though the pair reportedly had no scenes together. Funnily enough, she's now the second actress on the show to have previously worked with Show (at least to my knowledge) following Brianna Brown (
Dynasty
's Claudia Blaisdel) who starred with the actor on
Devious Maids
.
Speaking of
Devious Maids;
that show came from Marc Cherry, the genius behind
Desperate Housewives
. Anyone notice the
Desperate Housewives
actor in this week's
Dynasty
? Tim Myers, a business associate of Morell Corp, was played by Steven Culp who previously played
Desperate Housewives
' Rex Van de Kamp. Interestingly, Nicollette Sheridan (Edie Britt on
Desperate Housewives
) is soon to join
Dynasty
as Blake's fiery ex Alexis.
Quote of the Week:
Fallon about Sammy-Jo: "why can't I be like him? All his problem's are solved by a packed lunch".
Dynasty returns this coming week with what looks to be another stellar episode. Check out the promo below and make sure to share your thoughts of the show, and the latest episode, in the comments section.