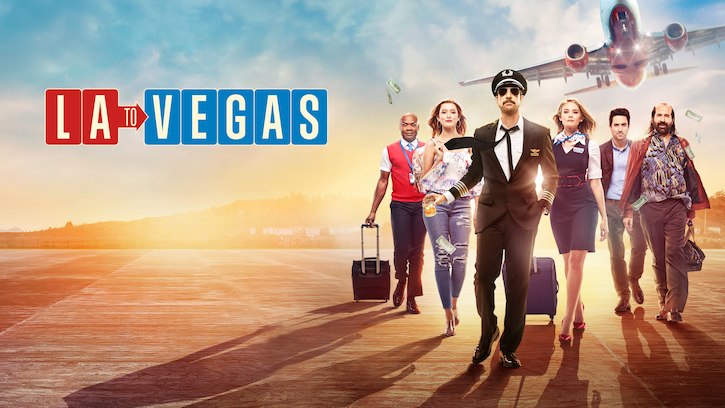 The pilot for LA to Vegas was fun and unique. Let's dissect and see if you'll be booking your ticket for further adventures on Jackpot Airlines!


The show starts with flight attendant Ronnie, who is clearly late for her shift but has other things on her mind (mainly, a position on a better airline). She navigates her way through the terminal in pretty hilarious fashion and finally makes it onto the plane seconds before the passengers board. At this point, she is greeted by co-worker Bernard. I like Ronnie but her whining in the beginning about having bigger ambitions other than LA to Vegas gets old pretty quick. Bernard tries to tell Ronnie that this gig is good and she wouldn't end up wanting the LA to NYC route because it is boring. I instantly liked Bernard because he is funny and content with his job, which is a nice contrast to Ronnie and her constant instance that this is not what she wanted when she became a flight attendant.
Next up is the Captain because we cannot fly a plane without a Captain, right? Now Captain Dave has some fun qualities and some others that I would prefer they tone down. I enjoyed that he liked interacting with the passengers and found his explanation of practicing Muay Thai mildly entertaining. I also thought his effort to make the flight fun for passengers traveling to the adult playground of the USA endearing. Dylan McDermott was charming and I enjoyed his portrayal. Captain Dave also seems to share Ronnie's longing for expecting more out of his career and life, he just vents this in very interesting ways. The part of the character that I did not care for was that he may fly somewhat high and he most likely drank before the flight home. I don't know about you guys but I just think these tropes about pilots are annoying and unnecessary. I feared they would go this way with the pilot and I was proven right which was disappointing.
Now we have arrived at the characters and plots that make me a bit shaky on this show. I know that people travel certain airlines frequently for work and play, so the fact that this route has regular passengers is not far fetched. The thing I worry about is how the show plans to keep these characters relevant and interesting to the plot every week.
First there is Nichole, whom I guess could be categorized as a 'stripper recruiter'. She meets a young woman on the plane who is about marry her high school sweetheart and seems happy and content. This clearly changes when Nichole pitches her the idea of stripping on the weekends and making big money. She tells the girl that she and her very pregnant friend make a killing every weekend and promises not to 'trap' her, which basically means she won't lure her into human trafficking. I know they were trying to show that Vegas can be as scary of a place as it is fun, but this joke about human trafficking and trapping did not work for me at all.
Next is the resident bookie Artem, played by the always entertaining Peter Stomare. He is an experienced gambler and also takes bets on passenger's lives with fellow regulars. He gave us some laughable moments involving other passengers and crew and that made me really like the character. I hope at some point we see him on a casino floor working his magic.
Finally for regular passengers there is Colin, a British man who frequents this route. The crew tries to figure out his deal every flight but have not so far. That changes when Ronnie quits mid flight after she finds out she lost the NY route to her protege Jill. She proceeds to sit next to Colin and indulges in some tiny cocktails, flirting and banter with the charming Brit. As it turns out, he is not an international man of mystery but is in fact a College Professor with a penchant for NPR tote bags. He does call Ronnie out on her impulsive decision to quit because she has no other way home. I agree with Colin so much here, throwing a fit mid flight and quitting is not a good choice by a mile. It is a good thing she is on a route as fun and understanding as this one. This laid back atmosphere also gives these two a chance to join the mile high club which goes epically bad. This part was so awesome because some shows try to make this badge of honor seem hot, but sex in a bathroom is still sex in a bathroom no matter where it is! The two part on a good note, but things are about to get complicated.
On the return flight Ronnie is still employed and happy to see Colin, but he is caught off guard when he sees her. He is being so awkward because Colin is not alone this time. I knew something was up with Colin and I figured marriage was the most likely scenario and what do you know? That is exactly the case. In an uncomfortable moment, Ronnie meets his wife played by
You're The Worst's Kether Donohue
when she requests that Ronnie check their bag. Ronnie is mortified and slinks to the front of the plane. Colin sneaks away and tries to explain to her that his marriage happened because of the one time he threw caution to the wind and had some fun. He explains to an annoyed Ronnie that he had been attending a conference in Vegas some time ago and ended up spending the night with a magician's assistant (Donohue). This dalliance resulted in them becoming parents to a son and a shot gun marriage. You can tell Colin is trapped in a situation where he is trying to do the honorable thing but is not happy with his wife. Ronnie doesn't let him finish the story and maybe she should have because she gets the rest of his explanation when their bathroom hijinks are hilariously revealed to the entire plane AND his wife. At first the wifey looks furious but that facade goes aways when Colin reminds her that they are separated. Ronnie and a solo Colin meet up after the flight and it is obvious this story is far from over. I will say that of all the 'regulars' I find Colin to be the one with the most potential. At some point we will probably see his son and if he continues this flirtation with Ronnie, that could open up some stories.
Passengers of the Week
I am thinking we will have some quirky passengers like our almost newlyweds featured in this episode, so they will get their own section.
As mentioned above, we meet an eager young couple who had spurned their parents' plans for a big wedding and bolted to Vegas to get hitched. Things do not go to plan and by episode's end the bride is in Vegas stripping (thanks Nichole!) and the jilted groom is on the return flight all by his lonesome. He proceeds to rant to everyone, especially Nichole that his girl was normal and happy until she met all of them. As he grows more agitated, Captain Dave takes the opportunity to bring him down with his sweet Muay Thai moves and poor not so married guy is arrested as the end credits rolled. I thought this part was funny and where the show shined.
I would be remiss if I didn't mention that I loved all the disheveled passengers waiting to board their return flight to LA. I have witnessed this scene myself coming home from Vegas, and they captured it to perfection!
All in all I enjoyed this unique work place comedy, but I am wondering how they will continue to bring fun and engaging stories every week. Will they venture out to the playground of Vegas with the crew? Or will they stay in the Airport?
What did you guys think? Will you be booking a return ticket or are you one and done? Sound off in the comments.