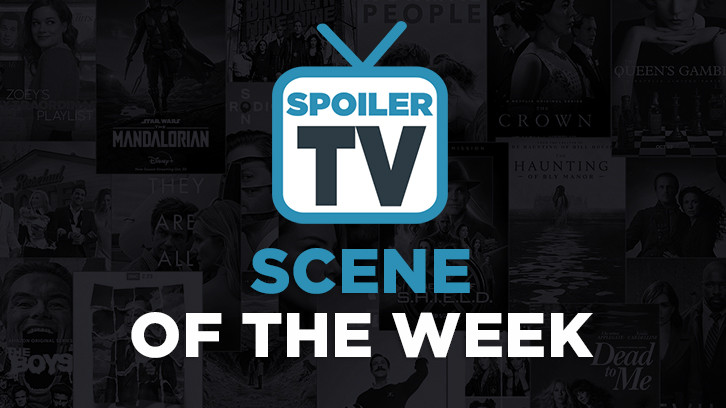 A weekly feature in which we're trying to find the most compelling, best acted, written, directed and just generally great, memorable scenes that we've seen in past seven days on TV.

AGENTS OF SHIELD, "Orientation", December 1, 2017, Actors: Clark Gregg, Ming-Na Wen, Elizabeth Henstridge and more, The Scene: The time and place reveal
Justyna: A strong opening after the fantastic season. I went into the episode without any spoilers, promos, synopsis or anything like that and I ended up very impressed with the direction and the story the writers decided to follow. My one complaint would be the lack of Fitz who I missed dearly but there were so many things happening that I didn't need to focus on that. Though I could highlight a number of scenes from this double premiere, I felt like the reveal is the clear choice for the article. The ending of the first part of "Orientation" changes everything for the characters and the viewers. It was known for a while that the team was sent to space but the time difference was certainly a big surprise for me. I very much enjoyed the way it was revealed - to all the characters at once but from different sources. The reactions on everyone's faces were absolutely perfect and described the importance of the reveal without any words necessary. The situation of the team changes drastically from bad to impossible to escape. The slow introduction to this new and scary world is a great follow-up to this scene. I'm excited to see where the story goes from here, possibilities are limitless. Also, the theories about the destruction of the Earth lead to a potential tie-in with Infinity War which is something I'm most interested to watch in the near future. Kudos!
Beth: The Team discovers that Earth is destroyed and they are in the future. I was shocked right along with them.

BROOKLYN NINE-NINE, "Return to Skyfire", November 28, 2017, Actors: Stephanie Beatriz, Andy Samberg, Terry Crews, The Scene: Rosa gets sucked into the world of fantasy books
Laura: Rosa gets sucked into the world of fantasy books when she realizes the badass female protagonist of one of the series is just like her.

GOOD BEHAVIOR, "Don't Thank God, Thank Me", November 26, 2017, Actors: Michelle Dockery, Laura Bell Bundy, Nyles Julian Steele and more, The Scenes: Letty saves Carin from the police & Jacob won't let go of Letty
Darth Locke: Letty saves Carin from the police. It was only inevitable that Letty would hit a low again, but the show has been pretty good about how it went there and not having it be something that happened too soon. It was surely heartbreaking seeing Letty leave Jacob behind and Estelle still really not willing to become a better mother in the compassionate sense, seemingly having no regrets about her dealings with FBI Agent Lashever. I chose this scene however, because despite the fact that Letty parted ways with her son and Javier again --and went on this crazy bender with Carin, in the end she didn't completely screw Carin over--it shows a sense of growth by having remorse and realizing she does need friends to confide in. Can't wait to see what's left for the season!
Marko: Jacob won't let go of Letty. My eyes still burn from all the tears I cried during this scene. Jacob gripping Letty that hard came unexpected but it was so sincere. Jacob is very aware of how damaged Letty is and despite that he needs her to want him. The despair on their faces was truly heartbreaking.

LEGENDS OF TOMORROW, "Crisis on Earth-X, Part 4", November 28, 2017, Actors: Victor Garber, Franz Drameh, The Scene: Stein's death
Justyna: Any death is a powerful event that can impact the story of the show in many possible ways. But the death of a hero, just a day away from him going back home to his family - this one hurt more than expected. The entire arc of Professor Stein planning the rest of his life with his family by his side, while also making sure Jefferson will be okay without him, was such an emotional one. It was a long goodbye, that many people believed would lead to a happy ending. But as one fan of superhero movies and shows would know, not everyone can be saved and the hero will always choose to protect others, even at the cost of his own life. And there's no doubt that Martin Stein has become a true hero over the course of his story. While the painful fact that his death came at the hand of a random Nazi soldier, it's the knowledge that he died saving his friends and then chose to separate himself from Jefferson to protect him, that's what should be remembered about his departure. His final moment, when he gets to say goodbye to the other half of Firestorm and convinces Jackson to let him go, was one of the most emotional scenes on the show for sure. Both actors did a wonderful job during this crossover and especially this part. It's hard to believe that Stein is really gone, but his death will surely be one of the most memorable moments in the Arrowverse. And finally, a special thank you and goodbye to the amazing Victor Garber. We couldn't have asked for a better Legend than his Martin Stein. Kudos!
Saloni: Stein's death! As much as I enjoy LoT, I always thought Victor Garber was too good for the show. This scene proves why. His sacrifice was played out beautifully. It was very heartfelt. Franz Drameh did a solid job, too.
Klutzy girl: Jax and Stein's goodbye. I didn't want Stein to die but this scene was perfect in every way. Both Victor and Franz knocked it out of the park, and I nearly started crying along with them. They were father and son, and Jax's pain at losing his dad was so palpable and heartbreaking.
Winston: Stein's death. I echo the sentiment that Garber was always too good of an actor for the Arrowverse, so even though I found Franz a little weak in these scenes, there was just enough dialogue to make me feel all the things, all at once. I may had shed a tear at Stein's father and son comment and I'm not ashamed of that.
Donna: Stein's death - a real "pass the tissues" moment and exit of a much loved character.
Milo: Going to throw in Stein's death again here being the obvious choice. It was probably the most emotional death in the Arrowverse so far and was handled really well, Garber was always on fire as his character and it was a fitting send off, adding emotional depth to a powerful event.
Diana: I'm going to miss Victor Garber in the show.

MR. ROBOT, "eps3.7_dont-delete-me.ko", November 29, 2017, Actors: Rami Malek, Elisha Henig, The Scene: Mohammad gives Elliot a lollipop
Nirat: Elliot & Mohammad were both lost souls, both dealing with their own trauma, their interactions throughout the episode were a highlight. There is so much I can say about how much I loved this episode but my favorites are the talk at the mosque leading to Elliot dropping Mohammad at home. Seeing Mohammad's face light up as Elliot solidifies their new friendship, promising to take him to see The Martian as he drops Mohammad home was wonderful but more so, Mohammad's response, getting a green lollipop for him. In a sense, it's the act a doctor takes on, after checking his young patients he'd hand them a piece of candy so they'd feel better, so seeing this young boy, trying to make Elliot feel better was something so life-affirming. He hardly knew him but he wanted to help. "Because you said you were sick", that simple word, Mohammad will never really understand just how much he saved Elliot's life. I'm sure he knew something was odd but I don't think he could've ever realized the gravity of the situation and I won't ever forget that powerful moment. Rami Malek was exceptional throughout the episode, especially during this scene, where he's breaking down into tears as Mohammad goes to grab something (unbeknownst to us, the candy), and then smiling in response to Mohammad's plight to helping Elliot get better. An act of kindness can go so far. Thank you for this beautiful episode Sam Esmail, to see the love of a child used to save a broken soul, to showing how Shama chose the name Trenton (naming herself after her Mohammad birthplace), to the respect of showcasing a mosque being used as a place of sanctuary and refuge (it's about time, it's not just a place to show an attack Hollywood) to using Elliot's renewed soul to extend the kindness to Angela, it spoke volumes.

OUTLANDER, "Uncharted", November 26, 2017, Actors: Caitriona Balfe, Sam Heughan, César Domboy, Lauren Lyle and more, The Scenes: Fergus and Marsali's Wedding & Claire and the turtle soup
Darth Locke: Fergus and Marsali's Wedding. It might be true that Outlander's 3rd season has taken its time with its transitioning, but what makes the season three story great so far is Jamie's and Claire's appreciation for how they have aged & how their family has expanded and the love they share through their relationships towards the series youth. This was another nice symbol of Outlander's longivity in becoming a great family saga adventure story.
Jennise: Claire and the turtle soup. I would have been so unhappy if we didn't get this scene. Claire is a bit drunk and feverish. Once she gets her shot of penicillin she pursues her husband for all he's worth; including tossing one of his lines back at him. 'You can't be drunk if you can stand up.' It was a lovely way to end the episode.
Marine: The ending aka the Turtle Soup scene!

RUNAWAYS, "Fifteen", November 28, 2017, Actors: Gregg Sulkin, Virginia Gardner, James Marsters, The Scenes: Chase tells Karolina she deserves answers & Victor talks with Chase in his lab
Samantha: Chase tells Karolina she deserves answers. I was going to go with her revealing her powers to him, but I just love this scene that little bit more. With the sun beginning to set in the background and how close they are to each other, I was fully expecting for them to kiss. But instead it's kept completely platonic. The dialogue was also completely spot on, with Chase calming Karolina's fears down by telling her she's the most beautiful thing he's ever seen was really sweet, and then he ends it on a serious note by saying she deserves answers.
Milo: Victor talks with Chase in his lab. This was a scene that reminded me a lot of the scene between Peter and Liz's dad in the car in Spider-Man Homecoming. It was a very tense moment, especially with the episode going out of its way to show how unpredictable Victor was as a character beforehand. James Marsters was great here, and Gregg Sulkin also impressed as Chase.

SUPERGIRL, "Crisis on Earth-X, Part 1", November 27, 2017, Actors: Melissa Benoist, Stephen Amell, Caity Lotz, Grant Gustin and more, The Scenes: The Church Fight & Kara sings "Running Home to You"
Justyna: There were so many scenes that I loved in the entire crossover that it was impossible to choose just the two for this article. In the end, I wanted to highlight the first fight between Heroes and Nazi soldiers. The wedding and the walk down the aisle were beautiful and memorable on their own, however the amount of work that went into this fight at church shouldn't go unnoticed. I'm sure each fan has their favorite part of this scene. Sara and Alex team up to take down Earth-X Prometheus, Wally stopping the bullets, Oliver and Cisco joining forces, Killer Frost and Heat Wave fighting the soldiers with fire and ice, Kara's clap with a power to stop the entire fight. Just to name a few. All the actors, the stunt crew, the fight choreographer, the editor, director and the rest of the team responsible for this scene, they all did such an amazing job here. Big thank you and congratulations for such an achievement. I enjoyed every little part of it and it was only a beginning. There were many other excellent performances, scenes and fights during the crossover but I wanted to highlight this one, if only for the fact that it was filled with many fan favorite duos and powers displayed. Kudos! Can't wait to see what's next.
Saloni: Kara singing "Running Home to You" at the church as Iris and Joe walk down the aisle. Her voice was, as always, stunning. I especially loved the scene when the camera pans solely on Barry as he watches Iris. Grant Gustin nailed the expressions of the happy groom.

THE FLASH, "Crisis on Earth-X, Part 3", November 28, 2017, Actors: Chyler Leigh, Caity Lotz, Tom Cavanagh, Emily Bett Rickards and more, The Scenes: Alex and Sara bond over sisters and lost loves & Eobard Thawne threatens to kill Felicity
DJRiter: Alex and Sara bond over sisters and lost loves- while the crossover was filled with great action&fight sequences it was two quieter scenes that I'll remember. Many have already noted the impact of Stein's death, but the other scene for me was the Alex and Sara scene in the bunker where they talk of their love for their sisters and lost loves that for me marked the true birth of a beautiful friendship. We already knew they made a great team fighting together as warriors, but this is the moment they connected emotionally and Chyler Leigh and Caity Lotz nailed it! It also confirmed my idea that Sara would be the perfect person to help Alex as she dealt with her breakup with Maggie, yet to me their greater connection was their love for their sisters. They make a great team and it would be great to see them team up again.
Pat: Eobard Thawne back in Wells' body, goes all red eyes and evil voice as he vibrates his hand and threatens to kill Felicity.

THE GOLDBERGS, "The Circle of Driving Again", November 29, 2017, Actors: George Segal and more, The Scene: Pops reveals he's still driving
Samantha: I honestly could nominate this whole episode, because it never missed a beat and this scene is the perfect example of that. It starts out with Pops declaring he's going to teach Adam how to drive. Which completely baffled Beverly, who was on her exercise bike and Murray, sitting on the bed. Then Beverly starts on the fact Pops' license was taken away after his accident, and Pops claims that doesn't mean he can't still drive. This gives us the greatest back and forth the show has delivered for a while, as both Murray and Adam get involved. It's completely and utterly hilarious.

THE GOOD DOCTOR, "Intangibles", November 27, 2017, Actors: Chuku Modu, Maggie Benedict, The Scene: Dr. Kalu and the Congolese mother talk in the hospital room about water
A.D.: The scene with Dr. Kalu and the Congolese mother talking in the hospital room and she lamented about the amount of water in the toilet bowl. Personally, that hit hard because of how real it felt, and it was a look into the privilege of being in a place where there is plenty even in areas that really shouldn't have much.

THE WALKING DEAD, "The King, the Widow, and Rick", November 26, 2017, Actors: Christian Serratos and more, The Scene: Rosita takes out the baddie with a Rocket Launcher (picked by DarkUFO)

THIS IS US, "Number Three", November 28, 2017, Actors: Sterling K. Brown, Ron Cephas Jones, Susan Kelechi Watson, Lyric Ross and more, The Scenes: "What if" montage with William & Teenage Randall tells Jake how he feels in their White Life & Randall says goodbye to Deja & Randall and Beth talk before Deja's presentation
Saloni: William tells Randall about the time he had followed Rebecca home in hopes of meeting him as a child, followed by that heartbreaking montage of what their lives would've been like if William had been a part of the Pearson family.
Marko: Teenage Randall tells Jake how he feels in their White Life. Masterful performance by this young boy. The words were so intense but the understanding that his performance carried was simply captivating.
Marine: Randall says goodbye to Deja.
A.D.: Randall and Beth talking before Deja's presentation about letting her go back to her mother. Best lines: Randall: "Well, you are beautiful." Beth: "Rose colored glasses." (Randall takes off glasses) Randall: "Still beautiful."