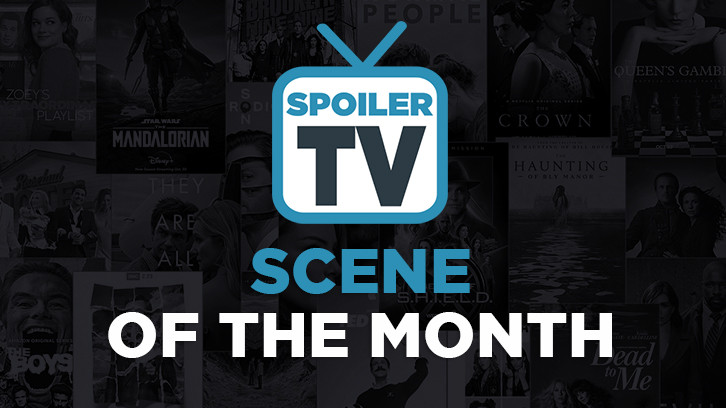 A monthly feature in which we're trying to find the most compelling, best acted, written, directed and just generally great, memorable scenes that we've seen in the past month.
A MILLION LITTLE THINGS, "A Bird in the Hand" & "No Place Like Home", March 1st & 8th, 2023, Actors: Romany Malco, Christina Moses, Lou Beatty Jr., The Scenes: Rome and Regina talk to healthcare providers & Walter opens up to Rome Marko:

Rome and Regina talking to healthcare providers. Such a genuine and funny scene. Romany Malco and Christina Moses have great chemistry and the way they've conducted the interview and the way they wanted to protect the cheerful healthcare providers just worked so perfectly together.

LexiF:

At the end of the episode where Walter opens up to Rome about being scared, waking up in the middle of the night and not recognizing where he is.

CHICAGO PD, "Out of the Depths", March 29th, 2023, Actors: Marina Squerciati, Patrick John Flueger, The Scene: Kim gives into her emotions
LexiF

: The ending scene where Kim gives into her emotions and just finally lets down her walls and her true feelings for Adam take over. This was a moment years in the making and it was absolutely perfect.
GREY'S ANATOMY, "Sisters Are Doin' It for Themselves" & "Training Day", March 16th & 23rd, 2023, Actors: Kate Walsh, Johanna Curé, Adelaide Kane and more, The Scenes: Addison breaks down in a storage room & Natalia's death
Rianne:
Where Addison retreats to a storage room and breaks down. Bailey comforts her, while Addison talks about the importance of what she does and at the same time it is the thing that puts everyone she cares about in danger.
Marko:
Natalia dying. I was a mess after watching this. The way the writers build up Natalia and her husband Elliot felt so much like OG Grey's. And them killing Natalia off was pure OG Grey's. Johanna Cure, Rick Kumazawa and Adelaide Kane delivered performances to be remembered.
KUNG FU, "Beginning", March 8th, 2023, Actors: Olivia Liang, Vanessa Kai and more, The Scene: Nicky kills Pei Ling and Xiao
Marko:
A three season long arc culminated with Nicky killing her Shifu and her Nemesis. Olivia Liang and Vanessa Kai delivered a remarkable performance from the moment they've laid eyes on each other till the moment Pei Ling closed hers forever. Zhilan encountering them at the end was just the cherry on top.
NOT DEAD YET, "Not Moving on Yet", March 1st, 2023, Actors: Gina Rodriguez, Hannah Simone, The Scene: Nell tells Sam about her miscarriage
Maria Sol:
Although this series is a comedy that has plenty of funny moments, it also has its fair share of emotional scenes and this is undoubtedly one of the most touching scenes so far. Since her return to her old life, Nell has not been able to fully recover what she had before, starting with her friendship with Sam, but the moment comes when she decides to come clean with her about what has been keeping her from moving forward, and that's when she confesses to her that she lost a baby, which left her very affected and ended up harming her relationship with her fiancé even more. In this scene, we can feel the great connection between these two friends as we see the support Sam shows her and the relief Nell feels when she can finally trust someone about what happened to her. Great work from both actresses.
OUTER BANKS, "The Dark Forest", February 23rd, 2023, Actors: Chase Stokes, Madelyn Cline, The Scene: Sarah confronts John B
Myriam:
Something I've always enjoyed about Outer Banks is the narration and this season did not disappoint. The imagery and dialogue sets a sunny, summer-time mood and coming of age tone. Early in the season, Sarah's narration demonstrated to me that significant change is to come and we will see her character evolve in some way. The opening scene of "The Dark Forest" results in a sort of breaking point for her and she is forced to examine her identity as a Kook-turned-Pogue. Sarah confronts John B about providing her with truthful details regarding the recent adventure with his father. Mindlessly, he implies that she is upset and jealous that his father is helpful while hers tried to harm her. This reaction and treatment causes Sarah to truly feel like an outsider. It was challenging for the group to accept her because of her Kook family history, but I feel like it didn't hit hard because she had John B. Over time and due to the many sacrifices she has made, the group began to see her as one of them. Now, she has unexpectedly been set to the side by the person she trusts most. She also has become what she used to look down on; for example, those who are homeless or have no parental guidance. As a series in general, I would say that Outer Banks has a far-fetched nature yet this scene I've chosen to highlight is very much grounded in realism. A significant part of Sarah's character is how she is removed from the comfy life she has known forever and thrown into a world of essentially, crime and trauma. This scene not only adds depth to her character but the show overall. I look forward to seeing the ways other characters develop and transform through scenes as such.
SCHOOL SPIRITS, "The Twilight End Zone", March 23rd, 2023, Actors: Peyton List, Milo Manheim, The Scene: Wally and Maddie talk about their moms
Folie-Lex:
Wally and Maddie reflect on how each of them want to please and help their moms from beyond the grave in coping with their mourning and loss, and they both begin to realise they are holding themselves back. It's a beautiful moment of introspection for both that connects them deeper. Wally has always been the one most willing to meet Maddie half way, speak on her level and on her own terms. And is willing to do so even when he's opening up about himself. It's never been more obvious why it's so easy for them to talk about the real and deep things in ways that Maddie doesn't even do with Simon.
SERVANT, "Awake", March 10th, 2023, Actors: Lauren Ambrose, Toby Kebbell, Rupert Grint, The Scene: Sean and Julian tell Dorothy the truth about Jericho
Folie-Lex:
I think it's safe to assume that everyone was waiting for this scene with baited breath for years. And thankfully it was worth it. All three of these phenomenal actors were on point, as Sean and Julian prepared Dorothy for her breakdown, and Dotty finally let the tragedy of it all wash over her. Harrowing and heartbreaking all around.
SHRINKING, "Apology Tour" & "Boop", March 3rd & 10th, 2023, Actors: Jason Segel, Lukita Maxwell, Harrison Ford, Lily Rabe, The Scenes: Jimmy grounds Alice & The fight between Paul and Meg
Folie-Lex:
Jimmy grounds Alice. Alice's acting out and Jimmy's unwillingness to parent finally come to a head (thanks to some much needed coaxing from Paul earlier in the episode). Jimmy lays down the law and grounds a bratty and dismissive Alice. Speaking as someone who was getting quite tired of the kid's behaviour for the last few episodes, this was not only needed, but utterly cathartic as a viewer. Seeing Jimmy's satisfied face after Alice storms off, you gotta know he had to feel the exact same way.
Marko:
The fight between Paul and Meg. Not much has to be said when acting legends like Lily Rabe and Harrison Ford clash. The build up tension between Meg and Paul exploded just the way everyone expected it and it was just so good.
STATION 19, "Even Better Than the Real Thing", March 16th, 2023, Actors: Stefania Spampinato, Danielle Savre, The Scene: Maya takes care of Carina
Rianne:
The scene in the hotel bathroom where Maya took care of Carina. First of all, it felt sweet and natural. But it also showed Maya's growth over the past few episodes, putting someone else's needs before her own and she dared to be vulnerable about her feelings.
SUPERMAN AND LOIS, "Uncontrollable Forces", March 21st, 2023, Actors: Elizabeth Tulloch, Tyler Hoechlin, The Scene: Lois reveals that she has cancer
Justyna:
This show continues to be one of the best written and acted series currently on TV. And in this season, Clark and Lois face their most difficult challenge yet - the uncontrollable and devastating truth about Lois' cancer. The fact that we've started with the suspicion that she may be pregnant only for it to turn out to be such a painful hit instead made it even more difficult to watch. And this scene in particular is such a powerful and heartbreaking moment when we truly see Lois and Clark for exactly who they are. Lois is scared, for the first time talking about her diagnosis out loud, acknowledging it as her new reality, but facing it all the same, in an effort to save a life. There's a judge, ready to commit suicide, absolutely terrified and feeling completely alone, practically a stranger and yet Lois opens up to her and gives her the courage to keep fighting, even when she's breaking down herself. And then there's Superman. Poor Clark, almost frozen in the air, listening to the love of his life reveal that she has cancer, forced to stay in control, not showing any reaction until they're left alone on the roof. You can almost see the moment when his heart broke into a million pieces... When everyone else leaves, the pain really hits both Lois and Clark and their embrace says it all. Never before we've seen Superman so vulnerable and helpless as he is in this scene. Excellent writing and even better performances by both Elizabeth Tulloch and Tyler Hoechlin. Kudos!
Rianne:
While Lois is trying to talk the judge into stepping down from the ledge of a building, she tells her she just found out she has cancer, and at the same time Clark hears it for the first time, but has to wait before everyone is back inside before he can take her in his arms.
TED LASSO, "(I Don't Want to Go to) Chelsea", March 22nd, 2023, Actors: Jason Sudeikis, Brett Goldstein and more, The Scene: Locker room chaos
Folie-Lex:
As the locker room dissolved into absolute chaos with the overload of information and revelations, we got zingers, physical comedy, traditional slapstick and every person of this HUGE cast got their moment to shine. Nobody was left out or overshadowed, proving yet again that the strength of Ted Lasso relies on its ensemble as a whole. A sample of true masterpiece of comedy, this scene should be taught in comedy seminars and film schools at large for future generations to have an example of how to get it done right.
THE GOOD DOCTOR, "Old Friends", March 6th, 2023, Actors: Bria Samoné Henderson and more, The Scene: Jordan talks the patient into saving her life
Marko:
The Good Doctor's take on abortion and religion was a rough one this week. Faith can move mountains but this time faith almost cost a young woman her life. Jordan's sympathy and emotion as she convinced her patient that saving her life is more important at that moment was heartbreaking. Bria Henderson's best performance so far.
THE LAST OF US, "When We Are in Need", March 5th, 2023, Actors: Pedro Pascal, Bella Ramsey, Scott Shepherd, The Scenes: Ellie kills David & Ellie and Joel reunite
Justyna:
This moment is truly the culmination of Joel and Ellie's journey since the series premiere, the scene where they finally become the father and daughter duo we've been rooting for them to be. They've both been through so much pain, suffering and death, and yet they've found each other, and against all odds, became a family, after losing the people they've loved before. Following Ellie's absolutely horrifying experience with David and his group, and after brutally killing her attacker, she's in complete shock, barely present and broken. That's when Joel finds Ellie, covered in blood and freezing in the snow. It takes her a minute to process his presence, to stop being afraid and to realize that she's not alone anymore, that she's finally safe again and can stop fighting. The two of them embrace and Joel calls her "baby girl", the same phrase that he used to call his daughter, Sarah, before her death. Poor Ellie can only mutter gibberish as she sinks into Joel's arms. It's such a short scene and yet it means everything. Wonderful acting performance by both Pedro Pascal and Bella Ramsey. Kudos to the cast & crew for all their work!
Maria Sol:
Even though each episode of season 1 of The Last of Us has many moments that leave us surprised, I must say that this scene is definitely one of the most shocking and distressing, as we see Ellie unload on David all the anger and frustration she has been accumulating throughout the story (and her life) and later her reunion with Joel is quite emotional because, after all the chaos just experienced, comes the relief and security of being, at least in that moment, safe again.
THE NIGHT AGENT, "The Zookeeper", March 23rd, 2023, Actors: Gabriel Basso, Luciane Buchanan, Hong Chau, The Scene: Rose and Peter steal the info from the drive from Diane's office
Maria Sol:
The Night Agent is a series that never ceases to have moments of tension, but this one in particular seemed very well done, with the editing that took us from Peter's office, to Diane's and to the picnic area where Rose was. And although Rose and Peter apparently put together a pretty solid plan to get the information from the drive, during the whole scene I was doubting if they would achieve their goal, which they did, but Diane ended up discovering them, which I think made the scene more realistic.
WALKER: INDEPENDENCE, "Let Him Hang", March 2nd, 2023, Actors: Katherine McNamara, Greg Hovanessian and more, The Scene: The shootout
Folie-Lex:
The CW has been serving some marvellous old school Western tropes all season via Walker Indy. Giving us a traditional shootout felt almost like a "must"... and boy, did the show deliver!