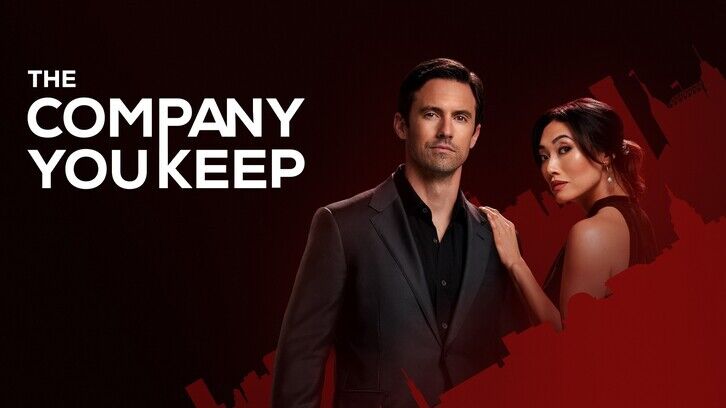 The stakes are getting higher on The Company You Keep, recently posing the question, "can you be in love with someone you're lying to?" The answer? Yes, but not without complications, or consequences.
In this review, as long winded as it may be, I talk about both episodes two and three of this new dynamite series. Let's dive into it!
Episode two, "A Sparkling Reputation," kicks off and we're right on the brink of another Nicoletti heist. Charlie and his family are up against a fast-ticking clock to steal back the money they owe Daphne Finch, who has the family on a short leash and who we later see meeting with Patrick Maguire in prison. But with the way that meeting goes, and as Emma later says while on a date with Charlie, mixing family and business is not always a good cocktail because...SPOILER ALERT! Daphne is Maguire's daughter. Or so they want us to believe.
I didn't see that one that coming, but it makes for an interesting twist if it's true, especially at the end of the hour for episode two when Charlie and his family find out Daphne's potential parentage. Just about everyone is carrying a secret; Charlie, Emma, even Emma's brother now as we later discover in episode three, so it's not all that surprising that our villain has one too.
This second episode is just as thrilling as the pilot though with high stakes, big lies, and a near run-in between Emma and Charlie while spying on Daphne that almost give each other and their secrets away. Emma and her team are onto Finch just as much as Charlie and his family are, and that makes for close quarters when you've got the CIA on one side and a family of con artists on the other. Somehow though, everything works out and neither of them get caught, by each other that is, but Emma gets played and made by Daphne who shares who she is with Maguire.
From a personal POV though, everything is shaping up nicely so far for Emma and Charlie. They have a date night, their first official that is, and it goes mostly well. The chemistry between these two is just as buzz worthy as when they first met. They make that awkward small talk that is none too fun on a first date, chatting about what they do for a living and where they went to college, but there's that crazy good eye thing they've got going on and things soon pick up. Flirty smiles, a little banter, and then they ditch dinner entirely and take things elsewhere because they can't seem to get enough of one another, and you can't exactly blame them. Until Emma's brother interrupts – his face that is – on a massive billboard, and then Charlie gets an urgent text message from his sister, so they decide to call it an early night.
But there is a bit more emotional turmoil for them later in the episode. They hook up again, and then they implode again too when Emma lets the words of her co-worker get to her. She tells Charlie this thing between them is nothing more than a physical attraction and that they're both on the rebound, that maybe things are moving a little too fast.
It's a classic cold feet scenario that is just too good and hits you right in the feels because they're once again being idiots when it's obvious they're down bad for one another, but I'm loving every single moment of it. I'm a real sucker for some good angst. It all works out by the end of the episode though. Emma calls Charlie to apologize in one of those moments that hurt, but in the best way. She lets him in, tells him it's not a rebound between them, but that it's scary how he can so easily see her in a way that no one else does or ever has.
Emma's hesitance with her relationship with Charlie gives us a good segue into her family life where we get another glimpse of who she is and how she came to be that way. She comes from a good family, but one that is a political dynasty, so she's no stranger to secrets and keeping your guard up. Especially when she has a Governor father, a Senator brother, and a mother who is all about image and status and seems to have a witty remark for just about anything, though I do like the sass she throws around.
But as much as I adore Mama Hill, I gotta say how much I love Daphne Finch even more. *raises hands defensively* I know, I know! She's blackmailing and threatening the Nicolettis and she's this horribly manipulative villain. I get it, okay? But she's one of those villains that is just so damn good. You love to hate her and hate to love her, and Felisha Terrell, who portrays her, continues to smash it out of the park with the character. I'm kinda hoping that just maybe Daphne won't stay the bad gal for too long though, or maybe she will because she is that good at it, but I could see her coming to a fork in the road later this season and having to make a tough choice, or maybe not so tough depending on the circumstances.
She has an obvious relatability to Birdie and Ollie, even more so now with the introduction of Simon — Birdie's ex and Ollie's father — and though I'm sure the intent is to make Daphne seem maleficent early on, I can't stop thinking about that potential fork in the road for her. Things will go sideways once the Maguire guys find out everything that's going on and the truth is finally revealed, that much I'm certain of, but I could see them making a bold move — maybe kidnapping Birdie or even Ollie as leverage? Which leads to Daphne teaming up with the Nicolettis in another twist we won't see coming?



As Daphne said to Birdie in ep. 2, "My mother used to say the only thing more dangerous than a man with nothing to lose is a single mom with everything to prove." It seemed like a moment of understanding between the two to me, maybe a nod of respect by Daphne to Birdie. I'm not so sure that Patrick knows Daphne is his daughter yet, if she really is, but I'm certain the whole dynamic is going to play a much larger role than we suspect later this season.
Either way, I want Daphne to stick around for a while, maybe forever. It's such a thrill watching her with her cunning charm and sassy attitude, and how she weirdly fits in so well with Charlie and the others. She just makes this show even more fun than it already is. And I'm pretty sure we all saw the way she seemed somewhat terrified of Maguire's son in episode three.
Connor Maguire would be her brother if she is in fact Patrick's kid, but there's something about him, maybe some scheme Daphne is trying to pull — my gut is telling me it could be possible revenge for her mother in some way — a scheme that she most definitely doesn't want him privy to, but of course, Charlie catches onto her panic and uses it to his advantage. He calls Connor and spills the beans on Daphne being his sister and what she's been up to with his drug enterprise, and as you could guess, his reaction isn't exactly a happy one. I'm sure he'll be making his appearance in the States soon and I'm really looking forward to seeing how that plays out. *cue maniacal laughter*
The theme of this show is very obviously about trust and lies, and even more so in episode three, perfectly titled "Against All Odds," where we see it unfold in a similar way to episode two with the Nicoletti family and their new con.
Family "friend" – let's use that term loosely – and fellow con artist, Jones Malone, is pulling a fast one on an innocent woman named Martha Pope who he's in a relationship with, but not for the right reasons. He plays her and makes her think they're gonna get married all so he can steal her money, but his plan ultimately backfires. Because as "bad" as the Nicolettis might be and as often as they break the law, they don't hurt good people. So, they flip the tables, pull Martha in on their heist, and steal Malone's money instead.
The whole thing is a good sentiment to the Nicolettis and the way they run things, how they are inherently good people when it comes down to it, but Malone isn't the only one lying to someone he's involved with, even though his lies were intentional. It all hits a little too close to home for Charlie. He's dating Emma but lying to her while falling in love with her. She's meeting his family and he's about to meet hers in the next episode.
In the beginning of this episode, Charlie asks his friend, who might just be the most attractive priest I've ever seen, "Can you be in love with someone you're lying to?" And the good priest counters with, "Why you lying to somebody you love?" He's got a good point, but as cut and dry as the truth may be in this situation, it isn't all that black and white. Charlie wasn't planning for Emma, didn't see her coming. He'd just had his heart crushed by Tina, was wallowing in self-deprecation and anger. He certainly wasn't expecting to meet someone else so soon who would completely turn his world upside down. But that's how it usually happens, isn't it?
Charlie and Emma's fast burn relationship is hot and intense, but it's also really real. As real as it can be anyway when both parties are lying about who they are, but it's one of those connections that hits hard and when you least expect it. It's overwhelming. Not knowing which end is up, which is down, and it's even harder to compartmentalize just exactly what it is and what it means and the too many, too heavy emotions that tend to come with it.
With each episode that comes and goes, we end up more entranced, more shocked, more curious and with the ending of this last one, we're left with even more questions:
Who is Claire Fox and what is David about to get himself into? Will we meet Simon and if so, what will his role in all of this be? Why does Daphne seem terrified of Connor? How long can Charlie and Emma keep up their charade of not knowing the truth about one another? How far will the lies go until it all blows up in everyone's faces? How will they deal with the aftermath?
It does say a lot – of good things – about the writing behind this show when we're only three episodes in and I've become as invested as I have in these characters already. It's not often that a television show pulls me in right from the jump these days. I usually stick to watching old favorites and bingeing through series that have long since ended. I know what happens and I know what to expect, and because of that, I can't get my heart broken the same way as the first time I watched. But The Company You Keep has sunk its hooks into me and reeled me in, and I find myself excited for what's coming even if I have no clue what to expect and even if it could potentially be painful.
This show is fun and fresh, and these characters and the stories they're telling are gripping, relatable, and honest. If you're not watching yet, what the hell are you waiting for?
Things worth noting:
- The montages of Emma and Charlie being cute with moments in bed and dancing and sharing sweet kisses are ruining me. I need more ASAP.
- One of the things that I think is sorely underrated on this show is the sibling relationships and family dynamics. There are moments where I feel like I'm watching a scene with my own family play out on screen. The writing is too good and so relatable.
- I think I can speak for everyone when I say no one would be mad if every episode of this series were to open with a sweaty Milo Ventimiglia playing basketball.
- Ollie is the CUTEST and wicked smart and observant. I also need to give a big shoutout to this show for the ASL inclusivity because it is everything.
- "Big Gemini energy" is too accurate of a statement.
- Daphne is a bad b**** and I'm in love with her.
- Emma meeting Charlie's family? Top tier content. Loved it. Want more. Charlie meeting Emma's family in the next episode? Eh, I'm a little nervous about that one.
- Someone's gotta say it: Connor Maguire is HOT. Not one, but TWO beautiful, Irish men on this show? How did we get so lucky?
- I haven't met her yet, no idea who she is, but I don't trust Claire Fox.
- "Turns out my son does know how to pick a winner." *instant squealing*
- Have I mentioned how much I love Daphne Finch?
- The ending of 1x03 made me giggle because Charlie definitely got scooped up by the CIA to vet him for Emma which means we're one step closer to complete and utter chaos breaking out and I'm so here for it.
What's your take on The Company You Keep so far? Like it? Love it? Somewhere in between? Drop a comment and let us know!
The Company You Keep returns with new episodes on March 19th. The series airs Sundays on ABC with next day streaming on Hulu.