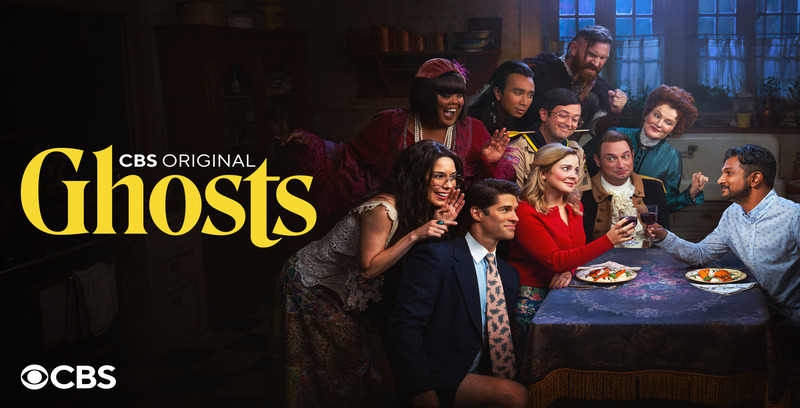 Ghosts is back. Huzzah!

After a two-week break, the show returns strongly with Isaac's legacy on the line. Sam attempts to get his side of the story during "the room where it happened" out to a publisher, but the publisher laughs in her face, given that this book wouldn't be nearly as compelling as Hamilton's story. Naturally, Sam doesn't have the heart to break this news to Isaac and instead tells him...that the book will be published.

Maybe this will be an unpopular opinion, but I have to say, I was definitely Team Sam on this at the beginning. Telling Isaac that his story is going to be published (a million copies, no less) seemed extremely harmless. He would never have to know the truth, in theory, so where's the harm? One of the highlights of this episode is watching Sam and Jay have an intimate chat in the car away from the premise so that the ghosts can't reach. These moments are so genuine and rare for a show that is usually much more interested in Sam's dynamic with the ghosts; I also appreciated the fact that they switched out who was in the driver's seat. Cute little detail.

It becomes clear halfway through the episode that the writers do not intend for this to be a victimless, harmless win, especially with the appearance of Isabel, a colleague of Sam from journalism school. Isabel is immediately unlikable in her bragginess and the way she buries Sam and Jay in chores, but things get significantly worse when the ghosts use Sam's computer to post on her Facebook about this alleged book deal. Who still uses Facebook, Samantha?

Elsewhere, Pete helps Thor manage his anger issues so that his relationship with Flower isn't jeoporaized. This brings us one of the funniest scenes of the episode with Sasappis and Alberta pushing Thor to the limits with Sasappis revealing that he watched another episode of the trashy reality show without him while Alberta tears down his love for bland cod (which I 100% agree with and I'm ready to fight in the comments). This, alongside Isabel's husband, a giant Danish guy, threatens Thor's ability to "take it". These scenes provide a real showcase for Devan Chandler Long and Richie Moriarty as Thor and Pete respectively as they show their wide range in comedy. If anything, this subplot also proves why Flower and Thor are such a strong pairing after all when she reveals that she just wants him to be himself after all; it's a huge "aww" moment that makes me root for this couple now more than ever.

At this moment, Isaac's Book becomes so much more than just an episode where Sam finds herself in ghost trouble again. It's the way these storylines merge thematically that has me considering this one of the show's strongest episode to date without a doubt; Sam's one-on-one with Isaac about him not needing to have a book written about him to be a significant person is a perfect metaphor for this week overall. Much like Thor doesn't need to become Pete in order for Flower to stay with him or Sam needs to have a book coming out to prove that she is just as good as Isabel, Isaac comes to the realization that he is "somebody" with or without the acclaim that Hamilton got. This encounter is fittingly emotional and beautifully performed by Rose McIver and Brandon Scott Jones, the latter of whom is becoming one of my favorite actors lately.

Despite the big speech, the publisher conveniently messages Sam again and declares they want to publish Isaac's book after all. It's a classic sitcom-y ending that is otherwise unneeded, but surely doesn't negate the character development that led up to it. It's also worth noting that the use of music in this scene brilliantly foreshadows the tender moment between Sam and Isaac, and it's a welcome surprise. I haven't been as vocal about the music on Ghosts, but it most certainly deserves the credit.

Speaking of foreshadowing, I was wondering who was going to be the first among the ghosts to find out about Trevor and Hetty. While I certainly didn't expect it to be Nigel and Nancy, I am excited about the potential this will bring for Nigel and Hetty's dynamic. Otherwise, it was delightfully entertaining to watch our misfit couple (if they're calling themselves that) navigate the world where they are pretending they're not "doing it", a subplot that gave me early Season 5 Monica and Chandler vibes from Friends in every way. Here's hoping that's not all done now!

Another strong outing from an incredibly solid sophomore season, packed with laughs and delicate moments and uses the entire cast almost as perfectly as we could have hoped for. Yes, I'm ready to call this episode one of my favorites already.

Scary Delights From the B&B:

Sam: This country was built by regular people.
Sasappis: Important white guys, mediocre white guys...

Trevor: So you want me to hit on Sam, your great-great-grandniece?
Hetty: Precisely, but don't be too gross about it.

Alberta: I mean, he was tough to be around before, but this is unbearable.

Pete: Once again, I'm not gonna be your third, even if it means just watching.

Pete: Rome wasn't built in a day. It took me years to lose a backbone.

Isaac: Sweet, sweet external validation! We're somebody again!

Sam: I'm gonna post about it on Instagram and accidentally tag Isabel!


- Don't forget to sound off your thoughts in the comments below!