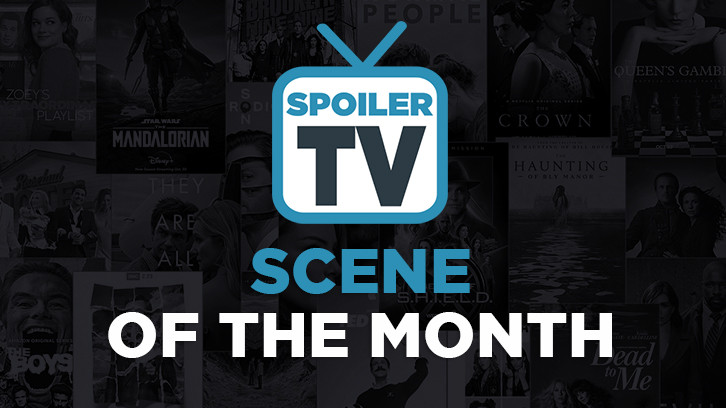 A monthly feature in which we're trying to find the most compelling, best acted, written, directed and just generally great, memorable scenes that we've seen in the past month.
1923, "The War Has Come Home", January 1st, 2023, Actors: Brandon Sklenar, Julia Schlaepfer, The Scene: Spencer and Alexandra deal with the lions in a tree
DarthLocke:
Just wow! I'm not the biggest Yellowstone fan, but I absolutely loved 1883 and consider it one of the best westerns I have ever seen! I wasn't really expecting 1923 to be equally as good. While the Spencer storyline definitely gives me Out of Africa & Lions in the Darkness vibes, I also love how these two characters seem to manifest the previous Duttons, most notably James and Elsa and that echo that has me the most intrigued and dedicated to these characters. I chose this scene because it went from pleasantly chatty and romantic to extremely terrifying.


CHICAGO MED, "We All Know What They Say About Assumptions", January 18th, 2023, Actors: Jessy Schram and more, The Scene: Hannah fights for her patients
Lexi:
The scene where she's fighting for her patients against Jack Dayton to enroll in a program that would've helped them if they had a visit from a postpartum care nurse.
CHICAGO PD, "I Can Let You Go", January 18th, 2023, Actors: Tracy Spiridakos, Jefferson White, LaRoyce Hawkins and more, The Scenes: The ending scene between Hailey and Sean & Kevin and his dad have a conversation about their past

Morgan:
Their interactions in the final scene were intense, honest and raw to such a point you can feel Hailey's defeat and Sean's disappointment. It was such a perfect ending for the hero versus villain arc that was built up in this storyline because it was almost like Hailey lost in a way. Sean's last words to her about her speech being good, but said to the wrong person and Hailey's immediate look of realization and then disappointment because he got her again. There's been a constant power struggle between these two since day one that has been so good to watch play out and that has been done well through the end.
Lexi:
The final scene where Kevin and his dad finally have a conversation about his dad's absence due to being in prison. It was an emotional scene and you could feel Kevin's pain through the screen.
Rianne:
The ending scene where Kevin and his dad had the conversation about their past. It was powerful, emotional and really got through.
COPENHAGEN COWBOY, "Miu the Mysterious", January 5th, 2023, Actors: Valentina Dejanovic and more, The Scene: Cimona escapes
Milo:
This kind of weird show is the kind of show where men squeal like a pig whilst getting beaten by a pimp, and you'd be fine with it happening because it fits the mood of Refn almost to the point of parody - but the moment of euphoria with Cimona escaping; even if it's a short-lived escape, is triumphant - thanks to the memorable score from Peter Peter - I Promise, creating an instant mood piece. This is my favourite "new to me" 2023 show of the year so far - and I loved its complete commitment to the craft.


CRIMINAL MINDS, "What Doesn't Kill Us", January 29th, 2023, Actors: Kirsten Vangsness, Paget Brewster, The Scene: Penelope tells Emily that she kissed Tyler
Rianne:
The scene where Penelope tells Emily that she kissed Tyler Green, their material witness.
DOOM PATROL, "Hope Patrol", January 5th, 2023, Actors: Diane Guerrero, Brendan Fraser and Riley Shanahan, The Scene: Cliff holds Jane's hand
Justyna:
In one of the craziest shows I've ever seen, it's still the character centric moments that get me the most. The relationship between Cliff and Jane is such a complex one, but whenever their friendship is at the center of attention, both characters often shine the brightest. When Jane is struggling and believes herself to be unworthy of anyone's love and affection, Cliff proves that she's not alone and she's most certainly already loved, and there's nothing she can do about it. He shows up in her room to apologize for his earlier behavior but upon realizing how much she needs his support, he takes off the oven mitt and reaches out to hold her hand. It's a sweet and comforting gesture, but it's so much more meaningful if you know just how much it meant for Cliff to hold his granddaughter first (with his new sense of touch). He doesn't count his earlier failures, but he knowingly changes his plan in order to help Jane and show her just how important she is to him. One of my favorite moments between these two. Also a shout-out to Diane Guerrero for another wonderful performance. Kudos!


EXTRAORDINARY, "Have Nots", January 25th, 2023, Actors: Máiréad Tyers, Sofia Oxenham, The Scene: Jen comes home with the ending reveal
Milo:
Jen comes home with the ending reveal that her dad is dead; he is talking to her through Carrie. This pilot really caught me by surprise and the show grabbed my attention completely - the lighter, funnier side of the comedy was supplemented by the emotional depth and weight that it needed to emerge from good to great television.
GINNY & GEORGIA, "A Very Merry Ginny & Georgia Christmas Special", January 5th, 2023, Actors: Brianne Howey, Antonia Gentry, The Scene: The ending scene between Ginny and Georgia
Allie:
Although it was a Christmas episode, the two main characters still dealt with very emotional storylines. The whole episode led up to this moment, as it showed the strained relationship between the mother / daughter duo. When Georgia found Ginny's therapy journal, she learned that her daughter was going to therapy without her knowledge and that she was also engaging in self-harm. This led to a powerful moment between Ginny & Georgia. When Georgia confronts her daughter on Christmas Day, the episode ends with both in tears and holding onto each other. It's a turning point in their relationship and provides a better view on who Georgia is as a mother.


HAPPY VALLEY, "Episode One" & "Episode Four", January 1st & 22nd, 2023, Actors: Sarah Lancashire, James Norton, The Scenes: The opening scene & Royce escapes from the court
Milo:
Happy Valley is back and what an introduction after all this time - a police car speeding through the rain, "it's a microwave this time." "oh, he's diversifying" the strong wit is really good - and Lancashire is one of the best actors in the TV business. In fairness; it's the only episode of the season that I've seen so far; but plan on rectifying that by the time the article goes live - but as a way to welcome us back into the world; they couldn't have picked a better one.
DarkUFO:
Tommy Lee Royce escapes from the court.


HOME ECONOMICS, "Limited Edition Boom Boom Dojo JollyBot, $45.99", January 11th, 2023, Actors: Sasheer Zamata and more, The Scene: Denise scams people out of the line
Marko:
Sasheer Zamata was a menance this episode. A brilliant performance through the episode peaked with her scamming all the people out of the line. Home economics is highly underrated and performances like this deserve more recognition.


HOW I MET YOUR FATHER, "Cool and Chill", January 24th, 2023, Actors: Hilary Duff, Daniel Augustin, The Scene: Sophie talks to Ian
Marko:
HIMYF returned in great fashion and Hilary delivered big in the premiere. Sophie is a bit of a mess but the way she seeks love is beautiful and heartwarming. The way she opened up to Ian was honest and powerful. So happy this season has 20 episodes, should be one hell of a ride.
MAYFAIR WITCHES, "Second Line", January 22nd, 2023, Actors: Alexandra Daddario, Tongayi Chirisa, Jack Huston, The Scenes: Rowan is swept away during a street funeral procession & Rowan and Sip connect
DarthLocke:
Rowan is swept away during a street funeral procession. It was hard to choose a scene, as there were quite a few good, scary and horrific scenes that I almost picked, but I chose this particular one, because I feel like it showcases the essence of Anne Rice's works and the reality she found her characters in, as New Orleans itself is often its own character as it is in this scene. I also think it highlights such wonderful casting, as you can really feel the magnetism between the leads, and Lasher's overall seduction.
Marko:
Rowan and Sip connect. Rowan's journey over the first 3 episodes of the season were filled with pain and fear, her being able to trust Sip was delicately handled and both actors brought the perfect dose of vulnerability and strength to the scene as Rowan allowed Sip to look into her deepest fears and hopes.
SO HELP ME TODD, "Side Effects May Include Murder", January 12th, 2023, Actors: Marcia Gay Harden, Madeline Wise, The Scene: Alison practises her defence with Margaret
Folielex:
So Help Me Todd has been building on putting the mother/daughter dynamic on the spot all season and in episode 11, in what proves to be yet another excellent family scene of this show, it finally dives right in. A frustrated and suppressed Alison snarkily reads the letter Margaret urged her to write as her defence after her arrest. She keeps most of her pent-up emotions in check but a lot is coming through the cracks, as Margaret's doubling down on her stance instead of listening to what her daughter is trying to say only makes things worse. It all ends with the two women in a fight.


STAR WARS: THE BAD BATCH, "Entombed", January 25th, 2023, Voiced by: Wanda Sykes, Dee Bradley Baker, Michelle Ang and more, The Scene: Phee puts the crystal back
DarthLocke:
I'm really enjoying the whole season so far, as it feels deeper and richer than the freshman season. But this whole episode is an early favorite with an Indiana Jones-like setup, pre-Jedi mythology, perhaps a nod to Dark Horizon and some anime, while Wanda Sykes delightfully brings Phee to life with an ever enduring, if not dangerous optimism. Phee really shines in this episode, but what I think makes the character really great is that she has the courage of her convictions. So if she has to let go of treasure to save hers and others' lives, she will spring into action and just do it!


THAT '90s SHOW, "That '90s Pilot", January 19th, 2023, Actors: Ashton Kutcher, Mila Kunis
The Scene: Kelso and Jackie appear
Marko:
I just lmao. The introduction of Kelso as Jay's father was hilarious and his interaction with Reed was priceless. The boomers made The 90s watchable and funny. Kudos to them.
THE GOOD DOCTOR, "Quiet and Loud", January 23rd, 2023, Actors: Freddie Highmore, Paige Spara and more, The Scene: Shaun celebrates good news with his family
Raquel:
Shaun learns that Lea and their baby are fine and celebrates with his family. This scene is one of the most emotional on the show because it shows how far we've come with these characters, how much they've matured. Nobody wanted to have Shaun in the hospital, Glassman put his position at the hospital on the table so they would give him a chance and now they are all there, supporting him, because Shaun became their friend, part of their family. I'm sobbing just thinking about it!


THE L WORD: GENERATION Q, "Looking Ahead", January 22nd, 2023, Actors: Jennifer Beals, Laurel Holloman, The Scene: The wedding
Alejandra:
Need I say more than that this could be the most awaited comeback we have been longing for so long. Ever since last season's cliffhanger with Bette and Tina and the whole "will they/won't they" for most of that season, and they're finally getting back together. The culmination of their story, or what feels like that on our screens, in a way, was one of the only moments of joy from season 3 for me.
THE LAST OF US, "When You're Lost in the Darkness" & "Infected" & "Long, Long Time", January 15th, 22nd & 29th, 2023, Actors: Pedro Pascal, John Hannah, Christine Hakim, Nick Offerman and more, The Scenes: The opening talk show scene & Dr. Ratna advises the government to bomb Jakarta & Sarah's death & Bill and Frank's final day montage
Justyna:
This show continues to surprise and amaze me with each episode. It's also such an emotional and heartbreaking experience. I could name a number of scenes from every single hour so far that absolutely deserve a highlight in the article and I'm glad to see a few of them already named below. From my side, I wanted to add the opening of the second episode, more specifically the final moment of it when Dr. Ratna attempts to assess the severity of the situation and offer the solution to prevent the further spread of the cordyceps fungus. Step by step, she carefully asks the crucial questions about the source of the infected, what steps were already taken by the authorities, are all infected accounted for and more. With every answer given by the soldier, she tries to remain calm and collected, even though her hands are visibly shaking and her heart must be breaking with the realization of the truth. Lieutenant-General Agus Hidayat still remains hopeful, waiting for a recommendation from the professor, a way to move forward. And then comes the brutal honesty. Ratna Pertiwi, a mycology professor and an expert in her field, says that there is no cure or medicine, no way to stop the infection, no vaccine to prevent the spread. The only course of action she can recommend is to start bombing... their own city. Not even to "fix" the situation, but as the only way to even slow down the fungus from reaching the rest of the world. Her only request to the soldiers is for them to allow her to come back home, so that she can spend the last moments of her life with her loved ones. It's a tragedy that feels almost impossible to process for the rest of us. The human instinct is generally to run or fight, to try to escape the infection and save the people you love, but Dr. Ratna shows an incredible strength in her quiet and brutal statement. I can't imagine having to make a decision even remotely close to this one, so watching this scene left me shocked and deeply moved. Wonderful performance by Christine Hakim and the rest of the cast. Kudos!
Bradley:
Bill and Frank's final day montage. I watched the final 25 minutes of "Long, Long Time" through teary eyes and it all stems from - well, two things. First, the mesmerising portrayal of the two characters, Bill and Frank (ostensibly minor characters in the video game, and minor here as single-episode characters but major in impact) by Offerman and Bartlett, who, throughout the episode, ensure you fall in love with these two opposite personalities just as they fell in love with each other. Second, the beautiful, heart-breaking sequence in which Frank, suffering from an unspecified neurological disease, decides it will be his last day alive. The raw, ugly emotion of Offerman, largely playing a more emotive, gay version of Ron Swanson, devastatingly leads this: his despair and desperation at the thought of losing his lover played against Bartlett's bittersweet contentment. Invoking Max Richter's "On The Nature Of Daylight" feels almost cruel; another gut-punch after 12 rounds in the ring. But there can be no better accompaniment to their last hours together, the montage cutting wonderfully between their trip to the boutique, their at-home wedding, and their final dinner in which Bill admits to suicide-by-pill. That they can even share a laugh amid the pain at the end makes the scene even more achingly sad, but it's a perfect end: for everyone else, the world ended in 2003; for Bill, it began three years later and ends in his dining room.
DarkUFO:
The opening talk show scene.
Chloe:
Sarah's death. If possible, this scene hit harder than the original game sequence purely because we spent more time getting to know Sarah before the tragedy struck. It helped to make her death scene that more powerful and Pascal and Parker conveyed all of the pain and grief that has resonated with the audience for years and made it that much more potent and raw in the process. It's this kind of faithfulness to the games which has helped the show to become so quickly beloved but the little acting choices by Pascal, Parker and Luna show how much care has been put into each character to make them their own. Sarah's death is a pivotal changing moment for Joel, paving the way for his bond with Ellie and Pascal perfectly portrays the shock of losing a child so suddenly and brutally.
THE MOSQUITO COAST, "Eulogy", January 6th, 2023, Actors: Ariyon Bakare, Gabriel Bateman, Justin Theroux and more, The Scene: Richard is shot and Allie saves his son
DarthLocke:
Richard is shot, Allie then saves Charlie. While the season two finale was good, it was good for a lot of wrong reasons, as characters mostly didn't behave like themselves, some things happened too conveniently, and even I think Richard dying in front of Charlie was a bit predictable. But the scene itself and the way Richard shined through as a character, while Allie saves his son and grabbing the cash was done so well and just gives credence to the complexity of who Allie really is and to his anti-capitalist philosophy.
THE ROOKIE, "The List", January 3rd, 2023, Actors: Melissa O'Neil, Eric Winter, The Scene: Lucy and Tim have their first real date at the food truck
bwhitley85:
Look, I know I keep nominating Chenford scenes and I am not sorry. Lucy and Tim tried a formal first date, but it didn't work and by episode's end we found them in a much more comfortable place at the food truck with all the 'first date jitters' washed away. They were themselves and it was perfect. I also loved that Lucy joked about their future grandkids and it almost made Tim giddy, but I would be remiss if I didn't mention their first 'real' kiss which was initiated by Tim and that was huge as any Chenford fan knows! These two are amazing together and I hope the show sees the magic in the payoff they've given us.
Cristina13:
The love between Lucy and Tim has been slow burning since season 1, episode 1. Finally, after 5 seasons and so many will they/won't they moments, Tim and Lucy let their guards down, admit their feelings to one another and have their first date. The moment was everything fans hoped it would be. Tender, raw, real and filled with so much longing and excitement. After a failed attempt at the most romantic restaurant in LA earlier in the episode, the two ended up at a food truck in this scene. They realized they don't need to be anywhere special, they just need to be together. Everything about the scene was gold, right down to the small round table that Lucy and Tim sat at, which allowed them to be close and felt so intimate. A normally stoic Tim finally let his guard down, and even forfeited arresting a would be car thief to maintain this moment with Lucy. They had waited so long, nothing was going to ruin this for them. Lucy joked about grandkids, which Tim joined in on, highlighting the bond that these two have and how much love already exists between them. Even though this is their first date, they are already so far along in their relationship that they are comfortable implying that they are it for each other. At the end of the scene, the two finally shared their first real kiss. It was tender, romantic and you could feel the sparks flying between them during this moment that both characters had been waiting on for so long. You could "literally" hear the viewers screaming "finally!" at their TV sets. This moment was everything viewers hoped it would be and more. Chenford is finally canon and I'm here for it.


THE WINCHESTERS, "Hang on to Your Life", January 24th, 2023, Actors: Meg Donnelly, Tom Welling, The Scene: Mary confronts Samuel
Marko:
Tom was very well cast in the role of Samuel. Him opening up about the damage he caused to his own daughter came from the heart and Tom brought all the right emotions.
WALKER: INDEPENDENCE, "All In", January 26th, 2023, Actors: Katherine McNamara, Greg Hovanessian, Justin Johnson Cortez and more, The Scenes: Abby and Tom sleep together & Nascha tells Calian her story
bwhitley85:
Abby and Tom sleep together. I am not nominating this from a shipper's POV, I am nominating it because the show took the bold move of going there. We still don't know what Tom's involvement in Liam's death is, but this adds so much more gray to an already complex character situation and it is so intriguing! As the show has gone on, it is obvious that Tom has many more layers than just being the cut and dry villain, and now the show is playing into that and I appreciate the willingness to keep the audience on their toes in a very interesting way.
Folielex:
Nascha tells Calian her story. After the years long search for his lost sister finally comes to an end, Nascha quietly recounts her life story to her estranged brother. For Calian it is a sad story of displacement and assimilation, but for Nascha it is merely her life... one she seems pretty content with, even if it has come at the cost of losing her brother. It is a bittersweet ending to Calian's quest, knowing his sister is well and alive but still as lost to him as before.
WILLOW, "Beyond the Shattered Sea", January 4th, 2023, Actors: Warwick Davis, Ellie Bamber, Tony Revolori and more, The Scene: The training montage
Justyna:
This was such a fun season. It may not be the best show in the world (which is perfectly okay), but it's truly enjoyable and entertaining and I'd love to see more of it. I think that episode 7 was probably my favorite one so far and I was glad to see the growth in all the characters as they approach the end of their rescue mission. There's several moments that would stand out during this hour, but the one that stayed with me the longest is the training montage. Between Elora and Willow, Kit and Jade, and Elora and Graydon duos, everyone has truly upped their game, preparing for the upcoming fight. You can see the determination and strength in all the characters, especially clear with the shift in Elora, as we watch their growing skills with the time passing by. The montage is also visually stunning. The gorgeous views, the music, the editing - everything fits perfectly together. The Shattered Sea was such a beautiful location and the fantastic setting for the magical training sequences. Kudos to cast & crew for all their great work on the series!