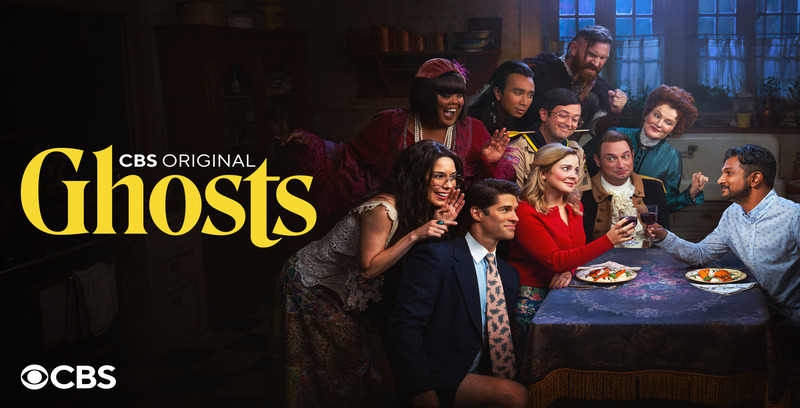 The first half of Ghost Hunter gave us some of the best Ghosts scenes yet. It was full of high stakes, drama, incredible punchlines, and a really good mystery.

Sam and Jay's assistant, Freddie, goes ghost-hunting after he starts hearing ethereal humming sounds and sees the keyboard on the laptop getting pressed "magically" through the security footage. It's a perfectly amusing premise for a show that doesn't usually offer a lot of "regular non-ghosts believing" humans, and the possibilities were truly endless. His relentless hunting leads him to purchase a Ghost Trap, which appears to be nothing more than a toy suitable for babies aged two and under. Or is it? *insert Alberta's humming sounds here*

Above anything else, Ghost Hunter shifts the focus back to its two main leads: Sam and Jay. It's refreshing and pleasantly fun to watch them do everything they can to stop Freddie from discovering the truth about the ghosts, and things get (unsurprisingly) progressively worse when Thor and Flower get stuck in the actual Ghost Trap. There's a fine line between science fiction and reality that Ghosts has never been too scared to cross before, but this episode takes it to a whole other level as it traps two of its ghosts (later three when Pete makes a sacrificial jump) inside a machine. I'm all here for more out-of-ordinary, high-stakes shenanigans like this.

The fun of Ghost Hunter came in the form of all of our ghosts (Sass excluded as he was busy with his new girlfriend) swarmed around the ghost trap, taking sniffs off a cookie, trying to figure out whether it was real or not. It's the kind of absurd, hilarious yet mysterious scene that I wish this show did more of as opposed to splitting the ensemble cast into subplots, especially after Jay walks in and eats the cookie atop the machine, unbeknownst that Thor just got trapped away, leaving the other ghosts screaming and crying. Every ghost gets a chance to shine thanks to a tight script and exceptional actors, but I'd be remiss not to (once again) share my love for everything Rebecca Wisocky does or says. She's just that phenomenal.

There wasn't a doubt in my mind that Thor, Flower and Pete would all be saved by episode's end (mainly because it's not time yet for the Big Suck!), but I do love that the episode packs in a bunch of hilarious one-liners and zingers as it raises the stakes. Unfortunately, I felt like the second half of the episode pulls the rug far too abruptly, first with the reveal that Freddie is leaving. His presence, while not always the funniest, added an entirely new and original dynamic to the show, especially with the ghosts struggling to accept another living being taking Sam's time away from them. In addition, I feel like there was potential for Freddie and Jay to get to know each other on a much deeper, nerdier level than the writers were willing to explore; if he ever returns, I sure do hope the show decides to give the character an opportunity to come to life--maybe even have Sam reveal that she can see ghosts.

While I am also undoubtedly sad to see Jessica leave, her relationship with Sass never truly materialized into something deep. Much like Freddie, I found her to be a clever new addition to the show, especially with all the world-building surrounding her inability to enter the house. For a second, I truly thought the show was going to have her get sucked into the ghost trap in an attempt to break the car curse and blend her in with the rest of the ghosts. Here's hoping she makes a return sooner rather than later (and something about Sass' final look has me hopeful)!

Overall, another solid episode in a season that's been nothing short of entertaining and hilarious.

Ghostly Delights from the B&B:

- Kudos for that cold open with the episode cutting to the intro song right as Freddie was about to say the word "ghosts".

- Freddie: It started with these strange, almost ethereal humming sounds I would hear every now and then.
Flower: I think he's talking about you, Alberta!
Freddie: It was a like a singer warming up but kind of off-key.
Alberta: The hell it was!

- Hetty: What a strange toy for a toddler. I mean, what's wrong with a simple stuffed raven or a good old-fashioned lead rattle? Am I right? Parents these days.

- Hetty: Just go speak with him. Yes, you'll look foolish, but that's nothing new. Bite the bullet.
Isaac: Oh, you know that expression came from my era. We had to literally bite bullets during surgery because we lacked anesthesia.
Flower: And how did that work out?
Isaac: Mm, sort of depended on how good your barber was.

- Sass: I can ask Sam to take you for a spin every now and then.
Jessica: Like I'm a dog she's taking on a walk.
Sass: No, I'm not saying it's gonna be like a twice-a-day thing that a dog would get.
Jessica: So, it's less good than a dog...my situation?

- Hetty: And now one more of us is gonna die so that Jay feels heard.

- Thor: If Thor must go, happy to at least spend final moments with Flower.
Flower: Aw, that's nice. I like when you say stuff like that. Moreso than when you talk about dismembering Danish people.
Thor: Thor have many sides. Thor very well-rounded.