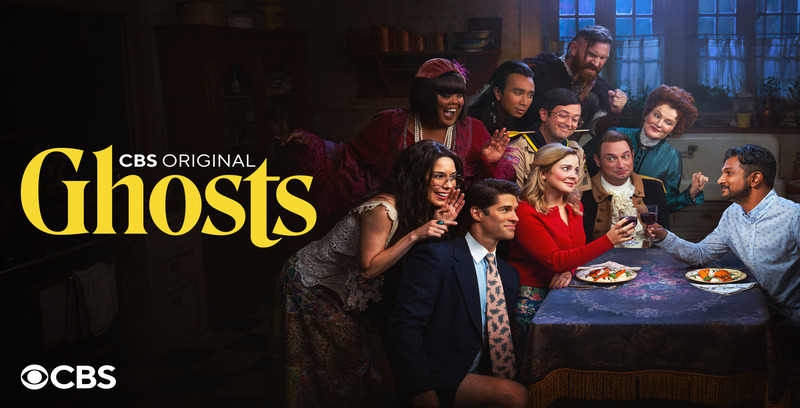 Love is in the air on this week's episode of Ghosts. Thor and Flower go on their first ever date...twice. It may have made Sam and Jay reluctantly postpone their plans to accommodate the lovebird ghosts, but at least both first dates end with a kiss!

The main storyline has a whole lot of heart...and testicles. There's something beautifully charming about the fast-paced almost montage-like scene depicting Thor and Flower's first date. From the awkward food--testicles, which Jay is forced to taste (poor Jay!)--to the uncomfortable dinner stories, Pete's improv and of course Alberta's immaculate performance, these scenes have a fantastic flow to them. It's easy to forget you're watching a 20-minute network TV show sometimes when you have a well-oiled machine like Ghosts, and that's exactly what A Date to Remember evoked in me: the realization that everything about this show, from its incredibly talented cast to its hilarious crew of writers, oozes entertainment in the best way possible.

Of course, entertainment can also come in the form of tears, as it often does on this show. While Flower's story didn't quite move me as previous character-centric episodes have (and that's partly due to me never getting as attached to Flower as I probably should have by now), there's no denying that her story about pretending to forget about Thor's date was a ruse to keep herself from getting hurt again. The flashbacks to her sitting by her ex-boyfriend in a hospital room is absolutely gut-wrenching; for a show that spends more than 95% of its time in the mansion, there's something charming yet excruciating about seeing the ghosts in their previous lives, remembering all the things that led them to where they are today, emotionally and otherwise.

While I'm not as invested in Thor and Flower, I was still touched by their cute date, especially as Thor desperately attempts to recreate it when he thinks Flower has forgotten all about it the next day. It's very Groundhog's Day mixed with a Valentine's Day vibe, and their chemistry is further electrified by the flickering lights in the hallway. Fantastic little detail!

Elsewhere, to a subplot that I found just as much (if not more) entertaining, to celebrate moving into the mansion with Isaac, Nigel decides to throw a little tea-party. Of course, being not the absolute first to be invited, Hetty is thrown off her power horse (would that be a washing machine in her case?). The result is another set of amusing little scenes also filmed as a montage where Hetty gets all the other ghosts to attend a party of her own, conveniently as the same time as Nigel's event, and even including a certain basement ghost.
Personally, I couldn't tell where this subplot was going and would have been just as amused and satisfied with it being a one-off hilarious afterthought. However, I was more than impressed that it opened Hetty up about being jealous over losing her best friend Isaac for his new boyfriend. If there's one thing I love more than Isaac and Nigel together, it's the unexpected friendship between Isaac and Hetty over the course of one and a half seasons. Leaving this up in the air by the end of the episode opens up the possibility of a lot more banter between her and Nigel, something that I most certainly look forward to.

But I'm sorry, Nigel, I am absolutely #TeamHetty.

Finally, I'm glad the closing teaser gives us a glimpse of a semi-normal Sam/Jay Valentine's Day date, despite it being a week after the actual event. It's a fun little way to depict just how chaotic their lives are, with the ghosts screaming outside the kitchen door, begging for Sam's attention. Much like Jay says in last week's episode, these ghosts really *are* their kids, whether they like it or not.

Scary Delights From the B&B:

- Sam: Ok, they are loving the smell of your testicles!

- Hetty: I still view you largely as a replacement to the washing machine.

- Hetty: You are one of the smartest washing machines I've seen in my life.
- Trevor: How about I show you my spin cycle?
- Hetty: Oh my.

- Pete: Relationships are harrrd!

- Nigel: Hard to be a signifiant other with such a...significant other.

- Thor: Remember Thor testicle story?
- Flower: Of course. Most moving testicle story I've ever heard.