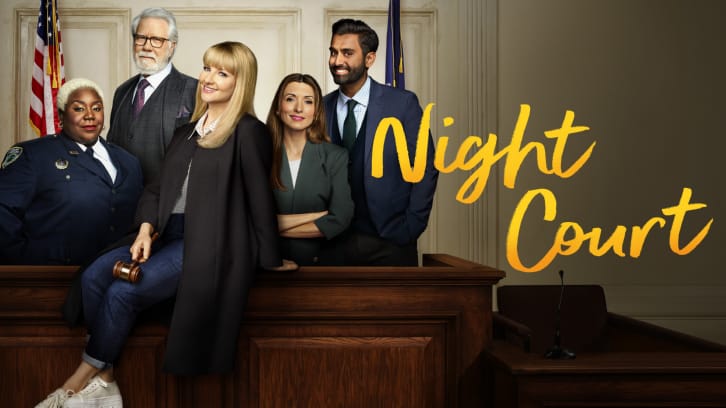 I really supposed I should start off this review with an admission. I expected the new Night Court to bomb from minute one. Don't get me wrong, I liked Melissa Rauch on The Big Bang Theory (and to be honest in the end she was pretty much the only thing I liked about the show) and I was a big fan of the original Night Court so I had high hopes. But I felt the particular humor of the old Night Court would not translate well to the 2020s. From the first two episodes, I'm happy to say I was wrong.

One does have to compliment John Larroquette on seamlessly stepping back into a role after 30 years. While the young lech has grown up to become jaded and depressed we can still see the old Dan Fielding in several scenes. Especially in his first meeting with Abby where he gives a high pitch yelp which was a classic Fielding reaction. It was interesting to see the direction the writers took the character. Not the beaten down part but rather the fact that the man who didn't have a single serious relationship in the original show had married. The passing of a true love has made Fielding a suddenly tragic and more likeable figure.

Melissa Rauch has managed to channel the spirit Harry Anderson's Harry Stone into her character with the need to meddle in lives she sees have gone off track a shown with her attempts throughout the pilot. In the first two episodes she manages to not only get Dan Fielding to come back to the courtroom but also to make him care again about his work. More than that, Rauch managed to distinguish the character by simply making herself not be a carbon copy of Anderson's character. While Abby Stone has her father's good heart and fun-loving nature there's also clearly a level of wit that is all her own.
Lacretta as Donna "Gurgs" Gurganous, following in the footsteps of Richard Moll and Marsha Warfield, stepped somewhat nicely and of course awkwardly into the role of quirky bailiff. Whether or not this simply becomes annoying has yet to be seen.
India de Beaufort plays the prosecutor Olivia and is basically a female Dan Fielding… without the sexual comments or a proper foil that allowed Larroquette's character in the 80's
Night Court
be funny. So basically, she's just a career driven suck up. If Olivia get a hilariously humiliating set back and starts losing elections to a dead person like Fielding did in the first season, then she might be funny. Maybe if we're lucky she'll keep having odd run ins with the court stenographers.
And finally, there's Kapil Talwalkar as the court clerk Neil. Neil is a somewhat stereotype of a lazy millennial in the pilot. He makes it clear he's only there because he has nothing better that he wants to do. Though we do see Abby Stone working her brand of magic on him right away, so I'll reserve judgment on his character until we see him get a chance to grow.
So far the new
Night Court
has had a certain magic to it. It is funny and you're already drawn in by the characters (Ok, pretty much just Rauch and Larroquette's characters at the moments but that was to be expected). It's got the charm of a quirky workplace comedy that can make you think "well my job isn't that crazy" and simply can make you laugh. Rauch and Larroquette really do make a good team and with any luck the rest of the cast will gel around them.