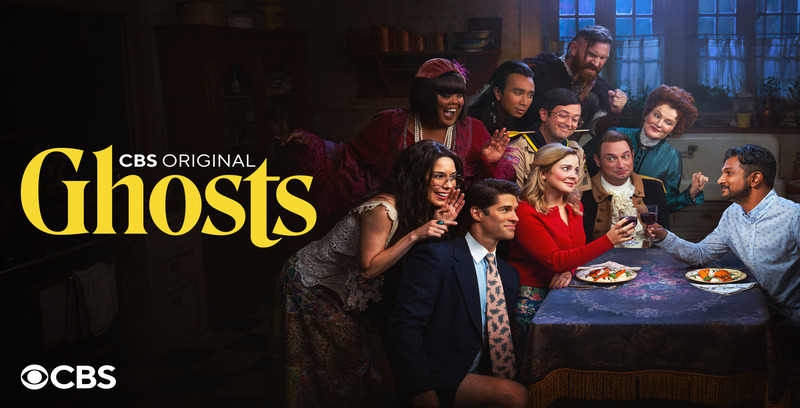 If you know anything about me from my time reviewing other shows in the past, you know that I'm a sucker for a good holiday-themed episode. Imagine my surprise and joy, then, when I learned that Ghosts was making a 2-part Christmas episode. It was, indeed, a Christmas miracle.

Structurally and plot-wise, the two episodes are surprisingly distinct in a few ways. Part One establishes the overarching plot for the two-part with Jay's sister, Bela (played by the wonderful Punam Patel), visiting for Christmas with her friend(zoned) Eric. Andrew Leeds is a familiar face that you'll spend a few minutes wondering where you've seen him, but he will always be Josh from the extremely underrated (and gone-too-soon) sitcom Cristela for me. Now that I've gotten my weekly obscure TV reference out of the way, let's dig into why The Christmas Spirit was an incredible hour of television.
There is so much to love here, but kudos to the writing team this week for sneaking in a ridiculous number of one-liners and snappy jokes, all in a rom-com Christmas themed episode. In fact, there's so many, that I had to trim down the Quotes section at the bottom of the review. The script is indeed one of the show's strongest so far, even if the story is quite simple and far-fetched. Trevor, being Trevor, feels like he has the opportunity to be with Bela again, this time in real life, when he convinces her to get Eric possessed the same way Hetty possessed Jay. While Eric agrees for some reason besides the fact that he is clearly and hopelessly in love with Bela, this brings us to one of Ghosts' greatest strengths: callbacks.

From Trevor to Bela's "relationship" to Hetty's previous possession to Alberta hand-smacking Pete just last week as he attempted to kiss her, the two-part holiday special doesn't feel like a contrived cash-grab aimed just for a standalone giggle. The previous episodes build up a lot of the character dynamics as well as the quirks (props to Hetty for watching the lumberjack TikToks, which I may or may not have seen multiple times as well), and those are among many of the reasons why everything works so well. Take, for example, Isaac and Nigel's complicated relationship. It's been built up over several episodes, particularly the lack of public affection, so the big blowout at the end of Part One feels incredibly earned, followed by Isaac's tearjerking revelation about his wife having forgiven him for the sham marriage. It's amazing what network television can do when shows are given the opportunity to grow and develop storylines (if this wasn't a jab at every Netflix cancelation ever, then I too would be a "big gay liar").
What is particularly refreshing about Part Two, and what makes it feel quite distinct from Part One, is the manner in which the show leans into the silliness, a lot more than usual. Sam getting possessed by Thor is an inventive twist that I absolutely didn't see coming, made all the more fun thanks to Rose McIver's top-notch performance. McIver undoubtedly knows how to handle such a role, given her iZombie character was possessed on a weekly basis. Additionally, her one-word deliveries, obsession with butter, cookies and cod, and awkward standing positions were delightful, even if exaggerated in a way only sitcoms can pull off, and it all wraps up quite beautifully when Thor opens a present from Sam, fully transforming him from a Grinch to a Christmas fan. Ah, the power of gifts and capitalism.
I'd be remiss not to mention how Ghosts continues to expand on its lore and world-building spectacularly. It's always fun watching the ghosts use their powers (for good or selfishness), so things like Trevor sending Bela a text in real-time or Thor bringing Eric back from the dead are big pluses in my book. At this point, I demand an annual two-part holiday-themed episode from this show.

Holiday Delights from the B&B:

- That train Eric was about to board to Boston was the least realistic thing I've ever seen because it wasn't catching on fire. Just a little joke from a Bostonian here.

- In fact, that train sequence is absolutely delightful and a clever way of flipping the script over "guy runs after girl" in almost every Christmas rom-com. The dirty jokes and innuendos were icing on the cake.

- Hetty helping Thor "run through the light" to keep Sam from gaining her body back was incredible and very characteristic of Hetty. I love her to death.

- "You're my sister and it's Christmas, so let's get a ghost in this dude, huh?"

- "It was a pity the Bradfords couldn't make it."
- "They were busy, my dearest?"
- "Oh, no. Last week they all died of smallpox."
- "Oh, that's a relief. I thought they were avoiding us."

- "You're a big gay liar."

- "Oh, move over, Judah Maccabee. There's a new Hanukkah hero in town."

- "I mean, at some point, Jay's gonna notice Sam's not using a lot of verbs."
- "Seriously. I saw Sam carrying a rotisserie chicken like a baby. That's got to raise some red flags."

- "Split it. Split that log. Yes, a decisive blow. Again."

- "This for me...is what Thor said."
- "Does he like it?"
- "Thor... love... it."
- "Merry Christmas, big guy, wherever in the room you are."
- "He says thank you."

- "Samantha, Thor have great idea. What if we make me possessing you Christmas tradition?"
- "I'm gonna say hard no to that."
- "Don't answer now. Think about it."

- Another week, another cliffhanger! While last week, we ended with another possible clue to Alberta's murder mystery, the Christmas two-parter ends with Hetty and Trevor making out! I'm not gonna lie, I am very excited at the potential this ridiculous subplot has going for it.