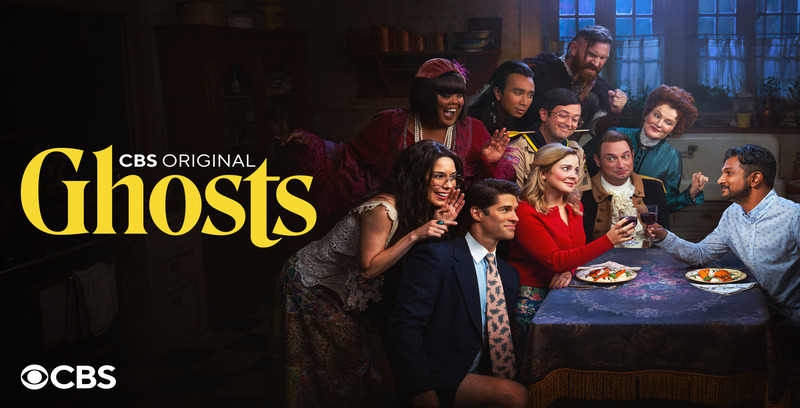 I love that Ghosts is incredibly self-aware sometimes, like in the fact that it realizes how dumb some of these ghosts' deaths have been. Case in point: Flower's death. We get to witness that tragedy in the opening moments of the episode alongside Alberta, Thor and Sas, and there's no way to sugarcoat it: Flower gets high and hugs a bear. End of story. It's ridiculous and dumb, but only in a way that works for a show like Ghosts and a character that has been developed slowly but nicely over the course of a season and a half.
It turns out that Flower's death scene was just a catalyst for Pete to confront his own death and legacy. His pep-talk to get Flower onboard the idea that a television production wants to re-enact her tragedy on a show called Dumb Deaths (from the same crew that brought us It's Getting Hot in Here) comes back to bite him when the producer decides to work on another dumb death that happened on the property: Pete's. In all honesty, the Pete-centric episode from season 1 (Pete's Wife) was one of the show's most memorable and emotional installments yet, so a part of me knew that this one was going to hit on some strings, whether intentionally or not.
You really feel for Pete throughout the course of this episode; Richie Moriarty perfectly nails the role of a sad, disheartened ghost burned by the very thought of the Dumb Deaths actor portraying him as a psychotic, drunk fool who is puzzled as to why a troop leader would just carelessly hand out weapons to little girls before the safety trainings. The flashback to Pete's life with his wife adds a lot more sorrow to the proceedings, especially with the realization that Pete was distracted by donut holes, which may or may not have caused him to be a little reckless the day of his death. While I have personally never seen the UK version of Ghosts, I was delighted to find out that Actor Pete is portrayed by none other than Mathew Baynton, who co-created the BBC series and starred as a romantic poet ghost named Thomas Thorne. Yay to the worlds of Ghosts colliding!

To make things even more emotional, Sam and Jay track down Jennifer, one of the former Pinecones who was there the day Pete died. It's always heartwarming watching Sam and Jay get together to help the ghosts, but it's made even more impactful by the thought of all the other ghosts helping out Pete. While Thor's attempts at breaking the camera equipment with his electric manipulation powers are sweet, it's obviously not enough (just replace the batteries!). Insert Jennifer to the rescue. She seems to know exactly what to do after Jay's ass gets hit with an arrow, and I really appreciated the show conveying just how much of Pete's legacy lives on in other people whether he realized it or not. It's the kind of sweet, tear-inducing moment that feels so earned after an episode of missteps for Pete, and I was all here for it.
On the Isaac and Nigel front, it was hilarious watching my favorite gay couple bicker over US and UK politics. It's refreshing that the show is spending some time on these characters while giving them classic "couple troubles" that aren't always ghost-related. Both actors seem to be having such a blast in their respective roles too. I'm very curious to see where this relationship is going to go next; in other words, I am hoping we get a ghost wedding at some point in the future.

Scary Delights from the B&B::

- "I don't know if you're aware, but this property was actually the site of a dumb death."
- "Could you be more specific? There were a number of dumb deaths that took place here."

- "A travel agent booking other people's holidays while going nowhere himself."
- "Hey, we went to Epcot, buddy. That's the whole world all at once!"

- "Whenever football came up, I would change the subject to something that no one would find controversial, like, uh, The Cosby Show or Woody Allen movies."

- "Suck on that, Hamilton."

- "Why would I say howdy? Is this a western? Am I Jonathan Wayne?"

- "It was very traumatizing."
- "Thor not sleep for many moons after witnessing. And I've chopped heads off, and drank blood from open necks."

- "Aw, she's a good kid. Oh, Sam, offer her a ring-pop. Cherry's her favorite flavor."

- "And that is why you are you, and she produced World's Hottest Dentists."

- "We're going to focus your destructive capacity on the most important part of any production.
- "The writer?"
- "Oh, sorry, I thought you were purposely making a joke."